November 8, 2022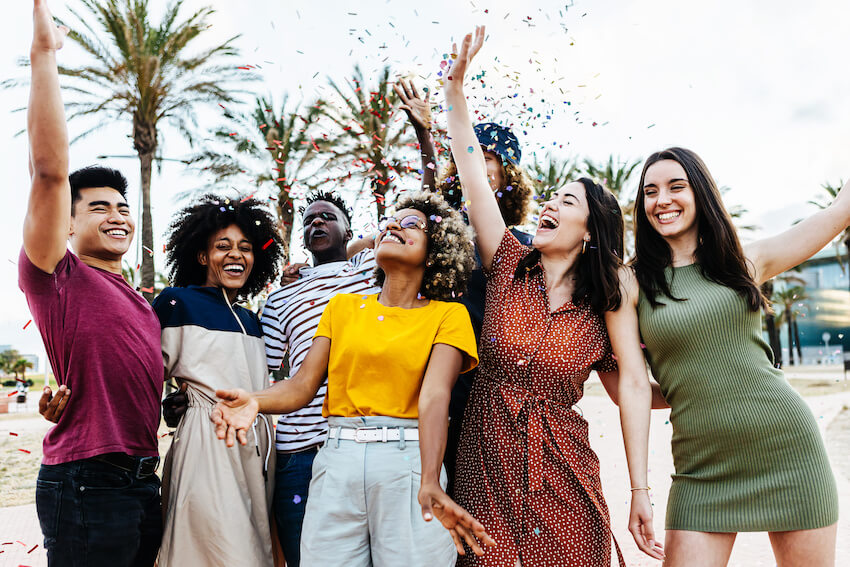 One of the most exciting parts of party planning is coming up with a fun theme. Whether you're hosting a birthday party, wedding shower, or anniversary party, there's always a long list of incredible themes to choose from. 
To help you decide, we've brought together some of our favorite party themes for adults. From flapper-inspired festivities and taco fiestas to A-list red carpet events and crafty mixers, there's a party idea for every moment. 

21 of the Best Party Theme Ideas for Adults
Ready to plan your best party yet? Explore these adult party themes to set your party plans. Whether you're searching for something that's high-energy, relaxing, creative, nostalgic, or even spooky, one thing's for sure — your next party is going to be unforgettable!
1. Casino Night
Hey, high roller! Even if you can't make it to Las Vegas, you can bring the casino experience to you. Create the ultimate casino night party with themed cocktails, sophisticated finger foods, and classic games like blackjack and baccarat. You could even do a theme-within-a-theme by giving your casino night an edgy twist — like your favorite James Bond movie, replete with a cutout of the 007 agent himself.
2. Great Gatsby
Transport your guests to the Roaring Twenties with a Great Gatsby-themed celebration brimming with all the glitz and glamor of the era. Fill the space with decadent Art Deco party decorations and set a decade-appropriate dress code with flapper fashions. This fun theme works whether you're hosting a birthday party or a murder mystery party. 
3. Garden Party
You don't have to go all out with an expensive theme to have a great time. Add some string lighting and simple floral arrangements to your backyard, set up an assortment of tasty finger foods like mini sandwiches and crudite and dips, and throw a relaxing garden party or afternoon tea party for your loved ones. 
4. Taco Fiesta
Give your guests something to taco about with a fabulous taco fiesta! This is one of those party themes for adults that's perfect any time of year. Decorate your space with bright colors, set a playlist of traditional Mexican music, and have fun with a DIY taco bar lined with various fillings, toppings, and side dishes. Don't forget the margaritas and other Mexican cocktails to go with all that delicious party food.
5. Rainbow Party
We know how much kids love a rainbow-themed party, but it also works well as a party theme for adults — plus, it's a refreshing change from a black-and-white party. Encourage guests to show up in brightly colored outfits for an event filled with rainbow colors and a joyful vibe.
6. Winter Wonderland
Celebrate the season with a winter wonderland party. Turn your party venue into a magical place filled with faux snow, woodland animals, and themed party food. This works beautifully as an elegant theme for an engagement party, or you could turn it into more of a kitschy theme for a family holiday party. 
7. Toga Party
Toga, toga, toga! Sure, that might be a rallying cry from your old days on campus, but toga parties are no longer just a college party theme. Ask guests to show up dressed in a toga and bring their favorite beverage, or opt for a more historical twist on the theme with a "When in (Ancient) Rome" celebration. Instead of beer kegs, serve fine wine alongside a variety of delicious Greek fare and fresh figs, olives, and grapes.
8. Zombie Apocalypse
If you're looking to scare up some fun, a zombie idea is certainly a no-brainer. (See what we did there?) Whether you're planning a Halloween party or a birthday bash, this theme certainly makes a statement. Invite people over for a terrifyingly good night of zombie-themed food and spooky party games. To liven up the undead atmosphere, have "The Walking Dead" silently playing on your TV for extra background visuals. 
9. Red Carpet Hollywood
Roll out the red carpet and invite your favorite people to a Hollywood-style celebration. Maybe it's your 30th birthday or perhaps your parents are celebrating a milestone anniversary. Whatever the occasion, plan a red carpet event where you can dress up in your finest and enjoy A-list treatment. Of course, this theme is also perfect for an Oscars watch party at home. 
10. Karaoke Party
If you love to sing or are celebrating someone who does, head to a karaoke bar to sing your heart out for the night — or host a fun party at home with plenty of drinks and snacks on hand. This also works great for a bachelorette party or New Year's Eve party idea.
11. Dessert Party
How sweet it is! A dessert-themed party is one of the best party themes for adults with a sweet tooth. Set up an ice cream bar with plenty of toppings like fresh fruit and sprinkles, or offer a baked goods station with brownies, cookies, and other can't-resist pastries. If you don't want to focus only on desserts, pair this fun theme with another favorite and make it a dessert and pizza party. It'll be simply carb-tastic.
12. Craft Party
Some people love relaxing parties, while others want to jump into an activity. A craft party is a great blend of the two and a lovely way to get together for your next party. Plan a seasonal craft to try together (like wreath-making) or book a spot with a local instructor for a lesson in flower arranging, clay pottery, watercolor painting, knitting, or other craft of your choice. 
13. Superhero Celebration
Superhero parties aren't just for kids. This classic costume party theme is ideal for someone who has just overcome a challenge. Celebrate yourself (or your loved one) with a party that showcases their superpower. Maybe they just got a clean bill of health or perhaps they got a job promotion. Whatever the case, have fun dressing up as your favorite superhero and playing themed party games for a fun-filled bash. 
14. Pirate Party
Arrghhh! Ready to shake your booty? A pirate party is the perfect theme for adults who are about to embark on a new adventure, be it starting a new job, moving into a new home, or taking the trip of a lifetime. Celebrate the occasion with a pirate-themed bash that includes a scavenger hunt, a treasure chest of tasty snacks (including Pirate's Booty), and a glass (or two) of grog. 
15. Retro Disco
Speaking of booty shaking, you can't go wrong with a retro disco for your adult party theme! Invite everyone to join you on the dance floor under the disco ball for a throwback celebration. Focus on an 80s-themed celebration for your next anniversary or milestone birthday party.
16. Cocktail-Making Mixer
Looking to break the ice among the people you know? Host a mixer for friends or coworkers with a mixology cocktail party. Hire a professional mixologist to teach a class at your place or rent a private space at your favorite watering hole. This party theme for adults is a more interactive take on a wine-tasting party and is a great way for people to have fun and mingle.
17. Tropical Pool Party
Have access to a great pool? First of all, we're jealous. Secondly, you have the perfect party theme ready to go. Whether you frame it as a tropical Hawaiian luau or a splashy pool party, it's a wonderful way to celebrate the summer season. Look for party decor with a tropical color scheme, add inflatable palm trees and floral decorations, and make sure there are plenty of iced drinks to go alongside some tasty BBQ. 
18. Movie Night
If you want to keep things simple, a fun movie night with a blockbuster and some popcorn is the way to go. This is one of those party themes for adults that you can take in different directions. Invite your best pals over for a pajama party to rewatch a classic rom-com or hunker down to watch a scary movie for Halloween (and dig into Halloween party food.)
19. Masquerade
Take inspiration from Mardi Gras and host your own masquerade party to celebrate Fat Tuesday. Make it a dress-up party with lavish costumes or keep it casual with an informal dress code and colorful masks. (You could even have a DIY mask-making station if you're feeling crafty.) Serve up traditional Mardi Gras recipes, set up a photo booth, and let the good times roll. 
20. Fantasy Party
If you're a big fantasy TV show or movie fan, this is one of those party themes for adults that you can't miss. Recreate Hogwarts for a Harry Potter-inspired shindig, or transport your guests into the world of Star Wars or Game of Thrones — with themed party food, games, and playlists to create the right vibe. 
21. Game Night
Calling all game lovers! This is the perfect party theme for you. Whether you're a diehard board game fan or can't get enough video games, make it more exciting with your closest friends. The great thing is that you can host an epic in-person game night or plan a virtual game night to enjoy across the distance. 
Host the Perfect Party with These Party Themes for Adults
There's no shortage of party themes for adults. Whether you're looking for ideas to enjoy a relaxing night with the family or a high-energy bash for a milestone birthday, there's the perfect theme to match. 
Use these party theme ideas to help you plan an incredible celebration, whatever the moment. With your party plans in place, use our entertaining invites to spread the word and start collecting those RSVPs. Choose a design, customize the colors and wording, then send them to your guest list in a few clicks. For even more ideas, don't miss these adult party ideas for a memorable bash.