August 26, 2021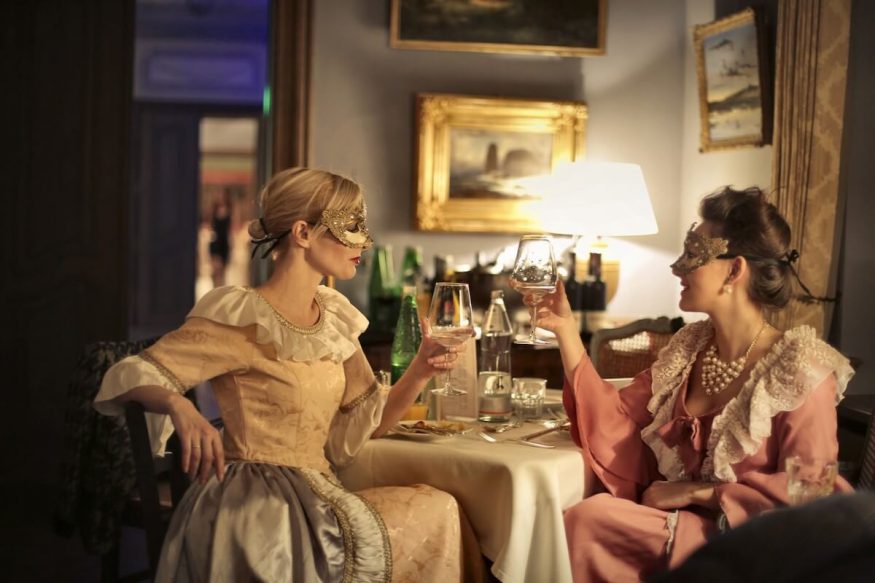 It might sound a little morbid, but we love the idea of throwing a murder mystery dinner party. And chances are, you do too! It's a wickedly creative twist on a birthday party and an immersive way of getting into the Halloween spirit. Or you could simply use it as an excuse to gather friends and family for an evening of intrigue and games. 
Whether it's your first time or you fancy yourself a bit of a party planning expert, here's how to host a murder mystery party that your guests will remember for a long time to come. We've brought together theme ideas, food inspiration, planning tips, and more. 

Decide on a Theme for Your Evening
One of the best parts about throwing a murder mystery dinner party is that you get to go all out with the theming and decor. It's the perfect opportunity to decorate your space like a grand hotel or transform it into a spooky mansion. Here are some of our favorite themed party ideas. 
Classic Murder Mystery Dinner Party
You can't go wrong with a classic murder mystery dinner party. Invite folks over to an intriguing crime scene set in the past. Allow the mystery to play out over an elegant dinner party that wouldn't look out of place in your favorite whodunit TV show. 
Transport your party guests into a sinister 1960s scene, or head back to the Roaring Twenties for a glam (yet grim) Great Gatsby-esque party. Ask invitees to dress the part in stunning formal wear, set out an epic feast, and style your space with warm lighting and rich fabrics. 
Dystopian Murder Mystery Dinner Party
You don't have to head back to the past to throw an incredible murder mystery dinner party. Create a future world for your guests that's not filled with prosperity, but instead with dystopian nightmares and troubling crimes. 
Set the scene for a futuristic get-together with industrial decor and lighting, and create a sense of panic with a lack of electricity and ambient sounds. Let your party guests solve the puzzle as a crime scene unfolds in front of you and the world continues in chaos around you. 
Fantasy Murder Mystery Dinner Party
If you want a compelling spin on your murder mystery dinner party, consider a fantasy theme, monster theme, or masquerade theme — all of these work especially well if you're throwing a Halloween party or even a team-building event for coworkers. 
Create a world of witches, wizards, dragons, or ghouls, and give your party guests (and murder suspects) supernatural powers. This is a great way to add some whimsy to the murder mystery genre, and gives you plenty of ways to be creative with scenery, lighting, music, and storylines. 
Create Your Murder Mystery Story
Before you can get your invitations out to your guest list, you need a rough idea of how your murder mystery game is going to play out. Decide which characters you'll need, what the crime scene is, and how you can get everyone involved. Here are the basics of what you'll need to build a murder mystery story. 
Choose a Venue
Every event needs a venue, and a murder mystery is particularly suited for fun theming and decor. It's the kind of party you don't throw every week, so you can invest a little more energy in finding the ideal venue to match your story. 
If you have a small group of sleuths, your home or a friend's home could be the perfect place to set your murder mystery game. You can transform the space however you want, with no rules in place. Other great options include booking a private dining space in a restaurant, or renting a remote private residence or spooky setting for a truly immersive experience. 
Set the Scene
Every murder mystery party needs a crime scene, and your dinner party is where it's happening. Beyond that, there's plenty of freedom to create the kind of setting and ambiance you like. 
Think about how the crime will happen — will it be death by poison, a particular weapon, or perhaps an attack from a supernatural being? Once you know how the crime will happen, you can start designing your characters and working backward to give everyone a fun storyline that they can join in. If you have the budget, hiring professional actors is an impactful way to make your event feel even more interactive and immersive. 
Design and Assign Your Characters
With the crime scene imagined and an outline of the storyline done, you can now focus on creating your characters and really giving them some personality. Think about their names, how they'd dress, their demeanor, their interests, and what they'll contribute to your dinner party. 
You can get as detailed as you like here, or keep things simple and let your party guests' imagination run wild. Sometimes you'll want to create scripted dialogue, other times you can simply suggest prompts — it depends on how comfortable your guests are with the concept. 
Once you've created your characters, it's time to assign them. While you could throw a surprise party and give your guests their character details on the night, you'll likely want to share this information with them in advance. Create a character profile, with a suggested outfit or styling ideas, and share it on your digital invitations. 
Figure Out How the Night Will Unfold
Your murder mystery party game will take center stage at your dinner party, but it's still helpful to know how the rest of your night will take place. Beyond the story itself, think about other practicalities like the timing of the crime, what food you'll serve, any other activities, and how everything slots together. 
Consider who'll be at the party, what role you'll play, and whether you need any extra help. For anything other than a casual get-together, you'll likely want someone else on hand to help with aspects of the event that you're not covering personally — whether that's hosting, catering, setting up and taking down decor, or entertainment. 
Pro Tip: If you're not sure how to create a murder mystery story yourself, or you're not interested in this side of things, a party kit or free printable murder mystery party game is the perfect option. You can also try this DIY approach to write a murder mystery party game.
Plan a Delicious Murder Mystery Dinner Party Meal
While you want the focus to be on your game, serving up a delicious dinner should also be a priority. Here are some ideas to help you plan a tasty meal for your party guests to enjoy together — even if one of them turns out to be more unsavory than the others. 
Sophisticated Three-Course Dinner
Most murder mystery dinner parties are held over the course of a long, traditional, sit-down meal. This is where the story unfolds, characters develop, and the buildup happens before a tragic incident. Having a three-course dinner gives your guests time to get to know each other, and it's also a great excuse to get out your best tableware and fancy glasses. 
Take inspiration from the era that you're setting your story in, or stick to some of your favorite sit-down mains, sides, and desserts. If you're stuck for ideas, see which of these main course ideas spark curiosity and create it as part of your menu. 
Cooking a full dinner and hosting a murder mystery can be a lot of work. Bring in some help or prepare as much as you can ahead of time. If cooking isn't your forté or you want to chill a little more, our next option might be more up your alley. 
Casual Buffet Dining
While traditional murder mystery games are played over a sit-down dinner, yours doesn't have to be. A more casual, buffet-style meal might work better for different themes and settings — like a birthday party gone wrong, or a dystopian gathering where you've all brought a dish to share. 
For a buffet-style experience to work well, give your guests plenty to choose from. Create a spread of finger foods and desserts for everyone to enjoy. For an ultra-relaxed experience, create a pot-luck style event, or make ordering take-out part of your storyline. 
What to Include on Your Murder Mystery Dinner Party Invites
The key to getting your murder mystery dinner party invitations right is to give your guests everything they need to feel prepared. For some people this might be their first time at this type of event, so keep that in mind as you prepare your invites.
Share as much about the event as you like, without giving away the mystery. You might want to say what the scene is outright on your invitations — a disagreement turned tragic at a wedding — or simply give a hint or two about the setting, such as stormy weather or an unnerving sense that something's wrong. 
Give your guests a separate note alongside their physical or digital invitation that contains their character description. Include their character's name, basic information, and any insights about their role. Feature costume suggestions, and make sure to let them know if there's a prize on the day for best costume or for solving the mystery. 
Alongside character information and event basics like date, time, and venue, let your guests know what to expect in terms of the meal and whether there will be drinks or party games after the main event. Lastly, let your guests know how they can RSVP so they don't miss out — after all, if a key character can't make it, you'll need to adjust your storyline or invite someone else. 
Throw a Murder Mystery Dinner Party Your Guests Will Be Dying to Attend
Every successful murder mystery party involves careful planning to make sure things go smoothly. Think of a theme that can be incredibly fun for guests, plan decor and food to match, and design characters and an immersive storyline to keep everyone interested and engaged. Put all that together and you have the recipe for a delightfully sinister time.