July 16, 2020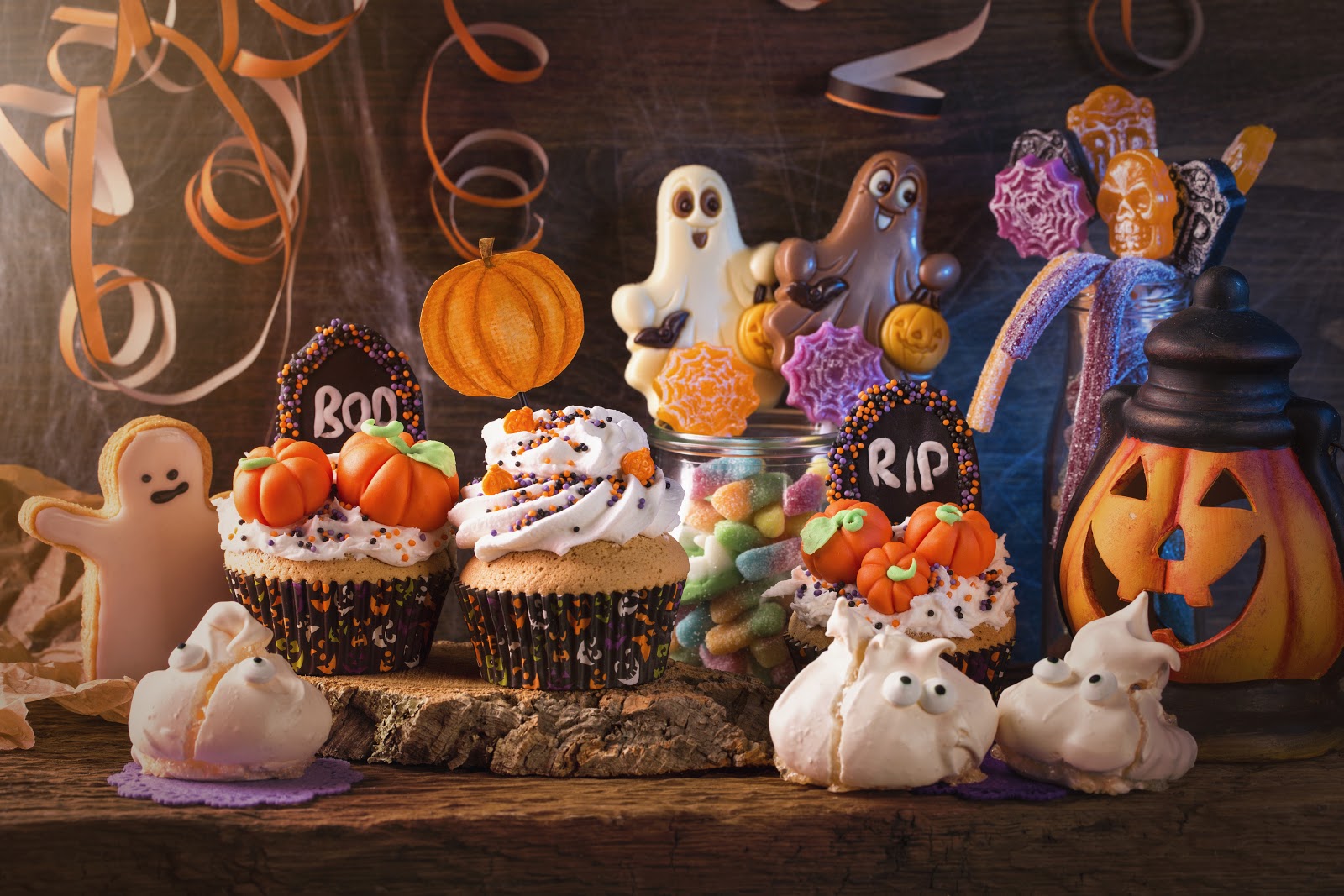 No matter what age you are, Halloween is that one time of year when you're encouraged to be a kid again. You dress up in a silly costume, eat way too much candy, and get into the spooky spirit of the holiday. And there's no better way to invoke the creepy-crawly mood of the season than with a fun Halloween bash.
Once you've picked out your Halloween costume and sent your Halloween party invitations, it's time to scare up some tasty eats for your party guests. Use this list for fun Halloween party food ideas, including recipes for wickedly good appetizers, snacks, and desserts. Happy Halloween!

7 Frightfully Delicious Halloween Party Snacks and Appetizers
If the thought of toiling in the kitchen to prep for your Halloween party terrifies you, these easy Halloween recipes will raise your hopes like the dead. Each of these recipes takes no more than 40 minutes to make and uses everyday ingredients, although you may need to add some food coloring and cookie cutters to your pantry staples.
Other than that, let your imagination run wild, and get cracking on these spooktacular Halloween appetizers and snacks that will have your guests screaming for more.
1. Easy Pumpkin Hummus
Thank gourd it's Halloween! This savory pumpkin hummus is ripe for the season and takes just 10 minutes to make from start to finish. Serve with tortilla chips, sliced veggies, or pita "ghost toast" for a delightfully spooky twist. This also makes a great appetizer for your fall harvest celebration or Thanksgiving dinner.
2. Ghost Pizza Bagels
No reason to be afraid of ghosts with these adorably appetizing ghost pizza bagels. With just 20 minutes and four ingredients 'ÄĒ mozzarella, mini bagels, marinara sauce, and black olives 'ÄĒ these Halloween snacks¬†are ready to go.
Pro tip: Use a cookie-cutter to get the perfect little ghost shapes every time.
3. Deviled Eggs
No Halloween party menu would be complete without some devilish delights and this deviled eggs recipe is all you need. Clocking in at just 10 minutes, this no-bake Halloween recipe will satisfy (and spook) your party guests thanks to the creepy-crawly olive "spiders." Sprinkle with a little paprika for added color and flavor.
4. Mummy Hot Dogs
A perfect finger food¬†for your next Halloween party, these mummy hot dogs¬†take a mere 10 minutes of prep time and 12 minutes of cook time. Even better, you only need three ingredients 'ÄĒ hot dogs, a package of crescent rolls, and mustard (or ketchup if you prefer). The key is making sure you stretch out the dough so it doesn't rise. For a meatless version, you can try vegan hot dogs¬†or jalape√Īo popper mummies.
5. Cheesy Spiders
This 10-minute recipe for cheesy spiders¬†requires just five ingredients 'ÄĒ cream cheese, shredded cheese, black food coloring, round crackers, and chow mein noodles. Once you create the cream cheese balls, simply roll them in shredded cheese, plop them on a cracker, and add the chow mein legs and little black eyes. Place atop a bowl of soup for ooey-gooey goodness or enjoy as is.
6. Black Bean Boo-dle Soup
You don't need a cauldron to whip up this tasty black bean soup that'll taste better than any witch's brew. In just 30 minutes, you'll have this high-protein potion brimming with black beans, delicious veggies, avocado, and udon noodles (or any noodles you have on hand). While having cookie cutters will save you time, this recipe also offers some DIY tricks to create your own Halloween veggie shapes.
7. Cheesy Halloween Breadstick Bones
For a bone-chillingly easy snack, try these cheesy bone-shaped breadsticks. Once you shape your homemade or store-bought pizza dough and brush it with a bit of butter, you'll sprinkle it with Parmesan. Then, finish with melted mozzarella cheese and serve with marinara sauce. Bone appetit!
6 Hauntingly Good Halloween Desserts
A little bit spooky and totally sweet, these tantalizing Halloween treats won't play any tricks on your party guests' palates.
1. Dracula Dentures
For a Halloween dessert your guests can really sink their teeth into, you can't go wrong with these fang-tastic Dracula dentures. It sounds shockingly simple, but all you need is 30 minutes and a handful of ingredients, including a tube of chocolate chip cookie dough, vanilla frosting, red food coloring, mini marshmallows, and slivered almonds. These vampire choppers are sure to be a conversation starter.
2. Candy-Coated Caramel Apple
For a sweet Halloween treat, it doesn't get much easier (and more classic) than a caramel apple¬†coated in candy corn. This fun and versatile recipe¬†calls for homemade caramel, but you can simply melt caramel candy if you want to save some time. You can also roll your apples in whatever Halloween candy¬†you have 'ÄĒ¬†the more the scarier!
3. Halloween Cupcakes
These crafty Halloween cupcakes might look like something you'd have to buy from a bakery, but this 40-minute recipe makes them freakishly easy to make. With some food coloring and imagination, you can create one, two, or all of these five designs including a jack-o-lantern, mummy, spiderweb, Frankenstein, and skeleton.
Pro tip: To save even more time, don't be afraid to use boxed cake mix.
4. Cereal Treat Eyeballs
Here's looking at you, kid! Treat your party guests to these yummy and oh-so-eerie eyeballs that you can easily make with Rice Krispies or any crispy rice cereal. Once you have the cereal, all you have to do is add some melted colored candy and edible eyeballs that you can find online or at most local craft or big-box stores.
5. Frankenstein Kiwis
Who says monsters have to be scary? The only spooky thing about these delightful Frankenstein kiwis will be just how quickly your guests will devour them. Perfect for young trick-or-treaters and grown-ups alike, these Franken-kiwis are ready in minutes as long as you have a vegetable peeler, some pretzel sticks, and mini chocolate chips.
6. Pumpkin Patch Candy Corn Brownie Pies
Did someone say brownie pie? Just when you thought your favorite fudgy treat couldn't get any better, this two-in-one dessert takes it to the next level by surrounding it with pie crust. Whether you use boxed brownie mix or make it yourself, this sugary snack is deceptively simple. The hardest part? Trying not to pop these mini treats in your mouth like candy.
Scare up Some Fun with These Halloween Party Food Recipes
When it comes to the boos (er, dos) and don'ts of party planning, you know that delicious food is a surefire way to keep your party guests happy. But that doesn't mean you're doomed to spend hours in the kitchen.
With these fun and easy Halloween party food ideas, you'll be able to summon whatever culinary skills you have to create a bewitching buffet of savory appetizers and decadent desserts that everyone will love. Be sure to bookmark this page before your next Halloween party and get ready to treat yourself and others to a ghoulishly good time.