November 23, 2021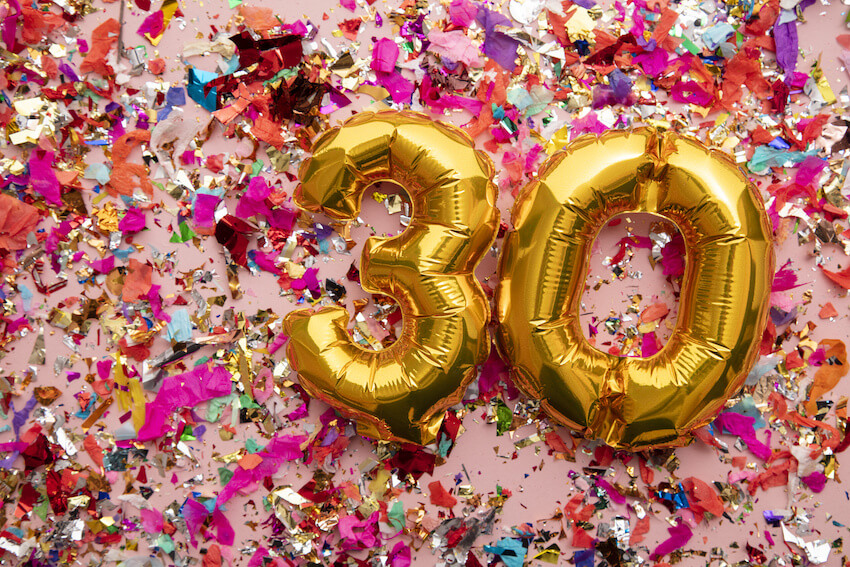 Turning 30 is a big milestone. It's that time in your life where you really become an adult (or have to pretend to) and grow into who you are as a person. It makes sense to use this moment to throw an epic 30th birthday party. 
Plan your way to success with these 30th birthday ideas. We'll share how to prep your event, some fun theme ideas, plus plenty of wonderful 30th birthday invitations you can customize and send. 

How to Plan the Best 30th Birthday Party
You might have an amazing idea in mind for your milestone party, but you've got to cover the basics first. Here's how to plan a super-happy 30th birthday party for yourself, or a surprise 30th birthday celebration for someone you love. 
Set the Date, Time, and Venue
Before you can begin to share the news about a 30th birthday party, you'll need to set the date, time, and venue. For a virtual event, you can share details on how to join instead of the venue. 
Host the event on the big day itself, or the closest weekend if that's when more people can make it. Think about what time of day makes the most sense — a relaxed yard party is great during the day, but a karaoke party is usually best at night. 
When it comes to the venue, this all depends on the type and theme of the party you're planning. You might host at your place, hire out a restaurant for a private dining experience, or take your guests somewhere else — like an escape room, amusement park, or outdoor center. 
Decide on Your Guest List
You can wing your guest list as you put together your invites, but it's best to get this figured out beforehand so there's no last-minute panic about who to invite. 
If you're heading to an outside venue, or if you're limited on space, you might have a maximum number of guests. For an outdoor gathering or virtual celebration, you can open up the invite list to a few more people. 
Put together a guest list that makes sense for your event. Include your best friends and loved ones, plus anyone else you want to celebrate with. For a surprise party, if you don't know who best to invite, check in with someone close to the birthday guest of honor first.
Choose a Theme
A big birthday bash like your 30th is a great excuse to indulge in a themed celebration. If that's perfect for you (or your surprise guest!), spend some time thinking about what kind of event you want to host and which 30th birthday ideas you want to try out.
You could go for something really grown up like a sophisticated dining experience in a top restaurant, or a throwback trip to your favorite amusement park with a group of friends. You can layer themes too, so you could dress up in retro outfits for your theme park visit, or create a red carpet-inspired dining experience. 
Themes can work just as well at home, too. Host a tropical theme yard party, or take it back to the college days with a good old-fashioned costume party. There's endless choice when it comes to party themes, so find or create something you love. 
Plan Some Activities
With a theme in mind, you can go ahead and start thinking about what kind of activities, games, or experiences you want to plan for your party. 
For an outdoor gathering, consider some fun outdoor party games — like limbo, giant snakes and ladders, and obstacle courses. Indoors, some fun 30th birthday ideas include playing board games or video games, or dancing the night away to your favorite playlists. 
If planning activities isn't your thing, you could opt for an experience led by a party planner or the venue itself instead. Head to an outdoors center so you can try rock climbing, or make a booking with a spooky venue for a hosted murder mystery experience. 
Send Out Your 30th Birthday Invitations
With a few key details confirmed, you can finally send out your birthday party invitations. While you can plan your party theme and activities after you send out the invites, we love doing it this way because then you can match everything together. 
Take a look through our collection of adult birthday invitations for a design that feels like it suits you (or the guest of honor) and your theme perfectly. From there, you can customize your birthday invitation template with different wording, colors, and images if you've chosen a photo card. It's also a good idea to mention if you're expecting any gifts or not, or if you want to collect charity donations instead. Otherwise, expect someone to bring along an amazing 30th birthday gift for you! 
If you're hosting the party as a surprise in honor of someone else, make this super clear on your surprise party invitations. If you don't, there's always a risk that a well-meaning guest will let the surprise slip before you're ready for the big reveal. 
One of the most challenging things about planning a 30th birthday party is chasing people for their RSVPs. With Greenvelope, your invited guests can RSVP in just a few clicks and you can manage your list from one easy place — so you can spend more time on the fun side of party planning.
Add the Final Touches to Your Party
You've planned most of the party, but there'll always be some finishing touches and last-minute 30th birthday ideas to organize. What these are depends on your celebration and how much you're handling vs. outsourcing, but some things are a constant — like the birthday cake and sending a reminder to guests. 
If you're planning a dinner party, make sure you have your menu sorted out, ingredients ready, and table decor ideas in mind. For a pool party, have plenty of fresh towels and inflatables for people to use. If you're about to host a DIY crafting extravaganza, order plenty of supplies and let your guests know via your online invitations so they can start thinking of ideas. 
Don't forget, some of the best 30th birthday ideas are the simplest. Don't feel like you have to theme everything about your celebration. It's more than okay to stick to your party food favorites, classic board games, and DIY birthday decorations if that works for you.
Fun 30th Birthday Party Theme Ideas
Want to celebrate your 30th birthday, or that of a loved one, in style? Take a look at some of these creative 30th birthday party ideas to help you plan a birthday celebration that's truly unforgettable. 
Brunch and Bubbly
Treat yourself and your guests to a delicious brunch party with some champagne to celebrate this milestone birthday. Go ultra sophisticated with a luxury brunch experience, or keep it relaxed with a homemade spread featuring pancakes, fresh fruit, cupcakes, and homemade cocktails. 
Arcade and Karaoke Night
If retro and throwback are some of your favorite themes, this is one of those 30th birthday ideas you'll love. Scout out the best arcade location and head there to play some retro games and enjoy a burger and fries. After, book a private room at the best local karaoke bar and sing the night away. 
Glamping in the Forest
For a really special experience with a hint of nature, go glamping at a luxury retreat with your closest friends and family members. This is a great way to blend pampering with the outdoors, so choose somewhere that you can sign yourselves up for wine tasting, scenic walks, spa experiences, and delicious dinners. 
Cozy Get-Together at Home
Sometimes the best way to celebrate becoming a 30-year-old is in the place you're most comfortable. If that's at home, host a low-key house party there to celebrate with your loved ones. Ask friends to bring their favorite board games, open a bottle of wine, and order your favorite takeout for a relaxed night in. 
Escape-Room Adventure
If you're looking for a way to use your problem-solving skills, try an escape room adventure. This is one of the best 30th birthday ideas for curious pals that works well either in person or as a virtual experience. Plus, you can break the news with a fun themed birthday party invite like the one above. 
Roaring '20s Party
For a fun way to enter a new decade, look back at a past one for inspiration. Host a Great Gatsby-themed party inspired by the roaring '20s as you make your way into your 30s. Think lots of decadent gold and black decor, a sophisticated menu, personalized cocktails, and lots of partying. 
Arts and Crafts Party
Your 30th birthday party doesn't have to be all singing and dancing — sometimes a cozy crafting get-together is the ideal way to celebrate. Gather your friends for an evening of crafting, watercolor painting, greeting card design, pottery, chalkboard sign-making, or anything that inspires you. 
More of Our Favorite 30th Birthday Invitations
We've shared some of our favorite themed 30th birthday party invitations above, but there's more where that came from. Take a look through these 30th birthday invites to find a design you love, then customize before sending them out to your loved ones. 
30th Circlet Invitation
We love the moody black and white theme on this 30th Circlet invitation, but you can also customize the colors to suit your party theme. The metallic accents make this ideal for a luxurious dinner or a late-night party. 
It's a Surprise! Invitation
If you're hosting a party for a loved one, get the message across with this surprise birthday invitation. There's room on the front for a gorgeous photo, plus space on the back to share all the surprise party details. 
Thirty & Thriving Invitation
The pastel confetti-sprinkle decorations on this Thirty and Thriving invitation are so sweet, and make this ideal for a casual brunch, art party, or a party for a huge dessert lover. 
Milestone 30 Invitation
There's something very special about this Milestone 30 invitation. The gorgeous rose gold tones work so well with the navy, plus the elegant typography means this invite is perfect for a sophisticated soirée. 
Disco Dance Party
For a design that makes your guests say "wow" when they open it, this Disco Dance Party invitation is the way to go. It's super fun and lets your guests know exactly what to expect from your 30th birthday party. 
Have Fun with These 30th Birthday Ideas
You only turn 30 once, so make it count with a celebration that feels uniquely you. Surround yourself with your friends and family members for the perfect get-together — whether that's at a late-night karaoke bar, or cozy on the sofa playing video games. Use this guide to help you find the perfect 30th birthday ideas, plan your event, and share the news with a customized 30th birthday invitation.