October 29, 2022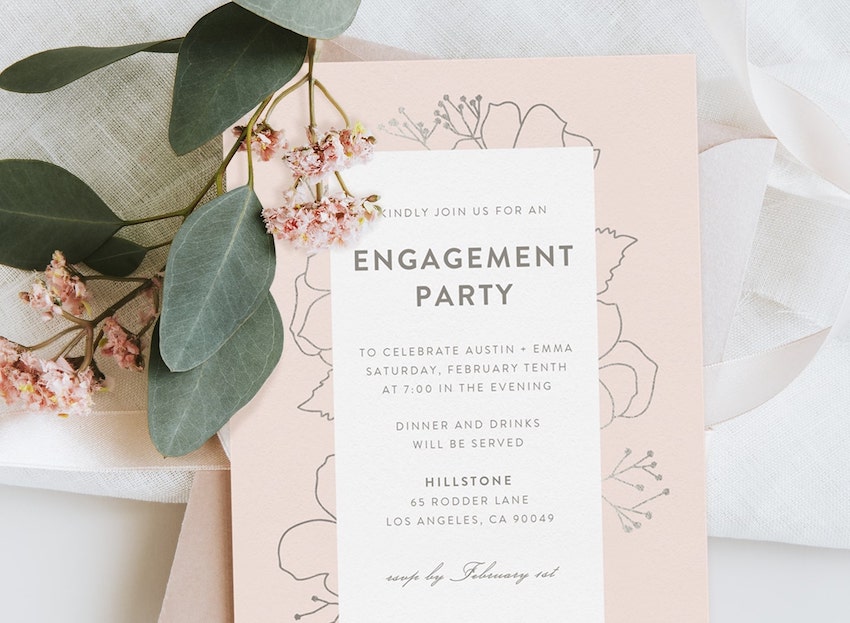 Congratulations, you're engaged! Now it's time to start planning your engagement celebration. Get ready to nail down the basics of throwing the best event possible and find engagement party ideas that span everything from fun and creative themes to crowd-pleasing activities and entertainment.

How to Throw a Great Engagement Party
An engagement party isn't an event you plan every day, but it shares many of the same party planning steps as other events. Here's how to get started:
Decide who will host the event:

Traditionally, it's the bride's parents, but today, engagement parties are often hosted by the couple or a close friend. 

Set a date:

This might be the weekend after you get engaged or a few months down the line. Decide what works best for you (or your host).

Choose a venue:

Head to your favorite restaurant, book a venue, or host at home — there are so many great options. 

Create your guest list:

You can keep the celebration small or large, it's up to you. Consider inviting members of both families, plus anyone you'd love to have in your wedding party.

Send your engagement party invitations:

It's best to give your guests a few weeks' notice. Greenvelope's

digital invitations

are an excellent way to spread the word quickly (and keep track of RSVPs easily). 

Plan your menu:

Whether you're hosting a grand dinner, sticking to appetizers, or choosing a set menu at a restaurant, firm up these details sooner than later.

Choose your theme and decor:

Not every engagement party has a theme, but you'll still need to figure out any colors and decor items you want. 

Plan party games and activities:

Depending on what type of celebration you're having, get the

engagement party games

and activities squared away early so you have time to rent supplies or DIY your own. 

Assign duties:

Need someone on hand to help you stay organized? Ask them early and work out which tasks they can support you with.

Plan your outfit:

It's your engagement party, so all eyes will be on you and your partner. Have fun picking out the perfect ensemble for your special celebration.
When the engagement party day arrives, savor the moment with your guests. After the celebration, take some time to send thank you notes to let them know how much you appreciate them. 
25 Themes for an Unforgettable Engagement Party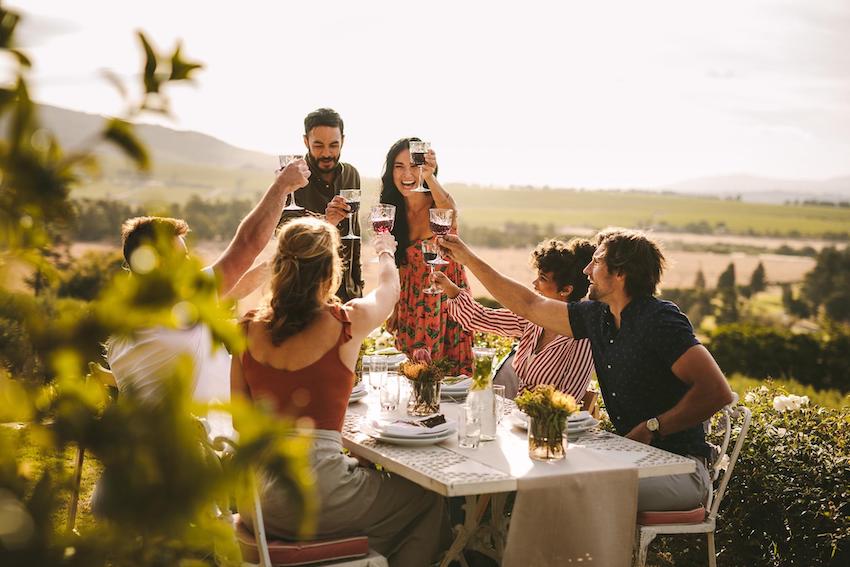 The time between getting engaged and getting married is incredibly special and exciting. Sure, it can be a little stressful, but this list of engagement party themes can make the process a whole lot easier by giving you some unique, can't-miss ideas to kick things off. Bonus: Some themes are paired with engagement party invitations that you can customize and send as soon as you're ready.
1. Super Glam Brunch
Invitation Inspiration: Waffley Wedded Invitation
Bring your closest friends and family members together for a glamorous brunch to celebrate your engagement. Offer plenty of brunch favorites like bacon, bagels, and pancakes for a lovely indoor or outdoor meal, or host the event at your favorite restaurant. Don't forget the mimosas and bloody marys!
2. Relaxing Garden Party
If you're going for a more chill vibe, your backyard could be the perfect place for a fabulous garden party. Decorate your yard (or a friend's) and create areas for people to sit down, chat, relax, and dine. Serve a potluck buffet or BBQ at your backyard engagement party, and provide some lawn games for your guests to enjoy.
3. Casino Night
Invitation Inspiration: Gilded Cocktails Invitation
Feeling lucky? Bring the excitement of Vegas closer to home by hosting a fun casino theme party. Set up your own tables at home or invite the pros to come along and stage an evening of fun and games. You could even ask your guests to dress the part and come in their most sophisticated attire.
4. Movie Night
Invitation Inspiration: Enchanted Train Ticket Invitation
Create a movie night for your engagement party by gathering your guests to watch your favorite romantic classic or funny new rom-com. Set up a popcorn and candy stand, then go all-out with cozy seating, blankets, and mood lighting. You could even host an outdoor movie night, weather and space permitting. Kick it up a notch and turn this into a themed event by matching your decor, food, drinks, and dress code to your favorite movie, franchise, or genre.
5. Beachside Soiree
Engagement parties are all about celebrating you and your partner, but a gorgeous backdrop doesn't hurt. Invite your guests to join you for a get-together on the beach — complete with beachy decor, refreshing drinks like margaritas, and atmospheric music. If you're planning a sunny destination wedding, this is a fun way to introduce the idea to everyone ahead of the big day. Can't make it to the beach? Recreate the experience in your backyard with sand, beach party games, and plenty of seafood.
6. Arcade Party
Calling all gamers and retro fans! This engagement party idea is perfect for you. Assemble at your local arcade for an evening of video games, drinks, and nostalgia. Add in some friendly competition and you've got a fun, action-packed event. No arcade close by? Recreate a similar feel at home with retro game consoles — find a bargain on an online auction site or ask friends to bring their own. You could also weave this into an 80s theme party or 90s-style celebration.
7. Murder Mystery
Escape the ordinary and surprise your guests with an unexpected twist they'll never see coming: a truly engaging murder mystery dinner party! DIY the event at home or book an experience at a dedicated venue for an evening of frights, mystery, and puzzle solving. This one's great if you're looking for something a little (OK, a lot) different than the usual engagement party ideas.
8. Pizza Party
Invitation Inspiration: Confetti Celebration Invitation
Who doesn't love pizza? Bring everyone together for a timeless tradition by hosting a fun pizza party. Keep it simple and order your favorite takeout pizza, or rent a pizza oven and provide plenty of toppings for guests to create their own. Complete the event with a great playlist, lots of drinks, and fun dinner party games for adults.
9. Summer Festival
Hang up the bunting and bring in your favorite local band to create your own summer festival to celebrate your engagement. Stage the ultimate summer bash in your backyard or book an outdoor venue that will rival any local festival. Set up a bar area and book your favorite food truck to serve up tacos, burgers, or other cuisines. Don't forget the entertainment with yard games like cornhole, giant Jenga, and croquet.
10. Vintage Roller Disco
Take your guests back in time by heading to a vintage roller disco. Book a local venue and create that feel-good vibe with a shining disco ball, bold decor, and a photo booth. If you're booking the entire venue for your event, fill your playlist with party classics or have a DJ on hand to keep everyone smiling as they skate.
11. Decadent Cocktail Party
Find a lavish venue and invite your guests to a decadent cocktail party, replete with delicious food and drinks. Bring in a team of bartenders and ask them to create a signature cocktail to celebrate your engagement. Or for a more immersive experience, offer a masterclass from a mixologist where your friends and family can have a go at making their own drinks.
12. Fairytale Forest
Invitation Inspiration: Shine Bright Invitation
Take your wildest dreams and make them a reality with a fairytale-inspired engagement party dinner. Under trees twinkling with warm string lights and ribbon, set a long table where guests will dine amid beautiful centerpieces and confetti. You can add a layer of whimsy by introducing unicorns, dragons, or other mythical creatures to your decor. This engagement party idea is perfect if you're planning a fairy wedding!
13. Dessert Party
Skip the main course and head straight to the finale with a super sweet dessert party. This is one of those themed engagement party ideas that couples love because it's easy to put together and creates a fun-loving atmosphere. Pair your dessert table, donut walls, and ice cream buffet with pastel decor, personalized cupcake toppers, and even a candy-inspired dress code.
14. Rooftop Party
Celebrate your engagement high above your hometown or a city you love with a rooftop soiree. Book the rooftop at your favorite venue, or host the soiree at a friend's city-view apartment. Depending on the space, you can rent chairs for extra seating, and order plenty of beer and pizza for a relaxed get-together. Want something more luxe? Swap the pizza and beer for appetizers and bubbly, and encourage a sophisticated dress code.
15. Glamping
Invitation Inspiration: S'More Fun! Invitation
Who said your engagement party can only last a few hours? Transform your event into an overnighter and go glamping with your family and close friends. Swap flimsy tents and uncomfortable sleeping bags for luxury bell tents and real beds — but keep the bonfire and s'mores. This is one of those engagement party ideas that's perfect for treating your small guest list to an unforgettable weekend.
16. Vineyard Tour
Celebrate your engagement in a gorgeous setting with a vineyard tour at a winery. You can follow up the tour with a wine-tasting session and delicious small bites. Who knows? You might also discover the perfect reception venue or an amazing wine to serve on your wedding day. If a winery isn't an option, book a wine-tasting session at your favorite local wine bar and raise a glass (or two) to your pending nuptials. 
17. Pool Party
For a splashy engagement party, you can't go wrong with a pool party. If you want to keep it simple, invite your best friends over for a relaxing swim and BBQ. If you want to go all out, bring in a DJ to liven up the party. Be sure to have plenty of fresh summer drinks, bring in some weird and wonderful pool floats, and enjoy the sunshine as your guests have a great time.
18. Wonderland Tea Party
Invitation Inspiration: Trailing Blooms Invitation
Ready for a whole lot of whimsy and mystery? Host an Alice in Wonderland-themed tea party. This is one of those themed engagement party ideas that lends itself to incredible visuals. DIY this themed party by taking inspiration from the book and movie, or bring in the professionals to style it so you can focus on perfecting your party-day outfit.
19. Costume Party
You don't need to wait for Halloween to roll around — an old-fashioned costume party is a great way to throw a bash that's lively and full of laughter. (Although it would be perfect if you're planning a Halloween wedding.) Ask your guests to come dressed up as superheroes or movie characters, or leave the costume options open for them to get creative.
20. Surprise Engagement Party
If you haven't broken the news about your engagement party yet, it's hard to top a surprise party. Invite your loved ones for a get-together and share the news by flashing your engagement ring. Keep the wording in your online invitations vague to leave them guessing right up until the last moment.
21. Parisian Fete
Invitation Inspiration: French Filigree Invitation
Celebrate your upcoming nuptials by transporting your guests to a Parisian-style soiree. Set up cafe tables with delicate lace tablecloths, fine servingware, and cloth napkins. Arrange dessert stands with sweet viennoiseries — like almond croissants, pain au chocolat, and palmiers. For a lunchtime affair, don't forget the charcuterie featuring French cheeses and European cold cuts. Greet guests with a fabulous balloon arch they won't soon forget.
22. Sport Your Love With a Competition
If your love story revolves around sports, you can't go wrong with an engagement party held at a sporting event or with a little friendly competition. You can host a track and field day and have guests compete against each other. Alternatively, take everyone out to a ballgame and rent a suite for viewing the match. For a more budget-friendly option, consider going on a weekday — just be sure to send out your invites early enough so guests can make plans!
23. Apres Ski Celebration
If winter is your favorite season, celebrate in chalet style with an apres ski party. It's the perfect way to cozy up and feel warm and toasty. Take this idea to the next level by planning a ski weekend at your local mountain resort. If a getaway isn't in the cards, simply recreate a winter wonderland at home with faux snowflakes, a white balloon arch, and other party decorations to set the scene.
24. Sail the Open Seas
Invitation Inspiration: Big Bold Crab Invitation
Before you say "I do," throw the best engagement party out on the open seas. Rent a sailboat, yacht, or catamaran to gather with your favorite people. Look for packages that include food and drinks if you want to enjoy the lap of luxury or save on the bill by bringing your own snacks and refreshments on board.
25. Art Gallery Exhibition
Treat your love story like the work of art it is with an art gallery exhibition featuring the happy couple. Rent out an art gallery or clear the living room in your home. Arrange engagement photos in large prints — think poster board size — around the space. Invite guests to attend and serve champagne, wine, and small hors d'oeuvres. As party favors, you can hand out small prints of the images featured in the gallery.
Engagement Party Ideas You'll Love
Everyone loves celebrating an engagement — it's time to toast your wonderful news as you embark on this new lifelong adventure. With these creative, fun-filled engagement party ideas, you can make this joyous event all the more memorable for you and those you love.