May 19, 2022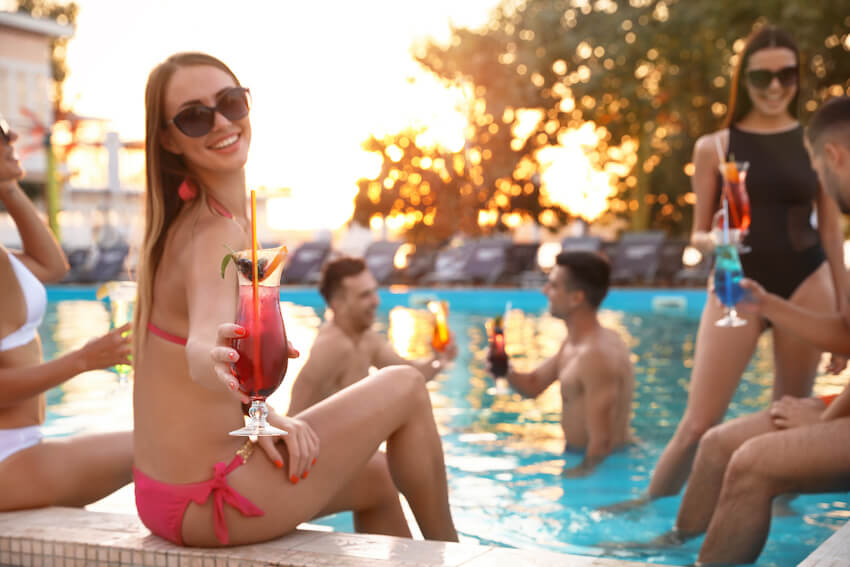 Don your favorite swimsuit and get ready for a quintessential summer soirée — it's time for a pool party. We're not talking about a kid's pool party full of fruit punch and ring toss. This is a grown-up affair. And we've got some grown-up ideas to match.
Whether you're ready to splash out on an epic milestone birthday party, or you're planning a casual get-together with your favorite merfriends, these pool party ideas for adults will have everyone sitting pretty poolside. We've rounded up our favorite pool party decor, food, activities, and more. Let's dive in!

14 Pool Party Ideas for Adults
Get ready for your summertime bash with these 14 adult pool party ideas. From the best pool party themes to our favorite pool party food ideas, you'll find the inspiration you need to start the party planning process — complete with cute pool party invitations to match your summertime vibe.
1. Host a Hawaiian Luau
Bust out the hula skirts and hand out the leis — you're hosting a luau party! This summertime tradition makes a great theme for your next pool party, and it can inspire everything from your centerpieces (we're seeing a pineapple on each table) to your cuisine (poke bowls, perhaps, or a traditional pig roast).
The invite: Bold Palm Frond Invitation
2. Go for a Night Swim
Even a swimming pool feels swankier at night. This is one of our favorite pool party ideas for adults because simply scheduling your summer pool party during the evening hours is enough to make it feel like an adults-only affair. Plus, the mood lighting will make everyone feel more confident in their swimsuit and offer an opportunity to deck out the pool area with candles, tiki torches, and string lights.
The invite: Colorful Pool Invitation
3. Enjoy a Summer BBQ
Swimming is hungry work, and a summer BBQ is an easy way to feed a crowd. Throw some hot dogs, burgers, and veggie skewers on the grill, and everyone will have a place to fuel up between floats. Send a BBQ-themed pool party invitation so your guests know to come hungry.
The invite: Bold BBQ Invitation
4. Make It a Fiesta
You may not be able to jet off to Playa del Carmen for an authentic Mexican beach party, but you can invite some south-of-the-border flavors to your summer bash. Hang papel picado streamers, serve fresh guacamole, mix up a pitcher of margaritas, and set up a DIY taco bar.
The invite: Perfect Papel Picado Invitation
5. Set Up a Sunscreen Centerpiece
Summer is not lobster season, so don't send anyone home looking like one. Make centerpieces with sunscreen by filling a clear glass bowl with sand or seashells, and setting sunscreen bottles in the middle of it. Or hand out travel-size bottles as party favors when everyone walks in.
The invite: Swim & Sun Invitation
6. Arrange Some Entertainment
A simple summertime playlist will be enough to set the mood. For classic poolside jams, try the Yacht Rock playlist on Spotify. For something more modern, go with this Summer Hits playlist. And if you're hosting a big-budget bash, consider hiring live entertainment, like a DJ, a ukulele player, or hula dancers.
The invite: Peppy Pineapple Party Invitation
7. Turn an Inflatable Pool Into a Cooler
It may not be a kid's pool party, but you can still make room for a kiddie pool. Blow up an inflatable pool, and fill it with ice. Then use it to display beer, seltzer, and sodas.
The invite: Pool Party Classics Invitation
8. Hand Out Drink Floaties
Floats that hold people are fun. Floats that hold drinks are party starters. Order inflatable drink floaties in a variety of shapes, like pineapple, palm tree, donut, and flamingo floats. More people will want to dip their toes in the water if they know they can bring their drink with them. At the end of the party, you can save the floaties for a future date, or let guests take them home as party favors.
The invite: Fun Pool Floats Invitation
9. Make Boozy Popsicles
Boozy popsicles are like a classier version of Jell-O shots. They have the same combination of a nostalgic childhood treat and an adults-only ingredient, but they pair even better with the hot summer weather. And as long as you get the mixture right, they will freeze up just like a regular ice pop. Try making one of these boozy popsicle recipes for your next pool party.
The invite: Refreshing Popsicle Invitation
10. Bake Cocktail Cupcakes
For a grown-up version of this classic party dessert, add a tipple of your favorite alcohol. Unlike boozy popsicles, cocktail cupcakes don't have a high enough alcohol content to take the place of a beverage, but they do have the flavor of your favorite mixed drinks. Try making these margarita cupcakes or these piña colada cupcakes.
The invite: Stir It Up Invitation
11. Turn a Watermelon Into a Tap
Cut the top off of a watermelon, scoop out the fruit, and blend it with ice and your favorite clear liquor (or with more summer fruits for a non-alcoholic version). Then, add a tap to the watermelon so guests can pour their drinks directly out of the fruit. Follow these instructions to make your own watermelon tap.
The invite: Classic Watermelon Invitation
12. Serve Fresh Coconut Water
Nothing transports us to a tropical locale faster than drinking out of a coconut. To bring this authentic experience to your summer pool party, round up some green coconuts. You can pre-cut them ahead of the party and stand them upright in a cooler, or you can impress your friends by cutting them open right in front of their eyes. (Traditionally, they're opened with a machete, so watch those fingers.) Add a curly straw, and you're ready to sip this tropical refresher.
The invite: Pool Day Classics Invitation
13. Make Your Pool Area Shine
If you're having an evening-hours pool party, you can play with your poolside lighting. For a fun decoration idea, try throwing glow sticks in the pool, set paper lanterns floating across the water, and start up your fire pit to give everyone an extra place to gather.
The invite: Glow Sticks Invitation
14. Create Your Own Cabana
During a day of fun in the sun, a little shade will help guests escape the rays. You can DIY a luxury cabana by placing some pool chairs under a large umbrella, or setting up a camping tent and filling it with blankets and pillows. You can also create a larger canopy by using rope to tie a sheet between two trees. Scatter pillows and picnic blankets on the ground below to serve as functional, bohemian pool party decorations.
The invite: Bright Splashes Invitation
Come On In, the Water's Fine
When it comes to party planning, you don't need to feel like a fish out of water. At Greenvelope, parties are kind of our thing. We don't just have pool party ideas for adults — we also have summer party ideas, tropical party ideas, garden party ideas, and backyard party ideas.
In short, we have a lot of ideas. And we always have online party invitations to match. With online invites, you can save the trees, save your guest list, and track your RSVPs with ease.
There are dozens of pool party designs to choose from. Once you find your favorite, you can customize it with your party details and your favorite color scheme, then send it to guest inboxes in minutes. When your invitations are this easy, your party planning will go swimmingly!