October 21, 2020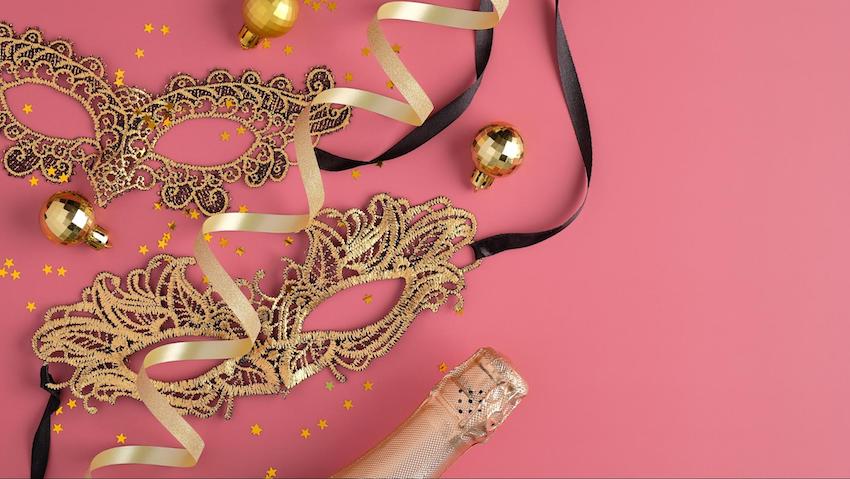 You could throw a costume party. But you're looking for something classier — something a little less bobbing for apples and a little more drinking champagne with pinkies in the air. You're looking for a masquerade ball. 
A masquerade party is the precursor to the modern-day costume party, but this elegant affair isn't just for Halloween. Dressing up while donning masks makes an excellent party theme for bat mitzvahs, New Year's Eve, fundraising galas, bridal showers, bachelorette parties, and quinceañeras.
Whatever the occasion, we want to help you celebrate. To create a masked ball that's better than you imagined, use this must-have guide to masquerade party themes, decorations, food, and invitations. 

Masquerade Party Themes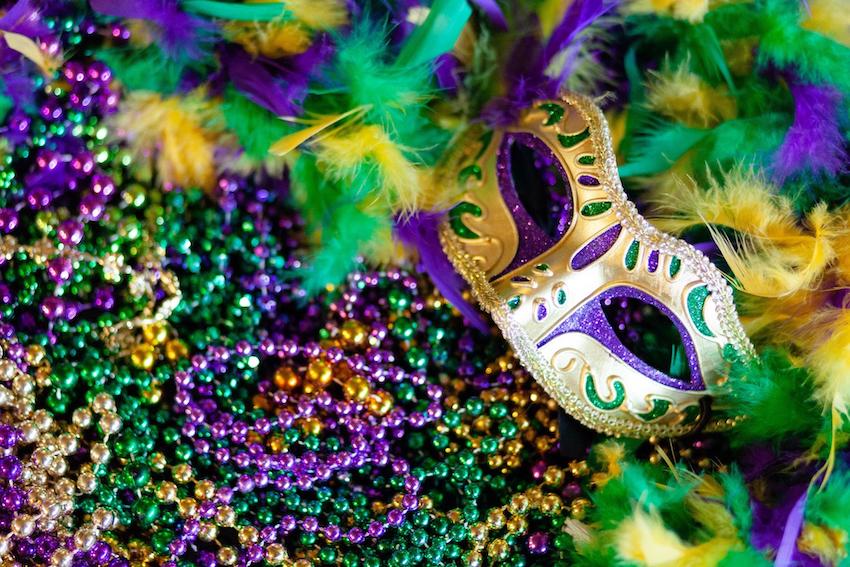 Did you think that "masquerade" was the theme? Well, that's just a starting point. Here are a few ways to heighten your masquerade theme for the most extravagant, Instagram-worthy bash everyone will love. 
Color Schemes 
For photo ops that pop, pick an eye-catching color scheme. An all-white masquerade, black and white masquerade or black and gold masquerade are classic options. But you don't have to limit yourself to the classics. If you're throwing a 50th birthday party and the guest of honor's favorite colors are melon and chartreuse, make it a watermelon and chartreuse masquerade. 
Plan your decor to match your color scheme, and consider handing out matching masks as a party favor. You can give guests white masks or black masks for a black and white ball, or hand out gold masquerade masks to match a black and gold theme. For a fun activity, you can also set up a craft party table where guests can DIY their mask with cutouts, sequins, and feathers.
Mardi Gras 
A masquerade theme and Mardi Gras go together like jazz and New Orleans. Mardi Gras masks are a traditional part of the celebration. 
To make everyone feel like they're in the French Quarter, host your masquerade ball on or around Fat Tuesday, encourage everyone to wear purple, green, and gold, and hand out beaded necklaces as a festive party favor. 
Great Gatsby 
There's nothing quite like the glitz and glitter of a Gatsby gala. Celebrate the Roaring Twenties by serving champagne out of a coupe and mixing up a few bootlegger cocktails. Add in some Art Deco decor (think bold, geometric patterns and metallic hues) and encourage guests to match their masquerade ball mask with their favorite flapper outfit.
Venetian Masquerade 
Celebrate the origins of the masquerade ball by throwing a traditional Venetian masquerade. Encourage guests to find their own artisan Venetian masks, or use them as part of your party decor. 
Music and dancing were an integral part of traditional Venetian celebrations, so find a playlist with classical Italian music, or go all out and hire a string quartet. Bonus points to any guest who shows up in 16th-century attire.
Black Tie 
If you're a fan of fancy dress, set the fanciest dress code of them all: black tie. Men will don their best tuxedo, women will wear their most beautiful ball gown, and the whole party will show you just how nicely they clean up. Sure, this type of soiree can cost a pretty penny, but the memories will be priceless.
Holiday Party
From New Year's Eve to Halloween and everything in between, consider throwing a masked party with a holiday theme. Host a Christmas masquerade celebration and encourage guests to don costumes in sparkly red, green, and silver hues. For an October bash, forget the Halloween costumes. Instead, ask everyone to come dressed in elegant orange and black ensembles, then pass out masks upon arrival. Whatever time of year you choose, let the season inspire you. 
Masquerade Party Decorations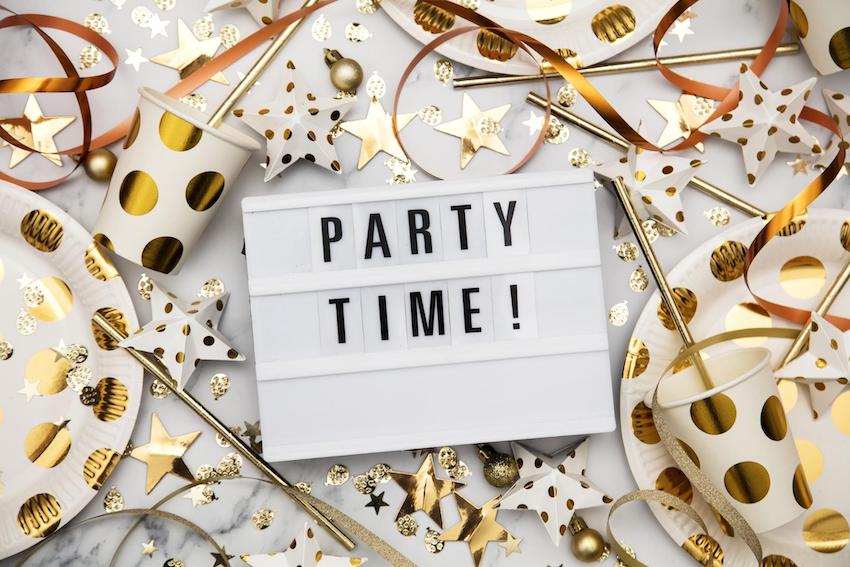 Masquerade parties let you get in touch with your glam side. Sequins are always a good idea. Here are a couple of other ways you can set the masquerade mood with your decorations.
Add Glamour
A classic chandelier (or better yet, a candelabra) will add instant sparkle to your party. But if your venue (or budget) isn't chandelier-level, there's a simpler way to add some shine. Drape glittery garland around the room, fill your centerpieces with confetti, and go for gold cutlery (even if it's just plasticware). Little touches like these will set a glam tone without breaking the bank.
Include a Photo Booth
Photo booths are always a draw at any party. If you can't afford to hire a professional photo booth, it's easy to set up a DIY version. Just find an empty wall, hang a shimmery backdrop (think sequin fabric or gold streamers), and let people take pics with their own cameras. To make the photos extra fun, add photo booth props to your list of party supplies. 
Masquerade Ball Food and Drinks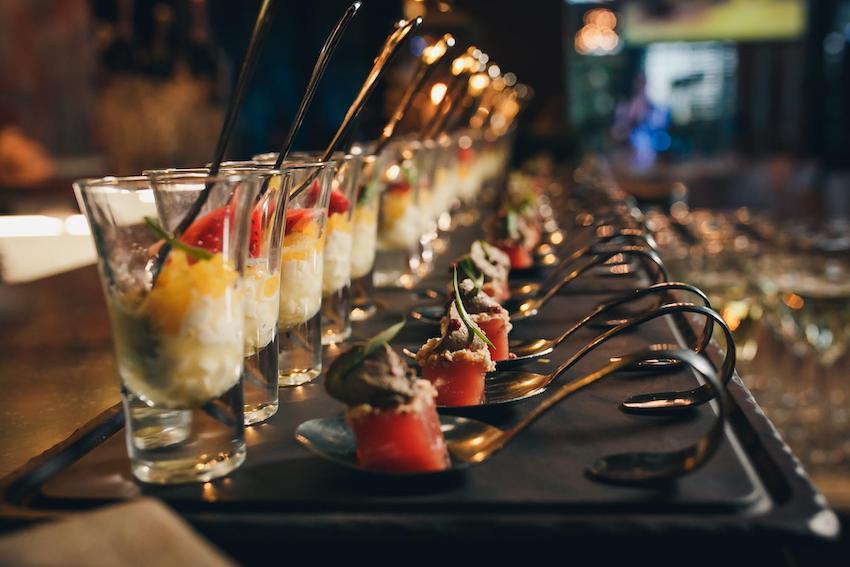 Food and drinks are a central part of any party planning, and your masquerade celebration is no exception. Here are some pro tips for hosting a most delectable event. 
Appetizers 
You don't need a full buffet spread or a sit-down meal for an elegant fĂŞte. Finger foods are a fun way to keep the party going since guests won't have to stop and eat. Put together a few bites that guests can grab as they circulate. 
For a traditional Venetian masquerade, try a northern Italian dish like creamy cod on toasted polenta. For a Great Gatsby gathering, oysters on the half shell are a great idea while you can scare up some delicious Halloween party food for an All Hallows' Eve-themed affair.
Main Course 
If you're having a sit-down meal, let guests know that dinner will be served on your invitations. Again, look to your theme for menu inspiration. For a holiday party, have turkey and cranberry sauce. For a Mardi Gras party, choose Cajun classics. For a black-tie affair, serve an elegant three-course meal. 
Dessert
Whether you're serving a full meal or a variety of appetizers, you can't go wrong with bite-sized desserts. They offer a sweet finish without giving guests an extreme sugar rush. Mini cupcakes, cookies, and other single-serve desserts are always a welcome treat. Even better if they match your party theme. 
You can also choose a themed-dessert like a king cake for Mardi Gras, Charlotte Russe for a Gatsby party, or a pumpkin pie for the holidays. 
Drinks
Of course, it's not a party without a few libations. Be sure to have plenty of bubbly on ice (and sparkling cider for those who want to celebrate alcohol-free). You can also consider themed drinks, such as a Hurricane cocktail for a Mardi Gras soiree or some spiked eggnog for a Christmas masquerade.
Masquerade Party Invitations 
Now that you have visions of your party dancing in your head, it's time to create the guest list and send your invites. Here are a few digital invitations to set the tone for your masked affair.
Masquerade Ball Invitation
This masquerade ball invite features an intricate mask design on a background that looks like black cardstock. Customize the accent color to purple or green (for Mardi Gras), red or gold (for Christmas), or teal (just for fun). You can also work with a designer to customize it even more. 
Bokeh Masquerade Invitation 
This invite is perfect for a black and gold masquerade. (It's also available in a gorgeous sapphire tone or black and silver combination.) Customize the script to read "masquerade party," and your guests will know they're in for an evening of elegance. 
Gold Masquerade Invitation
Although this masquerade invite is ready for a bat mitzvah, you can edit the text for an 18th birthday, baby shower, bachelorette party, or even a wedding. The font would look right at home on a 1920s marquee, making this a perfect option for a Gatsby party. 
Costumes & Cosmos Invitation 
If you want to forgo the formalities and jump right into the fun, the playful text and illustrated costume pieces on this creative invitation will set a playful mood. The card comes in orange, green, or purple with a neutral background, making it ideal for a Halloween or Mardi Gras themed party. 
Put On Your Mask and Get Ready to Party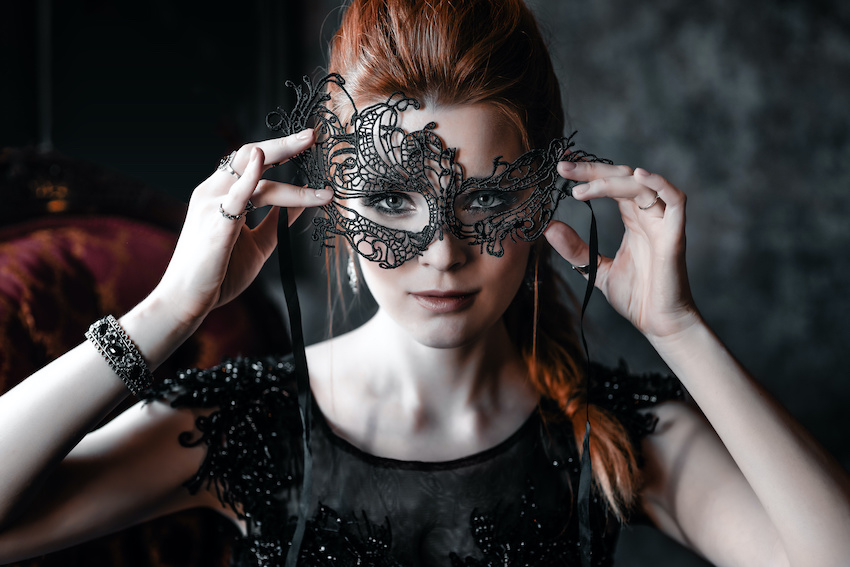 The masquerade party has been a hit since the 16th century. It's a timeless tradition not only because it's exciting to dress up and wear masks, but because it can be adapted in so many ways. From birthdays to bridal showers to New Year's Eve, you can throw a masked ball any time of year — and for any occasion — and it won't feel out of place. 
So why not try something out of the ordinary and give your guests an evening of revelry and intrigue? Whatever theme you choose, you're sure to have a night to remember. For even more party planning tips, feel free to continue browsing our Stationer's blog.