June 29, 2021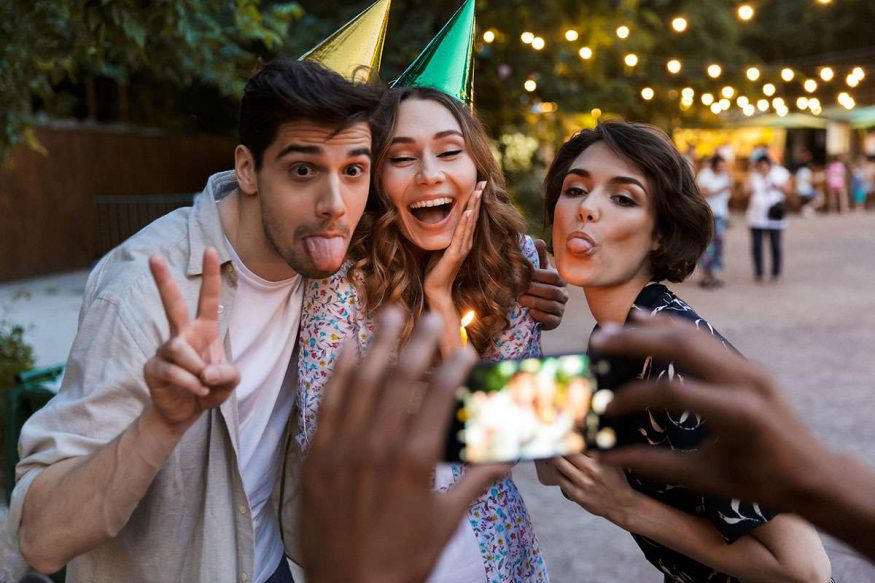 College is undoubtedly a time for learning, but it's also a time for having fun, expressing yourself, and getting to know people who might become lifelong friends. One of the best ways to connect with others is by hosting college parties and meetups. To help you out, we're sharing some of our favorite college party themes. Once you pick a theme, order in some tasty food and press play on your favorite track for a crowd-pleasing celebration.

1. Toga Party
You can't go wrong with a classic college party theme — the toga party! With a dress code inspired by Greek and Roman traditions, you can ask your party guests to don their best togas.
While there are usually drinking games involved in this type of party, feel free to make it your own and focus on other creative elements. For example, to put a fun twist on your toga party, ask everyone to customize their togas with decorations or opt for brightly colored versions. You could also combine your toga bash with another unexpected theme — like a toga rave party.
2. Ugly Sweater Party
There's nothing quite like an ugly sweater party. Whether you're partying to celebrate the holidays or just gathering your college friends for a hilarious get-together, ugly sweaters (ironically) never go out of style.
Challenge your guests to find their most festive (read: tackiest) sweater and join you for an evening of great food, party games, and getting to know each other. Offer a prize for the best (or worst) dressed, and have fun theming your activities and food around the topic too — like a sweater-themed quiz.
3. Graffiti Party
It's time to get expressive and break all the rules with a fun graffiti-themed party. This college party idea is perfect for art students, music students, or anyone who loves to be creative.
Ask your guests to come dressed in something white — like a white T-shirt, tank top, or dress. Then, hand out markers, highlighters, pens, and fabric paints in all different colors and invite people to go wild and accessorize their own outfits or each other's. Just make sure to inform guests on your party invitations so they wear something they don't mind getting graffitied.
You could keep the graffiti art to just your outfits or find a suitable place where people can showcase their scribbling skills — like a giant canvas or cardboard model.
4. High School Stereotypes Party
High school never ends, and this college party theme proves it. Invite your guests to come dressed as a high school stereotype for an evening of laughter and reminiscing about the not-so-distant past.
There's no end to the stereotypes you could cover — nerds, hippies, cheerleaders, jocks, and goths are just a few that come to mind. You could even come dressed as your favorite dynamic duo or trio from a high school movie — such as Clueless or Mean Girls.
5. Disney Party
Break out your Disney classics for this cute take on a college party theme. There's lots of fun you can have with this — you can stick with Disney princesses and villains, opt for only the old favorites like Mickey and Minnie, or include some of the newer Marvel characters too.
For your Disney-inspired party, encourage attendees to dress up as their favorite character. (There's no need to wait for a Halloween party, although this works perfectly for the spooky season.) Go all out and decorate your space, decor, food, and drink with images from the iconic animation studio. If you're all above the required age, these Disney-inspired cocktails will make for a colorful addition to your menu.
6. Hawaiian Luau
If summer is in the air, it's the perfect time to host a Hawaiian luau for your college pals. This is one of those college party themes that remains popular, as it's such a bright, fun way to spend time together.
Come dressed in your best beach gear, whether or not you're heading somewhere by the sea. Play party games like limbo and coconut shy, enjoy island-inspired drinks and food, and set up the kind of party playlist that transports you to an island getaway. You can have a lot of fun styling your space with this theme too — think tiki torches, textured grass touches, and plenty of bright colors. For a full list of ideas, don't miss our guide on how to host a luau party.
7. Meme Party
If you're all about the memes, this is the college party theme for you. Gather your friends around for an evening of trying to see who knows the most when it comes to their memes — and who has no idea what's hot right now!
This themed party gives you plenty of room to be creative, with costume ideas coming from all the classic memes and what's trending at the moment. Not sure what exactly to come dressed as? This guide to the best memes will help you find the perfect outfit for this casual get-together.
8. Pajama Party
Pajama parties may have been all the rage back in middle school, but slumber parties are here to stay no matter how old you are. We love this college party theme for sorority nights, best friend meetups, and relaxing weekends with new friends.
Make your space super cozy with throw pillows and blankets, and make sure you're in your coziest pajamas. Choose a movie or two to watch until late in the evening with plenty of popcorn, snacks, drinks, and ice-cream on hand.
9. Casino Night Party
Get all dressed up with somewhere to go with a casino-themed college party. This one's great if you love card games, casino games, or just want to create a sophisticated evening. You could even set an "entrance fee" that you can then donate to charity.
Transform your college dorm or venue into a casino for the night, complete with red, black, and gold decor accents. Add in luxurious textures like velvet curtains for a fun touch, and you can also use them as the backdrop for a DIY photo booth. Play games and laugh the night away with your new friends.
10. Anything But Clothes Party
Challenge your guests to come dressed super creatively with an "anything but clothes" party. This college party theme means wearing anything you want — as long as it's not classified as clothing. Sounds fun, right?
Pick up a bed sheet or tent and transform it into something wearable, or go a little more out there with some candy wrappers, cardboard boxes, and rolls of tape. Whatever your party guests come up with, it's sure to be hilarious and Insta-worthy.
11. Zombie Apocalypse Party
For a truly immersive experience, you can't go wrong with a zombie apocalypse party. This theme isn't just for a Halloween bash either — it works great all year round.
Ask your party guests to suspend belief and come to a post-apocalyptic dreamland. Style your space as if a zombie apocalypse has happened. Try serving some spooky food options — or stick with party classics like burgers and pizza — and let your guests choose whether they come as ordinary people or those who have already turned.
12. Masquerade Party
Surround yourself with suspense and mystery by hosting a masquerade party for your friends. We love this college party idea because you can take it in different directions — head back in time for a royalty-inspired bash, or throw a fiesta for Mardi Gras.
If you're going for the classic masquerade ball approach, ask your guests to don their finest as they come over to sip on sophisticated cocktails and enjoy some fine dining. Hosting a fiesta instead? Break out your brightest balloons, garlands, and string beads and party until dawn.
13. Retro Rave Party
Sometimes a college party theme calls for plenty of neon and the best dance music around. Treat your guests to a retro neon rave party for an event they're sure to remember long after their glow sticks have run out.
Deck out your space with black lights, bright neon lights, and sparkly foil curtains to create a classic 80s party or 90s party theme. Dance it out on a makeshift dance floor with some loud tunes — or keep it neighbor-friendly and host a silent rave instead.
Have Fun With These College Party Theme Ideas
Hosting a college party is all about keeping it light and fun. You want people to walk in, feel relaxed, and spend their time laughing and getting to know each other. Use one of these fun college party themes to get you started, then spread the word with fully customizable digital invitations. When the party day comes, blast those tunes, set out some food, and you're good to go.