November 23, 2020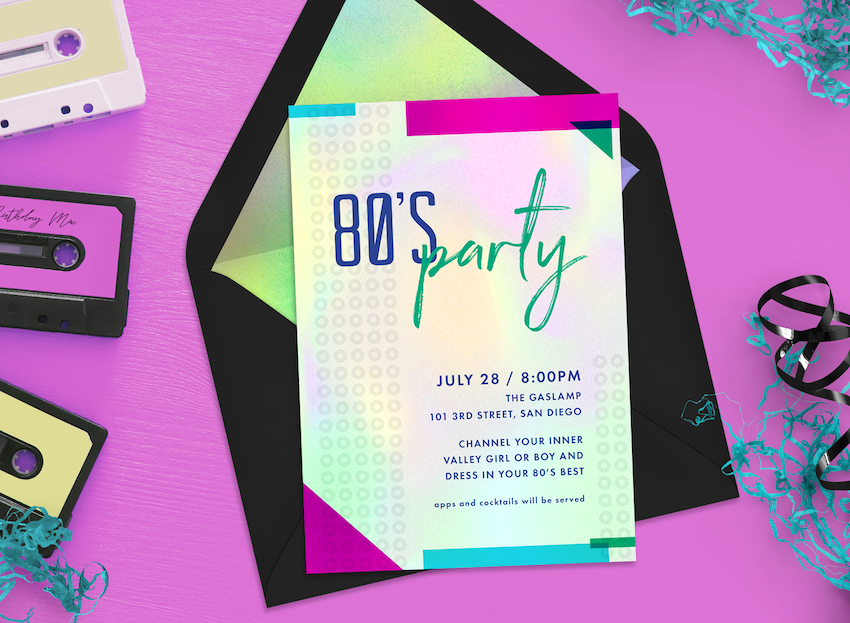 You've decided to throw a super awesome 80s theme party. Well, it's time to get stoked 'cause your guests are in for a rad time! Create the ultimate party atmosphere and give them a shindig to remember with these totally tubular 80s-inspired ideas for decor, food, activities, and more. 

1. Totally Awesome Dress Code
The 80s gave us so many eye-popping fashion trends. (Hello, scrunchies, mullets, lace blouses, and ripped jeans!) Bring back that style and have fun with it by introducing a dress code for your retro bash.
Ask guests to come dressed in their favorite 80s creations. Be prepared to see plenty of legwarmers, neon, animal prints, and hot pink. Or put a twist on a classic 80s party by making it a fancy dress code — challenge your guests to come as their favorite 80s movie character, or throw an 80s music-themed bash. Let your guests know all about your dress code on your party invitations.
2. Glow-in-the-Dark Fun
Hosting an evening get-together? Turn on the black lights and bring out the glow sticks for some neon shenanigans. Transform your space into the ultimate 80s party scene with glow-in-the-dark paint and party supplies. Use this to set the scene for a dance party segment or theme your whole bash around the idea of a radical glow-in-the-dark party. 
3. Neon Lighting
Whether or not you break out the glow sticks, neon lighting is definitely the way to go for an authentic 80s theme party. 
Deck out your place with a neon word sign like "I love the 80s" or a quote from your favorite 80s movie. Add strip lighting or swap out your usual bulbs for color-changing LEDs for an easy way to add neon colors to your party.
4. A Rad Playlist
It isn't an 80s themed bash without an awesome playlist. You don't need a DJ as long as you have all the classics from the greats, plus some tunes inspired by nostalgia. Add in hits from 80s classics like Madonna, Culture Club, and Wham. If you're breaking your party down into chill and more lively moments, create a playlist to match each moment. 
Everyone's got their 80s favorites, so try to include a few within your playlist. Add a note with your digital invitations for your guests' song requests for a fun way to get everyone involved. 
5. Retro Candy Bar
Get people reminiscing over their favorite sweets from the past with a retro candy bar. Stock up on classics like Skittles, Nerds, Runts, Razzles, and Sour Patch Kids. Don't forget Push Pops and Chupa Chups too! Not only does a retro candy bar give you those nostalgic feels, but it's a great way to brighten up your celebration with rainbow colors. 
6. Rubik's Cube Cake
Whether you're throwing a dinner party or keeping the snacks light, there's one thing you'll want for sure — cake. And what better way to celebrate the 80s than with a Rubik's Cube inspired cake?
Yes, it sounds complicated, but with a store-bought cake base and this Rubik's Cube cake recipe, you can make it happen in no time. (OK, it takes some time but it'll be so worth the effort.) The fondant is a lot of fun to work with — and if your hands end up a little stained consider it part of your multi-hued costume.
7. Music Themed Centerpieces
If you're hosting an 80s theme party for a big occasion like a family reunion or wedding reception, chances are you'll have party tables to decorate. Take inspiration from the music scene to create themed centerpieces around 80s greats. 
There are lots of fun ways you can use music to theme your tables and decor. Use album covers as centerpieces, with each table named after a famous band or album. Spray paint boomboxes and use them as centerpieces, or swap traditional name cards for cassette tapes with your guests' names written on them. 
8. Retro Photo Booth
Everyone loves a photo booth. Bring plenty of nostalgia to your 80s party by staging yours with all the retro styling you can imagine. Create a scene with a neon patterned backdrop, then add some gold or brightly colored accents. Lay out plenty of photo booth props and fun cutouts for people to get creative with. Once your photos are ready to download, suggest a photo editing app with a retro filter your guests can use for a more authentic look. 
9. Inflatable Decorations
Retro inflatable decorations are such a fun way to add a touch of whimsy and nostalgia to your party. There are many great options when it comes to 80s inspired inflatables. We love brightly colored boomboxes, giant cell phones, bananas, microphones, and guitars. Encourage your guests to pose for photos and use some of these props in party games or karaoke battles later in the evening. 
10. Video Game Station
The 80s were a great time for video games. Some of the old classics from back then are still some of our most-loved games now. Bring back the energy with a fun video game station at your 80s theme party.
Set up an area where guests can enjoy 80s classics like Pac Man, Donkey Kong, Tetris, Frogger, and Super Mario Bros. You can stay authentic and rent or borrow classic video game consoles, or opt for the modern versions on today's consoles instead. If you're feeling creative, you could even base your whole party theme around your favorite 80s video game. 
11. 80s Movie Character Cutouts
The 80s really gave us some of the most iconic music, fashion, and film. Celebrate the greatness of 80s movies by adding some life-size movie character cutouts to your party decor (and photo booth).
Bring out classics like Indiana Jones, the Terminator, and Doc Brown from "Back to the Future." Mix in fantasy or horror treasures like Beetlejuice and Freddie Kruger. There are also fun picks like Mad Max, the Blues Brothers, and even Yoda himself. If you're hosting a themed bash, this is the perfect way to bring your favorite 80s movie to life. 
12. Themed Party Games
We all love a great party game, and themed parties give you the perfect way to remember the decade with some light-hearted activities. 
Create your own pop quiz with trivia rounds based on 80s music, fashion, movies, news, and celebrities. Play a few rounds of themed charades where you have to guess the prime 80s reference. Load up a playlist and challenge your guests to play "guess that song" to score points and win. Whatever your favorite classic is, put a playful 80s spin on it for an easy party game idea. 
13. Brightly Colored Cocktails
Keep the colorful vibe alive throughout your party, including food and drinks. Swap classics like the margarita or mojito for fun, brightly colored cocktails that taste decadently sweet. (Midori Sour, anyone?)
Set up a cocktail station with instructions so guests can DIY their own, or have a professional on hand to show them how it's done. Take inspiration from these retro cocktail ideas and garnish them with fresh fruit, brightly colored eco-friendly straws, edible confetti, and cocktail umbrellas. 
14. Head-to-Head Challenges
It wouldn't be an 80s theme party without a little mischief. Set up fun head-to-head and team challenges to see who's the best at these retro favorites. 
You could create challenges around anything, but we love the idea of an air guitar challenge or a true 80s-style dance-off. Throw in some karaoke or hip-hop lip sync battles and you have a totally awesome way to spend your time together. Plus, it'll give you the perfect opportunity to use all those photo booth props and inflatables. 
15. Awesome Themed Party Favors 
When it's time to say goodbye, don't let your guests go home empty-handed. Themed party favors are a fabulous way to send guests off with a reminder of all the fun they've had at your 80s theme bash. 
Tailor your favors to your party guests' ages, interests, and the type of party you've thrown. You could send guests home with a Rubik's cube, themed cupcakes, or an airbrushed T-shirt inside themed favor boxes. You could even send them a link to download your super rad 80s playlist. 
Retro Nostalgia Your Guests Will Love
We love 80s theme parties. They're such a fun way to celebrate a birthday party, anniversary, or other life moment with the people you love most. 
Get your guests in that party atmosphere with the perfect playlist, themed party games, and all the 80s party decorations you could possibly want. With ideas like this, your 80s theme celebration is sure to go down in history.