September 10, 2021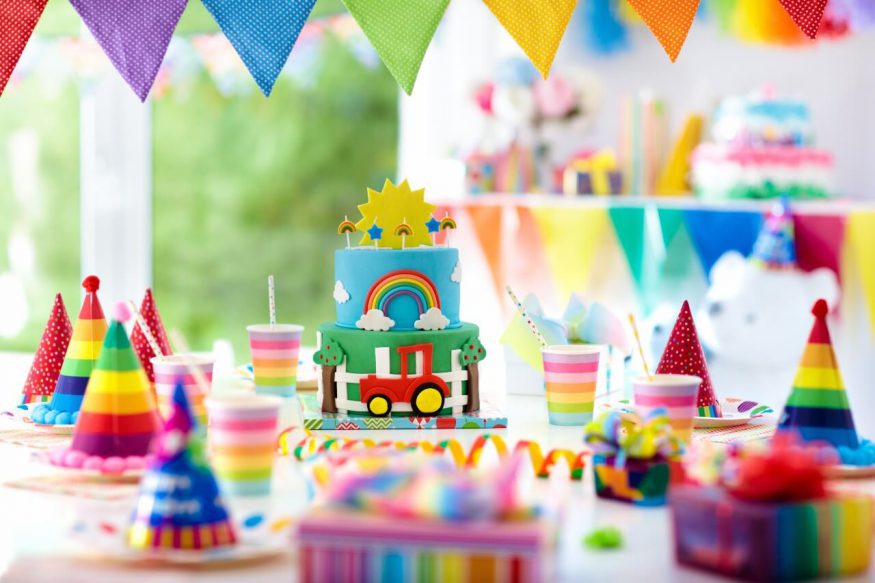 Is there anything better than a rainbow birthday party? We adore this party theme for kids, adults, and even pets! To help you create the most amazing rainbow birthday party ever, here are some of our best ideas. You'll find all the inspiration you need for decor, games, food, and party invites right here. 

Colorful Rainbow Birthday Party Decor Ideas
A rainbow birthday party is a perfect excuse to introduce as many bright or pastel colors as possible, depending on your party theme. Here are some of our favorite rainbow party decorations for your next kids' birthday party, or even for grown-ups too. 
Rainbow Balloon Arch
Nothing quite says "happy birthday" like a balloon arch, and a rainbow theme is a perfect occasion for one. String together brightly colored balloons in rainbow colors to create your very own balloon garland, or invest in one ready-made from your local party supplies store.
A rainbow balloon arch is a super fun birthday party decoration that you can scale up or down depending on your needs. Create a giant arch to greet your guests as they arrive, or make mini versions to act as centerpieces on your party or dessert tables. 
Brightly Colored Tableware
When you all sit down for that party meal or buffet, there's nothing better than settling down to a table that's just as bright and joyful as the birthday guest of honor. Bring plenty of rainbow party supplies to your table settings to bring the theme to life. 
Look around for rainbow-themed paper cups, reusable plates, cutlery, and other tableware. Lay everything out on a rainbow table cover, sprinkled with gorgeously bold confetti for a real party touch. 
Rainbow Themed Pinata
It's always adorable watching little kids try to hit the pinata and break free all that candy. Any pinata is great, but for a rainbow birthday party, you can't go wrong with one that's perfectly on theme. 
Have a look online at all the different rainbow-themed pinata options, and find one to match your birthday guest's celebration. Keep it simple with a giant rainbow, or look for a cutesy rainbow unicorn or bear instead for something a little different. 
DIY Photo Booth Backdrop
Both young and old party guests seem to love a photo booth, so have some fun and create your own DIY version for this rainbow birthday party. All you need is a camera, a tripod, and a great backdrop that your guests can pose against for the picture-perfect photoshoot. 
Make your DIY rainbow photo booth backdrop using any gloriously bold or pastel-themed decorations that you have around. Put up a rainbow backdrop made from fabric or paper, with streamers, foil balloons, and a happy birthday banner in front of it. Give your guests some adorable props to pose with and snap some sweet memories. 
Super Fun Rainbow Birthday Party Games and Activities
We think that birthday parties are the perfect excuse to get lively and enjoy some games and activities together. Here are some sweet games and activities that you can plan that match your rainbow theme.
Decorate Your Own Rainbow
With so many rainbows all around you, your guests might want the chance to make their own. Set up a cute rainbow decorating station with foam or card rainbows and plenty of crayons, marker pens, stickers, feathers, and other decorations. 
Decorating rainbows is excellent as a small DIY project for younger kids, or you could make it the focus of your party with a more in-depth tutorial and more advanced materials for older children. Encourage your party guests to take a photo of their creation so that you can put together a gallery after the event. 
Rainbow Bouncy Castle
Who doesn't love a bouncy castle? For a special rainbow birthday party, rent a bouncy castle so all your guests can enjoy jumping up and down on what feels like their very own cloud. 
If you have the space and budget, consider renting some ROYGBIV soft play pieces or an inflatable obstacle course too. This extends the fun for everyone and gives you a great way to tire the kids out before it's time to eat cake. 
Rainbow Relay Race
A rainbow relay race is a fun idea for party guests who are up for a challenge or little kids who love to run. Ask your guests to get into teams and see who can complete the relay racecourse first while holding the baton.
If you want to put another twist on the relay race, swap the baton for a brightly colored version. Better still, make your race even harder by asking guests to add a new accessory at each stage of the relay race. See who can make it to the finish line wearing every shiny decoration. 
Colorful Trivia Quiz
If you're looking for a rainbow birthday party activity that's a little more relaxed, you can't go wrong with a themed trivia quiz. It's the perfect party hit no matter how old your guests are, as you can easily tailor the questions to your group. 
Include all the classic trivia quiz rounds like music, movies, and sports — but make the questions and answers center around colors. Challenge your guests to name as many songs as they can that feature a color or recall the colors featured on different world flags. At the end, award the team with the most points a prize. 
Delicious Rainbow Birthday Party Food and Drinks
You can have fun with all the rainbow colors when it comes to this party theme, and no desserts are off-limits once you add a little food coloring. Here are some of our favorite food and drink ideas for your rainbow birthday party. 
Rainbow Birthday Cake
For any serious birthday party following this theme, you must have a rainbow birthday cake. Find a rainbow cake recipe and bake your own at home, or ask a local baker to work their magic and create a real showstopper. 
There are lots of different directions you can take your themed birthday cake. Opt for a simple iced cake with rainbow layers, a classic sponge cake with rainbow icing, or even a chocolate cake with a rainbow cake topper. Rainbow cupcakes are always a hit if you want your guests to take some cake home with them. 
Colorful Candy Bar
While your younger party guests will already be full of energy from running around and playing games, it doesn't hurt to perk them up a little more with a super fun candy bar. Lay out dishes with colorful candy in all shades of the rainbow for them to enjoy. 
Not all the candy will get eaten at your party. Make the moment even more fun by handing out candy bags and asking your guests to take their own mixes home as the tastiest rainbow party favors. 
Fresh Fruit Platters
For something a little healthier and more filling, a fresh fruit platter is a perfect option. This dessert is a great way to encourage young ones to eat more fresh fruit — especially if you serve it up in a creative way. 
Slice your fresh fruit and present it as an actual rainbow, or put together your homemade fruit kebabs. Make this sweet fruit even more enticing by offering dips like chocolate, yogurt, and cream cheese. 
Rainbow Smoothies
Forget serving up the usual water and juices at your rainbow birthday party — go all out with colorful rainbow smoothies. Not only is this a useful way to enjoy delicious fruit, but it's also the perfect drink to match your party theme. 
To make your tasty drinks, take a look at this rainbow smoothie recipe. Make sure you have all the ingredients, and then blend and serve them fresh. It's a great surprise that'll make them smile. 
Our Favorite Rainbow Birthday Party Invitations
With all these fun rainbow birthday party ideas in mind, it's time to start thinking about finding the perfect online invitations to match. Take a look at these gorgeous rainbow invitations, and choose one that your birthday guests will absolutely adore. What's great about these invites is that you can personalize them by adding your own text and color options. 
Cloud Nine Invitation
This adorable cloud nine invitation gives you an ideal way to welcome guests to a little sweetheart's birthday party. We love the contemporary take on rainbow colors and the soft, gently textured background. 
Rainbow Rows Invitation
This rainbow rows invitation is the way to go for a birthday guest of honor who loves these gorgeous contemporary colors. It's ideal for a rainbow birthday party for people of any age, and it's a beautifully simple design that gets the theme across. 
Unicorn Rainbow Invitation
Sometimes you want to put the birthday guests front and center, and this stunning unicorn rainbow invitation lets you do just that. With pastel tones and gold accents, this design features a nod to rainbows without being overly bright. 
Painted Rainbow Invitation
Keep things simple and true to those traditional rainbow tones with this painted rainbow invitation. We adore the painterly effect — it's ideal for an artsy party or a more casual or rustic take on the rainbow theme. 
Sparkling Rainbow Invitation
Invite your guests to a gorgeous pastel rainbow-themed party with this sparkling rainbow invitation. The adorable colors and hints of gold make this a lovely invite design for any sweet celebration. 
Celebrate in Style with These Rainbow Birthday Party Ideas
There's something so joyful about a rainbow-themed party. With so many gorgeous bright colors, you can really have fun with the theme. Take these decor, food, activity, and invite ideas and enjoy the process of planning an incredible rainbow birthday party.