October 1, 2022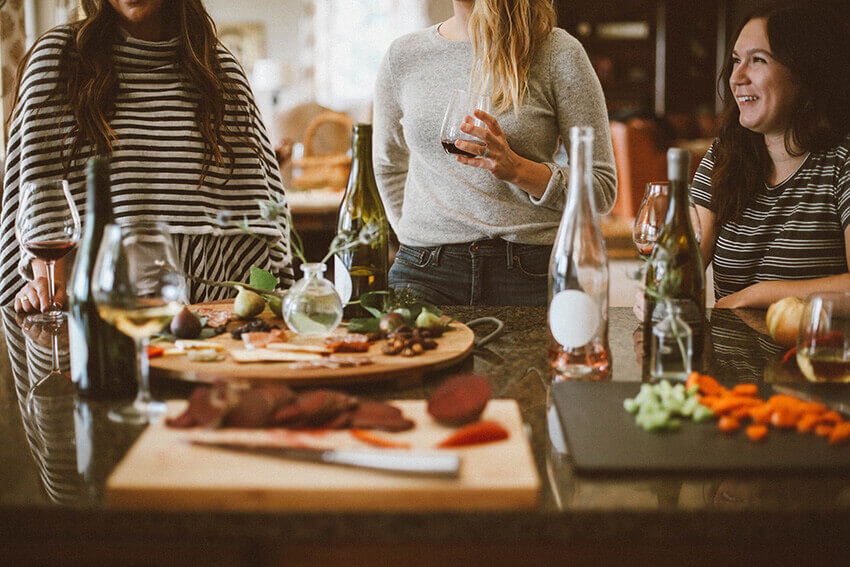 Ready to shake up your Saturday night with some competitive fun? Invite your friends over, serve up a few snacks, pour some drinks, and have a good time. The key to pulling off the perfect adult game night is all in the details. 
Keep scrolling to create an evening that's both fun and easy. You'll find plenty of ideas for the best adult party games as well as tips on planning a crowd-pleasing menu. Plus, you'll get a sneak peek at can't-miss game night invitations that you can send to your friends in a matter of minutes. Game on!

The Best Game Ideas for an Adult Game Night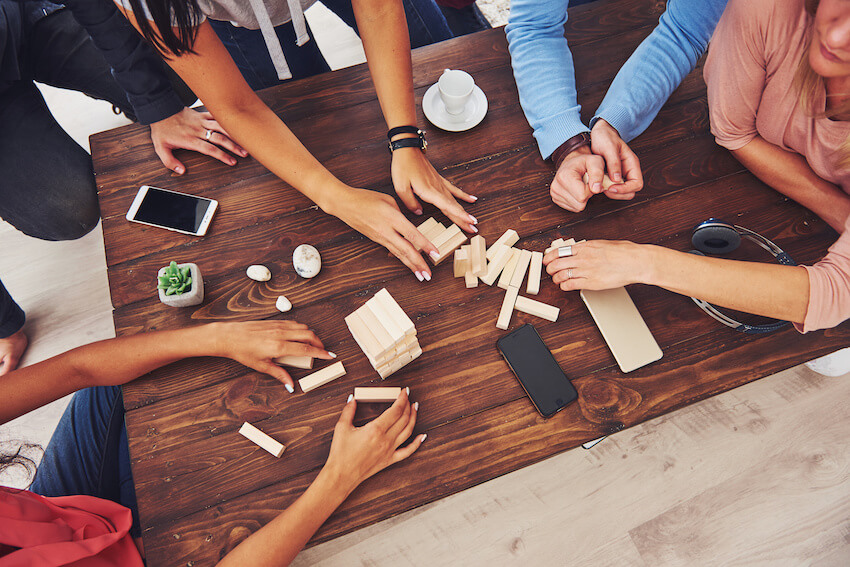 For an epic adult game night, you'll want to pick out a few games and make sure they're suitable for the right number of players you plan on inviting. If you end up having a big group, you can split up into teams and play several different games throughout the night.
From digital party games to classic board games, these options are sure to score points with your guests. Whether you're inviting your longtime besties or a mix of close friends and acquaintances, select a few different games that your guests can choose from. That way, there's something for everyone's tastes. 
1. Jackbox Games
Ideal for homes with limited space, you can play Jackbox Games using your phones, Xbox, Playstation, or Amazon Fire TV. Just have everyone connect to the "jackbox.tv" web address on their phone and play anything from trivia games to fill-in-the-blank word games. 
2. Cards Against Humanity
Cards Against Humanity is not a family game. Instead, it's absurdly inappropriate, roaringly fun, and perfectly suited for an adult game night soiree. It's great for large groups since there's no limit to the number of players — though six to eight people are ideal. 
For each turn, one person draws a black question card and everyone else answers using one of their white answer cards. The answers and questions are ridiculous, including things like "a man in a sippy cup" and "what gives me uncontrollable gas." There are also several expansion packs, including the Absurd Pack and Dad Pack for hours of fun.
3. Heads Up!
You've probably heard of talk show host Ellen DeGeneres and Heads Up! is the wildly popular game she plays on her show. To play, you have to guess the word on a card from your friends' clues before the timer runs out. You can play this game by downloading the app on your smartphone. But if you want to go analog, simply write down words on Post-its and have everyone stick them on their foreheads for a hilarious adult game night.
4. Pictionary
Pictionary is one of the best board games around. This classic game is best played in two teams with four people each, though you can also play with more or fewer participants. A team member picks a card and then draws the word while the rest of the team tries to guess what it is. Have an artist on your team? Guessing will be easy, but it's just as fun trying to decipher a clue from the stick figures and scribbles of even the worst artists.
5. Charades
Another adult game that's sure to bring on the laughs is charades. When it's their turn, each person acts out a particular word, whether it's a person, place, or thing. The first person to guess correctly gets a point and the final winner can take home a prize. You can download printable charade cards or come up with ideas on the fly. Topics can include trending pop culture figures or politicians as well as emotions, sports, or activities.
6. What Do You Meme?
What Do You Meme? takes traditional card games and brings them into the present with a focus on making viral memes. This card game is perfect for any meme lovers in your group. Ultimately, you're competing to create the funniest meme by pairing caption cards with the photo card in play. 
7. Exploding Kittens
Exploding Kittens is a highly-strategic, family-friendly, and kitty-powered version of hot potato. (There are also goats and magical enchiladas with artwork by famed cartoonist The Oatmeal, so you know it's good.) The goal of the game is to avoid drawing an exploding kitten card. Along the way, you can try to defeat other players by playing Attack, Nope, and See the Future cards. It's a great drawing game if you feel like being silly yet ruthlessly competitive at the same time.
8. Telestrations After Dark
Much like a visual version of the old-school game Telephone, Telestrations After Dark is perfect for an adult game night. To play, everyone gathers around a table with a sketchpad. You start by choosing a word, then passing the sketchpad to your left or right. The next person reads the word and draws the image on a new page. The pad is then passed to the next person who looks at the picture and writes what they think it is. This continues until everyone has had a turn and you get your original sketchpad back. Everyone shares the progression of their word — laughing hysterically at the misinterpretations.
9. Catch Phrase
Ideal for groups who might not know each other really well, Catch Phrase is the perfect game to break the ice and ease people into an evening of fun. Players read a word on the Catchphrase device and have to describe it without saying what it is. Once someone guesses correctly, they toss the unit to another player who has to do the same. Players have just 15 seconds to guess, so it's an excellent way to keep things moving and exciting.
Other Entertainment for Adult Game Night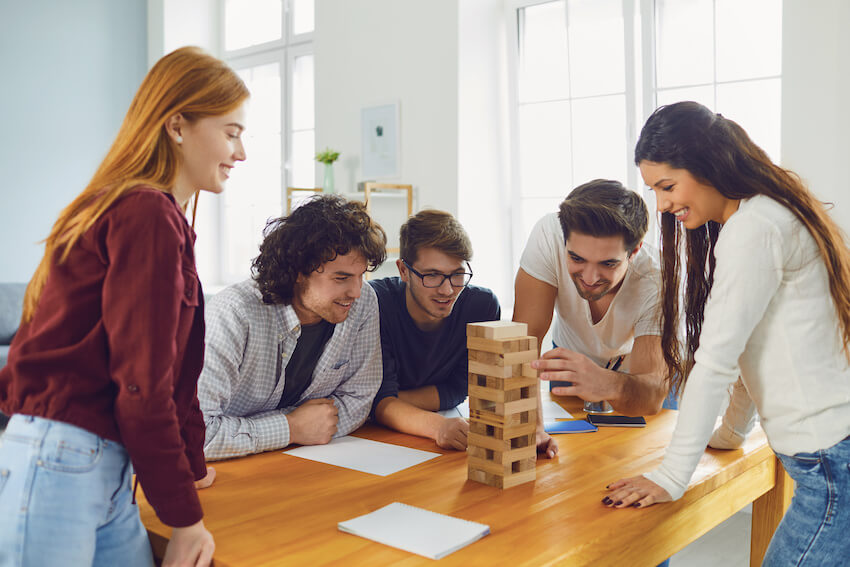 Whether it's a Spotify playlist or a football game on TV, it never hurts to have some background entertainment. It's an excellent way to avoid awkward silences and create a more relaxed environment. Just be sure to turn the volume down when the games come out! 
Since it's adult game night, you can also consider playing drinking games like beer pong or Never Have I Ever. For a backyard house party, you can easily pair a summer barbecue with yard games like bean bag toss, XXL Jenga, and spike ball.
What to Eat for Adult Game Night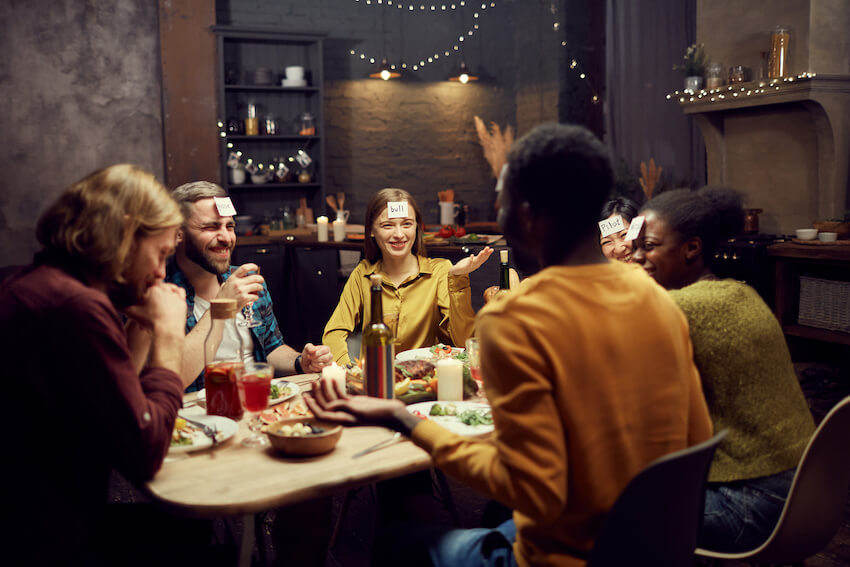 Sure, game nights don't require the same level of preparation as an upscale dinner party. (Speaking of, we have some fantastic dinner party games for adults.) But a little entertaining know-how goes a long way. Whip up some tasty snack recipes that'll keep guests feeling good as the night goes on. 
Another fail-proof idea for game-night snacking? Appetizer boards. Check out these 17 appetizer boards that range from hummus and veggies to cured meat and cheeses. Whatever you decide, the ultimate goal is to create a menu that's as delicious as it is convenient. You want easy-to-grab snacks that people can enjoy fuss-free in between plays. 
What to Drink for Adult Game Night
Beer and wine are solid choices, but we also love the idea of serving a fun cocktail or two. Keep it simple with make-ahead cocktail recipes that won't take time away from your guests. Also, don't forget to include alcohol-free selections — and we don't just mean water. Step it up with easy non-alcoholic party drinks like a fruity sangria or cranberry-grape spritzer.
Adult Game Night Invitations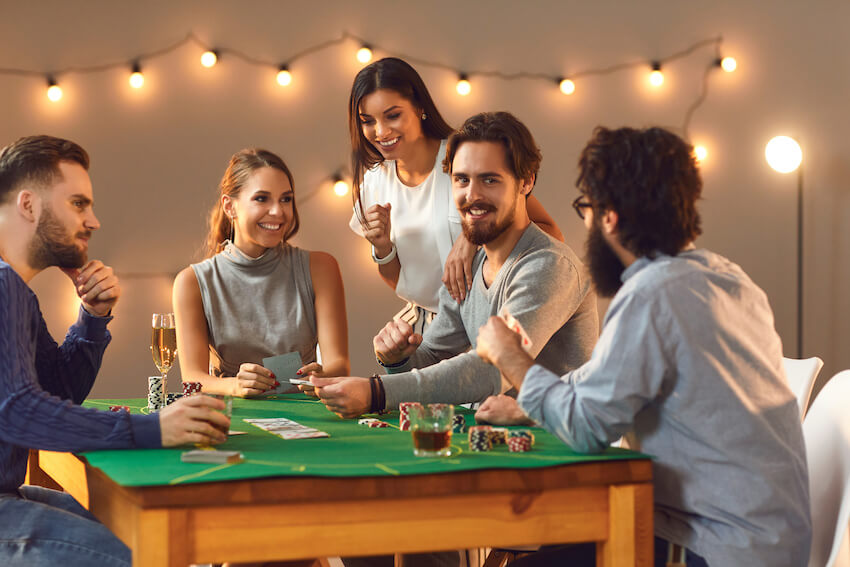 Sending digital invitations is an easy, practical way to spread the word about your game night. Choose a design that will give your guests a sense of what's to come, whether it's with the overall theme or a festive color palette. Greenvelope's entertainment collection is a great place to start. You'll find dozens of options for adult game night invitations, including some of our favorites below.
1. Game Night Invitation
Invite guests to your next game night with this colorful invite. It features the four houses from playing cards and is ideal for an evening of poker and other card games.
2. 80s Night Invitation
This 80s-inspired invite is vibrant and fun, just like any adult game night. It's the perfect invite for your next party whether it's an 80s-themed game night or board game birthday party competition.
3. Game On Neon Invitation
This neon invitation is ideal for all types of fun game nights — from corporate trivia parties to a night of video game competitions with your best friends. Customize the design by changing the typography and color palette to suit your event theme.
4. Classic Game Night Invitation
Invite guests to play the best party games with this eye-catching invitation featuring dice, chess pieces, and vibrant signage. Perfect for in-person soirees as well as virtual game nights, use this design to invite colleagues to an icebreaker event or your friends for a board game celebration.
Great Game Night Ideas for a Fun Time
With these adult game night ideas, you have everything you need to plan a fantastic, fun-filled get-together. Plus, with Greenvelope, you can pick out matching digital invitations so guests will be counting down the days till the big night. 
Looking for more ways to entertain? Continue browsing our Stationers blog for tips on throwing all types of parties, from outdoor movie nights to fun slumber party ideas.