September 19, 2018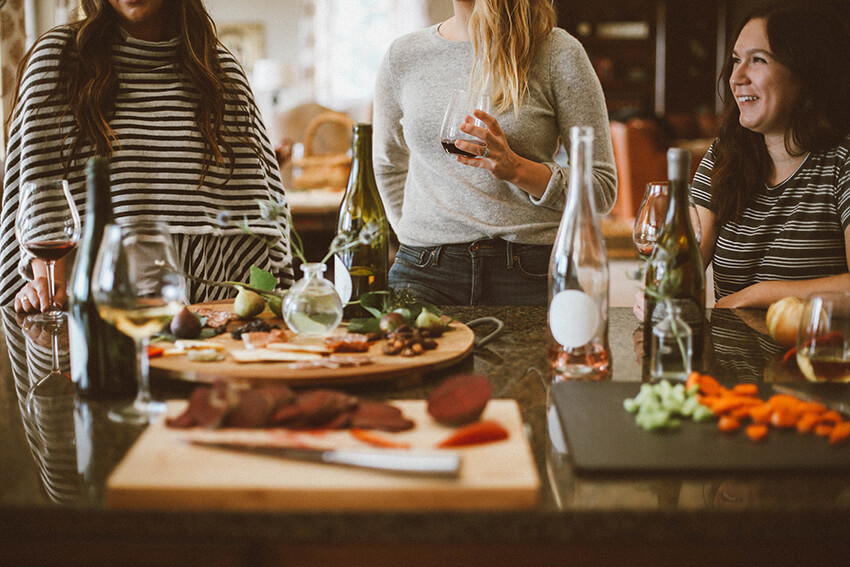 Shake up your Saturday night with some competitive fun. Invite over some friends, serve up a few snacks, pour drinks, and play for the sake of sport (or victory). The key to pulling off the perfect game-night evening? It's all in the details. Keep scrolling for tips on creating an evening that's both fun and easy!
What to Eat?
Sure, game nights don't require the same level of preparation as an upscale dinner party. But as The Kitchn notes, a game-night menu does benefit from some "entertaining know-how." Check out their roundup of snack recipes that offer a few ideas for easy grabbing (once your turn is over!)
Another fail-proof idea for game-night snacking? We recommend exploring the world of appetizer boards. And lucky for everyone, Pizzazzerie has rounded up 17 appetizer boards that range from hummus and veggies to cured meat and cheeses. (Bonus points if you can make your board look as lovely as this one featured on Sugar and Charm.)
The ultimate goal? Create a menu that's as tasty as it is convenient. You want easy-to-grab snacks that people can eat quickly in between plays.
What to Drink?
Beer and wine are solid choices, but we also love the idea of serving a fun cocktail. Keep it simple with a make-ahead cocktail recipe that won't take time away from your guests. From Sparkling Pomegranate Punch to Blood Orange Margaritas, Food & Wine has 10 make-ahead cocktails that are perfect for a night of entertaining.
For your nonalcoholic selection, we love the idea of adding a little sparkle (like this Sparkling Limeade recipe by That Sweet Gift or the Raspberry Fizz by Taste of Home).
What to Play?
If you're burned out on Bunco and Scattergories, we've got several suggestions that are sure to score points with your group of friends.  
Ideal for homes with limited space, you can play this game using your phones. Just have everyone connect to the "jackbox.tv" web address on their phone and play anything from trivia to fill-in-the-blank word games.
You've probably heard of Ellen DeGeneres. Well, Heads Up! is the game that she plays on her show. You have to guess the word on a card from your friends' clues before the timer runs out.
This card game is perfect for any meme lovers in your group. Ultimately, you're competing to create the funniest meme by pairing caption cards with the photo card in play.
This game is a is highly-strategic, kitty-powered version of Russian roulette (It also features cards illustrated by The Oatmeal—so you know it's good.)
Ideal for groups of friends who might not know each other super well, Catch Phrase is a go-to classic that might help ease people into the evening.
Regardless of the group you're inviting over, we recommend selecting a few different games that your guests can choose from.
What about Other Entertainment?
Whether it's a Spotify playlist or a football game on TV, it never hurts to have some background entertainment. It's the perfect solution for avoiding awkward silences and creating a more relaxed environment. Just be sure to turn the volume down when the games come out!
What about Invites?
Sending digital invitations is an easy, practical way to spread the word about your game night.  We recommend picking a design that will give your guests a sense of what's to come. There's opportunity here to incorporate an overall theme or festive color palette. Get inspired with Greenvelope's entertainment collection.