August 11, 2020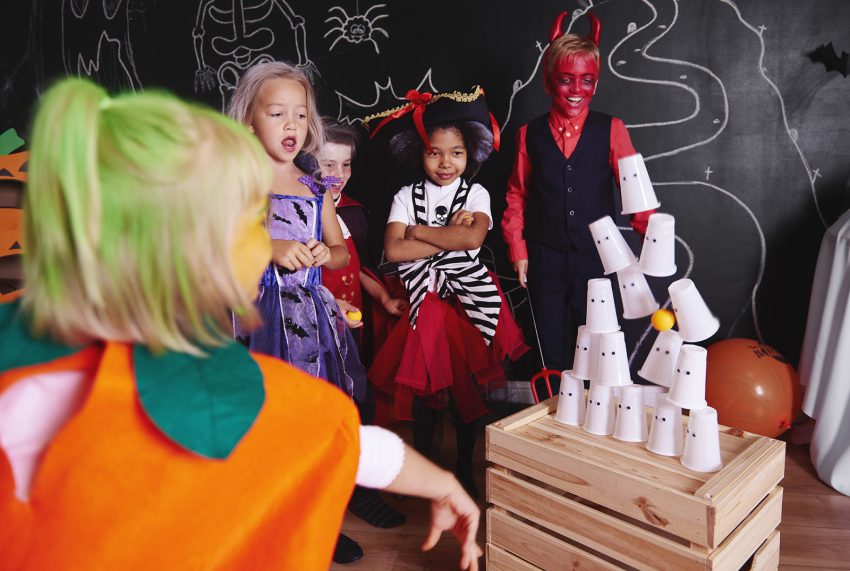 Halloween parties are some of the most fun events to plan. You can get really creative with decor, lighting, food, drink, and dress codes. It's also the perfect opportunity to introduce some Halloween party games your guests will love.
Whether you're throwing a Halloween party for your closest friends or hosting a neighborhood haunted house, party games help make it a memorable event. From spooky twists on party classics to games where your guests will wonder whether they're in for a trick or treat, here are some of our favorites.

Fun Halloween Party Games for the Whole Family
We're here to help you find the perfect Halloween party games to pair with your spooky get-together. Create kid-friendly scares with a themed scavenger hunt, or get serious with a Halloween golf championship. These are some of the best Halloween games for the whole family.
Halloween Scavenger Hunt
Give the old favorite a fun seasonal twist with a Halloween scavenger hunt. Split your guests into teams and send them to check off the items on your list. This is a fun party game for everyone to enjoy — including older kids — and you can easily customize it for backyard parties or community gatherings. Let your guests know they're in for a treat with a hint for your scavenger hunt on your Halloween invitations.
Mummy Wrap
Challenge your guests to see who can wrap their teammate up the fastest with a game of mummy wrap. This is a Halloween party game that'll have your guests laughing, as they try to race against the clock to win. All you need for this is a few rolls of toilet paper and some willing participants. To make the game more challenging, use a mix of materials or ask your guests to get creative with their wrapping and judge the best wrapped mummy.
Poke a Pumpkin
If you're looking for a Halloween party game that kids will love, poke a pumpkin is a great choice. With this fun DIY game, your smaller guests will enjoy poking their finger through the cups to win a prize. Keep it simple with a treat inside every cup or swap a few for "tricks" — like slime or toy eyeballs — instead. Here's a step by step guide on how to DIY your own poke a pumpkin game.
Halloween Trivia
Trivia quizzes are popular at most seasonal parties, and there's no reason for Halloween to be an exception. Round up your best Halloween knowledge and put your guests to the test with a themed quiz. Include this as a laid-back alternative to some of the more active party games, or make it the star of your party and go all-out to create a game-show-inspired experience for your guests.
Spooky Cornhole
Cornhole is a mainstay at outdoor parties across the country, thanks to its simple combination of being fun yet challenging. Give this bean bag toss game a revamp for the Halloween season by painting it in greens, oranges, and purples. Decorate the surrounding area with a pumpkin patch, and if you're crafty, swap out the traditional bean bags for small plastic pumpkins.
Halloween Bingo
Take the classic Bingo and recreate it to fit your Halloween party theme with some spooky surprises. Dish out bingo cards to your guests and ask them to join you as you call out numbers until you have a winner. Have a go at making your own Halloween bingo cards or use a free printable version instead.
Pin the Spider on the Web
Forget pin the tail on the donkey — pin the spider on the web is where it's at this Halloween. Take a large board or piece of craft paper and draw a spider web, then create some spider cut-outs. Use double-sided hook and loop fastenings or a traditional pin and challenge your guests to pin the spider on the web while blindfolded. Whoever pins closest to the center of the web wins!
Spooky Tic-Tac-Toe
Liven up a game of tic-tac-toe by adding plenty of Halloween spirit. Create a large tic tac toe board and make your own giant game pieces for people to try and place three in a row. Swap the usual Xs and Os for two of your favorite Halloween-inspired designs. Think pumpkins and zombies, or witches and ghosts.
Pumpkin Bowling
Get the whole family involved in the fun with a game or two of pumpkin bowling. This is one Halloween game that's super easy to set up — all you need is some toilet paper (or plastic cups), a marker pen, and a small pumpkin or decorated ball. Decorate your toilet paper rolls or cups to transform them into ghosts, then stack them up. Take turns rolling your pumpkin or ball towards them and see who can score the highest. Ask people to get into teams and play to win, or make this a fun game for the kids to enjoy over and over again.
Halloween Mystery Box
Create a Halloween party game that's sure to freak out your guests. This DIY Halloween mystery box game involves hiding food or an item with a surprising texture inside a covered or hidden box. Guests then place their hand inside and try to guess what it is. Popular things to hide include cold spaghetti, slime, canned tomatoes, candy corn, and boiled eggs. If this sounds too messy, swap it for a treat instead and ask guests to guess which type of candy you've hidden.
Costume Relay Race
Split your guests up into teams and challenge them to a good old fashioned relay race. The first team to cross the finish line wins. Don't forget to hand out extra prizes for the best Halloween costumes. Let guests know there's a prize up for grabs by including this detail on your digital invitations. You could make this even more challenging by swapping the baton for a bucket full of slime, with a spooky penalty for spilling any.
Pumpkin Piñata
What's better than candy? Candy raining down from the sky! Unleash your creative side and create a pumpkin-shaped piñata for your Halloween party. Let guests take turns hitting the piñata with a blindfold on — until it falls open and everyone can enjoy the candy together. Want to create an extra challenge for your adult guests? Swap the candy for a 'trick' and watch as plastic spiders or slime falls down on them instead.
Apple Bobbing
When guests are tired from your active games, invite them to have a go at apple bobbing. Set up a station for this fun activity with a large bucket filled with water and a handful of apples. Challenge party-goers to catch an apple with their teeth. If they're successful, hand them a choice of Halloween candy to go alongside their newly-won apple.
Pumpkin Golf
Transform your home, backyard, or community center into a Halloween paradise with a spooky pumpkin golf course. If you have the space to set this one up, it's a great game for the whole family. Go all out and create your own course complete with felt and handmade decor, or keep it sweet and simple with this easy DIY golf course that uses items you probably already have at home. Once it's ready, theme your golf course with jack-o-lanterns, mini pumpkins, spooky skeletons, a witch's cauldron, and other Halloween decor.
Pumpkin Ring Toss
Put a Halloween twist on a party classic with a game of pumpkin ring toss. Challenge your guests to land a hoop on a pumpkin to score and win. Pumpkin toss works best with pumpkins that have a tall stalk, or you could swap small hoops for larger ones and challenge guests to land the hoop over the whole pumpkin. Add multiple pumpkins and give each one a different score to make this ring toss game more challenging, with prizes for the winners.
Add These Fun Halloween Games to Your Next Party
Planning a Halloween party can be one of the highlights of the year for both new and seasoned party hosts. Try something new this year and add some of these game ideas to your line-up, alongside your old favorites. With the right mix of Halloween party games, spooky food and drinks, and fun party ideas, your Halloween party is sure to be one guests will remember for years to come.