December 15, 2020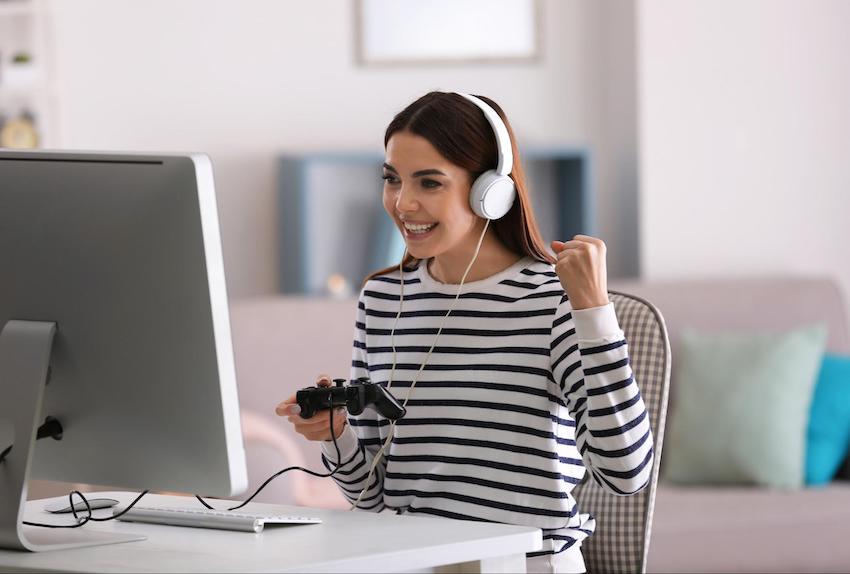 Can't get together in person to play your favorite games? Take the experience online instead! Explore these ideas for hosting a virtual game night and discover fun themed game night ideas to inspire your upcoming "get-together." 

How To Host a Fun Virtual Game Night
Planning a virtual event is a little different than putting together an in-person celebration. You might not need to organize a venue, but your guests will still need some guidance to make it a seamless experience. Here's how to make your virtual game night idea a reality.
Plan the Basics
First of all, you'll need to plan the basics. Figure out when you want to host your virtual game night. A Friday or Saturday night is great as most people don't have work the next day and there's no pressure to get to bed at a reasonable hour. 
Next, decide a time that works for you and your guests. If it's a family affair, host it earlier in the evening so the kids can join in. For adults-only, a later start works fine and you can keep going until you're partied out. 
If you're hosting a virtual game night over the holidays, think about when people are free or when they might be traveling. You could also send out a poll to your guests to find out which date and time works best. 
Set a Theme
You don't have to host a themed virtual game night, but this can be a great way to give it some extra flair. Think about your interests and your guests, then pick a theme that you know people will love. 
Host a card game, casino night, Roaring 20s celebration a la Great Gatsby, or an 80s-themed retro gaming night. If your virtual game night is to celebrate someone's birthday, theme the event around what they love most — whether that's unicorns or a certain celebrity. 
Prepare Your Guests
While most of us have joined in with a virtual event by now, some people are new to it or would like a refresher. Let your guests know how they can join the event by including details inside your digital invitations. 
Share any setup specifics required, like whether they'll need a device with a camera if you're planning a video chat on Zoom, Skype, or Google Hangouts alongside your gaming. Let them know if they need to download any games or software first, or if they can just jump in when the time comes. 
If you want your guests to join your video call in their best themed outfit, be sure to share this request on your party invites so they have plenty of time to plan out their ensemble. 
Mail Out Party Accessories
Some virtual game night hosts keep the event purely digital, with guests only needing to log in and join the fun. If you want to create a more immersive experience, feel free to mail out party favors to your guests in advance. 
You could send out party decor so they can accessorize their background in a fun way. Snacks and drinks are also great things to deliver, so your guests have something to enjoy while you play games. You could even make up a little party pack full of surprises for your guests to open on the night.
10 Winning Virtual Game Night Ideas
When it's time to get planning, check out this collection of our favorite virtual game night ideas. There's something for everyone here — from classic games to escape rooms. 
1. Classic Game Night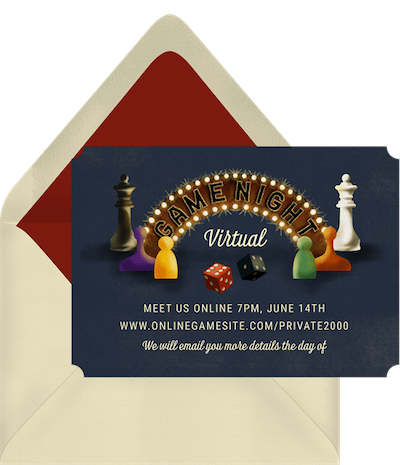 We've been introduced to a lot of fun games in recent years, but there's something nostalgic and cozy about settling down to play a classic game. Bring this experience online by hosting a virtual game night of the best classic games.
You can find online versions of classic board games like Catan, Ticket to Ride, and Monopoly. There are also lots of classic word games like Pictionary, Scattergories, and Scrabble to enjoy, plus modern card games like Cards Against Humanity. Want to take it back to a true classic? Host a virtual chess tournament with your friends. 
2. Fantasy Adventure Campaign
Miss meeting up IRL for your Dungeons and Dragons adventures? Don't wait any longer — recreate the experience with a virtual fantasy adventure night.
Set the scene with your favorite campaign and invite your closest friends to join you on a quest to explore new places, slay monsters, and uncover hidden artifacts. This is one of best games to try virtually, so it's easy to make this a weekly get-together. 
3. Video Game Night
Make playing your favorite video game a little more social by inviting your friends to join you online. Host a virtual video game night in and spend the evening talking, strategizing, and playing to win. 
Set a date and time to load up your most-loved multiplayer online game and play the night away. Whether you're a fan of first-person shooters or real-time strategy, there's a whole collection of games you can try on marketplaces like Steam. Get a group of friends together and turn this into a regular thing where you try a new game together each week. 
4. Virtual Karaoke
Even if you can't get to your local karaoke club right now, you can still sing it out with friends and family. Grab your mics and load up a video call so you can have a virtual karaoke party. 
Set up a DIY version or use a ready-made virtual karaoke service from your phones. Pick your favorite songs and either play as a team with some lively duets, or battle it out solo to see who's the biggest superstar. 
5. Scavenger Hunt
Scavenger hunts usually involve exploring a party venue or your neighborhood to find and present items from a list. While it's trickier to do from home, you can definitely make this virtual game night idea work.
Create a scavenger hunt list full of items you can find at home, and challenge your party guests to find them. Make it more competitive by adding a time limit to see who returns the quickest. This can be a fun game night to create with a specific theme, so you could have a Hollywood-themed scavenger hunt or a holiday-inspired scavenger hunt. 
6. Escape Room or Murder Mystery
Put your strategizing skills to the test by booking you and your guests into a virtual escape room or murder mystery experience. 
Some of these escape rooms and murder mystery experiences have a host, but you also have the option to play host yourself. You can ask your invitees for feedback or pick a surprise theme on your own. Either way, you can ask your guests to dress the part for a more fun, authentic virtual game night. 
7. Casino Night
There's something thrilling about a casino party that's full of suspense, fun, and color. Recreate that lively atmosphere at your virtual game night by playing classic casino games. 
Survey your guests to find out their favorite casino games then ask them to join you for an evening together. Play poker, roulette, and online slot games and have fun from wherever you are. 
8. Group Call Game Night
Want to keep things simple? We love the idea of hosting a video call game night where you get to see each other smile, laugh, and have fun.
There's plenty of great party games you can play in a group video call. Popular games include Heads Up!, Charades, and Jackbox games like Quiplash and Drawful. For these, all you'll need is a device with a webcam, plus your phone to play along with the games. 
9. Virtual Bingo
An oldie but a goodie, you can't go wrong with a classic game of bingo. This virtual party game is perfect for groups with people of all ages, as it's something that everyone can get involved in. You also don't need to download extra software or need many materials to make it happen. 
Download some printable bingo cards or create your own and mail them to your guests. On the night, play host as the bingo caller and offer prizes like digital gift cards to restaurants or shops. This is a great virtual game night idea for themed celebrations like birthday parties or baby showers. 
10. Holiday Themed Virtual Game Night
For the holiday season, get your loved ones together for a fun-filled festive virtual game night. Bring some holiday cheer to your friends and family wherever they are and play some party games together apart.
Bring out a collection of your favorite classic games and video games for this event. Don't forget to throw in some trivia games so you can test everyone's knowledge of holiday-related topics like movies, songs, and pop culture. Request everyone to join in their most festive dress — you could even mail out Christmas decorations in advance so they can decorate their space. 
Throw a Virtual Game Night Your Friends Will Love
We can't always get together in person, but that doesn't mean we can't have fun together. Virtual game nights are the perfect way to reconnect and enjoy good times with friends and family wherever they are. 
Use our list of virtual game night ideas to create a fun-filled event that your guests will remember. Mix in classic games, video games, and simple classics like bingo and quizzes to create a memorable virtual experience.