September 21, 2022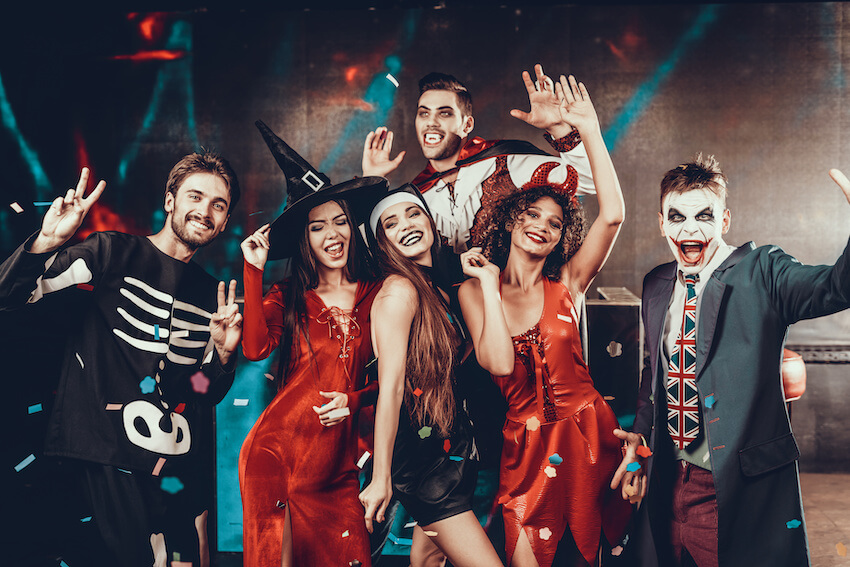 Are you hosting a Halloween party this year and want to make your event stand out from all the other haunted evening soirees? Take this year's Halloween party up a notch by choosing a fun Halloween party theme. 
From spooky bashes with gross eyeballs and dancing skeletons to kid-friendly pumpkin carving contests, there's something for every Halloween lover. We're revealing 11 Halloween party themes for frightfully fun festivities, including tips for decorating your space, serving up hauntingly good food, and keeping guests entertained. Plus, you'll find inspiration for your party invitations!

From Frightening to Fun: 11 Halloween Party Themes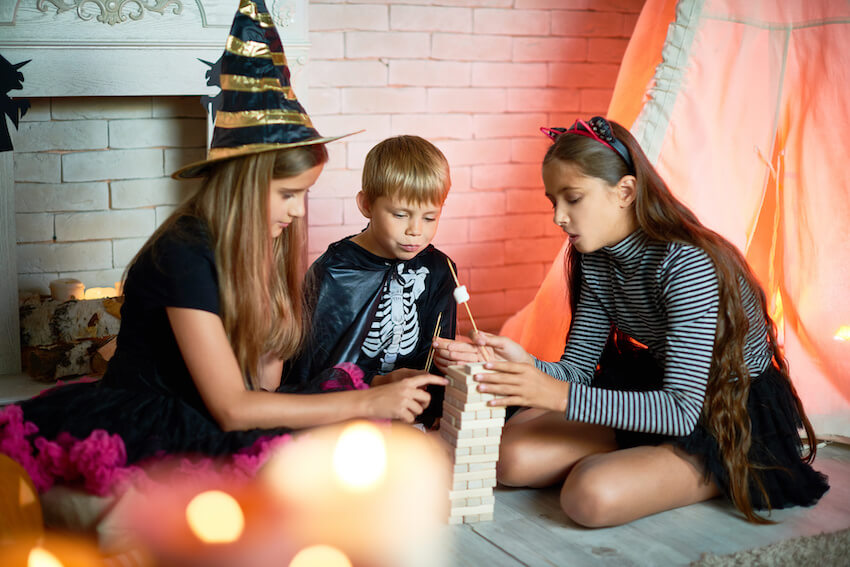 Throw a spooktacular Halloween bash with a party theme that makes decorating and dressing up easier than ever. Here are some of the best Halloween party themes along with tips on selecting Halloween decorations, menu items, and Halloween games. Better still, each party theme includes matching Halloween invitations that are sure to delight — or haunt — your guests.
1. Murder Mystery Dinner Party
Invitation Inspiration: Murder Mystery Invitation
Gather the ghouls and gremlins together for a spine-chilling murder mystery dinner. You can create your own murder mystery or download free murder mystery party games online. Assign each party guest a role and spend the evening indulging in delicious food while trying to figure out whodunnit. For festive party favors, snag some fingerprint tattoos, crime scene tape, and magnifying glasses and place them all in a brown paper evidence bag. 
2. Harry Potter Party
Invitation Inspiration: Magic Scroll Invitation
Get spooky with a Harry Potter-themed Halloween party. Go all out and rent a double-decker bus to decorate like the Knight Bus or just deck out your living room in Harry Potter-themed decor. Broomsticks, magic wands, and the different house colors make the perfect Halloween decor for this event. 
Entertain guests with a Sorting Hat that puts them in their respective houses or do a scavenger hunt using a DIY Marauder's Map. Keep the company fed with Bertie Bott's Every Flavor Beans.
3. Day of the Dead Fiesta
Invitation Inspiration: Sugar Skull Invitation
While Dia de los Muertos (Day of the Dead) is not the same thing as Halloween, it's celebrated around the same time. This meaningful, culturally rich holiday is a chance to not only remember those who have passed but also to celebrate with friends and loved ones. 
Decorate your party space with colorful DIY papel picado, and be sure to add skulls, flowers, and candles to a large altar where guests can pay respects to deceased loved ones. For fun, have a sugar skull decorating party or skull face painting. Serve traditional Mexican foods like tamales and enchiladas along with tasty cocktails. For dessert, offer sugar skull cupcakes or traditional desserts like tres leches cake or flan to match the theme.
4. Haunted House Party
Invitation Inspiration: Spooky House Invitation
When it comes to Halloween party ideas, few things are as fun as a haunted house party. Get everyone together for a trip to a local haunted house or turn your own home into a spooky abode. Decorate the space with ghoulish jack-o-lanterns, eyeballs, and spiderwebs. Hire actors to spook guests in different rooms of the house or work with a catering company to serve up Halloween party treats — like mummy hot dogs, candy corn apples, and pumpkin hummus.
5. Nightmare Before Christmas Party
Invitation Inspiration: Iconic Witch Hat Invitation
Tim Burton's "The Nightmare Before Christmas" is a classic and makes for a perfect Halloween party theme. Turn your home into Halloween Town with skinny skeletons, ghosts, and depictions of Jack Skellington's adorable pooch Zero. Carve Skellington jack-o-lanterns and ask guests to attend in their best black and white striped attire.
6. Pumpkin Carving Party
Invitation Inspiration: Pumpkin Stack Invitation
For a kid-friendly bash that won't spook the little ones, host a fun pumpkin carving party. Start the day by visiting a local pumpkin patch with your crew. You can enjoy a hayride and sip on apple cider while picking out the perfect pumpkin. Head home or stay on site to carve the pumpkins if permitted. To make things more interesting, you can have a pumpkin carving contest. The winner takes home a special gift basket from the farm or a Halloween-inspired decor item.
7. Charlie Brown Halloween Shindig
Invitation Inspiration: Boho Pattern Card
Join Charlie Brown and his cast of Halloween friends in celebrating with this timeless Halloween party theme. For a kid-friendly event, watch "It's the Great Pumpkin, Charlie Brown" and set up a space for face painting or pumpkin carving. Ask guests to dress as their favorite characters like Snoopy, Sally, or Woodstock.
8. Horror Movie Film Fest
Invitation Inspiration: Killer Party Invitation
Want to give your guests a real fright? Host a horror movie film fest. In warmer locales, you can throw an outdoor movie night party or keep things indoors if it's too cold outside. Decorate the living room or outdoor area with spooky cobwebs and undead monsters like skeletons, vampires, and ghosts. Add body parts like eyeballs, fingers, and skulls to increase the fright factor.
Put on your favorite Halloween movie or binge-watch a show like "The Walking Dead." For horror classics, you can't go wrong with "Final Destination," "The Exorcist," and "The Shining" as well as modern favorites such as "Get Out" and "It." Add to the scary vibes with haunted foods like spooky Halloween popcorn and witch-hat cookies.
9. Monster Mash Costume Party
Invitation Inspiration: Monster Mash Invitation
Get the gang together for a monster mash party featuring classic Halloween favorites like Frankenstein, the Grim Reaper, and Dracula. Other fun costume ideas for this party include creepy clowns, vicious vampires, and mysterious mummies. 
For Halloween party decorations, set up a fog machine to create a spooky ambiance. Don't forget to spin the original "Monster Mash" album from Bobby Pickett to set the mood and kick off your playlist. Create an eerie photo booth where monsters of all sizes can snap photos of the fun event and add props like monster masks, body parts, and tombstones to make it more fun.
10. Alice in Wonderland Garden Party
Invitation Inspiration: Adventures in Wonderland Invitation
Enjoy the last stunning days of fall with an outdoor Halloween soiree. An Alice in Wonderland garden party is a whimsical and fun way to celebrate Halloween without the fright factor. Ask guests to attend in their best Mad Hatter tea party attire and set the scene with lace tablecloths, brightly colored servingware, and colorful flower displays. 
Arrange a photo booth with movie props like a top hat, butterflies, and a stuffed Cheshire cat. Give guests a looking glass, vintage pocket watch, or whimsical mirror as a party favor to take home and remember the fun day.
11. Trick or Treat Bash
Invitation Inspiration: Frankenstein Invitation
Keep it simple and gather everyone together for a trick-or-treating bash. Give guests black cauldrons that they can use to collect candy. Ask the trick-or-treaters to come in their best Halloween costumes. If the party includes young children, make a note in your Halloween party invites so guests don't wear costumes that are too scary. For adult parties, encourage guests to go all out when choosing their haunting outfits.
Get Spooky This Halloween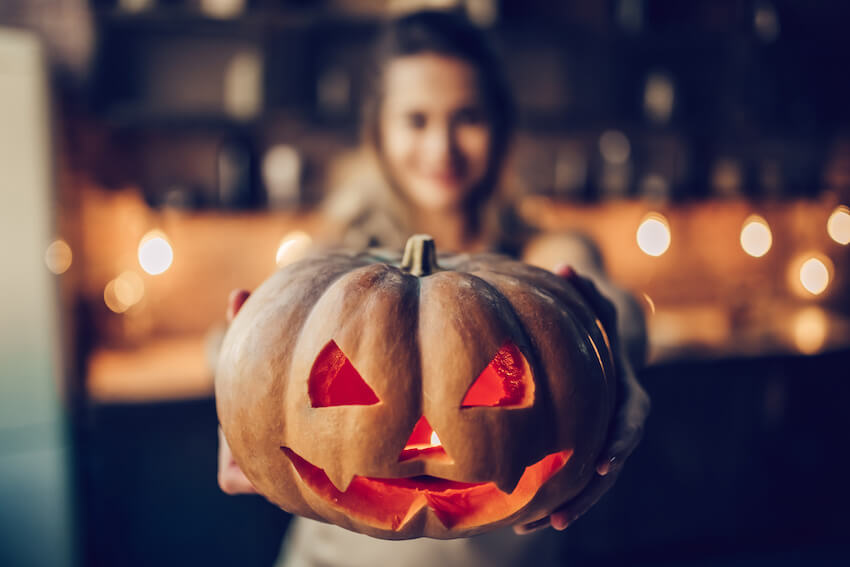 With these Halloween party theme ideas, you have the makings for a scary-good time. Whether you want to throw a party with a spine-chilling vibe or a mellow shindig that's appropriate for all ages, there's a fun way to celebrate this spooky holiday.
At Greenvelope, you'll find what you need to invite guests to the Halloween party of the year. Choose from dozens of Halloween invitation designs and don't miss our guide on Halloween invite wording so you can nail down your message to suit your celebration.