December 3, 2020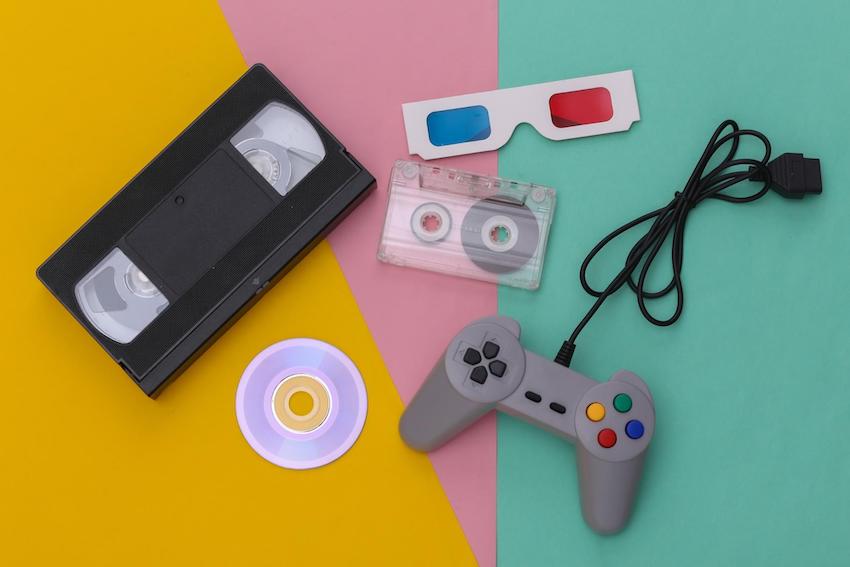 You're ready to throw a retro party, but the idea of being seen in 1980s shoulder pads and leg warmers — ugh, as if! Instead, celebrate the decade that gave us grunge meets boy bands meets bright colors meets butterfly clips. (The outfit ideas alone are endless!) 
Even if you're only throwing it back a few decades, it still counts as a throwback party. So get ready to kick it old school — with these 90s theme party ideas, your bash will be all that and a bag of chips.

90s Theme Party Activities, Food, Decorations, and More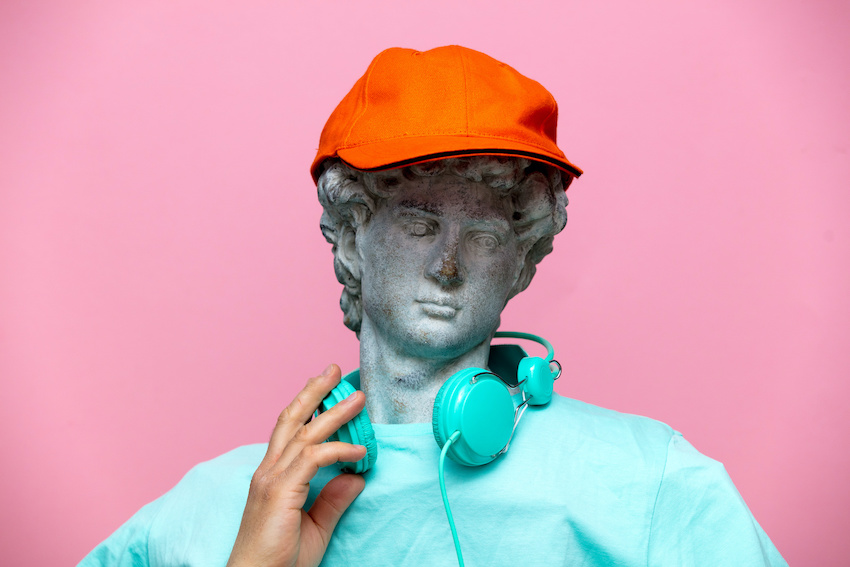 There are so many good reasons to throw a 90s theme party. For example, it's a Tuesday. And if you need more reason than that, how about the fact that 90s kids turn 30 this decade? 
"I love the 90s" is one of our favorite birthday party ideas. For a 30th birthday (or any other birthday), host a throwback to the year the guest of honor was born. And for 90s kids who are about to get married or — gasp — have their own kids, throw a 90s-themed bachelorette party, bridal shower, or baby shower. 
Whatever you're celebrating, incorporate these 90s touches into your party planning, and it's sure to be a success. 
90s Party Activities 
One of the best reasons to have a themed party is the entertainment value. These time-period-appropriate activities will bring you back to the 90s (and show you which of your friends remembers the decade).
Set up a photo booth:

Look for

90s photo booth props

and a matching backdrop to transform one of your walls. Guests can take photos on their

cell phone

, or you can keep it authentic and take all your

party photos

on an

old school

Polaroid camera. 

Have a 90s dance party:

Music is an essential part of any

throwback party

. Make a

playlist

with

Backstreet Boys

, NSync, and all your favorite

boy bands

. Or put on some LL Cool J and Salt-N-Pepa for a

hip hop party

— bonus points if you put it on a

cassette tape

and blast it out of a

boombox

.

Host a 90s trivia game:

Put together some

trivia questions

about 90s music, movies, and news stories, and give away a prize to the person or team with the most right answers. (

Tamagotchis

for everyone!)

Get slimed:

What

90s kid

watched

Nickelodeon

and didn't want to get slimed? Now that you're an adult, you can create your own slime (

all it takes is vanilla pudding and green food coloring

) and dump it on all your friends — or use it as a punishment and slime the losers of your 90s

trivia game

. 

Play retro video games on a Nintendo 64:

It's time to break out the Donkey Kong and see who can still do a Spinning Kong (hint: hold up + B). You can turn your

90s theme party

into a

retro

video game tournament or just offer it as one of many activities at

the party

. 

Play with other 90s games and toys:

Set up a 90s game station complete with a Bop It, Skip It, Pogs, and velcro toss and catch. Let guests get nostalgic with their favorite games from childhood. 
90s Party Food 
After all the fun and games, your guests will have worked up an appetite. Luckily, serving up some 90s delicacies won't require too much work — most of them are heat and eat. Make it extra easy (and extra on theme) by skipping the fancy tableware and serving everything on paper plates. 
For the main course, set out some Lunchables, or serve Hot Pockets, pizza rolls, pizza bagels, or pretty much any pizza-themed food that's not actually pizza. Make it a brunch by including Toaster Strudels, and add a side of cheese puffs, Gushers, Fruit Roll-Ups, and Fruit by the Foot to complete the meal. 
Drink up 90s style with Squeeze Its and plenty of Capri Sun. For an adults-only beverage, try mixing up a Capri Sun cocktail. 
Cap things off with Dunkaroos for dessert (serve them with milk if you want to keep things classic or with White Russians for a more grown-up version). If you're hosting a 90s birthday party, top the birthday cake with some 90s-themed cupcake toppers.
90s Party Decorations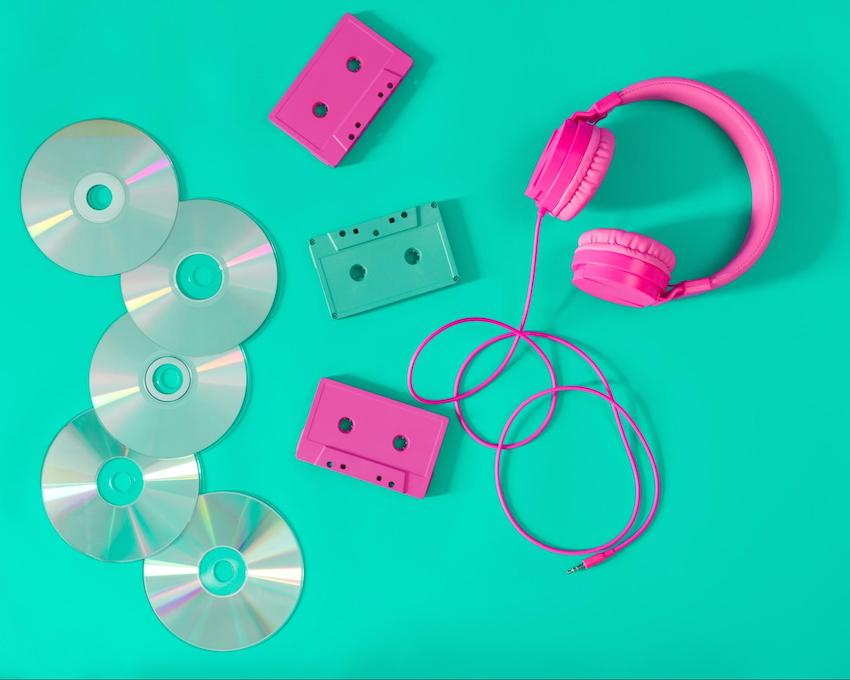 If you want your theme party decorations to be as easy as your menu, you can get an "I love the 90s" party pack from Amazon or Etsy. These packs include essential party supplies like centerpieces, party props, and inflatables (think 90s balloons and matching latex balloons).
You can also easily create DIY 90s party decor. Scatter some confetti squares and triangles in bright colors, hang rainbow Slinkies from the ceiling, and use Magic 8-Balls as centerpieces (they double as conversation starters!). Keep the conversation going with life-size cutouts of your favorite boy band members and pop culture icons from the 90s.
You can even repurpose abandoned 90s technology and turn it into adorable party decor. Make planters out of floppy disks, or spray paint VHS tapes and scatter them on tables and shelves. 
Of course, no 90s birthday party would be complete without party favors. Send guests home with goodies like scrunchies, slap bracelets, butterfly clips, jelly roll pens, and Lisa Frank folders.
90s Party Invitations
Now that you've got the finer details of your 90s party worked out, you can invite guests with a party invitation that's perfect for your theme. This invite, with its brightly colored geometric shapes, lets guests know they're in for the most 90s night of their lives (including all the nights that actually took place in the 90s).
You can customize the text to read any year, so if you're celebrating a birthday party, you can change "1999" to the year the guest of honor was born. If you're not celebrating a birthday party, customize the text to announce your bachelorette bash, summer block party, or baby shower. 
What To Wear to a 90s Theme Party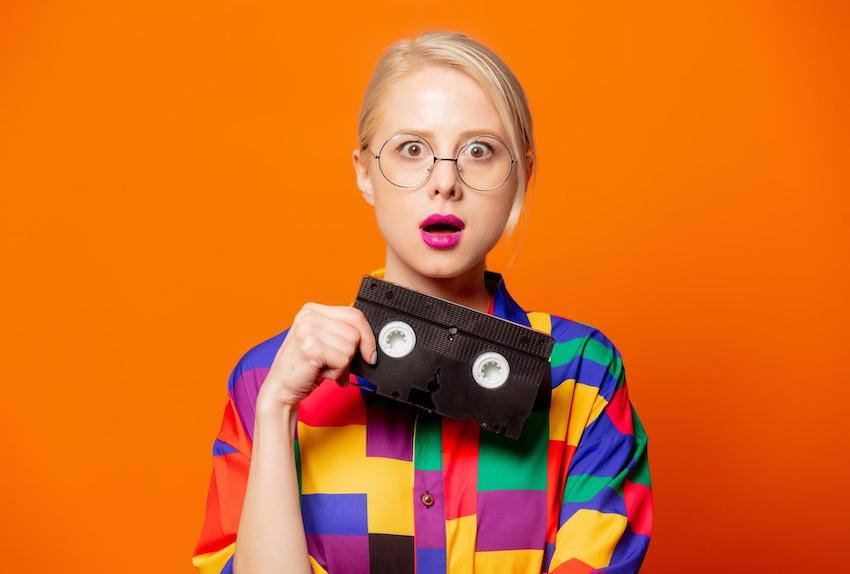 Other than Halloween, a themed party is the best excuse to get dressed up. On your party invitation, ask guests to sport their favorite 90s fashion. You can include tips like: bright colors, busy geometric patterns, bucket hats, and overalls (with one strap undone, of course). Thrift stores are an excellent place to find 90s fashion. 
You can also suggest your guests channel their favorite 90s TV shows and movies by copying Will Smith's brightly colored T-shirts on "Fresh Prince of Bel-Air" or Alicia Silverstone's plaid outfit in "Clueless." Encourage everyone to dress the part by offering a prize for the best 90s outfit.
Get Ready for One Super Fly Party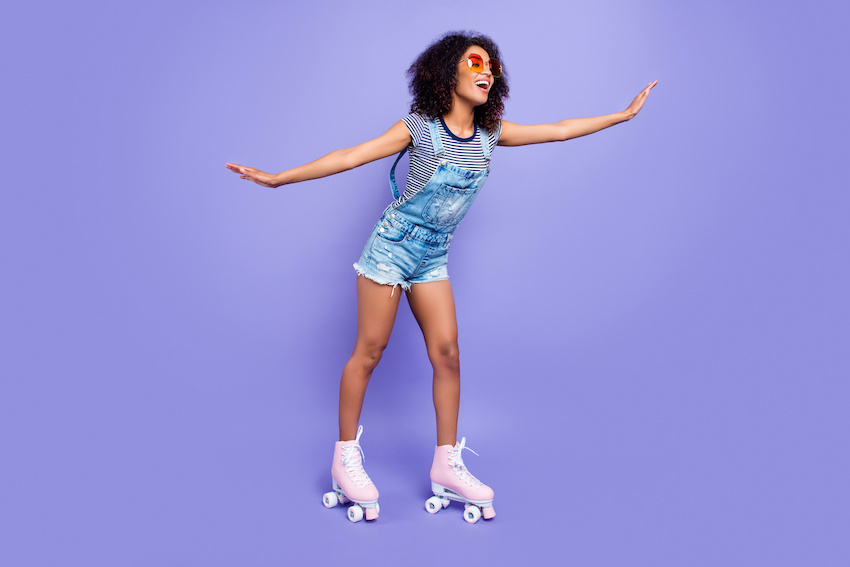 Now that you've got dreams of 90s-themed entertainment, food, and party decorations, the next step is to create your guest list and send out your invitations. Since it's a 90s party and email invites were invented in the 90s, you can stay on theme by sending out digital invitations. 
With just a few clicks, you can customize your digital invite, import guests' emails, and send off your invitations. Digital invites have come a long way since the 90s, but they can still help you celebrate in style. And celebrating is what we're all about!