July 9, 2021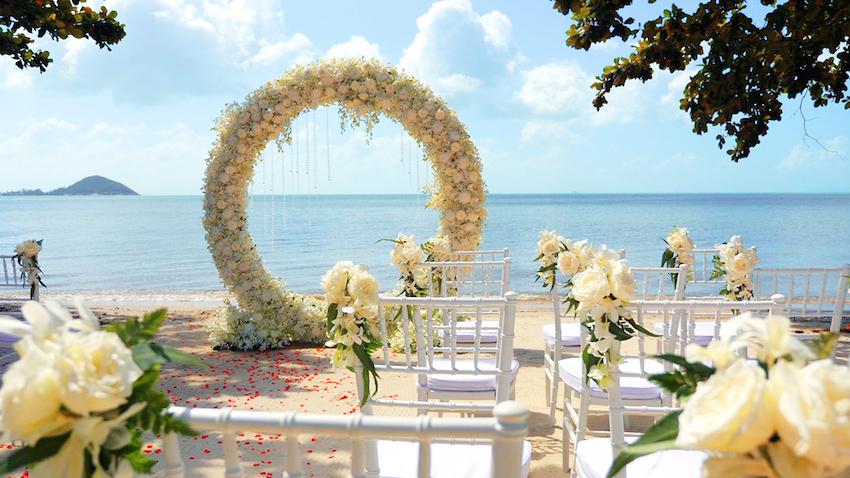 With a destination wedding, you can truly create something magical for you, your partner, and your beloved guests. It's an opportunity to experience a new culture, take in new sights, and say "I do" in a special location. If you're planning your wedding somewhere far away or exotic, we have the perfect destination wedding ideas for you. We're sharing top tips for planning a destination wedding, plus revealing some gorgeous destination wedding locations to consider. 

Destination Wedding Ideas: Your Starting Checklist
We know you're excited to start turning your destination wedding ideas into reality. Here are some must-have elements to help you create a magical wedding ceremony and reception. 
Hire a Wedding Planner
When you're planning a destination wedding in a faraway location, you can't just drop by the wedding venue to discuss options or pop into the local flower shop. To make your destination wedding an easier endeavor, hiring an expert is the way to go. 
Wedding planning is an art, especially when you add in complications like exotic locations, large guest lists, or complex wedding packages. With a wedding planner in charge of your nuptials, you're free to get excited about the details — without worrying about the logistics, negotiations, and setup. 
A wedding planner who's located in your destination of choice is a great way to make sure you get the best out of your decision to marry abroad. They'll be able to speak the local language, know the best vendors, and offer practical support that you can't manage from a distance. 
Make It a Group Vacation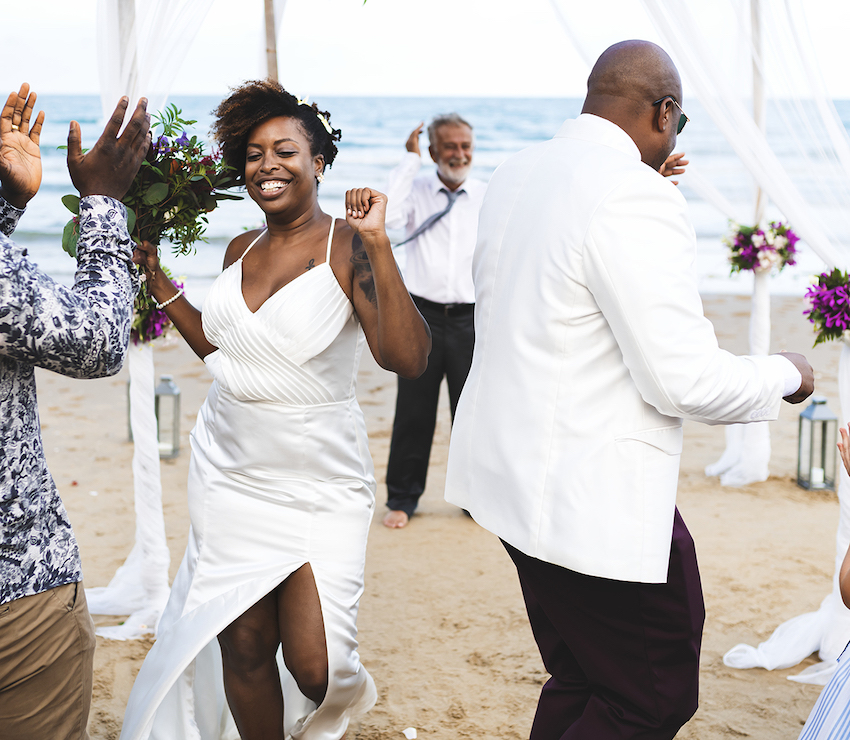 You're flying all the way out there for your wedding, so why not transition the event into a group getaway as well? Surround yourself with your loved ones for a wedding weekend, week, or even longer. 
Spend the days after your wedding exploring the local attractions, embracing the great outdoors, or simply relaxing by the beach. Hire a villa for everyone to stay in together, or block rooms or suites at your favorite resort. 
This might not be an option if your guest list is large or your budget is on the smaller side, but you can still give your guests some suggestions of great all-inclusive resorts in your online invitations if they want to stay a little longer. 
Embrace the Local Culture
Whether you're jetting off across the world or heading to a different part of your own country, each destination wedding location has its own unique local culture. While you're there, it makes sense to experience as much of it as possible. 
Ask your wedding planner, friends, family members, or local guides for their best ideas on how to spend your leisure time. They might suggest a great fishing spot, somewhere gorgeous to take family photos, or the perfect authentic restaurant for your rehearsal dinner. Bring some of the local culture, atmosphere, and food to your wedding too with a menu inspired by delicious local favorites, traditional live music, and lively party games. 
Get Creative With Your Wedding Attire
Every destination wedding is different, but something that many have in common is that they're often more laid-back events. While you can go ultra-luxe or sophisticated and formal, many destination weddings take place by the pool, on the beach, or with a beautiful mountain backdrop — calling for more creative wedding attire. 
It's your wedding day, so wear whatever makes you feel the most comfortable. That might be a flowing white wedding dress, or it could be a dress shirt, shorts, and tennis shoes. Think about what you'd love to look back on in your wedding photos and bring them to life through your creative clothing choices, stunning backdrops, or fun prop ideas from your wedding photographer. 
Create Personalized Welcome Gifts
People often travel long distances for destination weddings because they're thrilled to spend your special day with you. Help them settle in and feel comfortable with thoughtful, personalized welcome gifts.
Work with your wedding planner to source gift ideas, or see if it's something your resort hotel offers as part of a wedding package. Think about the kinds of things that would be useful for guests. For example, if you're having a beach wedding, you could provide guests with a goodie bag featuring a pair of flip flops, beach towel, SPF, and lip balm. Create an extra special welcome gift for your wedding party too — after all, they're playing a key role in your ceremony and reception. 
5 of the Best Destination Wedding Locations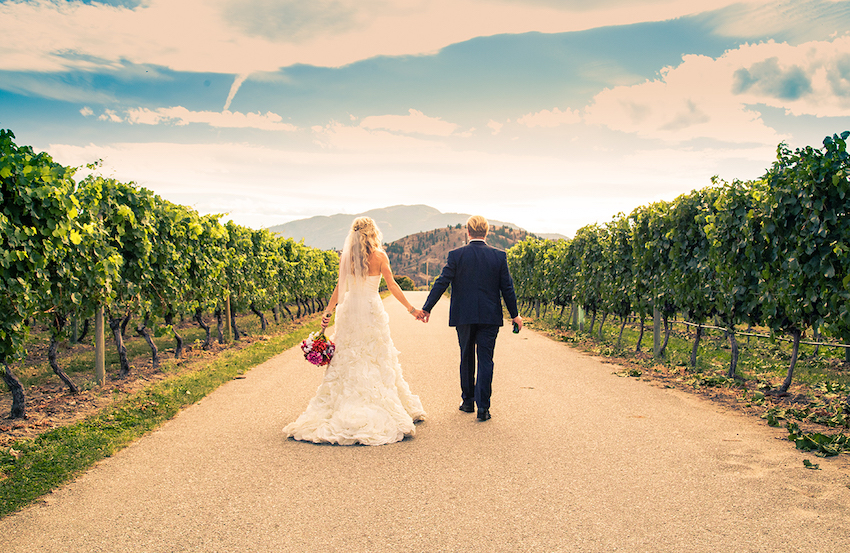 Destination weddings are all about celebrating your big day in a stunning location, surrounded by the ones you love or simply with each other. The destination wedding location you end up choosing will depend on your tastes, budget, availability, and what style of wedding you're going for. To help you create a shortlist of destination wedding ideas, here are some of our favorite cities and locations. 
1. Jamaica, the Caribbean
There are many reasons Jamaica is one of our top destination wedding ideas. It's filled with beautiful beaches brimming with clear Caribbean water and white sand, plus you're never far from mountains. 
If you want to combine your destination wedding with some thrill-seeking, Jamaica is a great place to do it. The island is known for its outdoor fun, with activities like horseback riding and snorkeling, giving you plenty of ways to spend the days after your dream wedding ceremony. 
2. Cancun, Mexico
Cancun is an ideal destination wedding location if you simply can't choose between a bustling city location and a beachside ceremony. The city offers plenty to choose from when it comes to nightlife and eateries, as well as stunning beaches and resorts outside your doorstep. 
While the area does experience a rainy season in the fall, Cancun is known for its generally stable climate. You don't need to worry about rain on your wedding day or spending your reception getting cold by the oceanfront. Instead, you can enjoy the beautiful views from wherever you host your big day — whether that's at your resort by the pool, down on the beach, or in a city hotspot.
3. Napa Valley, California
Napa Valley is among the most popular destination wedding locations in the U.S. for a good reason. This top winemaking region is home to gorgeous vineyards and stunning views that offer you the perfect backdrop for your outdoor wedding. 
If you're a foodie and love wine, hosting your destination wedding here makes perfect sense. For a quieter and more relaxed atmosphere, opt for early summer — or consider combining your trip with the chance to immerse yourself in the local scene by heading to a festival, golf course, or vineyard tour.
4. Maui, Hawaii
Maui remains a popular destination wedding location, thanks to the island's generous hospitality, jaw-dropping natural beauty, and relaxed approach to celebrations. If you want a laid-back and breezy yet cozy destination wedding, a Maui wedding could be perfect. 
There's nothing more beautiful than a stunning sunset by the water on this Hawaiian island, and the food is spectacular too. Opt for freshly caught seafood, ribs, tacos, and other local dishes for a delicious culinary experience. 
5. Rome, Italy
Rome is the perfect place to host your destination wedding if you love the idea of a city break. One of our favorite destination wedding ideas is to use your Rome ceremony or elopement as the first stop on a honeymoon tour of European cities, taking in the culture as you travel across the continent. 
There are lots of stunning fairytale wedding venues in Rome. You could book an historic building with plenty of eye-catching decor, or go for something simple with a minimalist ceremony at a countryside villa. After the wedding, there's no end to amazing cultural sights for you and your loved ones to explore in the city — like the Colosseum, Sistine Chapel, and Pantheon.
Our Favorite Destination Wedding Invites
We love the idea of sending themed destination wedding invitations to your nearest and dearest. It's a fun way to let them know what to expect ahead of the big day. To inspire you, here are some of our favorite designs. 
Soaring Sequoias Wedding Invitation
Celebrating somewhere magical in a forest, beneath towering trees? This soaring sequoias invitation couldn't be any more perfect. We love the rich tones and gorgeous illustrations on this sumptuous design. 
Tropical Frame Wedding Invitation
Want to feature one of your beautiful engagement photos on your wedding invites? If so, this tropical frame invitation is ideal — especially if you're heading off to an exotic island to tie the knot. 
Sorrento Tile Wedding Invitation
The beautiful blue and gold tones in this sorrento tile invitation are inspired by Southern Italy, making this the perfect invite design if you're getting married in the region. The gorgeous script font and romantic details are ideal for a sophisticated destination wedding. 
Spanish Vineyard Wedding Invitation
If you're heading to the stunning fields and vineyards of Spain (or any wine country), then this Spanish vineyards invitation couldn't be any more of a perfect match. The watercolor illustrations work with the warm colors to evoke the cozy atmosphere of Spanish villas and wineries. 
Flores Mexicanas Wedding Invitation
We love the idea of using this Mexican-inspired invitation for your destination wedding in Mexico. There's something so beautiful about the combination of colors and floral elements that make this design ideal for both casual and more formal ceremonies.
Destination Wedding Ideas You'll Love
The best destination wedding ideas are the ones that feel right for you, your partner, and the way you want to celebrate the moment together. Take inspiration from these ideas, take a look at some of these top destination wedding locations, and choose among a selection of stunning destination wedding invitations to share the wonderful news with your favorite people.