December 21, 2020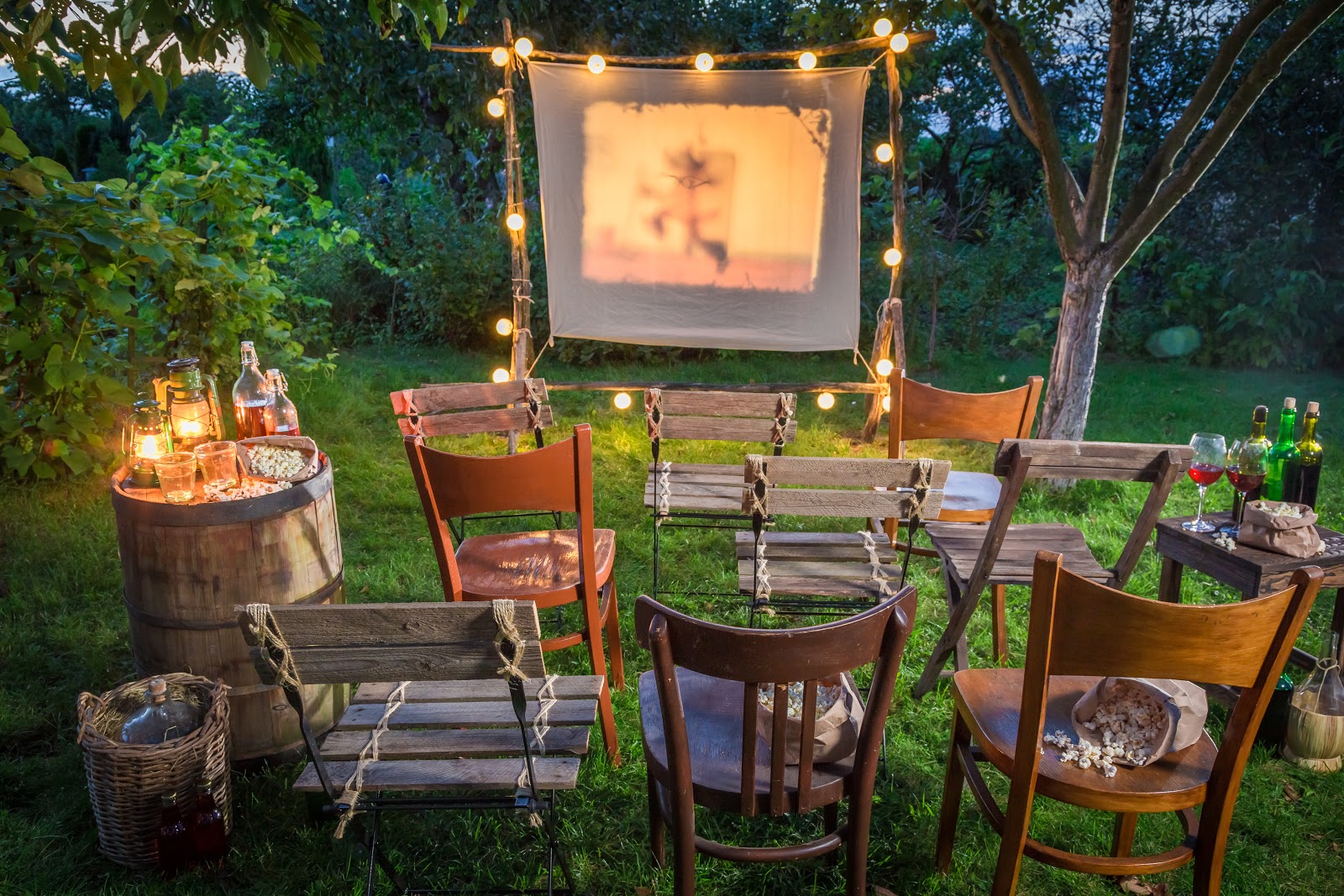 Whether you're looking for a way to take your outdoor entertaining to the next level or want safe ways to gather with friends and family during the coronavirus pandemic, an outdoor movie night is a great idea. Use this handy guide for affordable and fun tips on how to host an outdoor movie night and get ready for a crowd-pleasing evening.

Outdoor Movie Night Checklist
An outdoor movie night offers a fun and cozy way to get together safely with friends. It's an easy way to enjoy warm summer nights and with a few modifications, you can even host the event in wintertime. Here's a checklist to make your outdoor movie night a success.
Movie Screen
Unless you have a television set in your own backyard, you'll need a movie screen to watch a film outdoors. Fortunately, you don't have to break the bank on a fancy projector screen to get the job done.
You can create a DIY movie screen using just a few materials you probably already have around the house. Simply hang a white sheet from your fence or over an archway to create the screen. You can also hang the white sheet on the siding of your home using staples, tape, or nails.
Alternatively, you can use a white wall — either on your home or a shed — to create the backdrop for the film. Another idea is to order an inflatable screen or rent a high-quality screen and projector from a local film or party supply store.
Lighting
Since you're watching the movie outside, you'll want ambient lighting that is bright enough for guests to see where they're walking, but dark enough to not distract from the screen. Outdoor candle lanterns add a cozy touch and you can use them to line the aisle alongside the seating. You can also use outdoor fairy string lights to create an intimate atmosphere. Stake garden lights are another good alternative and colorful bulb lights can add a festive touch.
Cozy Seating
You want your movie watching space to be comfortable and relaxing. You can use existing outdoor furniture like lawn chairs or create a DIY space for guests to enjoy the feature film. If you don't have outdoor furniture, bring out a few dining chairs from inside the house.
Another fun idea is to lay out sleeping pads, pillows, and beanbag chairs for a cozy sitting area. Make sure to add a few blankets or sleeping bags that guests can use to stay warm.
Not sure you have enough seating or want to keep things more socially distanced? Think about hosting a drive-in outdoor movie night. You can use a white garage door as the screen or hang a white sheet near the driveway or street. Have your friends and family come by in their cars to catch the flick. They can bring along their own blankets and snacks to ensure a fun evening that adheres to pandemic guidelines and restrictions on gatherings.
Movies
No movie night is complete without a feature film. Use a projector to play DVDs or films from apps on your phone. Get a subscription to movie apps like Disney+, Amazon Prime Video, Netflix, or Hulu to play trending movies and classics alike. For these options, you'll need a reliable Wi-Fi or internet connection to ensure the movie plays smoothly without interruptions.
When picking the movie, think about your guests and what they may like. If there are kids coming, make sure the film is appropriate for their ages. For adults, choose films that suit their humor or interests. Summer blockbusters, classics, or films that have been nominated for awards are all great choices.
Food and Snacks
One of the best parts about a movie outing is loading up on treats at the concession stand. The best thing about hosting your own outdoor movie night? Your snacks don't have to cost an arm and a leg like they do at the cinema. Set up your own snack and popcorn bar for guests to enjoy during the movie. If you have a backyard fire pit, you can even roast s'mores while enjoying the flick.
Stock up on different types of popcorn including sweet and salty flavors as well as classic candies. Some of the most popular theater candies include Mike & Ikes, Junior Mints, Whoppers, Red Vines, and Sour Patch Kids. Don't forget to offer guests beverages including water, juices, and lemonade to pair with their snacks.
Fun Decor
Take your outdoor movie party to the next level with fun decor that makes guests feel extra special. You can greet guests with a red carpet and a festive sign where they can safely snap photos.
Some ideas for the welcome area include a chalkboard announcing the feature film "Now Showing" and movie reels or director clapboards. Make these props yourself using cardboard or cardstock or order designs from sites like Etsy. You can also find free printable movie tickets on sites like Jotform and Canva to hand out to guests (from a distance) as they arrive.
Invite Guests With Stylish Invitations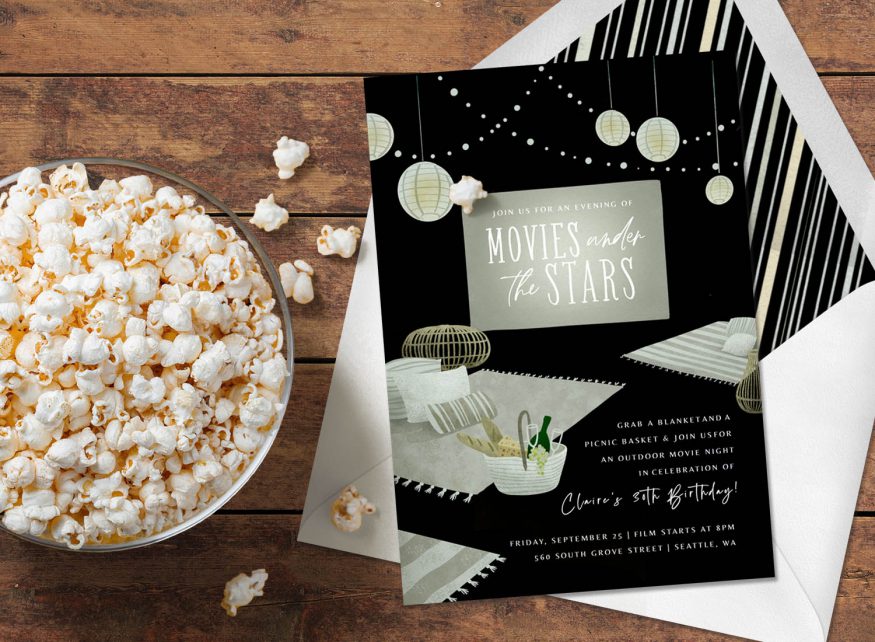 Invite your friends and family to a backyard movie night with stunning digital invites from Greenvelope. With online invites, you can skip heading to the post office and stationery store, ensuring you stay safe during quarantine times. Simply find a festive movie invite and email it to friends and family.
Greenvelope's dashboard makes it easy to see who's opened your invite and who's planning on attending. Plus, you can update the event details including the date and time quickly and easily — enabling you to adhere to constantly changing pandemic restrictions without having to mail multiple invites.
For invitation inspiration to match your outdoor movie night theme, here are some of our favorite designs to send out when hosting a backyard movie viewing party.
1. Movie Party Invitation
This vintage movie invite features hand-drawn film elements including a popcorn box, clapboard, and film strip. Customize the text to reflect the details of your outdoor movie night event and choose from a variety of color backgrounds to suit your personality.
2. Movie Night Classics Invitation
Invite guests to a virtual movie night in your own backyard with this movie-inspired invite. The hand-illustrated popcorn bits add a hint of whimsy and the invite comes with an "admit one" ticket. It's a great way to watch movies with friends, even when you can't be together physically.
3. Starlight Cinema Invitation
This whimsical invitation beckons guests to join a magical evening under the stars. The cozy blankets and pillow illustrations give guests a glimpse of what your backyard movie decor will look like. Plus, the fancy basket of snacks including wine and a baguette are the perfect touch for a more formal affair — like an Academy Awards viewing party.
4. Movie Night Invitation
This movie night invite features fun and vibrant colors, setting the scene for a lively outdoor viewing party. Customize it by choosing the background color and font to match the theme of your featured film. It's the perfect invite for a movie event celebrating a birthday party, graduation, or a casual, safely distanced get-together.
Host a Blockbuster Outdoor Movie Night
Skip the movie theater and host a successful outdoor movie night with this roundup of film party ideas. A backyard movie party is a fun way to celebrate birthday parties, bachelorette celebrations, bachelor parties, and really any occasion to spend time with the people you care about. Best of all, backyard movie events are easy to throw together at the last minute, don't require a ton of effort to pull off, and allow you to follow safety guidelines while still seeing your loved ones' smiling faces.
Invite guests with fun digital movie invites from Greenvelope to set the stage. Grab a few snacks and print out some movie decor items to create a theme that is inviting and festive. Set up your screen and cozy seating area and settle in for a relaxing night enjoying a great film and wonderful company.