May 18, 2021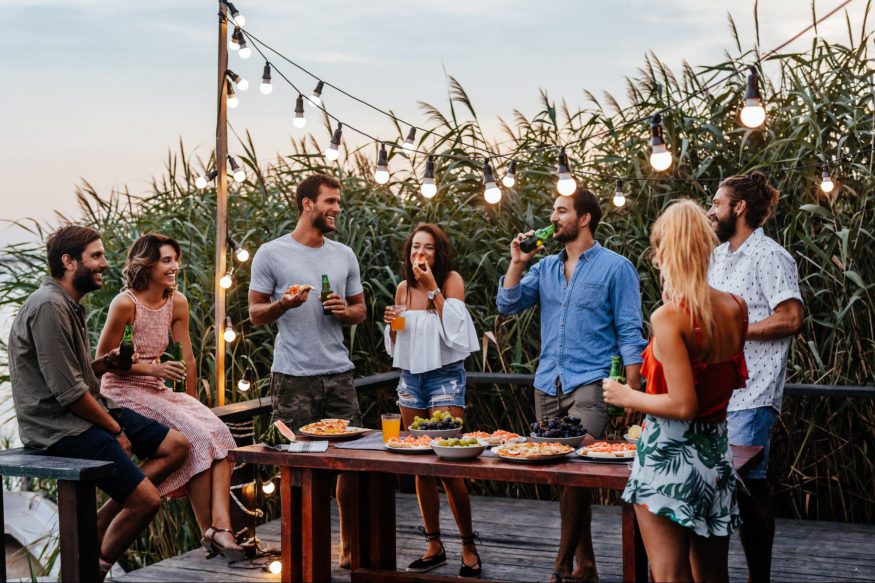 It's almost time to start throwing those one-of-a-kind summer parties again. With so much to celebrate and catch up on, only the best summer party ideas will do.
To help you plan an impressive get-together, here's some of our best advice on how to throw a summer party — plus inspiration for your summer party theme.

How to Throw the Ultimate Summertime Party
Hosting an unforgettable summer party takes a lot of planning — even if you're a party planning pro. Here's how to take your summer party ideas and turn them into a show-stopping celebration. 
Choose a Theme
One of the most fun stages of party planning is coming up with the theme, and summer parties are no exception. With the warm weather and everyone's high spirits, you can really get creative and have fun with your summer party theme. 
Think about the occasion and what would work best for the celebration, your tastes, and your party guests. If it's the 4th of July, a traditional cookout with fireworks sounds perfect. If you're celebrating a birthday, you can host a fun flamingo-themed yard party or a roaring 20s pool party. Whichever theme you go for, pick up plenty of party decorations to match. 
Get Your Guests Excited
Once you've decided on your summer party theme, you'll be all fired up about party planning. Your guests, on the other hand, are still waiting to be wowed. Get them excited by sending out beautiful, themed party invitations. 
We have online invitations to match almost any summer party theme — whether you're hosting a family BBQ or a surfing-themed beach party. Simply choose your favorite design, customize the colors and wording, and let your guests know about your not-to-miss celebration. 
Create a Fun Experience for Guests
The best parties are the ones where you can spend the whole time talking, laughing, and having fun. Hone in on the perfect summer party ideas by putting the focus on creating an amazing guest experience. 
Take your summer party to the next level by planning fun party games and activities. Invest in a photo booth so guests can snap away, or hire a talented local band to play at your pool party. Think about how you can transform your party venue with not just decor but interactive experiences for your guests to enjoy. 
12 Summer Party Ideas to Try This Year
Ready to get planning? Here are some of our most loved summer party ideas to inspire your next get-together. There's a summer party theme here for every occasion and every budget — whether you're taking your guests to the beach or hosting a potluck at home. 
1. Rainbow-Themed Party
Invite your friends and family members over to a super fun, rainbow-themed party to celebrate the summer. This works well for kid's birthday parties, baby showers, and casual get-togethers with your favorite people. 
Set the stage for your rainbow party with brightly colored balloons and tableware. Attempt your own DIY balloon arch, or bring in the professionals to help you transform the place. 
2. Backyard BBQ
Celebrate the warmer months with the perfect reason to get outside together — a backyard BBQ. Warm, cozy BBQs are ideal for birthday parties, anniversary parties, and those all-important family reunions. 
Get your grill out and serve up the tastiest burgers, hot dogs, and grilled snacks for everyone to enjoy. Lay out ice-cold beers for the grown-ups, and add a lemonade stand for the kids. 
3. Ice Cream-Themed Party
Everyone loves ice cream, right? Bring people together with a summer party idea themed around this delicious treat. 
Decorate your party venue in gorgeous pastel shades, with ice cream bunting and giant inflatable ice cream cones. Set up an ice cream bar where your guests can build their own sundaes, complete with sprinkles galore. 
4. Watermelon Party
For another refreshing summer party idea, why not throw a watermelon party? It might sound a little odd, but this sweet fruit can give you a really fun theme to work around for a birthday party or family get-together. 
Feel free to go overboard with the theming on this one — after all, it wouldn't be a watermelon party without themed centerpieces, tableware, decor, and more. Make sure there's plenty of melon on the menu too — and include it in your juices and cocktails too. You can even include games and activities centered around watermelon.
5. Elegant Summer Soirée
Sometimes you're looking for something a little more elegant to mark a special moment. A decadent summer dinner party could be perfect for an anniversary dinner, engagement party, or big birthday celebration. 
Invite your closest friends and family members over for a sophisticated backyard dinner, complete with elegant centerpieces and candles lighting up the delicious food. Serve up mini appetizers before the main course, with plenty of red and white wine on the table. 
6. Beach Party
We love the idea of packing everything in the car and heading to the beach for an epic party in warm weather. You can keep this casual or host a gorgeous event for a big moment like an engagement party or graduation. 
Ask your friends and family members to join you at your favorite spot for a picnic, BBQ, or just some drinks and great company. Can't get to the beach? Bring the sandy shores to you with plenty of fake sand, paddling pools, and deck chairs.
7. Carnival Party
Treat your party guests to something special by throwing an over-the-top carnival-themed party. This is a great way to celebrate the end of the school year, or throw a big get-together for family and friends. 
This party theme gives you a lot of space to bring in your own DIY elements. You could have a go at creating your own carnival games, or make lots of brightly colored or vintage-themed decor to recreate the real carnival experience. 
8. Tropical Pool Party
Transport your loved ones to somewhere really exotic with a tropical-themed pool party. Invite people for a fun time to celebrate a birthday or big life moment, surrounded by all things tropical. 
You can have a lot of fun with this party theme — think giant inflatable flamingos, and supersized palm trees. Make sure there's lots of delicious tropical grilled food on offer too, and popsicles to help people stay cool and refreshed. 
9. Hawaiian Luau
Mix things up by hosting an epic Hawaiian-themed luau for your next summer party. This theme is ideal for warm weather days where you can get outside and enjoy great food, music, and party games together.
Fill your party space with bright colors, flower garland, and tiki torches to recreate an island-inspired look. Throw in some limbo and bring in an amazing live band and you have a fun party atmosphere for any occasion.
10. 4th of July Bash
Planning a spectacular party to celebrate the 4th of July? Bring out your best red, white, and blue party decor for your friends and family with this summer party idea. 
Celebrate all that's great about America in style with a big party at home or in your backyard. Sparkling backdrops, karaoke, and lawn games are fun ways to get your party guests involved. Serve up hot dogs with plenty of toppings, and enjoy patriotic cupcakes for dessert. 
11. Family Camping and Cookout
We love summer party ideas that feel a little different, and this family get-together is just that. Invite your loved ones over to spend the night camping in your yard or at a secluded spot, with plenty of laughter and games thrown in. 
Ask people to bring their favorite dishes for a potluck-style feast, or grill some food up on the BBQ or over an open fire. Make sure you have plenty of s'mores, and bring along your guitar for an old-fashioned camping singalong. 
12. Backyard Movie Night
For a lovely way to end the summer, why not host your very own backyard movie night? This can be a great way to celebrate a birthday, anniversary, or milestone for someone you love. 
Transform your backyard into the ultimate outdoor movie venue with comfortable cushions, mason jar lighting, and cozy blankets. Bring in a popcorn machine so your guests can enjoy freshly cooked popcorn with their favorite seasoning. 
All the Summer Party Ideas You Need
There's nothing quite like a summer party. To host the perfect get-together you'll need a theme you love, plenty of decor, amazing food, and fun party games — plus, the perfect invites to get people excited about your party. We hope this guide has given you plenty of summer party ideas for your next bash. Enjoy the season of sunshine!