February 2, 2021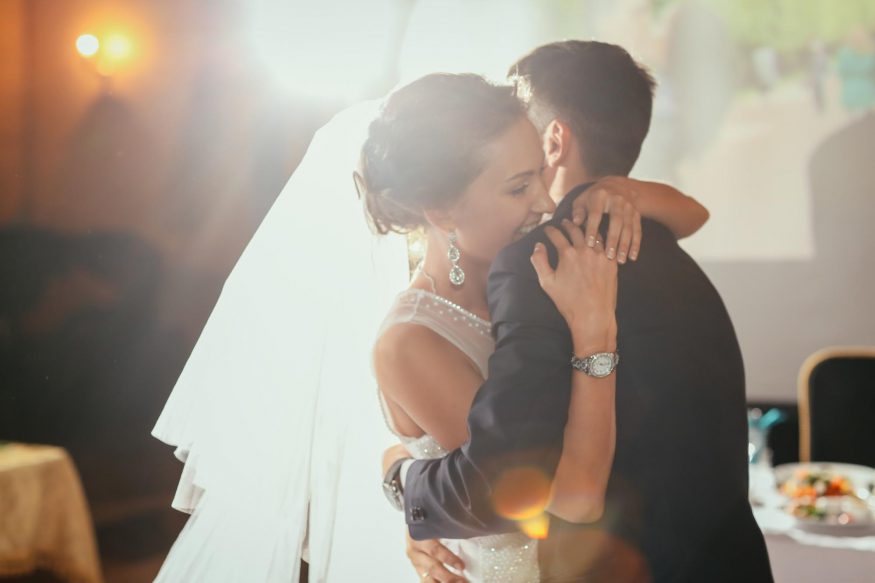 Whether you're planning a big wedding or an intimate affair, your wedding is a day to celebrate your love story and the special moments that led you and your partner to your perfect union. With an intimate wedding, it's never been easier to put personal touches on the big day. From spending more time with loved ones to personalizing the finest details, hosting an intimate wedding is a great way to make memories you'll cherish for eternity.
Here, we'll show you how to plan an intimate wedding. You'll discover insider tips to ensure the day goes off without a hitch and find ideas for making the day truly memorable. Plus, you'll find plenty of inspiration for choosing the most gorgeous wedding invitations for your special day.

Intimate Wedding Planning Tips
Having a small wedding or a minimony — a mini wedding ceremony — doesn't mean you have to sacrifice on the experience. With fewer guests, you'll be able to spend more time with each invitee, creating special memories with the people you care about most. Plus, with a smaller guest list, you may have more budget to spend on little details that truly make a statement. 
When planning a micro wedding, there are a few things to keep in mind to ensure everything goes as smoothly as possible. Here's what you need to know.
Commit To the Small Guest List
An intimate wedding typically consists of 50 guests or less, though the exact number really depends on the couple. If you invite hundreds of guests to your yearly holiday party, inviting 100 people to your wedding may seem quaint. For someone who invites 25 people to regular events, a 10-person wedding may hit the mark for an intimate affair.
Sit down with your partner and decide what number is ideal for your intimate wedding. Once you've picked a number, stick to it. Allowing guests to bring extra people can quickly get out of control, turning your intimate affair into an oversized event. 
Write down a final guest list with your partner and try not to add attendees unless absolutely necessary. In general, you can expect around 80% of attendees to RSVP, so you can also draft a brief shortlist of other people you may want to invite in case there's space.
Manage the Budget
Intimate weddings are popular for a variety of reasons. They're an incredibly cozy and personal way to cherish your special day with your closest friends and family members. Intimate weddings also enable you to get the most bang for your buck and make it easier to create your wedding budget.
One of the priciest aspects of a wedding is the food. With fewer guests, you'll spend less on meals. You can stash away more cash for purchasing a home, going on a honeymoon, or making your wedding day more extravagant. With an intimate wedding, you can splurge on a tailored menu, professional makeup, or details like stunning floral walls or crystal centerpieces — things you may have had to skimp on if you were hosting a huge wedding.
Choose the Setting
Not all intimate weddings are the same. Destination weddings, elopements, and backyard weddings all fall into the category of intimate events. You can have the wedding celebration take place in a single afternoon or turn the special occasion into a week-long event. 
Whether you're working with a wedding planner or taking a DIY approach, start by figuring out where you want to have your ceremony. Destination weddings require more planning than an event at a local venue, so keep this in mind when planning the perfect day. If you're feeling guilty about not being able to invite everyone, look for a wedding venue that has limited capacity. This way, you can easily shorten the guest list and take the pressure off yourselves.
Intimate Wedding Ideas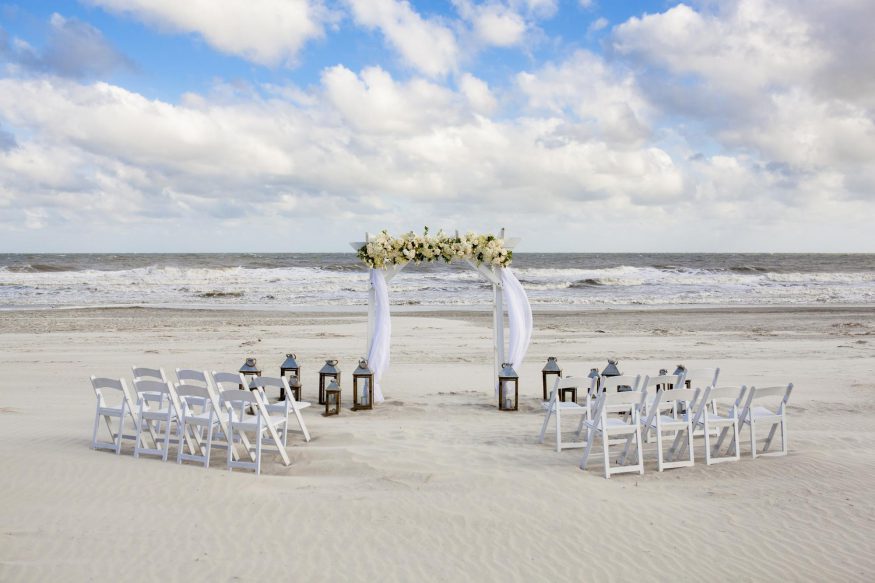 From a quick and simple courthouse wedding to a more elaborate yet intimate beach wedding, there are plenty of options for your special day. Here are a few favorite wedding ideas to consider.
Forgo the Wedding Party
Instead of having a wedding party packed with bridesmaids or groomsmen, think about ways you can incorporate loved ones in the wedding ceremony. You can have one special person accompany you to the altar and hold the bouquet or you can involve other guests by having them read a special passage either during the ceremony or at the reception. You can also skip the rehearsal dinner if your party is small enough, allowing you to spend more free time with loved ones.
Make It an Experience
Since you're saving money not throwing an over-the-top big wedding, you can spend time and money creating experiences guests will always remember. Intimate weddings offer a warm and welcoming atmosphere, so think about incorporating other cozy activities such as a brunch or cocktail wedding reception. These events allow you and your wedding guests to come together and spend more time with one another — a key benefit of having an intimate wedding in the first place.
You can also host a full intimate wedding weekend with a fun welcome activity, an intimate celebration, and a delightfully relaxing day to wrap things up. Hire a food truck to feed your small group of guests and set up a dance floor or games so everyone can have a great time all weekend long.
Add Personal Touches
A smaller wedding allows you to put more time and thought into the finer details of your big day. Think about enhancing the guest experience with a few thoughtful additions. The happy couple can give each guest a handwritten note thanking them for years of friendship and their attendance at the wedding ceremony.
Other personal touches that can make a big impact include things like personalized name cards and thoughtful party favors. You can also put a personal spin on the event decor. Use heirloom china to serve up the wedding meal or work with a fragrance specialist to create a custom scent that you'll always associate with the special day. Alternatively, you can add cultural elements representing you as a couple or create a custom crest to adorn cloth napkins or keepsakes.
Make It Pandemic-Proof 
With the Covid pandemic, events were turned upside down. Suddenly we've had to consider contingency plans for even the smallest affairs. Fortunately, a small wedding is one of the best options for these unusual times and there's a way you can include additional people without any risk: a half-virtual component.
Ask guests to attend virtually if they can't be there in person. Not only is this a good solution during the pandemic, but it's also a great way to add guests during normal times without going over your strict guest count. Hire a wedding photographer and videographer to document the ceremony. Before the wedding day, provide guests with the link they can use to watch the ceremony digitally in real-time.
Gorgeous Wedding Invites for the Big Day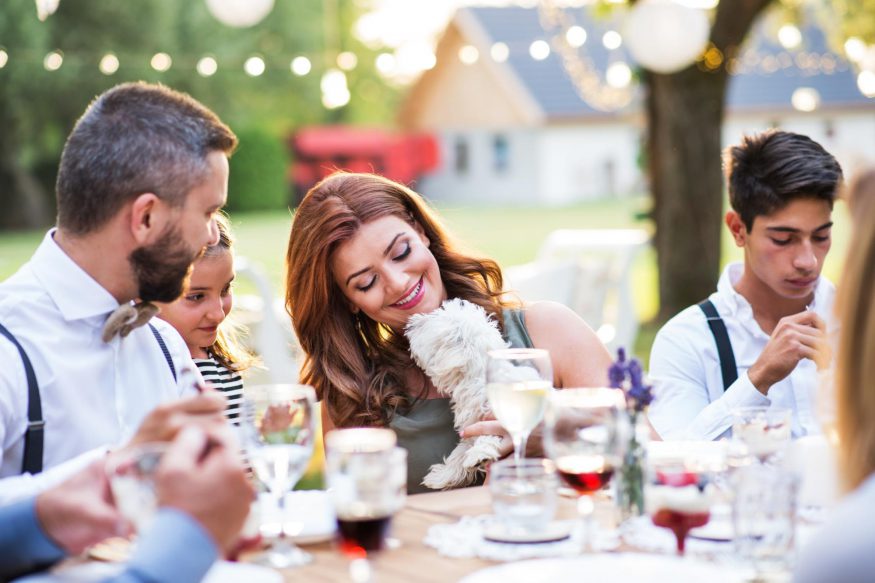 Let guests know about your special day with stunning wedding invitations from Greenvelope. Whether your style is romantic and ethereal or more rugged and casual, you're sure to find an invite that suits your style. Here are some of our favorite intimate digital wedding invites to inspire you.
1. Elegant Overlay Invitation
Nothing says intimate quite like a sweet snap of the happy couple. This photo invite allows you to take center stage and put your love story at the forefront. Customize the card with your favorite photo and change up the font to suit your personality.
2. Stones Invitation
This hand-drawn invitation features modern yet delicate stones stacked on top of one another. It exudes simple elegance and an intimate air that's perfect for smaller weddings. Choose from a variety of color palettes to suit your style.
3. Mt. Rainier Invitation
This rustic invite is perfectly suited for backyard weddings and destination weddings in mountainous locales. The timeless natural design creates an intimate effect while the gold foil font adds a sophisticated touch.
4. Modern Couple Invitation
Start your intimate wedding with a preview of your love story using this delightful photo invitation. With a modern layout, it's perfectly suited for contemporary couples.
Host the Wedding of Your Dreams
You don't have to host a large wedding to make memories you'll cherish for a lifetime. Whether you want to elope or host an intimate ceremony on a beach, intimate weddings allow you to create beautiful moments with the people you care about most. With these wedding ideas and tips, your special day is sure to be a success and something you'll reminisce about for years to come. 
Looking for more tips on how to host weddings and other special events? Greenvelope is here to help. Browse more on our blog to find event planning advice and ideas for everything from weddings to bat mitzvahs to birthday themes and beyond.