April 30, 2020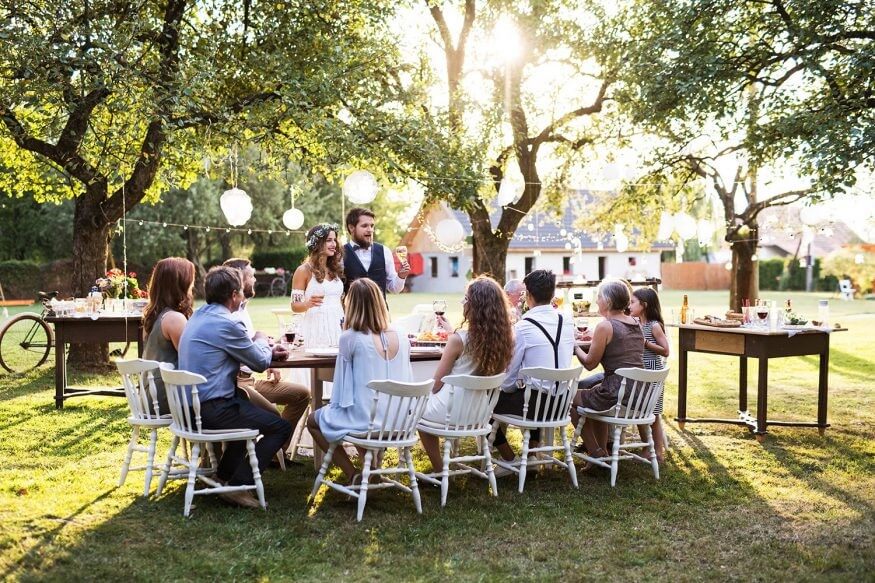 Small weddings can make a big impact — on you and your partner, your guests, your photos, and, it must be said, your open bar. With an intimate ceremony, you have more space — literally, figuratively, and financially — to incorporate memorable details than you would with a larger wedding.
If you always dreamt of an intimate wedding with your closest friends and family members, we have plenty of small wedding ideas to help make your day memorable. From over-the-top venues to drool-worthy menus to cocktail options that will have even the best mixologists raising eyebrows, you can pull off a lot with very little.

When Coming up with Small Wedding Ideas, Start with Priorities
There are a number of benefits to having a small wedding. You'll actually get to interact with all your guests. Your guests — particularly those from out of town — are more likely to mingle than they would be at a large ceremony. You'll in all likelihood have more options when it comes to vendors.
And frankly, the money you'll save on keeping a low headcount will allow you to splurge in other areas. Where you choose to splurge and where you choose to save is ultimately up to you and your partner. How you prioritize your budget should reflect your personalities and your relationship.
If you both love music, you may want to find a live band to play at your reception. If you enjoy hosting parties, preparing a fun cocktail hour for your guests might be important to you. And if there's somewhere you always dreamt of getting married (but it only accommodated a small guest list), then maybe a good chunk of your budget will go toward your wedding venue.
5 Small Wedding Ideas to Make a Big Impact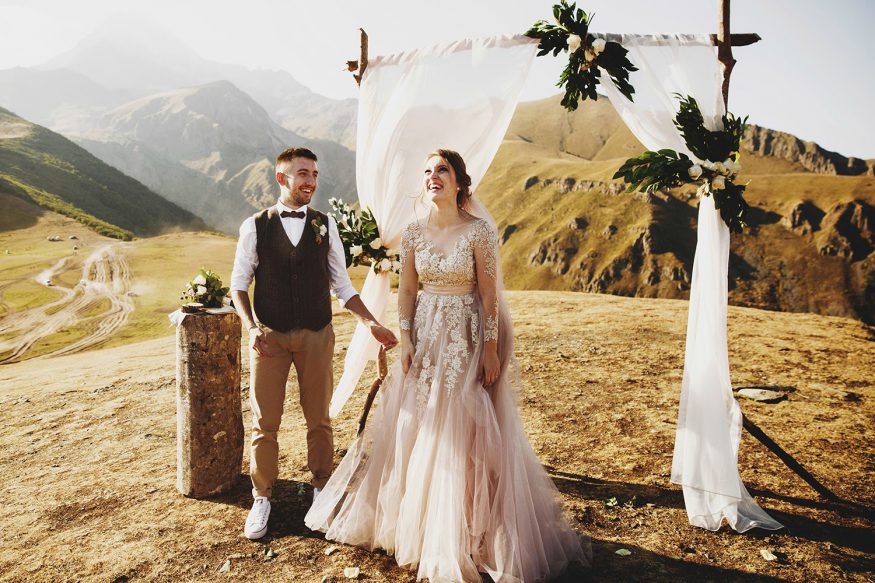 With a cozy venue and short guest list, your wedding day is sure to be an intimate affair. Below, we're sharing our favorite small wedding trends — from real couples — to help you plan your nuptials.
1. Book Your Dream Wedding Venue
Having a smaller guest list can increase your chances of booking your dream, alternative wedding venue. A favorite coffee shop or restaurant could prove to be a photo-worthy location, or perhaps a small vineyard, brewery, art gallery, apartment rooftop, or even a hotel suite.
Prefer the great outdoors? As described on Green Weddings, Cara, an art director, always dreamt of booking an unorthodox wedding venue. When she got married to her fiance Adrian, she chose to get married in a wooden, covered bridge in Chico, California. The venue inspired much of their wedding decor, and the standing-room only ceremony made for an intimate affair.
Having a small crew in your wedding allows you to choose a jaw-dropping outdoor space for your ceremony. An abandoned rustic barnyard, woodland tree house, exclusive beach, or even the middle of the desert might seem off the grid, but they make a gorgeous backdrop for your wedding photos.
2. Consider Family-Style Seating Arrangements
When it comes to your reception, a smaller wedding offers a number of options. Rather than struggling through the seating chart, printing place cards, and having assigned seating for your wedding guests, one of our favorite small wedding ideas is to allow guests to choose their own seat for a family-style meal.
Chris and Marissa, a couple who got married in the desert of California, said that the highlight of their wedding was their family-style dinner. "We wanted it to feel like a family dinner we'd have at home," the couple told Intimate Weddings, "So we opted for a family dining table and a menu of barbecue and comfort foods." The couple also created several cozy spots where guests could congregate and chat, setting up a fire pit, couches, and other seating areas.
3. Go All-Out With the Menu
If you and your soon-to-be-life-partner are two food lovers, you might want to have a to-die-for menu. For a wedding with fewer guests, you might have enough budget to hire a food truck, or serve hors d'Å"uvres during a cocktail hour. Some couples have even organized brunch the day after the ceremony for their immediate family and friends, or invited all their guests to their rehearsal dinner.
When Erin McDowell reminisced over eloping with her fiance Derek at city hall, she told Food52Â that the highlight of her wedding day was making breakfast with her husband-to-be. Over the course of their relationship, Erin had taught Derek to "get over his fear of all things baking," and the two bonded over their shared interest in food and cooking. Before eloping, the couple made biscuits and gravy from scratch, complete with caramelized onions and sausage gravy.
4. Add Your Own Personal Touch
As with any major life event, your big day should feel like you. When you find yourself in the midst of wedding planning, brainstorm with your fiance about ways to mix your own personalities into the wedding. Do you want to send your guests home with unique wedding favors? Do you want the caterer to be the same restaurant that served as the backdrop for your first date? Do you want to axe the wedding cake for a different dessert, like donuts, cupcakes, or pie?
Tasha and Priscilla were quite proud of how they threw together a very personal wedding on a small budget. As they told A Cup of Jo, they didn't want their budget to go toward centerpieces (their flowers came from Trader Joes) or decorations (they borrowed string lights from a friend). They wanted their respective heritages mixed in with the wedding reception, and therefore served Brazilian and Greek desserts — whipped up by their families — instead of cake.
5. Throw a Destination Wedding
When your entire guest list consists of just a few close friends and family members, it really opens up the map for potential destinations. If there's ever been a dream location you and your partner wanted to travel to, why not have it serve as the backdrop to your wedding ceremony?
While buying a pair of plane tickets may not sound like a cost-cutting strategy, a destination wedding can actually work in your budget's favor. As wedding planner Jennifer Taylor told The Everygirl, having a destination wedding is a great excuse to narrow down your guest list. By only inviting your bridal party and immediate family, you cut down on your overall cost.
Greenvelope Helps Your Cozy Affair Come Together
Whether you choose to throw a wedding with immediate family, a few close friends, or just you and your fiance, Greenvelope can help all your wedding guests come together. With a collection of over 400 wedding invitations and coordinating thank you cards, we ensure the people you love most are with you on your wedding day.
Plus, sending digital invitations, like those from Greenvelope, helps you prioritize your budget for your wedding day. You'll still get your dream invitation design for a fraction of the cost that you would with print invitations. From there, you can book your coveted venue, photographer, or that taco truck you had your eye on.
Whatever small wedding ideas you settle on, we know your intimate wedding will be positively stunning. And if you happen to get married under a covered bridge, we want to see photos.