February 4, 2021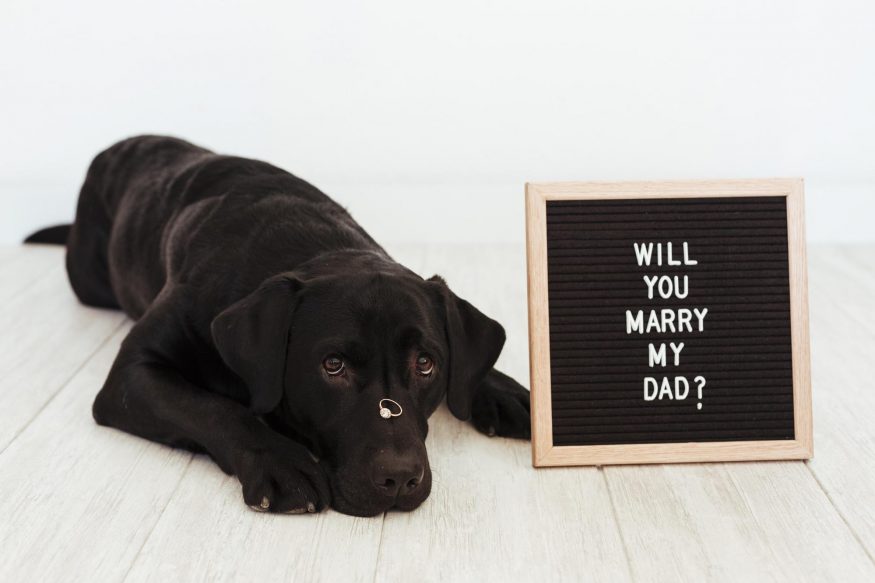 Getting ready to pop the question? How exciting! However you choose to propose, it'll be the most magical moment for the two of you. But sometimes it helps to have ideas to inspire you. To plan the perfect proposal, here are some of the most romantic ways to propose. We've split them into affordable and more luxe options, so you can browse to suit your budget, time, and personality.

Sweet and Simple Ways to Propose
To keep the proposal simple but memorable, you can't go wrong with these ideas. We love these romantic ways to propose for their sweet nature, affordability, and ease of preparation. 
1. On the Beach
Propose against a beautiful beachy backdrop for a sweeping way to start your new lives together. This would make for a perfect proposal story if you've always wanted to wed on a beach or in an exotic location. Whether you opt for your local beach or whisk your loved one to their childhood favorite, this is an affordable option to make it happen that doesn't compromise on setting. Plus, you can make it super playful by building your own sandcastle as a proposal prop.
2. Over a Special Dinner
What's better than a heartfelt proposal? A proposal over an amazing feast! Make this romantic proposal idea your own by booking a reservation at your loved one's favorite restaurant, or cooking a delicious three-course meal at home. For a more relaxed version, order your partner's favorite takeout and dessert instead. 
3. Surrounded by Rose Petals
Sometimes all you need is a little bit of decor to create the perfect scene. This is one of our favorite romantic proposal ideas as you can use any setting you like. 
Sprinkle rose petals around your house for an amazing at-home marriage proposal idea, or pop them in vases and jars for a just-as-gorgeous but low-mess alternative. Not at home? Make sure you use real flower petals wherever you propose and take them home with you after. You can use them as a wedding memento or keepsake. 
4. On a Picnic
If you're blessed with gorgeous weather, a lovely stroll and a picnic can be the perfect avenue for a romantic proposal. Take your loved one to a waterside spot or your favorite park with a homemade or luxe picnic basket. Stage a surprise proposal as you dine with some chilled champagne to enjoy straight after. 
5. With Your Pets
Have a furry family member at home? Get your pet pals in on the action for a fun, joy-filled way to ask, "Will you marry me?"
Involve your pet by fixing an engagement ring carrier to their back and having them make a grand entrance. Or, create a fun animated video or meme-style photo featuring them for a playful way to ask your partner to marry you. 
6. Under the Christmas Tree
'Tis the season to be jolly, so why not transform your festive season into the ultimate memorable moment with a wedding proposal under the Christmas tree? You don't need a lot of prep to make this happen — all you need is your beautifully lit and decorated tree in a cozy corner at home. Pop the question, then snuggle up with a festive movie and some bubbly. 
7. On a Nature Walk
If you and your partner love hiking or taking relaxing walks together, make your next one extra special by transforming it from a regular stroll to the next step in your journey of love. Pick your favorite trail or decide to explore a new location together. Secretly pack the ring and a bottle to celebrate, then pop the question surrounded by beautiful scenery. 
8. With a Homemade Video
For a super unique way to propose, piece together clips of your relationship thus far and create a proposal video! This is a lovely and creative proposal idea that is truly personal. If you know how to make videos and have plenty of clips you can use, this is a heartfelt and affordable way to propose. 
9. Surrounded by Family
Proposals are often private, but they don't have to be. Ask the big question at a family gathering or special dinner for a moment that everyone can treasure. 
While this isn't for everyone, it can be a really lovely way to pop the question. If a huge family group isn't your partner's idea of fun, you could still create a heartfelt moment by asking them while you're with their parents or siblings. Want to go all out? Host a super fun engagement party right after the moment.
10. With Cake
Who doesn't love cake? If you're looking for an adorable, affordable, and foodie-friendly way to pop the question that doesn't involve a full-on dinner spread, consider this proposal idea. Simply bake a cake at home or order one from a local baker, then go all out with a huge ring topper or keep it sweet and simple with DIY handwritten icing. 
11. Under the Night Sky
There's something so romantic about a nighttime proposal under the stars. Combine stargazing with a gorgeous ring for an unforgettable moment. Whether you go for a drive to a nearby scenic park or camp out in your backyard, all you need is some stars, hot drinks, and a ring. 
12. With a Treasure Hunt
If your special someone has a sense of adventure, send them on a treasure hunt or scavenger hunt that ends with the big moment. You can keep this simple by hosting at home or go bigger and wilder with a city-wide treasure hunt that involves friends and family members too. Make the final surprise your proposal for a sweet way to spend the day. 
13. Recreate Your First Date
When it comes to romantic ways to propose, it doesn't get more nostalgic than this. For the ultimate tearjerker, recreate your first date together then propose. 
Whether your first date was dinner and a movie or a walk in the park, this can be a super memorable way to take the next step together. You could even turn this into a sweet yearly tradition to mark your engagement date. 
14. With a Jigsaw Puzzle
For a creative way to pop the question, create a custom jigsaw puzzle that spells out the question. What's great about this idea is that you can make it an ultra-easy, small puzzle or a massive one that'll take the two of you a day to finish. Add in some snacks, drinks, and a playlist of your favorite songs, and you have a fun activity that leads to a most special moment. 
Extravagant Ways to Propose
Looking for an extravagant proposal experience? Here are some fun ways you can propose if you have a little more budget, want to jet off somewhere, or spring for a superstar moment. 
15. At a Disney Park
Does your partner absolutely love Disney? For a grand gesture, whisk them away for an unforgettable experience at their favorite Disney park. You can DIY or call in the help of Disney's in-house team to make it really memorable. Finish your special day with a romantic dinner, bottle of champagne, and Disney's nightly fireworks show. 
16. On a Trip to Venice
European cities make for some of the best proposal destinations, and Venice is no exception. Treat your loved one to a river cruise and stroll around the city before proposing in a scenic location or over dinner. Make a weekend of it or continue on a tour of romantic locations across the continent. 
17. In a Hot Air Balloon
Up, up, and away! Surprise your partner with a hot air balloon ride and pop the big question while you're high up in the clouds. This is a fun and whimsical way to ask for their hand in marriage. Pack a picnic and some bubbly to celebrate with as you float above the land you call home. 
18. Under the Eiffel Tower
Don't fancy Venice? Swap it for another famously romantic city and propose under the Eiffel Tower. Paris is an ideal destination for romantic ways to propose — whether you keep it casual or hire musical performers and a photographer to capture the moment. Arrange a photoshoot for the proposal, then use the stunning photos on your save the dates and online invitations. 
19. On a Ski Trip
Hit the slopes and come away with not just a great skiing or snowboarding experience, but a new fiancé too! Proposing on a ski trip is a fun way to make the adventure feel extra magical. Pop the question over hot cocoa in your cozy lodge for a special moment with the one you'll spend the rest of your life with.
20. On a Once-in-a-Lifetime Getaway
Plan a once in a lifetime vacation with your loved one and use it as the perfect moment for that much-wanted proposal to happen. Let them in on the secret early and treat it as an "engagement moon", or surprise them with a romantic proposal in an exotic location or beside a treasured monument. 
Use These Romantic Ways to Propose to Inspire Your Own
Planning a proposal is one of life's greatest pleasures, so have fun with it. You get to pick a location, theme, idea, and decor to make the moment feel really special. Take inspiration from these romantic ways to propose to create your own moment. Whether you propose at your local park or jet off to another country, it's all about the two of you and the love you have for each other.