November 16, 2020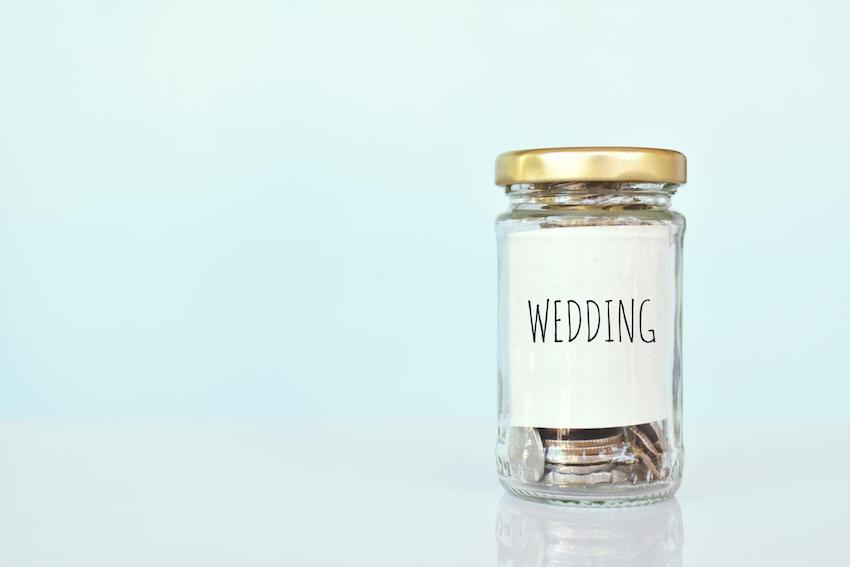 Setting a wedding budget can seem like a daunting task. You might have no idea how much it will cost, how long you'll need to save, or how to manage your expenses to achieve the results you want. Aside from the hard costs of the wedding itself, there are also many other components that add to your wedding budget, including beauty treatments, bridal party gifts, and transportation. 
If you're not sure where to start, don't worry. This guide offers an easy way to figure out your wedding fund, including a wedding budget breakdown that'll help you plan the celebration of your dreams.

How Much Does a Wedding Really Cost?
The beauty of planning a wedding is that you can create something amazing to suit any budget. You could go all out with a $50,000 luxury destination wedding or a wonderful DIY micro wedding for under $2,000. There's magic to be made at every budget point. 
In 2019, the average wedding cost was nearly $25,000, and chances are that number is only going to increase. That said, these figures also vary significantly by state, with Hawaii topping the list as most expensive. Of course, averages take into account everything from celebrations with hundreds of guests to ceremonies with a much smaller guest list. Still, it's a helpful starting point if you're just starting to think about your wedding funds. 
How To Set Your Wedding Budget
Knowing the average cost of a wedding is great, but everyone has different incomes, lifestyles, and desires for their big day. Here's how to set a wedding budget that takes all this into account, so you can begin planning your ceremony and reception with confidence. 
Know Your Income and Savings
When planning your wedding budget, the first thing to do is review your income and savings as a couple. 
Take a look at your household budget and identify how much money you could save each month towards your wedding fund. You might want to keep your lifestyle as it is, or you could make changes and live a little more frugally to contribute more to your wedding fund. 
You also want to review how much you have in your savings accounts. 
You might have been saving for the last few months or years with a wedding in mind, or you might be starting fresh. Maybe you've been saving for a down payment on a house or a dream getaway and want to use some of these funds for your wedding instead.
Once you've worked out your finances as a couple, you'll have a good idea of what's achievable. Not only will this help you set your wedding budget but it can help you decide on a date too — if you don't have the funds now, you can always plan your wedding for the following year. 
Just remember to be responsible and don't empty your bank account. You deserve to have a wonderful wedding, but you also don't want to go into debt or be left with no savings just to make it happen. After all, your wedding is just one day — and it will be memorable no matter what. But your marriage will last a lifetime. You want to start your journey together on solid financial ground. 
Discuss Finances With Family
Discussing finances with family can be tricky, but it's another way to potentially increase your wedding budget or make your money go further. 
Family help doesn't have to mean a massive contribution to your venue costs — it could come in the form of contributing to photography fees or using connections to get you a discount on your wedding flowers. 
Not everyone's family will be able or willing to contribute, and that's OK. But having a conversation with them could be a way for them to throw in some new ideas about more affordable venues, or they might know a great DIY trick that'll save you hundreds on your decor. 
Be Realistic
Weddings can be incredibly expensive. Venue rentals can run into the thousands, and that's not even factoring in costs like tips and transport. As you plan your wedding budget, stay realistic about what's practical — both in terms of money and time. 
To secure the venue you love at a price that works for you, you might have to opt for a weekday wedding or book your date a year or more in advance. (Note: Planning your event well in advance can often save money.) If you need a venue fast, your choices will be more limited and prices will likely go up. 
The same goes for other parts of your wedding, like catering and alterations. There's a careful balancing act between deadlines and prices when it comes to wedding expenses. If you're short on time, chances are you'll end up paying more to get what you want. 
Staying realistic about what your wedding budget can handle will help you navigate wedding planning with more confidence and joy. It's better to enjoy those moments searching for the perfect venue within your budget than to tour places you love that are beyond your budget range. 
Decide on Your Non-Negotiables
For most couples planning a wedding, there are a few things each person can't imagine budging on. It's critical to define these non-negotiables since they'll influence how you allocate your wedding budget. 
You might have your heart set on a specific venue in a town that you love, while your partner might have a large family who all want to celebrate with you. Maybe there's a band you'd love to have at your reception, or you want to fill the venue with gorgeous fresh flowers. Everyone has their "thing" and it's important to make that a priority if it matters to you.
Once you're clear on your non-negotiables, you can be a little more relaxed about the other elements of your wedding. Sure, your wedding menu is important and you want to feel amazing in whatever you wear. But you can be more flexible in these areas knowing that your non-negotiables are set. 
How To Organize Your Wedding Budget Expenses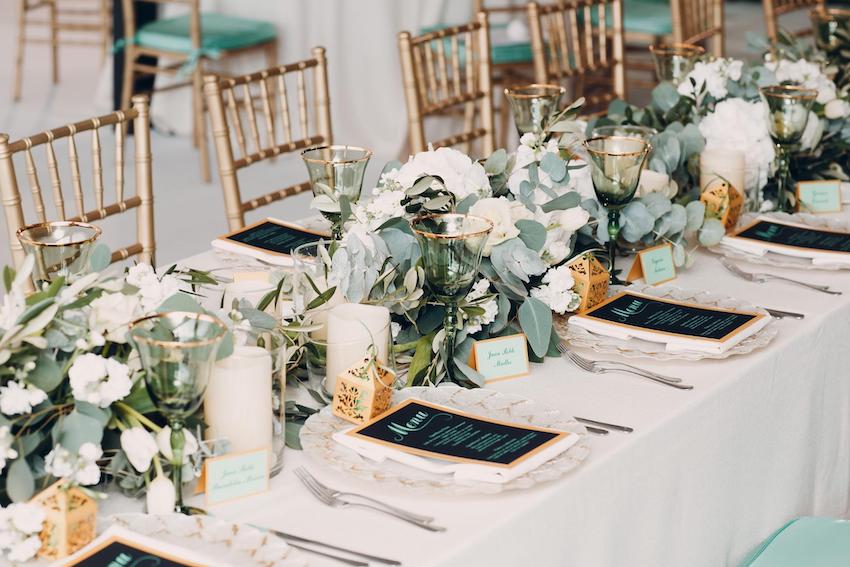 With a better understanding of your finances and non-negotiables, it's time to start setting your wedding budget.
You don't want to set it and forget it, so create a spreadsheet to track your wedding budget or use a paper planner to organize your wedding finances. Spreadsheets are great because you can edit them as things change and use formulas to help you stay on track. 
Split your wedding budget into categories to ensure you have everything covered. It's also a great idea to assign each category a percentage of your budget. This helps you visualize the areas that are most important to you, and helps you see what you're spending at a glance.
How you prioritize the categories is up to you. For most couples, the wedding venue will take about 25% of the total budget for the big day. You might increase this if you want to book an in-demand venue, or reduce it if you're hosting a backyard wedding. 
Photography is another expense that will depend on how you choose to handle it. For example, you could spend up to 20% of your budget on photography if it's a must-have. Or you might have a photographer friend who will shoot your wedding as a wedding gift. 
Below are all the categories you'll want to cover for your wedding budget, along with some suggested items for each. 
Wedding Ceremony
Marriage license

Officiant fee

Ceremony venue costs

Ceremony decor 

Live music

Wedding rehearsal costs

Wedding insurance
Reception Venue
Venue deposit

Rental fees

Tax and service fees

Venue rentals — like linens, centerpieces, and tableware

Gratuities for service staff
Entertainment
Live band or performer fees

Children's entertainment

Stage 

Lighting

Power supply
Decor and Flowers
Consultation with a florist

Bridal bouquet

Bridesmaids bouquets

Groomsmen's boutonnières

Ceremony flower arrangements 

Venue flower arrangements

Flower walls or arches

Centerpieces and floral displays

Candles and decorative lighting

Bunting, balloon arches, and similar accents

Signage

Delivery, setup, and removal fees 
Food and Drink
Rehearsal dinner

Appetizers for cocktail hour

Reception catering — whether it's a sit-down meal, buffet, or an alternative

Meals for wedding vendors

Wedding cake and/or cupcakes

External caterers, such as food trucks 

Drinks for cocktail hour and reception

Drinks for toasts

Beverages — both alcoholic and non-alcoholic

Tea and coffee

Corkage fee

Open bar

Bar service

Service fees and tips

Post-wedding brunch
Attire
Wedding dress(es)

Veil, tiara, or other bridal accessories

Shoes 

Wedding suit(s)

Wedding party ensembles (if supplying or contributing)Â 

Underwear and hosiery

Clothing alterations

After-party outfit (if applicable)Â 

Wedding dress cleaning and storage
Rings
Engagement rings

Wedding rings

Resizing

Cleaning and aftercare 
Photography and Videography
Engagement photoshoot

Wedding day photography

Wedding album

Photo prints

Wedding video

Mini film for social media

Feature film 

Photographer and videographer transportation and expenses
Beauty
Haircuts and coloring

Professional shave

Beauty treatments — like facials, massages, and manicures

Trial appointments for hair and makeup

Wedding hair styling

Wedding makeup 

Hair and makeup for the wedding party (if providing)Â 
Transportation
Transportation for wedding party

Transportation for close family members and friends

Shuttle service for

wedding guests

Service fees and tips 

Parking fees 

Transportation costs relating to wedding supplies, decor, or entertainment
Wedding Favors and Gifts
Gifts for the wedding party and family

Party favors for wedding guests

A gift from you to your partner on your wedding day
Stationery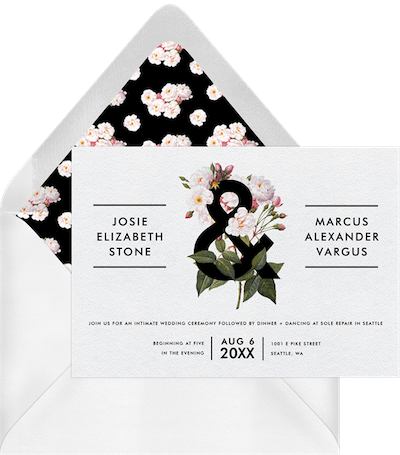 Wedding invitations

Postage (if you're not sending

digital invitations

)

Ceremony programs

Place cards

Menu cards 

Printed wedding reception games

Guest book
Don't worry if your list looks a little different — these ideas are here to help you get started. If you have a wedding planner, you'll also need to include their costs. You might also want to capture other areas of your wedding journey here, like your engagement party or honeymoon fund. It's all about what works best for you. 
Plan Your Wedding Budget With Confidence
Wedding planning doesn't have to be confusing. Use the tips and wedding budget categories in this guide to help you create a well-organized and easy-to-follow template to plan and track your spending. 
One of the easiest ways to save money and time is by sending digital wedding invitations. You don't have to worry about costly stationery yet you can have the most stunning designs with limitless customization options. Plus, you have the bonus of seamless RSVP tracking and other features that let you easily communicate with your wedding guests.
Once you've determined a wedding budget, you can get to work on securing your venue, dreaming up your decor, and sampling those all-important tasting menus. No matter how much (or how little) you have for your wedding budget, enjoy the journey and remember that it's not just about one day, it's about forever after.