January 31, 2021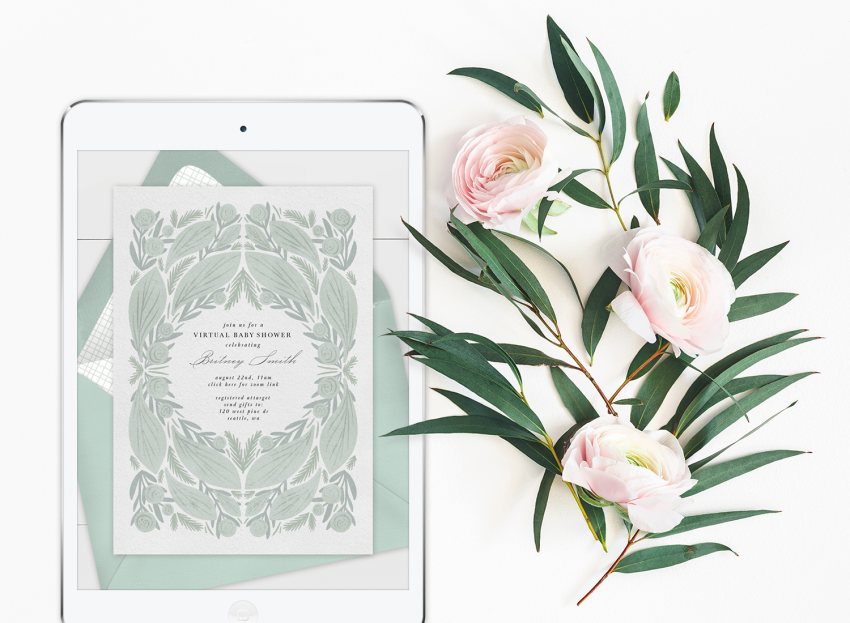 Whether you're taking your event online because of the pandemic or simply because your loved ones live far apart, you can make your baby shower just as special as an in-person event. With these virtual baby shower ideas, you're sure to create wonderful memories celebrating life's most precious moments.
Learn how to host a virtual baby shower, including tips on how much time to plan and how to decorate your space. Plus, you'll find virtual baby shower ideas including fun games and stunning invitations that are sure to set the tone for a beautiful day.

How To Host a Virtual Baby Shower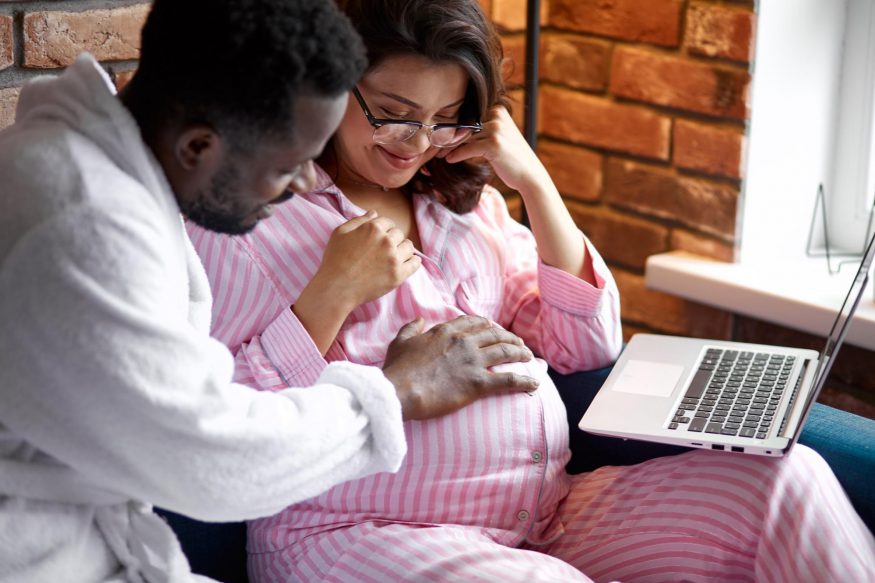 Even though you're hosting a virtual celebration, most of the party planning steps are similar to an in-person event. You'll need to find a venue (this time it'll be an online video chat room), send out online invitations, plan party activities, and decorate the space. Here are some tips to help you plan a successful virtual baby shower.
Choose a Video Call App
Hosting a virtual event means you'll have to get your tech in order. Fortunately, you don't have to be a tech whiz to pull off a successful virtual baby shower. There are simple tools such as Skype, Google Hangouts, and Zoom that enable you to get everyone together digitally. You can also use video chat tools and social media sites like FaceTime, WhatsApp, and Facebook Chat for small get-togethers. Each site has a slightly different layout and process, but the basic steps are the same. 
Start by sending out a digital invitation for the big event including a link to the digital room and platform you'll be using. Make sure to tell guests if they need to create an account to use the platform or if they'll be able to join as a guest. You can send guests instructions on how to sign up or simply send them to the tool's webpage where clear instructions and video tutorials show them how to get set up. 
On the day of the event, everyone uses the link to sign in and turns on their video and audio. You can also ask guests to keep their sound muted unless they are speaking to control the tone and volume of the event. 
Plan the Timing
Virtual baby showers can take anywhere from 30 minutes to hours — it's up to you. However long you decide the event should be, take some time to think about the schedule. Here's a quick guide to what that might look like:
Greet attendees:

Spend 5-10 minutes at the beginning of the call to greet guests and allow some wiggle room for guests to work out any kinks in their technology. 

Play games:

Get the party started with some virtual baby shower games. This allows late arrivals to join without disruptions and sets the tone for a fun virtual hangout. Plan for anywhere from 30-45 minutes of activities.

Open presents

: After the games are done, open presents virtually — more on that in a moment. If you don't want to open gifts during the call, you can also simply extend the allotted time for more games. The timing here depends on how many guests you invite and how many gifts you need to open, but 20-30 minutes is a good rule of thumb. 

Say goodbye

: Wrap up the event with 5-10 minutes of virtual goodbyes.
Send Invitations
As mentioned, one of the first steps in hosting a virtual baby shower is to send out invites. On the invites, include your baby registry information in addition to the date, time, and virtual location of the event. Invites can be as simple as texting the digital room link to friends and family or sending out more formal invitations. 
Greenvelope offers stunning digital baby shower invitations that are entirely customizable. You can include the link to your digital room and even include instructions on how to access the site on the day of the event. You can also upload your own invitation designs or customize the font, background color, and layout of existing designs to make them all your own. Even better, you can send out quick updates and keep track of RSVPs all without leaving your home, dealing with postage, or keeping track of paper cards.
Virtual Baby Shower Ideas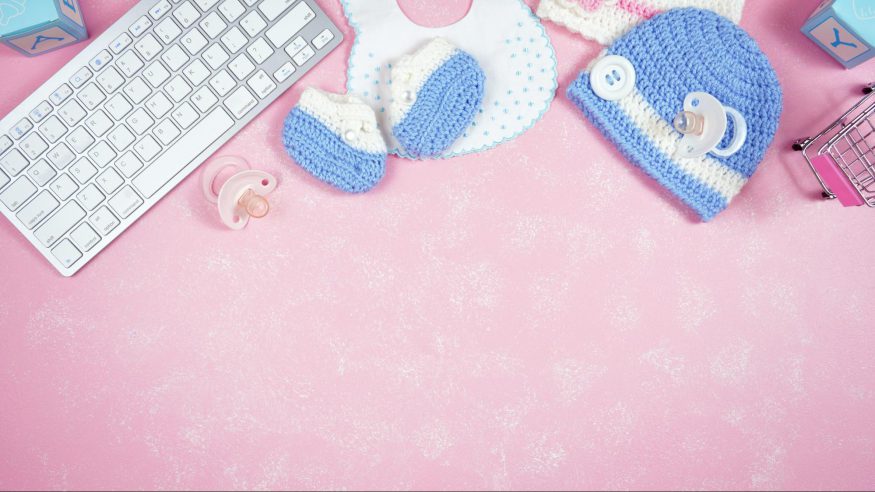 Now that you have an idea of how to host a virtual baby shower, it's time to discover fun ideas including decor and virtual baby shower games. Here are a few virtual baby shower ideas you can use to celebrate your new bundle of joy or when hosting a baby shower for a close friend or relative.
Revealing Gifts
At a traditional baby shower, the new parents or mom-to-be typically open all their gifts as guests watch. For a virtual baby shower, you can still enjoy this experience by asking participants to mail gifts to your home in advance. (You can leave this note in your email invitation.) You can then open the gifts on camera, creating a special moment you'll all remember for years to come. 
Alternatively, you can have your guests wrap the presents and open each item themselves, showing you what they got for the new baby, new mom, or new parents. Later, they can mail you the items or drop them off if they live nearby. This is a good option if your guests won't be able to mail the gifts in time for the baby shower.
Virtual Themes and Decor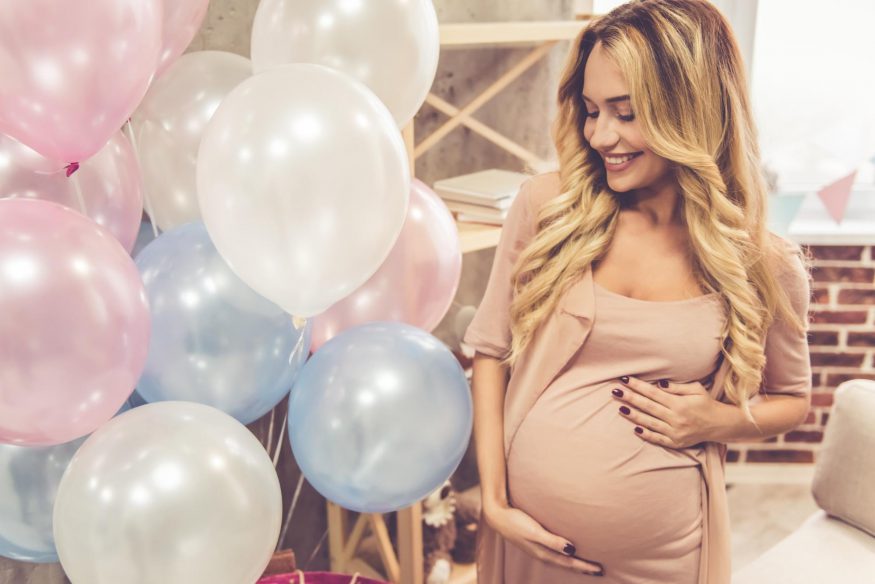 Just about any baby shower theme can be adapted to a virtual event. You can have a sweet as honey baby shower featuring delicate bee decor or a jungle-inspired affair with lions, tigers, and bears — oh my! Since the event will be taking place virtually, you don't have to decorate an entire room, just the area that will be visible on the video call. 
Grab your computer and open your video call app, sitting in the spot you'll be using on the day of the event. Look at what can be seen in the background. Remove any items that may obscure the view and consider how you can decorate the space. You can use a decorative sheet as a backdrop and add a DIY balloon arch with blue, pink, or yellow balloons. You can also hang streamers and a baby shower banner to set the mood. 
If you're throwing a baby shower for a friend or family member, you can prepare decorations and mail them to the guest of honor before the big day. Make sure to include everything they'll need including tape and other fasteners so they can easily set up the decorations.
If you don't have any supplies on hand or the time to decorate, you can also opt to use a virtual background if you're using certain apps like Zoom or Facebook Chat. For instance, Zoom has stock backgrounds you can choose from or you can download photos — with lemons, pink hearts, or blue bottles, for example — and use those as a custom background. Check out Zoom's step-by-step guide if you want to create a custom background for your online baby shower.
For a more interactive experience, you can send out party favors or goodies to participating guests before the day of your shower. These can include simple items such as party hats or personalized baby bottles as well as tools and ingredients to make sweet treats like cupcakes or cake pops. If you're hosting a virtual sip and see honoring the newborn, you can also send out ingredients for special mocktails and cocktails.
Virtual Baby Shower Games
Among the hallmarks of baby showers are silly party games that get everyone laughing and excited to meet the new bundle of joy. Just because you have to host your baby shower online instead of in-person doesn't mean you have to skip the fun games. Here are some virtual baby shower ideas for games and activities:
The Price Is Right

: Showcase three to five baby items — think diapers, bottles, and pacifiers — and ask participants to write down how much they think the bundle of items costs. Ask the guests to hold up their number and reward the winner with a special prize. You can mail out the prize if you don't mind a trip to the post office, or deliver it straight to the winner by ordering it on Amazon. If the winning guest lives nearby, you can drop off the prize at their house for a contact-free drop-off. To keep things really simple, offer digital prizes such as electronic gift cards. 

Guess How Many

: Fill a jar or a baby bottle with sweet candies or baby items such as bows, pacifiers, and alphabet letters. (Make sure you count them ahead of time!) Ask your virtual party guests to write down how many items they think are in the jar or bottle. The guest who gets the closest without going over wins a prize. 

Guess the Baby

: Ask loved ones and close friends to email you a photo of themselves when they were younger. This can be a baby photo or a photo from when they were a toddler. During the event, share your screen and show the photos. Ask guests to guess who's in the picture and reward the winners with a round of applause or a prize.

Baby Shower Bingo

: A classic baby shower game, bingo is an easy one to convert to a virtual activity. Use

baby bingo printable cards

or a template and ask your guests to fill in the card with items they think you'll receive as baby gifts. They get to check each square off as you open gifts. Whoever gets bingo first wins a prize!
Virtual Baby Shower Invitation Inspiration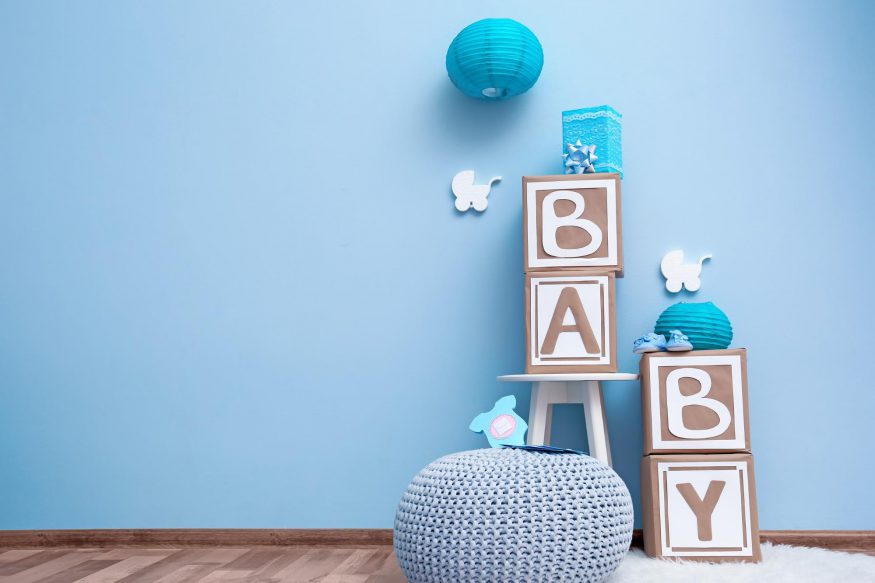 Whether you're hosting your event in-person or online, you'll need to send out invitations so guests know when and how to celebrate. Here are a few of our favorite baby shower invitations you can use when hosting a virtual celebration.
Shower By Mail Invitation
This sweet digital invite is the perfect way to invite guests to celebrate the baby's arrival with a virtual event. The hand-illustrated balloons and patterned gift boxes add a touch of whimsy and practicality — they serve as visual cues to let guests know the event will be held virtually.
Bold Onesie Invitation
Featuring a classic onesie that can be customized in different colors, this adorable invitation is a great way to announce your virtual baby shower. You can customize the font and background as well to make it truly one-of-a-kind.
Vintage Beetle Invitation
For an alternative to a virtual baby shower, you can host a drive-by baby shower, complete with this cute invitation. Cheerful balloons attached to a vintage Volkswagen Beetle make this card equal parts nostalgic and excited for the future. The font and text can also be updated to reflect a virtual baby shower or similar event.
Abstract Boho Baby Invitation
This modern invitation incorporates abstract shapes, textures, and bold font to invite guests to a virtual baby shower. Choose from an array of earthy colors and pair it with the matching thank you note to show guests your appreciation after the event.
Make Life Memorable With Greenvelope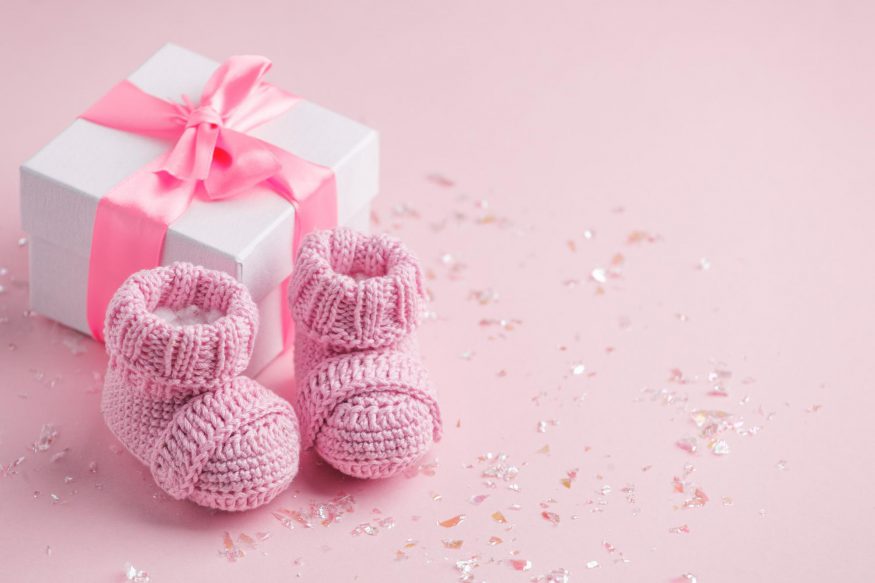 In a world where social distancing is a must at the moment, many of us have had to come up with creative solutions to celebrate life's special milestones. While a virtual baby shower may not have been the dream event you had in mind, you can make the day just as special and memorable as an in-person shower. With these virtual baby shower ideas, you'll create an event where family members and friends shower you and your growing family with love and affection.
At Greenvelope, we strive to make each event extra special. Whether you're hosting a virtual baby shower, preparing for a small wedding, or finding creative ways to celebrate birthdays, we're here to help. 
Our huge selection of digital invitations features hand-illustrated designs from funny themes to fancy motifs to suit any event. They're a great way to set the tone of your event and get guests excited for the big day. Continue browsing our blog for more joyful invitations and party ideas to celebrate life's special moments.