December 17, 2020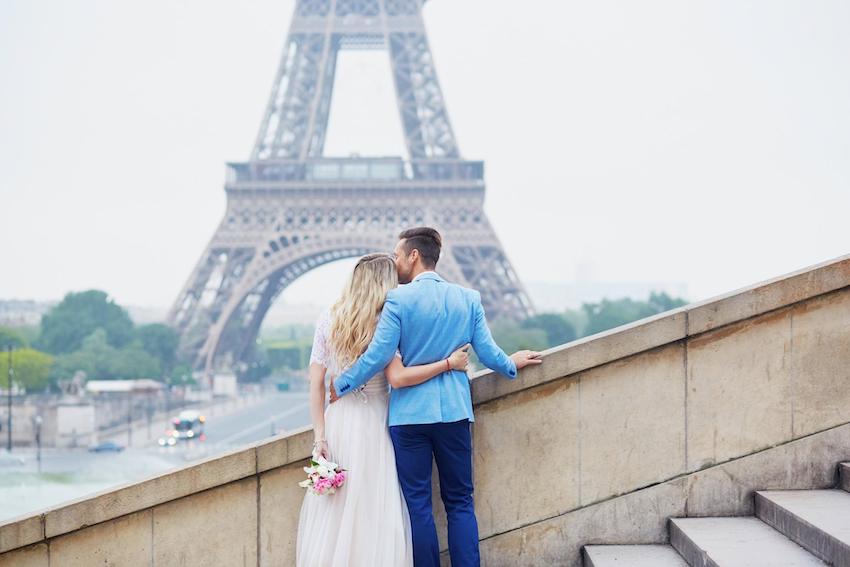 When you're ready to marry the one you love and don't want the pressure or hassle of planning a large, traditional wedding, an elopement might be the perfect solution for you. Read on to discover our favorite elopement ideas, plus some do's and don'ts to help you plan the perfect elopement you'll remember forever. 

What Is An Elopement?
An elopement is like a wedding that happens in secret. Couples that elope often do so with just themselves, the officiant, and anyone else required for it to be a legal ceremony. Some couples also bring a small group of family members with them, such as parents or children. 
Couples opt to elope for lots of different reasons. For some, they love the idea of having a private ceremony and a moment for just the two of them. For others, it's the excitement of being a bit spontaneous or wanting to prioritize their wishes over family pressures. And for some, it comes down to the cost — hosting a wedding can get expensive! 
Whatever your reason, an elopement is a wonderful way to tie the knot and say "I do" to your forever person. 
Elopement Planning: Do's and Don'ts 
Unless you simply run off and get married spur of the moment, planning an elopement can be similar to planning a wedding. You'll need to organize a date, venue, officiant, outfits, and photographer. 
In other ways, it's different than a wedding day — you don't need to worry about a guest list, wedding favors, or a reception afterward. (Of course, you could still send out digital wedding invitations if you're planning to have a handful of loved ones join you.) 
To help you plan your dream elopement, here are some of our elopement do's and don'ts. 
Do Plan Ahead
You don't have as much to organize with an elopement, but it's still best to plan ahead as much as you can. Have an idea about potential venues, and what you'd like your ceremony to look and feel like. Even if you're feeling spontaneous and go for a last-minute elopement, think ahead to the rest of the day, including where you'll dine, relax, and sleep. 
Don't Forget About the Legal Side of Things
Every state does things a little differently when it comes to the legal requirements of elopement. In some states, you need to get your marriage license at least a few days in advance, which could hamper your spur-of-the-moment wedding planning. Be sure to research these details as well as who can officiate and how many witnesses you need (if any).
Do Create a Wedding Budget
Elopements are wonderful for so many reasons, one of which is that they're often less expensive than a traditional wedding. Still, you'll want to set a basic budget so you can celebrate without worrying about your bank balance. 
Create a simple wedding budget and leave out any areas that aren't relevant to your elopement, such as catering, gift registries, or guest travel costs. Because elopements are more affordable, you can dedicate more of your budget to must-haves like photography and a breathtaking venue. 
Don't Lose Focus of Your Why
For most couples, the decision to elope is a very conscious one. Whether it's for financial, family, or just-can't-wait reasons, don't lose sight of your reason for doing so. Couples who elope can often question whether it's the right decision over a traditional wedding. Stay true to your intentions, follow your heart, and keep the focus on the magical moment with your partner. 
Do Pick a Special Location
Elopements are such personal, special ceremonies, so it makes sense to choose a location with personal meaning. Some couples opt for a natural location with a stunning backdrop — like a National Park or a romantic, deserted beach. Others pick a place of significance — like an exotic destination where the proposal took place. 
Your special location doesn't have to be grand or expensive. Your local courthouse could be perfect, especially if it's just down the street from where the two of you had your first date. 
Don't Feel Under Pressure
Some families find it hard to deal with the idea of an elopement. They want to be there for the special moment and witness you say their vows. This can create pressure and tension. Try your best not to succumb to it. 
If your family is struggling with the idea, look for ways to help them get involved. Capture the moment on video to share with them later, or throw a reception for everyone when you return home. 
Do Write Personalized Vows
The moment you say your vows is one that you'll remember forever, so make it count. 
Elopements are the perfect backdrop for personalized, heartfelt wedding vows. 
Sit down and write out your wedding vows from the heart. Take inspiration from existing wedding vows, and customize them to include moments of your life together that you treasure. 
Don't Forget the Food
You won't have hundreds of hungry guests to feed, but the two most important guests (you and your fiancé!) still need to eat. 
Even if you don't have a full dinner and a wedding cake, make sure you plan a delicious meal or treat for the two of you after the ceremony. This can be as simple as room service in your cozy hotel room, or takeout from your favorite Chinese restaurant. You could also go lavish and book a fine dining experience to toast your new marriage. 
Do Book an Elopement Photographer
With no guests on hand to snap candid photos, wedding photography becomes more valuable than ever. Look for a photographer with a style you love and that's familiar with shooting elopements. 
Even if you book a last-minute elopement, try your hardest to score a talented photographer to capture your wedding photos. Once the ceremony is over, ask them to snap some extra photos of you to use on your wedding announcement cards.
Don't Anticipate Gifts
It's tradition that guests bring a gift to your wedding, but with no guests, there's likely to be no wedding gifts on the day. And that's OK. You'll probably still receive lovely gifts from close friends and family when they hear the news, as everyone loves to celebrate a marriage. Honor the moment on the day by exchanging a small gift with your newlywed partner instead. 
Do Dress for the Occasion
You might not be having a wedding ceremony and reception, but there are still plenty of reasons to get married in a gorgeous wedding dress, suit, or other ensemble. 
Enjoy the process of finding the perfect, timeless outfit. It doesn't have to be overly formal — in fact, if you're eloping in a natural location, something more casual might work better. Wear something you love — this is an unforgettable day, so choose something that makes you smile when you put it on.
Don't Forget About the Styling
Decor and styling isn't just for your guests to enjoy, so don't feel like you have to forego ceremony styling for your elopement day. If possible, decorate your elopement venue so that it feels perfectly "you" with flowers, decor, and small touches that theme the space. 
If you're getting hitched in a courthouse, you can still add stylish touches like a lovely floral bouquet or boutonniere. Still, you might find that in a location with a stunning backdrop all you need is you and your fiancĂ©. 
Do Plan an Announcement
Give your loved ones a chance to celebrate your new marriage by making an announcement that you've eloped. It's the perfect way to update them about your nuptials and share the news.
Most couples send out marriage announcement cards to friends and family. You can also share the news on your social media pages, via a handwritten letter, or by surprising your loved ones with a party. 
Don't Abandon the Idea of a Party to Celebrate 
To involve your loved ones in your special moment, you can always host a wedding celebration afterward. An elopement party is like a wedding reception but with a lot less pressure. Host it at home, gather friends at a local restaurant, or head to your favorite park to chat, enjoy food together, and play games. 
Elopement Ideas: Locations We Love
If you're thinking about eloping, but not sure where, here are some of our favorite elopement location ideas. 
Courthouse
Create a romantic scene with a ceremony at your local courthouse or city hall. This is a great option if you want to keep things simple, then escape for a getaway with your newlywed partner. 
National Park
Take a mini road trip out to your favorite National Park site and use it as the perfect backdrop to say your "I do's" with the one you love. Want a fantastic atmosphere for photos? National Park locations like Yosemite are just the place. 
Secluded Beach
Celebrate your intimate wedding on an equally private beach, with only a handful of loved ones to witness the moment. Scout out your favorite coastline for a secluded spot, then whisk your fiancĂ© away for a sweet, romantic ceremony that'll feel like a mini destination wedding. 
Scenic Forest
Transform your elopement into a magical celebration by hosting it in a scenic forest location. Swap a traditional wedding venue for a mystical woodland, or a stunning pine forest. You'll end up with gorgeous photos you can treasure as long as the redwoods stand tall. 
City Adventure
Secluded location not for you? How about a city elopement somewhere grand, like New York or Paris? Find the closest licensed venue to your favorite city street, then head outside for a wedding shoot in the city. This one's perfect if you want to spend a few nights in a city you love while basking in that lovely little elopement bubble. 
Animal Park
We love the idea of eloping somewhere surrounded by animals. Ask your most-loved animal park if they host small weddings and whether you can book an intimate elopement ceremony there. Pose for photos with your favorite animals on the horizon, or book an animal keeper experience for a fun way to make new memories on your special day. 
Wonderful Elopement Ideas to Inspire Your Ceremony
Eloping is such a fun way to get married. You get the moment all to yourself, with just your fiancé and the officiant there to make it official. It's a lovely idea if you're looking for something intimate, last-minute, or affordable. 
Plan your elopement the easy way with these tips and ideas, and you'll have the ceremony you want without the planning confusion along the way. Find a location you love, the perfect outfit, and write vows that'll make your fiancé cry tears of happiness. Use these elopement ideas to create a moment that's magical for the two of you to share.