August 3, 2019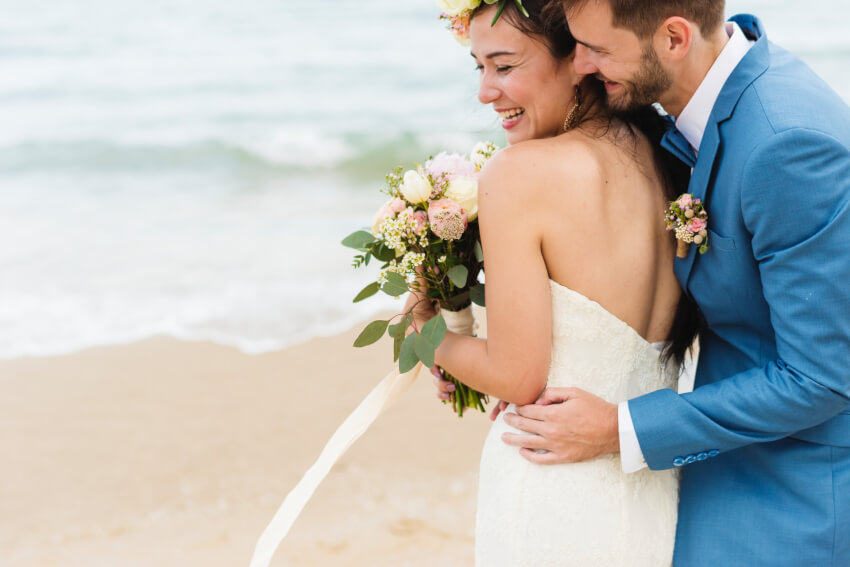 Is there anything dreamier than a beach-themed wedding? You've sent the engagement announcements and hosted a beachy bridal shower. Now it's time for the big party invitations. Whether your affair is oceanside or simply nautically inspired, the right beach wedding invitations will put you on track for an unforgettable day.
Every bride knows that keeping track of the guest list is one of the hardest tasks. If you're having a low-key destination wedding or an intimate celebration, online invitations are just as beautiful as paper invites. They can also save you a ton of cash. That's more room in your budget for tropical cocktails!
If printed invitations are important to you, consider a supplemental evite. This can help organize your RSVPs and save you money on response cards — think 50 cents per stamp, plus all the added paper. Pick a design that complements your printed wedding stationery, or even upload your own design that perfectly matches. Whichever you choose, we've broken down the best beach invitations. Browse designs from classic to unconventional with every starfish and sand dollar in between.

Minimalist Beach Wedding Invitations for a Tasteful Oceanfront Affair
An oceanfront wedding doesn't have to equal flamingos and tropical hibiscus flowers. If your style is more understated, choose a minimal invitation. Minimal designs set the tone for a sophisticated celebration. These styles are beautifully designed without overpowering the most important subject: you.
Acadia Invitation
Exuding the coastal beauty of Acadia National Park, this understated invitation features watercolor brushstrokes and contemporary text. Jeweled hues of lavender and ocean blue are reminiscent of ocean waves. With two hand-painted oyster seashells in the forefront, this design is perfect for an East Coast wedding.
Delicate Palm Frond Invitation
A hand-painted watercolor palm leaf spells elegance in this minimal design. Stylized text offers a modern aesthetic that's perfect for a sophisticated, seaside wedding.
Seaglass Invitation
Script typography meets a watercolor background that sets the tone for a soft, seaside ceremony. If blue isn't your hue, use the customization tool to transform this invitation to seafoam, rust, or anything you can dream up.
Palm Tree Trio Invitation
This Signature Greenvelope design features understated palm trees set against modern script and block text. Match your wedding colors in powder blue, seafoam green, chartreuse, or peach. Or work with the art team to customize it in any colorway.
Tranquil Coastline Invitation
Wherever your seaside nuptials take you, evoke the feel of the Virgin Islands with this serene coastline. Soothing marine hues create artful depth. Watercolor hills crash into a turquoise bay. The top of the invitation wears a pebbled card stock and artfully designed text. The look is as luxurious as your waterfront soiree.
Nautical Beach Wedding Invitations to Sail Through Wedding Planning
Anchors away! If your wedding is on a boat, near a marina, or you simply love the yacht life, a nautical invitation is for you. Define your wedding's signature look with an invitation that wears classic stripes or marine wildlife. Classic preppy designs will never go out of style.
Nautical Stripes Invitation
Chic color and nautical ticking stripes define this classic invitation. The finishing touch is a gold-foil anchor. In true preppy style, add your couple's monogram at the top. This design oozes subtle style that is never ostentatious.
Seaside Nuptials Invitation
Don't let your engagement photos go to waste buried in your Instagram feed. This classic template puts them front-and-center. An elegant text overlay and classic little anchor are perfect for couples tying the knot by the water.
Love Anchor Invitation
Ahoy! Classic nautical style is perfect for the unconventional couple. Tattoo-inspired text and cheeky doves create a charming vintage vibe.
Serene Heron Invitation
A hand-painted great blue heron stands proudly on this beautiful design. The wading waterfowl wears deep, rich blues paired with geometric text that makes a modern statement.
Swanky Stripes Invitation
Nothing says nautical wedding invitation more than classic navy and white stripes. This customizable template is perfect for a nautical affair wherever you sink your anchor — from Florida to Arizona.
Destination Beach Wedding Invitations for Your Far-Flung Affair
Destination weddings are incredibly personal. Typically, you will invite a smaller guest list to travel to your celebration. Make guests feel welcome with the right destination wedding etiquette.
For example, you may want to throw a party on arrival day. This can be especially important if your wedding is outside of the United States. You'll also want to be careful to provide guests with key information. Make sure your wedding invitation wording includes accommodation and transportation notes.
Once you've decided on the specifics, choose a destination wedding invitation that speaks to your specific location. Tropical hues are perfect for a Mediterrenean affair. Or set the scene with subtle blues for a New England celebration.
Birds of Paradise Invitation
Tropical beach weddings call for bold hues. This Birds of Paradise wedding suite emphasises color with azure and cobalt accented with a goldenrod yellow. Inspired by a Manu Torres floral arrangement, this invitation begs for a sunny day and sparkling waters. The artwork is paired with simple text and screen-printed graphics for retro flair.
Ala Kahaki Invitation
This Hawaiian sunset spells timeless romance with rich shades of purple, blue, and gold. Shadowy sapphires and radiant violets are added in layers of watercolor strokes that pop off the screen. This artful design is perfect for an island affair. It offers elegance and seaside vibes without the typical bright hues associated with the Pacific.
Everglades Invitation
Heading to Palm Beach? The Florida Everglades come to life in this multifaceted invitation. Exotic flamingos have retro-modern style that is anything but cartoonish. Instead, subtle shimmering light is paired with coral hues and subtle florals. Perfect for a sophisticated affair on the equator, classic lettering meets artful depth for a bold statement.
Cape Cod Invitation
New England affairs are perfect for this classic lighthouse. Drawing inspiration from the historic Cape Cod coastline, this design offers alluring romance with a touch of mystery. A vintage finish gives sun-faded hues an antique look. Choose from soft pink, slate gray, or your custom colorway.
Mediterranean Tile Invitation
Graphic tiles reflect timeless Mediterreanean style, perfect for a Moroccan affair or Italian soiree. Pick from an array of classic colorways to pair with your wedding's color scheme. European design is met with geometric text for one-of-a-kind style.
Feel Your Toes in the Sand
The right beach wedding invitation practically makes the air feel salty. Realistic drawings and impressionistic watercolors leave a big impression. Or go for classic nautical stripes and get ready to sail into your future. Whatever you choose, be clear in your invitation wording. Especially for destination weddings, make sure guests know where they should stay. Send save the dates early, and guests will be ready to seas the day with your final invitation. See you on the beach!