August 23, 2022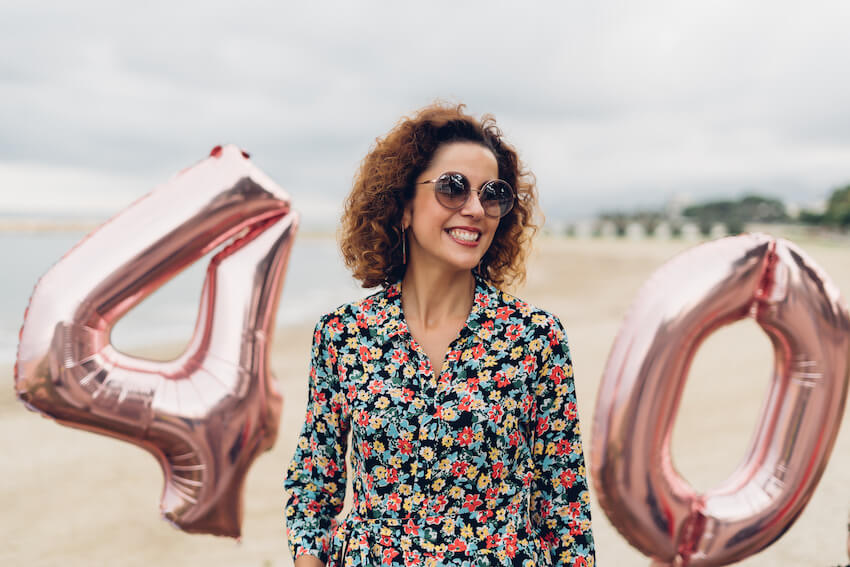 Celebrating a 40th birthday is a big deal. It's a time to honor years of success and overcoming challenges while looking forward to new growth, passion pursuits, and just enjoying life. For this milestone birthday, there are countless ways to mark the occasion. You can go all-out with a big bash including coworkers and acquaintances or keep it low-key with your best friends and closest loved ones at a small shindig.
Here, you'll find easy party planning tips for your special day, plus 40th birthday ideas for themes and activities. That way, you can have the perfect party whether you want a big blowout or something a little simpler. Each party idea is paired with a matching digital invitation to make the party planning process even easier.

Planning a 40th Birthday Party: The Basics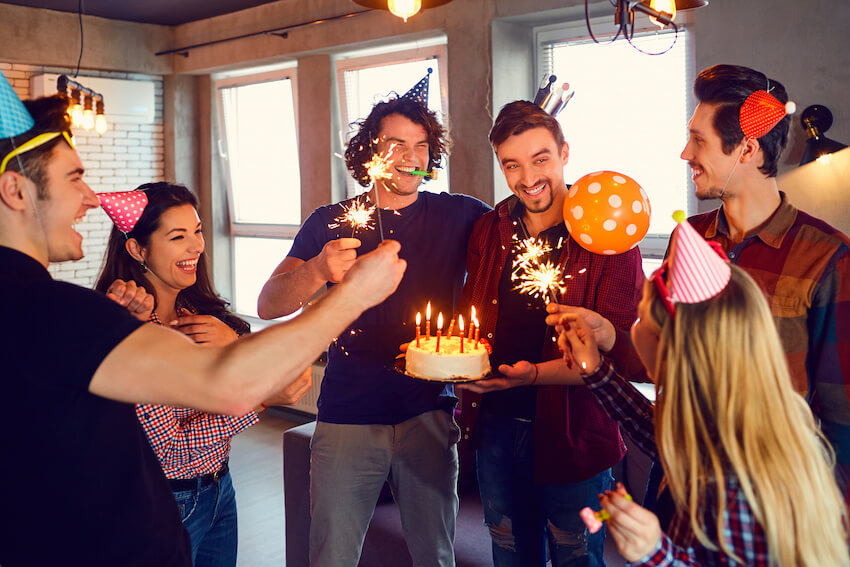 Planning a 40th birthday party for yourself or a friend can be loads of fun, but it can also be challenging with so many elements to consider. By breaking down the party planning into simple steps, it's easier to make sure you don't miss a thing. Here's a quick breakdown for organizing your celebration — you can also check out our event planning checklist for more helpful tips. 
Choose a Venue, Date, and Theme
The first thing to do is figure out a time, date, and location for the event. For a big party, do this anywhere from three to four months in advance. This way, you can coordinate with vendors and make sure the date is suitable for the birthday honoree and close loved ones.
One of the first steps in party planning is choosing a theme. Popular 40th birthday party themes include specific decades (like an 80s theme party or 90s theme party) or an over-the-hill party. You can also tailor the theme to the type of event you're hosting. For example, you can host an afternoon tea or backyard party and build the decor and food choices around those types of events.
When planning, think about the guest of honor's favorite things. Do they love to be outdoors and grill? Or do they enjoy relaxing afternoons wine tasting? Maybe they love spending time at the local art museum. Think about how they like to spend their time and choose a celebration to match.
Send Out Invitations
Once you have the date, location, and theme worked out, it's time to send out invitations. While paper invites are an option, make it easy on yourself (and the planet) with digital invitations like those from Greenvelope. Digital invites are easy to update and you don't have to hassle with trips to the post office. Plus, an online dashboard makes it easier to track RSVPs.
On the invitation, include the following details:

Name of the birthday honoree

Date, time, and location of the 40th birthday party

RSVP details, including how to RSVP and the deadline

Dress code and party theme, if applicable

Indicate if gifts are requested or link to a registry if desired
Get Creative with 40th Birthday Decorations 
Party decorations add instant pizzaz to any celebration, so have fun and get creative. If you're having an 80s theme party, set the scene with neon colors, inflatable decorations of boomboxes and cassette tapes, and movie character cutouts. For a 70s theme party, set the mood with disco balls, lava lamps, and psychedelic posters.
Balloons, confetti, and streamers are all classic party decorations that come in various color schemes to match any party theme. Be sure to weave in your theme with as many details as possible, including tablecloths, napkins, centerpieces, and party favors.
Liven Things Up with Party Games
Along with the right ambiance, you need some crowd-pleasing activities. Party games not only entertain guests but they also give everyone a chance to get better acquainted. Have a dance-off, play hot potato, or get silly with themed charades. These are all classics for a reason.
Trivia is another fun crowd pleaser. Choose questions tied to your party theme — for instance, if you're having a 90s party, ask questions about popular music, cars, and activities from that decade. Or if you're hosting a Hollywood theme party, focus the questions on movies and celebrities. Be sure to include lots of outdoor party games for a cookout or backyard soiree.
Figure Out the Food
Satisfy your guests with party foods that match the theme of your birthday bash. For a backyard BBQ, you can't go wrong with hot dogs, burgers, and fries. If you're hosting a beach-themed event, tropical fruits and finger foods fit the bill. For a wine tasting event, charcuterie staples such as salami, cheese, and crackers are perfect.
No birthday party is complete without dessert. Enjoy a classic birthday cake or opt for cupcakes. You could also set up a decadent DIY dessert station brimming with retro candy, donuts, cake pops, or any other sweet snacks to suit your theme.
7 Fun and Festive 40th Birthday Ideas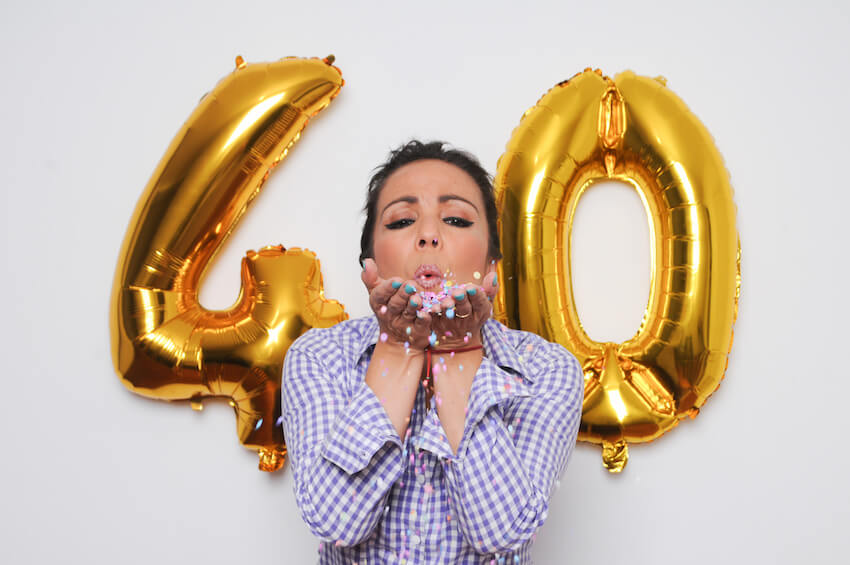 You have the steps for planning an epic party, now it's time to dig deeper into some fun ideas for the big day. Here, we've selected some of the most festive 40th birthday party ideas that range from elegant to silly to wonderfully altruistic.
1. Throw a Backyard BBQ
Invitation Inspiration: Fire Pit Invitation
Turning 40 is hot! So why not turn on the flames with a fun backyard BBQ? This party is easy to plan and pull together without spending months coordinating with vendors. Simply choose a nice backyard or local park and set a menu of classic BBQ fare. Decorate the space with gingham tablecloths to mimic the look of an outdoor picnic and be sure to pack plenty of cold brews and other refreshing beverages. Yard games like corn hole and horseshoes will keep guests entertained.
2. Go Wine Tasting
Invitation Inspiration: Wine Country Invitation
Toast the finer things in life with a wine tasting celebration. Whether you're heading to a winery or recreating the experience at home, this is one of those timeless 40th birthday ideas. (Beer or spirits tasting also works!) Invite close friends, family members, and coworkers to join in on the fun. For food, set out colorful charcuterie boards or create a full menu that pairs with the types of wine you'll be enjoying.
3. Get Silly at Game Night
Invitation Inspiration: Retro Arcade Game Invitation
Let loose and have fun with a 40th birthday game night party. You can pull out staple board games like Pictionary or Trouble, or plan a video game tournament if that suits the birthday honoree. Decorate the space to look like an arcade with neon lights and serve laid-back food items like wings, pizza, and sliders. For the cake, you can order one that features games created over the last 40 years.
4. Host a Dinner Party
Invitation Inspiration: Forty and Fab Invitation
Celebrate turning the big 4-0 by hosting a chic birthday dinner party with your nearest and dearest. Order food from a favorite local restaurant, cook up the meal yourself, or have the dinner catered. Don't forget to include a few dinner party games for adults that serve as fantastic ice breakers as well as post-prandial conversation starters.
5. Enjoy a Getaway
Invitation Inspiration: Summer Pineapple Invitation
Want a 40th birthday idea that makes the day more special than any other birthday? Plan a getaway! You can take a road trip to a big American city like San Francisco or New York or head to an international locale. Tropical islands, historic cities, and nature havens are all great options depending on your taste, budget, and schedule.
If you want an exotic feel but don't want to go very far, look for unique rentals in your area. Hotels and private rentals featuring tree houses, igloos, yurts, and pueblo-style casas can all make for a memorable 40th birthday celebration.
6. Garden Party
Invitation Inspiration: Floral 40 Invitation
Throw a whimsical garden party with afternoon tea or al freso lunch. Set up a long table and decorate it with fresh flowers and fancy tableware. Serve finger sandwiches and sweet treats like macarons and pastries. Add balloons in pastel hues or metallic colors to add some drama and elegance. Don't forget to serve desserts such as cupcakes or ice cream that guests can indulge in after singing a happy 40th birthday song.
7. Volunteer at an Event
Invitation Inspiration: Modern Art Invitation
What better way to usher in year 40 than with a day dedicated to giving back to the community? This is one of those 40th birthday ideas that will warm your heart. For this type of event, arrange for friends and family to volunteer at a local non-profit. Perhaps it's a beloved animal rescue or beach clean-up charity. Reach out to see how you can help and if there's an upcoming event you can pair with the birthday festivities. (You could even wear customized T-shirts and make that part of the 40th birthday gift.)
Use These 40th Birthday Party Ideas for an Unforgettable Event
Celebrating 40 years on the planet is no small feat. It's a big deal that's worth celebrating and these 40th birthday ideas offer a little something for everyone. And while four decades is significant, remember that it's really about celebrating the individual, not just the number. Think about what you (or the guest of honor) enjoys and choose a party theme to match.
For more party planning tips and birthday celebration ideas, continue browsing our Stationers blog so you can pull off the perfect event.