August 6, 2020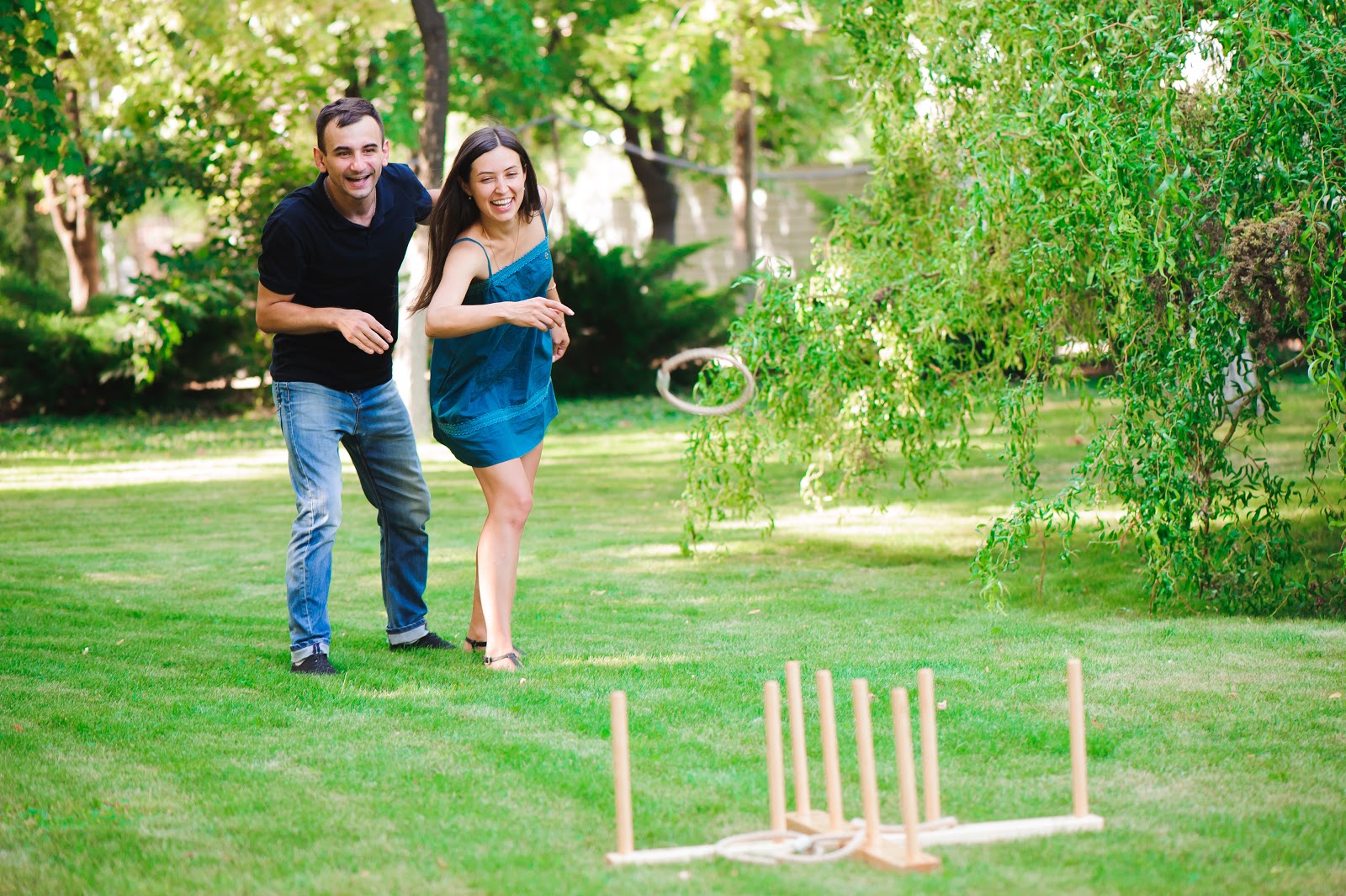 A summer BBQ or garden party wouldn't be complete without a few outdoor party games. They're the perfect complement to your hosting skills, delicious food, and creative party theme.
The right party games will have your guests on their feet, taking part, and cheering on their friends and family. Take inspiration from this list to find the perfect outdoor party games for your next backyard get-together.

15 Fun-Filled Outdoor Party Games
While many interactive board games can easily be brought outside in good weather, there are some games that are just perfect for BBQs, backyard birthday parties, and summer garden parties. Here is a selection of our favorites — from easy DIYs to traditional classics.
Giant Jenga
Take this towering classic and bring it outdoors with a fun, giant Jenga game. This is a simple game that everyone can enjoy, plus its lots of fun to see how far you can make it before the tower falls.
You can buy giant Jenga games designed for outdoor parties, or you can make your own DIY version. Whether you opt for a store-bought or DIY version, you can easily customize it to match your party theme. Go wild with bright colors for a rainbow-themed bash or add animal stickers for a safari-themed party. There's lots of room for personalization.
Backyard Dominoes
There's a reason why some games have remained favorites throughout time. Dominoes is one of those classic games that's simple, yet enjoyable for the whole family. Giant dominoes is a fun outdoor party game that's a little less physical than some of the other outdoor activities, making it perfect for mixed groups.
You'll find plenty of yard dominoes for sale online, including on marketplaces like Etsy and Amazon. Like with Jenga, you can also customize these to really make them your own. Swap out black domino dots for bright or pastel colors, or get creative and paint designs onto them. For a fun twist, swap out numbers for different characters, animals, or shapes. This works really well for kids' parties or if you're hosting a themed summer get-together.
Limbo
Challenge your party guests' flexibility with a game of limbo. This works best with a crowd of guests cheering on the hopefuls as they try to make it under the pole without falling. Keep lowering the pole until you only have one winner left standing.
What's great about limbo is that you don't need to dash out and buy an outdoor game set or create your own. Simply find two volunteers to hold a pole, pool noodle, or jump rope at either end and you have an easy backyard game of limbo. It's the perfect casual game to accompany a summer garden party, cocktail party, or friends and family BBQ.
Capture the Flag
Encourage everyone to explore the yard with a traditional game of capture the flag. Split your guests into two teams and challenge them to hide their flag somewhere within their "base." Watch as the other team tries to capture it from them while defending their own base.
Capture the flag is a fun outdoor game that's relatively easy to set up. All you need is a flag (or piece of fabric) and plenty of imagination. Split your outdoor space into two and let your guests enjoy trying to outwit their opponents. Add more creativity to the mix by asking your teams to design their own flag, or lay out items they can use to build a base for a more immersive game.
Balloon Darts
See who has the best aim with a fun game of balloon darts. Use a wooden board propped up in your yard and tie balloons to it. Then, have your guests throw darts at it. Look for balloons in colors to match your party theme, and put a marker on the ground so all your guests know where to stand.
This game would fit perfectly with a carnival-themed backyard party, alongside other classic carnival games. Add a popcorn stand and a candy floss machine, and you have a nostalgia-filled celebration.
Tug-of-War
Bring back an old school classic, and challenge your guests to a game of tug-of-war. This is one game that'll bring out that competitive spirit with people falling over each other to be crowned the strongest team.
Tug-of-war makes for a great game for participants and spectators. Gather a crowd and have them cheer on their favorite team to pull the opponent over the centerline. What's great about tug-of-war is that you can easily adapt it to suit different people. Let the adults have a competitive game while the kids recreate their own two-player version with a smaller rope.
Treasure Hunt
Spark your guests' curiosity and problem-solving skills with a backyard treasure hunt or scavenger hunt. Hide gold coins around your yard or be inspired by nature and ask your guests to check off plants, flowers, and wildlife, based on your clues.
This is a great game if you have an outdoor space with plenty of interesting things to discover or places to hide. A treasure hunt is the perfect outdoor party game for a themed event like Easter, where you can hide Easter eggs. But, it's also great for kids' parties, family BBQs, family reunions, and even corporate events. Ramp up the difficulty by adding other elements, like an obstacle course, to the mix. Start the treasure hunt by giving out your first clue with your online invitations.
Ring Toss
Challenge your guests to see who's the best at traditional carnival games with a few rounds of ring toss. This simple game involves people throwing a ring onto one or more stakes, with some stakes being worth more points than others. The winner is the one with the highest score. This fun carnival game can be tricky to master, but it's a lot of fun to play again and again as you try to land a ring.
Don't be afraid to step away from the traditional game and create a fun, themed version. Transform your ring toss game into a flamingo toss for a summer party, or make it an engagement ring themed game for an outdoor wedding shower.
Cornhole
Swap your hoops for bean bags in this next traditional game, which has become a mainstay of outdoor parties like birthday celebrations and wedding receptions alike. Watch as your guests try to land their bean bags through the hole in a platform board from far away.
You can buy cornhole or bean bag toss game sets, or try your hand at creating your own. Make a wooden board with a circular cut out that's bigger than your bean bags — the smaller the hole, the more challenging the game. Decorate the boards to match your party theme, or opt for bold, traditional carnival-inspired colors.
Giant Four in a Row
Most of us have played the classic tabletop game Four in a Row — now it's time to take it outside and make it even grander. Giant Four in a Row games are popular at kids' parties and family get-togethers, as they're a simple yet fun game that everyone can enjoy.
As it's such a popular game, it's easy to pick up a giant backyard version of Four in a Row from major retailers. If you're feeling crafty, however, why not create your own? One of the benefits of making your own or commissioning one is that you can choose the colors and materials involved. To make your own, follow these DIY Backyard Four in a Row instructions.
Bocce Ball
Bocce ball works great on a variety of surfaces, so you can set this up on your deck and leave your lawn space free for other party games. Divide your guests into teams and challenge them to see who can score the highest by rolling their balls closest to the pallina.
This lawn game works well for 2-8 players, so it's perfect whether you have a small or large gathering. Like a lot of outdoor party games, this one is great if you have a crowd of people watching and cheering the teams on. Pass around some lemonade, and watch as your guests try to outmaneuver their opponents.
Frisbee Tic-Tac-Toe
Tic tac toe is a light, friendly game that's an easy play for everyone. Make it more challenging by adding a frisbee or flying disc to the mix. In frisbee tic tac toe, guests have to try and land their frisbee in a space on the tic tac toe board. From there, the usual rules apply as they try to score a winning line.
Frisbee tic tac toe is a fun game for all ages. It's often more about the laughter than seeing who can make a perfect score. If you're playing with children, make the spaces a little larger so it's easier for them to land their frisbee. Pick up frisbees in two different colors, create a game board on the floor, and you're ready to go.
Outdoor Twister
Twister is a much-loved classic and almost guaranteed to have your guests doubled over with laughter. For a fresh twist, take it outside and create a DIY version in your backyard for the ultimate outdoor party game.
It can be tricky to keep the standard mat flat on the floor outside, so most versions of lawn twister involve painting circles on your lawn with spray paint. Don't worry — the color won't be permanent. For a reusable alternative, lots of retailers sell giant inflatable versions. These work great if you're hosting a large garden party, fundraiser, or BBQ.
Water Balloon Toss
Water balloons have long been a staple at garden parties — especially kids' parties. If you're looking for a fun water game, try a few rounds of water balloon toss. Ask your guests to split into duos and see who can pass the water balloon back and forth over the greatest distance.
This is a great game to get everyone involved, as there's no limit to how many players you can have. Sit back and watch the kids play a casual game or challenge your guests to a tournament to see which duo will be crowned the champions.
Backyard Mini Golf
Create a striking impression with your own backyard mini-golf course, complete with homemade course decor. You'll need some space to pull this off, but it's sure to be a hit with guests who are looking for something out of the ordinary to enjoy.
While it'll take longer than other outdoor party games to set up, this one's great if you're hosting a special celebration. You could even ask guests to get involved in advance by creating course decor and recruit a few helping hands on the day to help you get everything ready.
Outdoor Party Game Ideas Your Guests Will Love
We hope this list has helped you find the perfect outdoor party games for your next celebration. Whether you're hosting a grad party or a carnival-themed birthday party, there's something to suit every party idea and guest. Mix creative DIYs with classic games like dominoes to create a fun, lively outdoor space for your guests to enjoy. With everything set up, it's time to sit back, relax, and enjoy the party with your guests!