January 26, 2021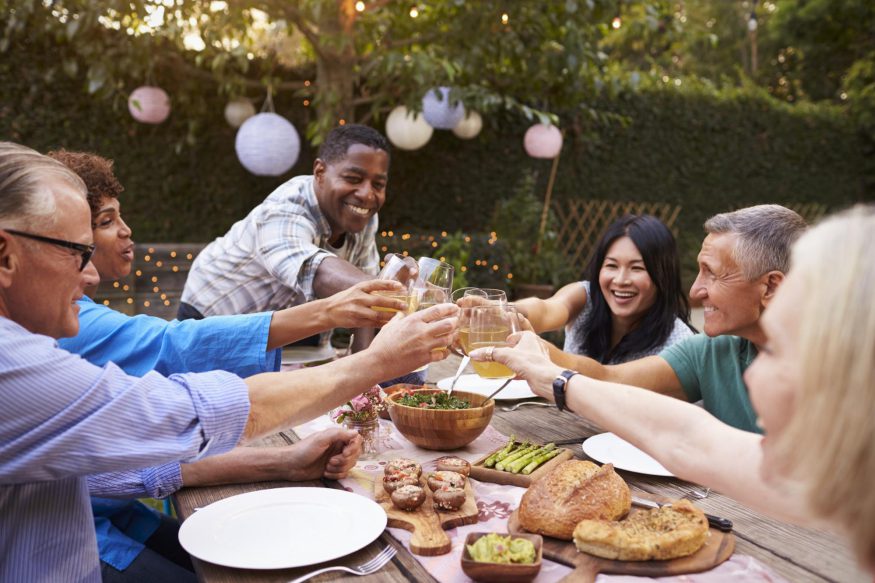 There's no place like home. With most party locations off the list and the need to adapt to smaller gatherings, a backyard party is the perfect way to celebrate with your closest loved ones in a safe way. Here's everything you need to know about planning and styling the backyard party of your dreams.

How to Plan an Amazing Backyard Party
Excited to start planning for your backyard get-together? Here are some top tips and advice on how to plan the ultimate backyard party. 
Choose a Date and Time
Before you can begin planning the finer details, let's get the basics sorted out. Decide on the perfect date and time for your backyard party. 
If it's an anniversary or birthday party, host it on that day or evening. If the exact date isn't practical, aim for the closest weekend day so that more people can attend. For other celebrations, like baby showers or wedding showers, choose a date at least a few weeks before the big moment. 
Sometimes you'll want to throw a backyard party just to get together with people you love. In that case, plan a date where everyone's available, and choose a time that works for your celebration. Most backyard parties happen during the day, but you might opt for an evening get-together to watch the stars or enjoy the summer evening. 
Decide on Your Guest List
Think about who you want to invite to your backyard party. First, work out how many people you can comfortably host. You'll also want to consider any relevant guidelines or restrictions in place due to the coronavirus pandemic. 
Once you know how many people you can invite, start building your list. Keep it tiny and invite only your closest friends, or suggest a block party for your neighborhood to come together — in a socially distanced way. 
Send Out Your Backyard Party Invitations
With your guest list sorted, you can spread the word about your backyard party. Choose your favorite online invitations, and customize them to feature your key details, plus any extra wording you want to add. 
Greenvelope has plenty of invitation designs, so you can match your invitation to your party theme or type. Throw an epic pool party or a cozy picnic with your loved ones, and find the perfect invitation to suit. 
Choose Your Party Theme and Decor Ideas
Just because your party's happening in your backyard doesn't mean you have to say goodbye to a themed bash. In fact, your backyard is the perfect venue for some themes — like a woodland-themed tea party or summer fiesta. 
Take some time to think about how you want your party to look and feel. Maybe you want it to feel like a luxurious getaway for an evening or an island-inspired celebration. Remember you don't need an elaborate theme to celebrate in style, and instead you could opt to focus on tiny details like linens, tableware, and lighting. 
Plan Games, Activities, and Food
With your theme chosen, you can move on to planning how you'll ace your outdoor entertaining. Consider how you can create opportunities for everyone to get involved and have fun by adding party games and activities. Your backyard could be the perfect spot for some lawn games or outdoor party games, or you could stage an outdoor cocktail-making experience. 
When it comes to food, you have so many options. Host a barbecue, and serve up a stream of delicious home-cooked bites. Ask guests to bring a picnic or their favorite dish for a family-style potluck dinner. Hire caterers, and lay out a fancy spread for your guests. The choice is yours! 
Fun Backyard Party Themes and Party Ideas
Bring something new to your yard by picking a theme for your backyard party. Here's a selection of our favorite themes and ideas that work really well in a backyard. 
Camping Adventure
Invite your closest family members and friends over for a camping-inspired adventure in your own backyard. Create a fire pit, toast marshmallows for s'mores, and sing some campfire songs under the stars. If it's warm enough and you're just having a few guests, you might even ask them to bring their own tents for an overnight campout. To make it even more fun, combine it with an outdoor movie night.
Family Barbecue Party
Lucky enough to have great weather on the horizon? Plan a family BBQ, and gather everyone together to enjoy some delicious home-grilled food while you talk and laugh. Get grilling burgers and hot dogs, and offer an assortment of other snacks, refreshing drinks, and ice cream. Bring speakers outside to enjoy relaxing classics while you play giant lawn games together. 
Magical Woodland Party
For a more whimsical take on a backyard party, why not plan a magical woodland party? Invite your select group of guests to experience a mystical celebration underneath the trees in your backyard. Lay out a long table with rustic-inspired table decor — like mason jars filled with string lights and linen tablecloths. Hang lights throughout the trees too, and complement the look by serving homemade cocktails with magical names. 
Sophisticated Soirée
You might not be able to host a luxurious get-together at your favorite restaurant, but a sophisticated outdoor dinner party is a lovely alternative. Bring your dining set outdoors, or rent a luxury version from an event supply store. You can decorate with glamorous touches — like a chic centerpiece in gold and black, fine dining china, and tall candles. Make a playlist full of modern classical music, and ask your guests to join you in their finest party attire for a fun way to get that luxe feel at home. 
Afternoon Tea Party
There's a reason why afternoon tea parties work perfectly for a backyard party — they're easy to create and so much fun. Keep things traditional, and lay out a table with tiered stands filled with tiny sandwiches, cakes, and other sweet treats. Serve up English breakfast tea, flavored teas, and even iced tea for a summer celebration. If traditional isn't your thing, unleash your creativity, and plan an Alice in Wonderland-inspired tea party instead with bold colors and whimsical touches. 
Pool Party
If you're lucky enough to have a pool in your backyard, this is the perfect way to celebrate on a warm day. Transform your backyard into the ultimate backyard pool party with just a few touches. Rent quirky oversized pool loungers, then invest in a floating ring toss and a few beach balls so you can play some pool party games. Style your summer party with colorful bunting, beach umbrellas, and giant inflatable palm trees. 
Keep It Simple
Having a themed event is fun, but your backyard party doesn't need to be anything over the top. Plan a backyard party that suits you and your guests — whether that's lavishly styled or more laid back. For a simple event, why not create a backyard picnic with picnic blankets or picnic tables and enjoy lunch together with a glass of wine? You could decorate your yard with outdoor lighting, play some yard games, and hook up a speaker to create a party atmosphere that you'll enjoy. 
Our Favorite Backyard Party Invitations
When you're ready to invite your guests to your amazing backyard bash, here are some of our favorite backyard party invitations to inspire you. 
Classic Gingham Party Invitation
We love the classic touch of gingham on this picnic-inspired party invitation. It's the perfect way to invite a few friends and family members over for a relaxed get-together in your backyard. 
Pool Party Classics Invitation
Spread the word about your backyard pool party with this fun pool party classics invitation. The pool and retro-inspired illustrations make this a great way to kick off the party spirit. 
Summer Garden Party Invitation
The hand-illustrated touches on this summer garden party invitation give it a really sweet, personal vibe. It'd be a lovely way to invite people over for a summer backyard party or to celebrate a baby shower or wedding shower. 
Retro Block Party Invitation
Hosting a block party instead of a backyard gathering? This retro party invitation is a fun way to let the whole street know there's a get-together happening. 
Mask Up Party On Invitation
Lighten up the mood and have some fun, even if it's a socially distanced party. This mask up party invitation is an upbeat way to let people know the party's still on — they'll just need to practice safety first! 
Throw the Ultimate Backyard Party
The best backyard parties are the ones where your loved ones are laughing and enjoying themselves. Your backyard party can be sweet and simple or decadently styled — what's key is creating the atmosphere you want. Use some of our theme, activity, and food ideas, and you'll soon have everything you need for the ultimate backyard party.