March 31, 2022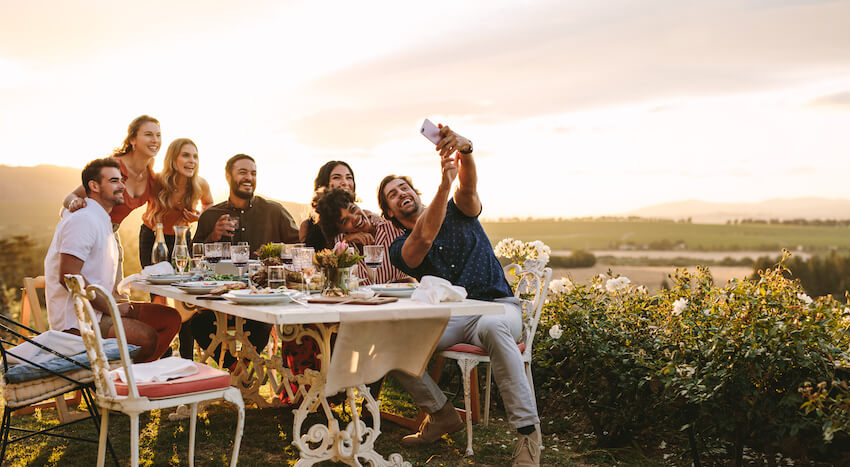 Hosting someone special's big birthday dinner party is a huge honor. They're trusting you to plan an event that's every bit as special and memorable as they are. We know how much you want to get it right, which is why we've put together this fun guide to the best birthday dinner party ideas.
You'll find tips on must-have elements, creative ideas on where to host the event, and top themes to help you throw an incredible party. Plus, we'll share a few fantastic birthday dinner party invitation designs to kick things off. 

Birthday Dinner Party Must-Haves
As the host, you want to create an amazing experience for the guest of honor. To help you with your party planning, here are some of our must-have birthday dinner party ideas and tips. 
The Perfect Atmosphere
Dinner parties are all about setting a mood for your guests. And what are two crucial elements to establishing ambiance? Music and lighting.
Create a playlist filled with tunes that help set the right vibe — whether that's classical music, upbeat pop hits, or songs that remind you of an island getaway. The right lighting can also help create an incredible atmosphere. Opt for warm, dramatic lighting for a sophisticated or cozy soirée, or use string lighting for a more relaxed boho backyard party. 
A Tasty Menu
It's not a dinner party without food! If you fancy yourself a bit of a chef, show off your culinary skills by making the meal yourself. If you'd rather leave it to the pros, hire a trained chef or caterer to create a feast everyone will love. Another option is to let guests participate in a potluck-style party finished off with a delicious birthday cake. 
Whatever you choose, the menu can be international or stick to one cuisine. Have a chic sit-down dinner menu or keep it casual with burgers and tacos. Work with your guest of honor to create the perfect menu. If you're not sure what food is best, keep reading for more birthday dinner ideas. 
A Little Entertainment
You're hosting a dinner party, but that doesn't mean it's all about the meal. Arrange some wonderful entertainment to match your theme and surprise the birthday guest with live music, a performer, or a fun dinner party game or activity. 
One of our favorite birthday dinner party ideas is to hire a local band or musician to play at your event. It's a lovely way to create a cozy atmosphere and introduce your guests to a great local act. 
All Your Favorite People
If there's one thing that makes a birthday dinner party truly special, it's the people. There's nothing better than being surrounded by friends and family while enjoying good food and entertaining conversation in an inviting environment. 
When planning your event, put together the ultimate guest list. Then, create and send online invitations that will swiftly arrive in their inbox or via text. Digital invites are the perfect option if you don't have everyone's home address, as you can send them via email and SMS instead. 
Fun Places to Host a Birthday Dinner Party
There's almost no limit to the places you could host a birthday dinner party. To help you find the perfect space, here are some of our favorite places to host a birthday dinner party. 
At Home
Your home (or someone else's) is always a good choice for a dinner party. You have everything you need right there, plus it instantly feels cozy and welcoming. A home dinner party is ideal for a relaxed get-together with comfort food, followed by homemade cheesecake, cupcakes, or birthday cake. (Or maybe all three!)
At the Guest of Honor's Favorite Restaurant
Treat the guest of honor with a birthday meal at their favorite restaurant. Whether it's an Italian restaurant for lasagna and meatballs or a steakhouse that serves the best tenderloin steak and veggies, this is one of those tried-and-true birthday dinner party ideas that never seems to miss.
On a Boat
To make it a truly special occasion, why not set sail on the high seas? This is a lovely birthday dinner party idea for a milestone year, like a 30th birthday or 50th birthday. You'll have plenty to enjoy as you embark on the trip and it'll surely be one to remember. Gather round for a celebratory toast as you drink to another year.
Somewhere with a View
If you prefer to stay on land, consider having your birthday dinner party somewhere else that still has an impressive view. Sing "happy birthday" as you enjoy a BBQ alongside the river, or head to a rooftop lounge to take in the views while dining with the city below. 
Creative Birthday Dinner Party Themes
A theme isn't necessary for your celebration, but it's a fun way to inspire your birthday dinner party ideas. Here are some great creative birthday party ideas to get you started. 
Vintage Dinner Party
Bring out your favorite vintage dinnerware for a retro or vintage-themed dinner party. Decorate your dinner table like your favorite era from the past, and serve up classic dishes from that time. Theme everything around the vintage look — from your playlist to your tablescapes, centerpieces, and dessert options. 
Murder Mystery Dinner Party
Turn your birthday celebration into an exciting investigation with a spooky (or silly) murder mystery dinner party. Share the details with your guests in advance so they know who their character is and how they should dress up for the event. This could be an especially fitting idea for a fall birthday (or Halloween) party. 
Homemade Pizza Making Party
Go for the ultimate in comfort food and host a DIY pizza party night. This is a fun take on a themed birthday party and it's sure to be a crowd-pleaser. You can roll out the dough and let guests make personal-size pizzas with a variety of toppings. Of course, you'll need to wash it all down with tasty birthday cocktails and finish it off with classic desserts like ice cream and brownies. 
Brunch Dinner Party
Who says you need to serve dinner at a dinner party? Host an exciting twist by serving brunch in the evening instead. Set out a banquet of freshly baked breakfast pastries, pancake stacks, egg scrambles, and bottles of bubbly. Does that sound overwhelming? Use these make-ahead brunch recipes to make the most of your time. 
Hollywood Glam Dinner Party
Treat the birthday guest of honor to a night they won't forget with a Hollywood red carpet event. Be sure to mention the dress code in your digital invites and let guests know it's a strictly A-list affair! Roll out the red carpet, dine on trendy treats, and close out the night with dancing.
Birthday Dinner Party Invites
A well-planned birthday dinner party needs an invite that's equally top-notch. Let your guests know where and when to join you for the big event with personalized birthday dinner party invitations. 
With Greenvelope, you can transform any template into a special invite that feels bespoke. Customize the colors, layout, fonts, and wording until you have a birthday party invitation that's perfectly matched to your event. Here's a handful of our favorite birthday dinner party invites. 
Bright Celebration Invitation
Send your guests this bright celebration invitation to express the bold and lively experience that's yet to come. The gorgeous painted effect and striking colors will instantly capture the recipient's attention. 
Contemporary Chic Invitation
Let your guests know they're in for a wonderful celebration with this contemporary chic invite. The mix of modern colors with vintage-inspired fonts creates a fun clash of styles that makes this ideal for almost any dinner party.
Watercolor Agate Invitation
For a luxe affair, you can't go wrong with this watercolor agate invitation. The stunning watercolor design and gold-leaf accents are perfectly suited for a sophisticated soirée or celebration by the water's edge. Available in two beautiful color options, this invite is an ideal choice for any luxurious birthday dinner party. 
Celebrate Someone Special with These Birthday Dinner Party Ideas
Hosting a birthday dinner party is always exciting. You get to come up with creative ideas, plan your guest of honor's dream evening, and treat them to a few surprises along the way. 
Use this guide to help you find creative themes and venue ideas to make the event truly special. Once you're happy with the event you've planned out, tell your guests all about it with the help of our birthday dinner party invitations. You can customize any design in just a few simple steps without any paper waste. Here's to a great birthday celebration!