September 3, 2021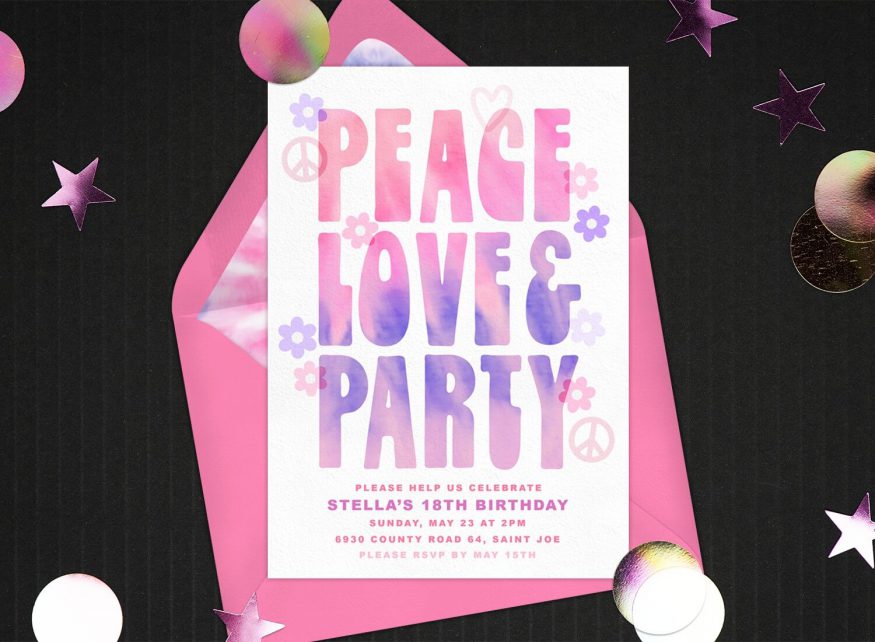 Take it back to one of the most colorful decades with a totally disco 70s theme party! This wildly popular theme is perfect for birthday parties, engagement parties, and even just a good ol' get-together with your folks. If you're planning a disco-era theme celebration, consider this your checklist of fun decor, food, activity, and invitation ideas for throwing one of the grooviest 70s parties around. 

Fun 70s Party Decorations and Styling Ideas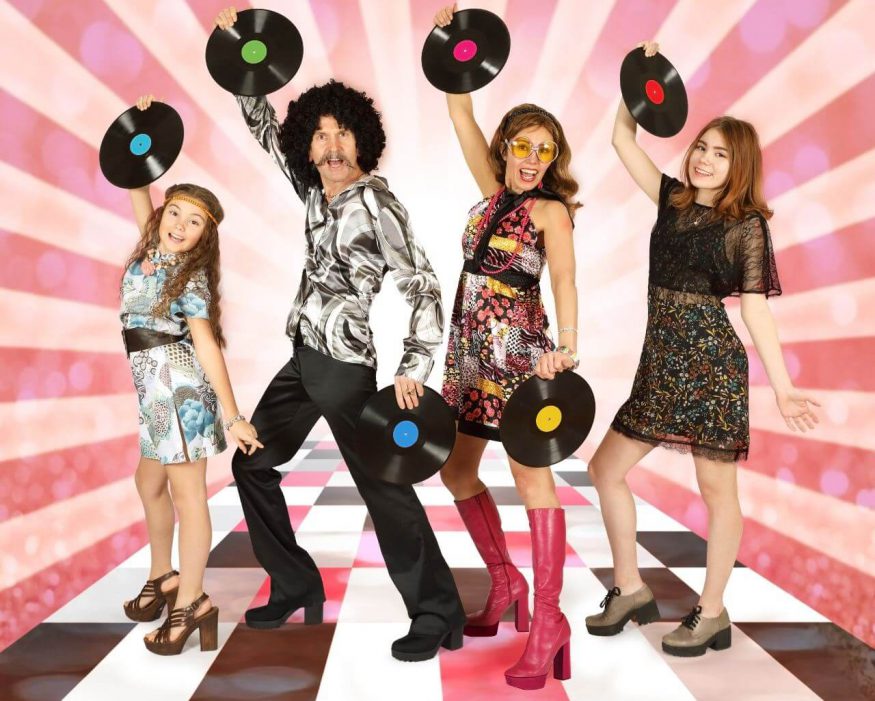 Looking for some psychedelic party ideas? Break out the platforms, polyester, and headbands! Here are some must-have party decor ideas to transform your space into the ultimate 70s party. 
Disco Ball
Is it even a 70s theme party without a disco ball? Whether you're hosting at home or at a venue, be sure to have a giant mirror ball from the ceiling above the dancefloor. You can also find smaller disco balls to place on your tablescape as a fun centerpiece. Whatever you decide, these dazzling decorations are sure to put everyone in the mood to show off their "Saturday Night Fever" moves.
Beaded Curtains
Add some 70s style to your home or party venue with sparkly beaded curtains. These are a super fun way to turn your place into a disco paradise. Hang beaded curtains to create a fun backdrop for a DIY photo booth, or use them as door curtains to add a bit of atmosphere as people walk in. 
Lava Lamps
Bring some color and retro style to your 70s theme party with a lava lamp or two. These make for amazing centerpieces, especially if you turn down the lights and enjoy dinner over the warm, groovy glow. If you're not throwing a dinner party, lava lamps also make for a great way to light your space for disco dancing, board games, or trivia. 
Strobe Lighting and Smoke Machines
Nothing says "party time" like some over-the-top lighting and a smoke machine. Take your 70s theme party to the next level by investing in some multicolor strobe lighting, neon lighting, and other disco dancefloor classics to create a real party mood. You can rent these from a party supplies store, or ask around to see if someone you know has them from back in the day. 
Our Favorite 70s Theme Party Activities
Whether you're throwing a dance party or a cozy get-together, these party activities and games will help you create the perfect 70s-era experience. 
Roller Disco
Even if you're not hosting your 70so theme party at a local roller skating rink, you can still recreate that classic roller disco look with your party decorations and activities. For a child's birthday party that takes place outdoors, ask young guests to bring their own pair of skates. Use your backyard or driveway to play "freeze skate," which is a fun take on the classic game of freeze dance. Be sure to create an awesome playlist to keep the 70s spirit alive. 
70s Music Trivia Quiz
Guests will roll up their polyester sleeves to see who can score the highest on your 70s-themed music trivia quiz. This is the perfect opportunity to test your knowledge of the 70s' biggest hits. See who can guess the song title and artist from the intro, and throw in a round featuring trivia questions about famous musicians and bands from the era. 
Disco Dance-Off
As the Bee Gees said, "You should be dancing!" Ask guests to come in their best 70s costume for your disco party — we're talking leisure suits, jumpsuits, bell bottoms, and platform shoes to make that disco dancing even more fantastic. Load up a playlist of hits from the Bee Gees, Donna Summer, and James Brown, and boogie on down to crown a winner. 
Pass the Disco Ball
Want a funky twist on hot potato? Pass around a mini disco ball and if the music stops when you're holding the disco ball, you're out. The last one standing wins a suitably 70s-themed prize — like a pet rock or mini lava lamp. This game is a fun yet chill way to round off the evening and works great for groups of all ages. 
Tasty 70s-Era Party Food and Drink
You can't throw a party without delicious treats for your guests to enjoy. Take everyone back to the 70s with some of these groovy food and drink ideas. 
Fast Food Classics
We love the idea of keeping it simple and retro with your 70s party food and drink, and that's where fast food classics come in. Serve up burgers, hot dogs, and fries, alongside tasty freshly made milkshakes. You could even go all-out and create your own fast food brand for the occasion and make your very own labels, table covers, and signage. 
Sweet and Savory Fondue
Treat your guests to the ultimate hippie party classic and break out the fondue set. Both sweet and savory fondues are great options for a themed get-together, and give you the perfect opportunity to chat, relax, and tell jokes while you dine. Make sure you're well-stocked on fruit, crackers, and other delicious things to dip into your chocolate, cheese, or other gooey, groovy sauces. 
Classic Cocktails
With all this delicious food around, your guests are going to want something equally as special to wash it down. That's where classic era cocktails can come in. Mix a Blue Hawaii or serve up a Godfather to your disco-dancing friends. For an assortment of authentic drinks from the era, check out this list of 1970s themed cocktails. Don't forget to serve up mocktails for your non-drinking or younger party guests. 
Super Fun Jell-O
Who loves Jell-O? We do! This party classic is sure to be a crowd-pleaser. Make it even more fun by using fun molds to create weird and wonderful shapes — like peace signs, sandcastles, hearts, shoes, rainbows, and whatever else takes your fancy. Plus, you can send your guests home with a box of Jello-O and a fun mold as a themed party favor. 
Send the Best 70s Theme Party Invites
Start the fun in the best possible way with one of these boogielicious 70s party invites. There's something here for any 70s theme party — whether you're going big with disco or just want that 70s color palette. 
What to Feature on Your 70s Theme Party Invites
Make sure you include all the party must-haves on your invites, including the event date, time, location, and why you're all celebrating in the first place. Whether it's a baby shower, anniversary, or big milestone birthday party, your guests need to know. 
After the basics are covered, be sure to mention the dress code. For most 70s themed parties, you'll want your guests to come dressed to impress for the decade. If you're serving food, mention that here too — you could also have a potluck party and ask everyone to bring their favorite dish from the era.
Vintage Tie Dye Invitation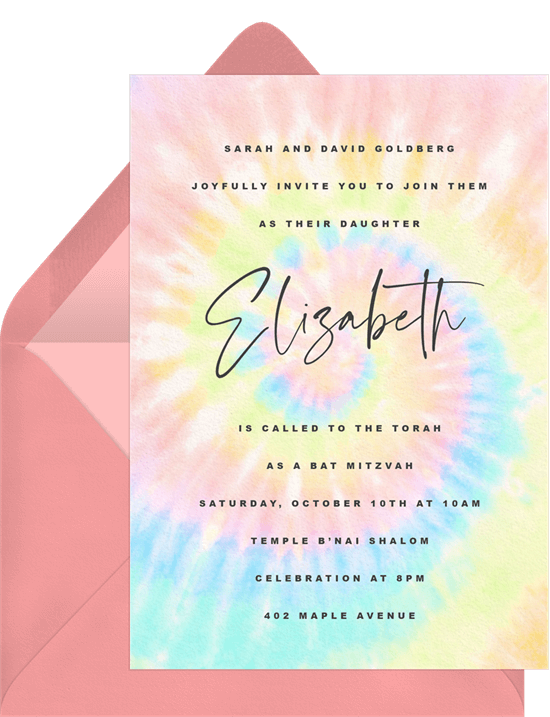 How groovy is this vintage tie dye invitation? Anyone receiving this knows they're in for a good time with plenty of fun music, party games, and delicious throwback food.
Peace, Love & Party Invitation
There's nothing quite like a peace sign to tell you this is a 70s themed party! This peace, love & party design is ideal for a birthday celebration, anniversary party, or just to get together and celebrate the good times. 
Get Groovy Invitation
Lock in some beautifully bold colors and strong lines with this get groovy invitation. We love the playful, modern take on a 70s color palette, with that classic retro van taking center stage. 
Throw the Best 70s Theme Party Ever
With these tips and ideas, you can throw one of the most fabulous 70s parties your guests have ever seen. Decorate your space with disco balls galore, serve up your very own fast food masterpieces, and head to the dance floor for a dance-off to crown the disco king or queen. To kick things off, start creating your online invitations to let guests know about this totally psychedelic party they won't want to miss.