May 11, 2021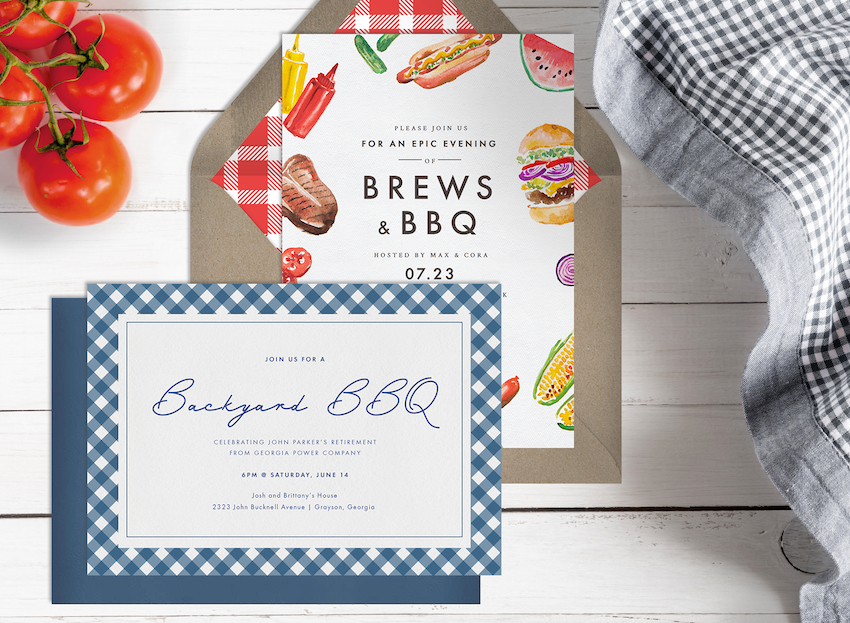 Dust off your outdoor table, grab the grill and get ready for some alfresco dining. It's BBQ season! That means it's time for barbecue-inspired baby shower picnics and backyard grill-offs to celebrate birthdays. Whatever reason you have for hosting an event, a BBQ is a great way to honor the special occasion and get everybody outdoors.
With this BBQ invitations guide, get the lowdown on what to include on the invite, fun wording ideas, and design inspiration so you can host the best barbecue bash ever.

What to Include on Your BBQ Invitations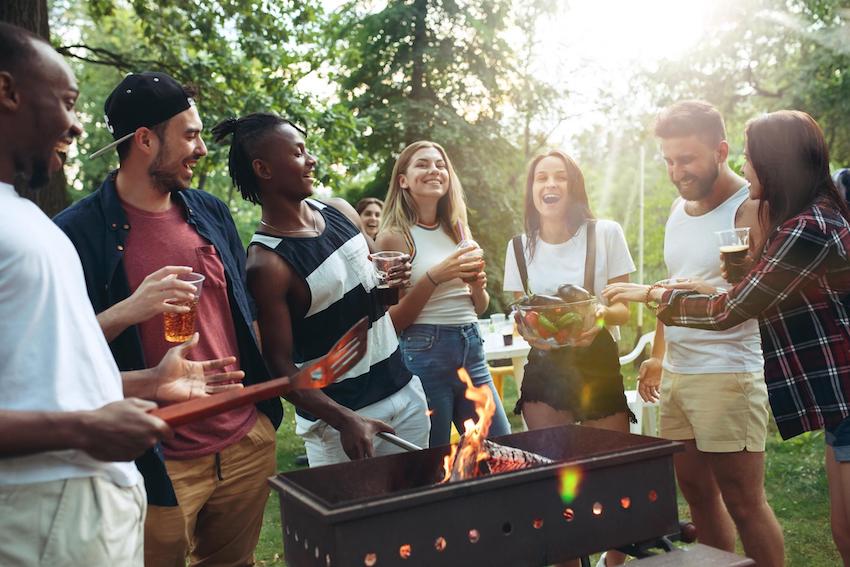 When it comes to invitations, it's not just about announcing your event in style. You also need to include key information. Here are a few things to include in your BBQ invitations:
Date, time, and location of the event

Whether it's a potluck-style barbecue or if guests need to bring anything special

List any theme or dress code, if applicable

Indicate if it's a formal or casual affair
If your barbecue party is being hosted as a bridal shower, Father's Day BBQ, or another similar event, you can also include gift information. Make sure to mention whether the event is honoring someone — like a birthday girl or boy.
Backyard parties and barbecues are great to celebrate all types of events. For example, you can host a rustic-glam wedding rehearsal dinner as a barbecue. Add string lights and serve up grilled surf and turf dishes for a fancy flair. 
Alternatively, you can host a low-key backyard cookout for your birthday by serving up classic burgers and hot dogs that guests can enjoy on plaid or gingham picnic blankets. However you choose to celebrate, make sure the invite reflects the formality — or lack thereof — of the event. 
Word Ideas for Your BBQ Invitations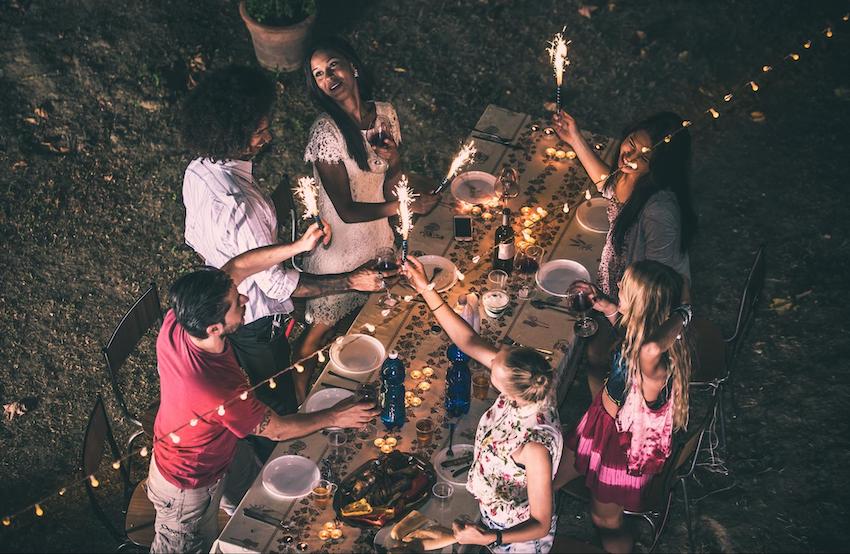 It's your party so you should host how you want to. That means you get to put your own spin on everything from DIY party decorations to your BBQ invitation wording. If you're not sure what to say, here are a few ideas to get you started.
We're licensed to grill, so come on over on June 21st for a backyard BBQ with pulled pork and roasted corn. BYOB! The party starts at 4 pm.

Join us in the "BBQ capital of the world" — our backyard in Kansas City — on Saturday, August 12 at noon for Thomas's 11th birthday. Small gifts appreciated.

Come celebrate a bun in the oven with burgers on the grill at a baby shower barbecue for Alice and Skylar on Sunday, January 5th at 1 pm.

Come celebrate good times and good tides at our beach barbecue honoring Leslie's retirement. The fun starts at 5 pm on Saturday, October 16th.

We cordially invite you to join us for an evening under the stars to celebrate our engagement. The I Do BBQ starts promptly at 8 pm on Saturday, March 15th. Please wear cowboy cocktail attire.
There's no wrong way to word a BBQ invitation. What you say is all about your personality and the type of event you're hosting. Use fun, clever phrases to reflect a casual theme, or opt for more formal words like "you're cordially invited" and "we request the pleasure of your company" for more upscale events.
The Best BBQ Invitation Design Ideas
One of the best parts about throwing a party is picking out the invitation. You can choose traditional paper invites or opt for an easier and more environmentally-friendly approach by using digital invites — like those from Greenvelope. With online invitations, you can send the BBQ party information to everyone on your guest list with just a few clicks. Plus, tracking RSVPs online is easier than trying to keep track of paper cards. 
Here are some of our favorite BBQ invitations for everything from baby showers and wedding events to birthday parties and casual get-togethers.
1. Gingham BBQ Invitation
This picnic-inspired invite is the perfect way to announce an engagement party, bridal shower, or rehearsal dinner. The colors can be customized to suit your event theme and you can change the typography to make it your own.
2. Classic BBQ Invitation
This classic backyard barbecue invite features watercolor illustrations of scrumptious eats that are perfect for a backyard cookout. Customize this design by adding your own phrasing and key event details.
3. Red White BBQ Invitation
Nothing says summer quite like a barbecue party for Memorial Day or the 4th of July. This holiday barbecue invite features red, white, and blue lettering that pops on the casual kraft paper background. It's perfect for celebrating America's birthday or kicking off the summer season.
4. BBQ Picnic Invitation
This clean and modern BBQ invite is perfect for celebrating family reunions, housewarming parties, and casual summer parties. Swap out the background color for turquoise or yellow if you're going for a bright theme or select a neutral hue if you're hosting a slightly more formal event.
5. Vintage Lobster Invitation
Barbecues aren't just about the burgers and hot dogs. Host a fancier backyard gathering like a clambake rehearsal dinner with this fun vintage-inspired invite. It features a sophisticated color palette that's also ideal for beach parties and tropical celebrations. 
6. Summer Party Pop Invitation
Hosting a pool party for a special someone's birthday? This summer BBQ invite is perfect for laid-back events like backyard BBQs and beach bonfires. Use it as a birthday invitation or for a sweet shindig like a baby shower.
7. Backyard Baby-Q Invitation
This couples shower invitation features a rustic woodgrain background and a tabletop barbecue illustration announcing the upcoming event. Customize the color scheme to reflect whether it's a boy or a girl, or choose a different color to keep it a surprise or keep it gender-neutral. 
8. Cheers & Beers Invitation
Get ready to toss back a few beers and say cheers to life's latest great moment with this fun and crafty invite. Featuring an illustrated case of beer, this BBQ party invitation is perfectly suited for everything from a housewarming party to a neighborhood pig roast.
9. Classic Cookout Invitation
What's not to love about this bold and vibrant BBQ invite? It's eye-catching, fun, and oh-so-cheery. It's perfect as a BBQ birthday party invitation and for corporate events like yearly summer get-togethers. 
10. Fresh Lemonade Invitation
This summery and refreshing invite is both refreshing and sophisticated. It's perfect as an engagement party invitation, but can also be used for casual get-togethers with your besties. Customize it with details such as the menu items — lavender lemonade and grilled treats, anyone?
11. Charming Rose Bouquet Invitation
Barbecues don't have to be all about meat and grilling. With this charming invite, you can ask guests to join you for an afternoon tea party or backyard barbecue with light fare like seafood. The Mason jar and rose watercolor illustrations add a touch of sophistication, making this invite perfect for fancier BBQ events. 
Get Fired Up With a BBQ Celebration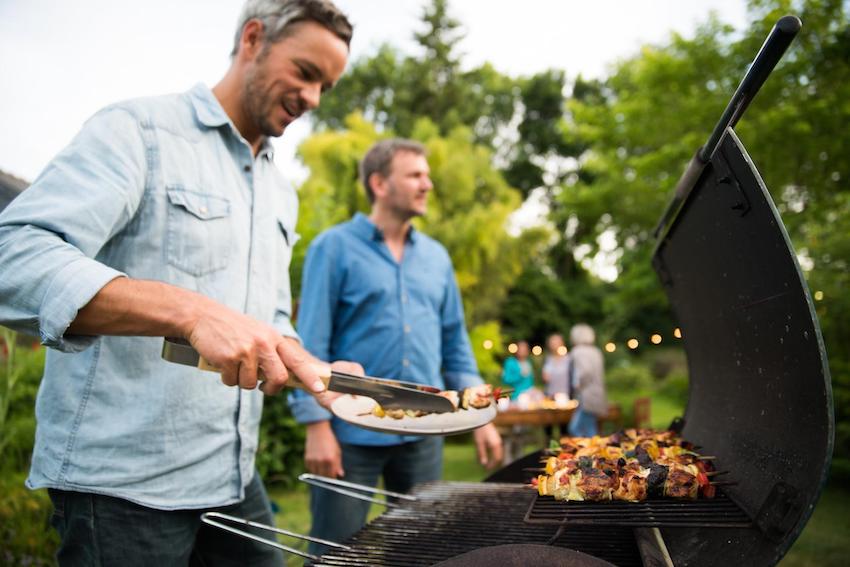 While barbecues are often a summertime staple, you can host these delicious events all year long. From birthday parties and family reunions to baby showers and rehearsal dinners, a barbecue is one of the best ways to celebrate life's big moments. They're also a great excuse to get the neighbors or friends over for a casual catch-up.
With these BBQ invitations, your guests will hungrily await the big day. At Greenvelope, you'll find invitations to suit all styles and parties. Need more inspiration for your event? Check out these ideas for 4th of July picnics, group camp-outs, and practical tips for party planning.