March 8, 2022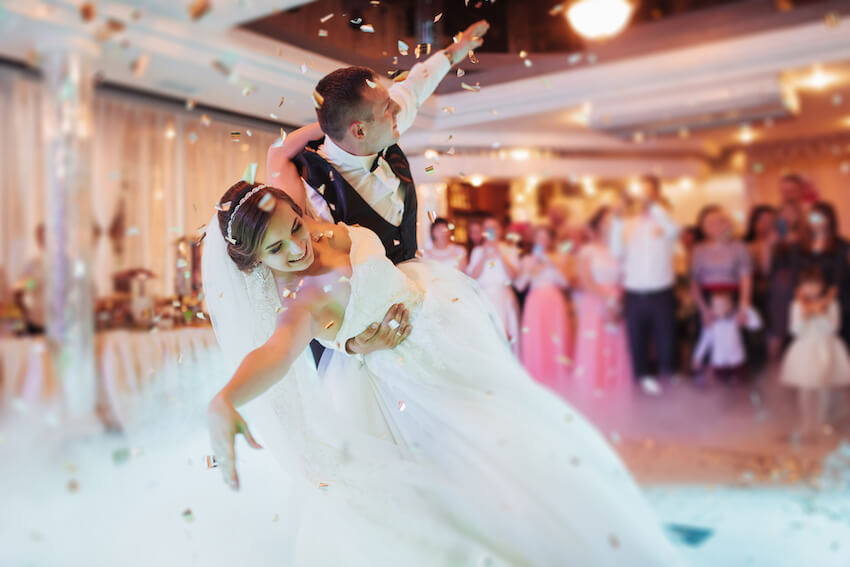 There are so many beautiful things to enjoy about modern life, but sometimes going traditional is exactly what you want. For many couples, a traditional wedding day is a perfect way to honor traditions and embrace their childhood dreams as they say their vows. Let's take a closer look at traditional weddings, what makes them feel so special, and how you can share the experience from your venue and food to your decor and invitations. 

What to Consider When Planning a Traditional Wedding
Whether you're planning your own wedding or working with a wedding planner, choosing the right options to suit your theme is an important step. Here's what to think about as you start creating your event planning checklist for the big day. 
Wedding Budget
Traditional weddings tend to be more expensive than their more contemporary or quirky counterparts. That's because these ceremonies and receptions often feature lavish details, luxurious attire, and a large guest list of family members and friends. If you're hosting a destination wedding, expect costs to be even higher. 
That said, you don't have to give up on your dream of a traditional wedding simply because you have a smaller wedding budget. Look for ways you can save with DIY decorations, favors from friends, and buying some second-hand items. (You could even consider wearing a vintage wedding dress from one of your beloved family members — it doesn't get more traditional than that.) Be sure to create a wedding budget breakdown to ensure you stay on track throughout the process. 
Traditional Wedding Colors
One of the most exciting parts of wedding planning is choosing the wedding color palette that you love. There are no standard color options for a traditional wedding, but you can look back on the past for inspiration and consider color schemes that fit the classic style you're going for. 
Popular color combinations for traditional weddings include red and gold, white and navy, white and soft pink, and burgundy and purple. You could also opt for black and white — this works especially well if you want to host a sophisticated evening wedding. 
Wedding and Reception Venue
Traditional weddings often take place in a grand setting — like a church or luxury hotel. If you're hosting a religious wedding ceremony, such as a Jewish wedding or Hindu wedding, it's likely to happen at your place of worship. Traditionally, after you've said your vows at your wedding venue, you head to a separate reception venue. 
There are plenty of great options when it comes to reception venues for classic themed weddings. Hotel grounds and ballrooms make the perfect backdrop for an afternoon of dining and dancing, or you could host the party at a family member's home if there's enough space for everyone. Again, a traditional wedding doesn't have to be ultra-expensive. 
Traditional Wedding Catering
You and your fiance are the stars of the show, but one feature that often attracts almost as much attention is your wedding cake. Cutting the cake and sharing it with your loved ones is a big tradition at most classic weddings, so it's something worth investing in. 
A traditional wedding cake is usually an iced fruit cake, with multiple tiers that get smaller as you approach the top. White is the go-to icing color for a traditional cake, and many couples like to keep the decoration simple with gentle floral or beading-inspired details.
Flowers and Decor
Most classic-inspired wedding bouquets feature soft, delicate florals in a handful of shades. White or soft neutrals are often a base color, with shades from the rest of the wedding color palette mixed in. 
Continue the theme of your wedding bouquet across your maid of honor and bridesmaid flowers, groomsmen boutonnieres, and floral arrangements. This is a beautiful way to make a big impact with your flowers and tie the whole look together. 
Wedding Party Attire
One of the details that stands out the most when we think of a traditional wedding is what the bride(s) and groom(s) are wearing. An ivory or white dress is the go-to for a traditional wedding dress, and it's often beautifully designed with lots of intricate details. A smart, tailored suit is perfect for the groom. 
Create a cohesive look right across your wedding party by asking your bridal party to wear the same color and/or design as each other, and dress the best man and groomsmen in suits that complement the groom's suit. Choose different outfits for your flower girl and ring bearer, but look for a design and style that fits nicely with the adults' attire. 
Traditional Wedding Ceremony Order
One of the big draws of a traditional wedding for many couples is the way the wedding ceremony runs. It's a classic gathering of people to witness the vow exchange with space for readings, blessings, wedding poems, unity candle lighting, and your all-important vow and wedding ring exchange.
Expect your wedding ceremony to take around an hour or so — depending on how many readings you wish to have, and whether there are any religious traditions you'd like to observe. It starts with the processional, followed by readings from the officiant and loved ones, then the vows and the ring exchange. Next comes your first kiss as a married couple, followed by the recessional as you leave the room. 
Traditional Wedding Vows
At a traditional wedding ceremony, the vows are often the highlight of the moment. It's where you exchange your "I do's" with your fiance and enter into the contract of marriage. 
Each religion and community has its own take on what traditional vows look like. Stick with what the go-to words are for your chosen ceremony, or listen to what loved ones before you have said, and write your own vows based on these. You can also use these wedding ceremony script ideas to inspire your own words.
Wedding Reception Activities
Your wedding doesn't end with the ceremony, which means you'll need to plan what your reception will look and feel like. Reflect on classic weddings that you've attended before or seek inspiration from real weddings to give you some ideas on activities, entertainment, and schedules.
Consider any wedding traditions from your family or religion that you want to honor, or whether you want to create your own. Most traditional-style weddings include a sit-down meal, speeches, your first dance as a married couple, and plenty of time to talk and dance with guests. 
Traditional Wedding Favors
At the end of your beautiful wedding day, it's customary to send your guests home with a thank you gift. Wedding favors have long been a sweet way to express love and gratitude towards guests, and thank them for spending the day with you.
While contemporary weddings often opt for quirky or fun favors for wedding guests, traditional celebrations keep things simple. A classic wedding favor is a pouch filled with five almonds — these represent wishes and hopes for the newlyweds.
Traditional Wedding Invitation Inspiration
A traditional wedding often fuses the culture, history, and traditions that are part of the couple's lives. Take a look at the options below, then explore our full selection of traditional wedding invitations. You can personalize any Greenvelope invitation with your wedding day details — and you can customize the colors on most designs too. It's a lovely way to get that bespoke feel without spending all your budget on stationery. 
Traditional Calligraphy Wedding Invitation
This stunning traditional calligraphy wedding invitation features all the charm and sophistication you'd expect to see on an invite for a celebration like this. The delicate calligraphy, pastel tones, and gold accents are perfect for a classically themed wedding.
Gilded Arch Wedding Invitation
There's so much to love about this beautiful gilded arch wedding invitation. The details mirror those found on traditional Indian wedding dresses, making this ideal for an ornate, classic wedding. 
Floral Crest Wedding Invitation
Invite your loved ones to your traditional wedding in style with this floral crest wedding invitation. Choose from a selection of muted soft tones to create the perfect backdrop for an elegant, formal wedding invitation. Plus, you can create your own personalized crest for the invitation too.
Plan the Ultimate Traditional Wedding
Create your dream traditional wedding with the help of these tips and ideas. Work out your color scheme, find the perfect venue, and put together a ceremony and reception that match your love story and traditions. With the proper planning, you can bring your guests along with you right from the start, with personalized online wedding invitations that will set the tone for your big day.