February 13, 2022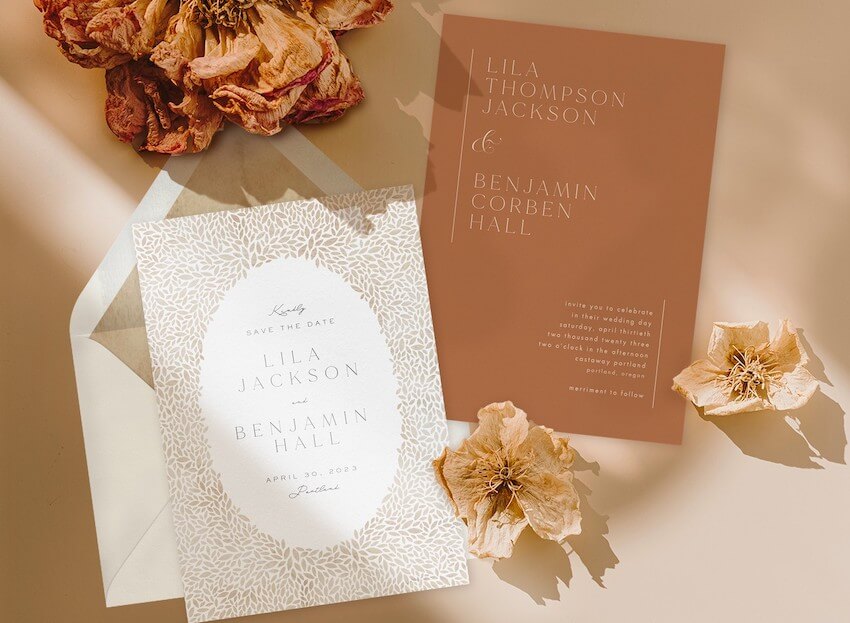 Sending a wedding invitation involves more than choosing a gorgeous design, writing the date and time of the event, and sending it off to guests. There are some important considerations that go into a wedding invitation, including etiquette. Choosing the right wording for the moment, making clear who's invited, and ensuring essential details make it into the invite all require attention. 
Since it's your big day, you can choose how much you want to follow traditional wedding invitation etiquette, but however you choose to celebrate, there are a few things to keep in mind when crafting your invite. Whether you're hosting a traditional wedding or throwing a more modern event, this guide will help you create the perfect wedding invitation.

Wedding Invitation Etiquette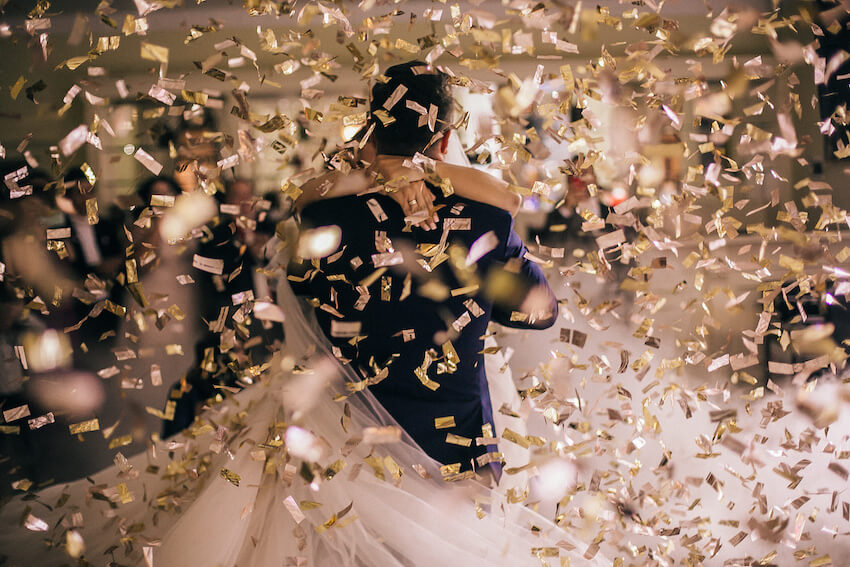 Following wedding invitation etiquette means different things to different couples. For some couples who love tradition, sticking to wedding etiquette rules can make the day more special. For other couples, loosely following the rules allows them to make the day more flexible and personal. You get to choose how you want to celebrate, so understand that these "rules" are more of a guide and you decide how they fit into your big day. Below, you'll find tips on what to include in your invite, how to word them, and basic wedding invitation etiquette. 
What to Include
Your wedding invitation should include all the information wedding guests need to know, such as where and when to show up and how to dress. Start with a line inviting guests to the wedding and include the names of the happy couple. 
Per wedding invitation etiquette, the invite should be sent no later than 8–12 weeks before the wedding ceremony. You should send them earlier if you're having a destination wedding so guests have enough time to make travel arrangements. The RSVP date should be at least two weeks before the wedding. This gives you time to let vendors like the caterer know your final guest count.
Here are some things to include when writing your wedding invitation:
Name of the couple and anyone else hosting the event (for example, the bride's parents or the parents of the couple)

Date, time, and location of the ceremony 

Reception card or a line indicating the time and location of the reception, if different from the ceremony

Who's invited (the whole family, just the adults, or a plus one)

Response card or an RSVP card and an inner envelope and RSVP date

Dress code

Wedding website (Note: Don't link directly to the registry information. Guests can find the details on the wedding website or your wedding party members can spread the word)Â 
Wording Tips for Formal and Informal Weddings
When it comes to wedding invitation etiquette and names on invitations, the formality should match the wedding. If you're hosting a formal wedding, make sure to write out full names and titles, such as Doctor Jordan Lueder or Colonel John Smith. You can also use your middle name as well as the middle name of your future spouse to make the invite more formal. The groom's name or male host name is traditionally listed first.
Avoid using abbreviations on formal invitations. For a small casual wedding, elopement, or minimony where you're inviting only your best friend or close family member, you can use first names or nicknames, if desired. 
The same rules apply to the wedding date, time, and location. Write out the full date and time — December ninth two thousand twenty-three at four o'clock — for a formal wedding. For a casual wedding, you can say something like "June 10th, 2023".
If someone besides the couple is hosting or paying for the wedding, it's good etiquette to include their names on the invite. This can include one set of parents hosting or both parents hosting. Again, use full names for formal invitations. If the couple hosting is married, use the word "and" in between their names. If they are unmarried, list their names on two separate lines.
Choosing the right wording also makes a difference when creating a stunning wedding invitation. Read on to learn more about wedding invitation wording, and find some inspiration for your invite.
Wedding Invitation Wording Ideas
Wedding invitation etiquette dictates that the way you word your invitations should reflect the type of event you're hosting. If you're having a black-tie affair, the wording should be formal and professional. If you're hosting a laid-back elopement, you can use more casual language in the invitation. Browsing examples of wedding invitation wording that others have used can help inspire you to create your own. 
Here are some formal wedding invitation wording examples for inspiration:
Mr. Enrique Sandoval and Mrs. Elaine Johnson request the pleasure of your company to honor the marriage of their daughter, Miss Jessica Sandoval, to Mr. Thomas Muller.

Mr. Jacobus Steinhauer and Allegra Bature request the honor of your presence at their nuptials Saturday, January nineteenth two thousand and twenty-three at four o'clock at Harold Pratt House and Peterson Hall in New York.
Here are a few informal ways to write an invite for a more casual wedding:
The Smith and Johnson families are joining as one! Join in celebrating the marriage of their children on the last Sunday in June at the community church.

Alejandra Rodriguez and Maiella Krupa are getting married! Join us in a ceremony and celebration in the Maldives on September 29th, 2023 at 4 p.m.

Come celebrate the marriage of Derek Livery and Raquel Shay on July 4, 2024 among the trees in Redwood National Park.
Get Inspired with Designs That Make You Say "I Do"
You have a headcount and guest list ready to go and understand wedding invitation etiquette, now it's time to choose the perfect invitation. Browse our online wedding invitations to find stunning designs from formal and glamorous to woodsy and outdoorsy. Each design is completely customizable so you can change the typography, color scheme, and theme to suit your wedding. Here are some of our favorite wedding invitation designs to get you inspired.
1. Dreamy Hues Invitation
This dreamy invite is simple and colorful, making it perfect for both formal and informal weddings. It comes with a matching outer envelope and can be customized to suit your color theme. It'll have guests counting down the days until the wedding day and festivities.
2. Double Laurels Invitation
This photo invitation puts the focus on the happy couple. There's plenty of space for names and details, and you can upload your favorite photo.
3. Exquisite Peacock Invitation
This exquisite invite features an intricate border and earthy hues. It's ideal for a destination wedding or one where natural elements are involved. Use it for a wedding in trending locations like national parks or a traditional Indian wedding across the pond.
4. Open Bar Invitation
This casual invitation is perfectly suited for informal nuptials. It lets guests know the party is getting started with an open bar, and you'll be dancing the night away celebrating the happy couple.
5. Dandelion Breeze Invitation
This cute invite features delicate floating dandelions and a gold foil frame that adds a bit of glamour. It's whimsical and magical, just like your love story.
Have the Wedding of Your Dreams
At Greenvelope, start customizing gorgeous digital invitations and wedding invitation suites to suit your needs. Our wedding stationery offerings include invitations as well as save the date cards and thank you cards. From fancy and formal to simple and understated, there's a design for everyone. 
Continue browsing our Stationer's blog to find wedding planning tips and ideas that will bring your dream wedding to life. From etiquette rules and fun ideas, you'll find just what you need for your big day.