February 20, 2018
One of the first big decisions on your wedding to-do list is choosing a venue that beautifully sets the tone for your special day. Along with aesthetics, there are several other factors to consider before you begin scheduling tours. To help ease you into this process, we're excited to share some expert insights that break down everything you need to know for finding a dream venue that's also functional.
Below, we have celebrity event planner Colin Cowie, Virginia Edelson of Bluebird Productions, and Nick and Aleah of Valley & Company Events joining us to cover everything you need to know when weighing different venue options.
First Steps:
Decide What's Most Important
"Talking through the style of venue is the first step. What is most important to each of you on your wedding day? Do you envision an open space that's scenic and on the water or a downtown city setting with lots of amenities for out-of-town guests? A pastoral barn setting or an old-world-style winery?" — Nick & Aleah
Estimate the Number of Guests
"Have a good idea of how many guests you plan to invite or how large or small you want your wedding to be before seriously considering a venue. You may fall in love with a venue that limits your guest count, or one that is too large for your needs. Decide first on a ballpark number to help guide you in your search." — Virginia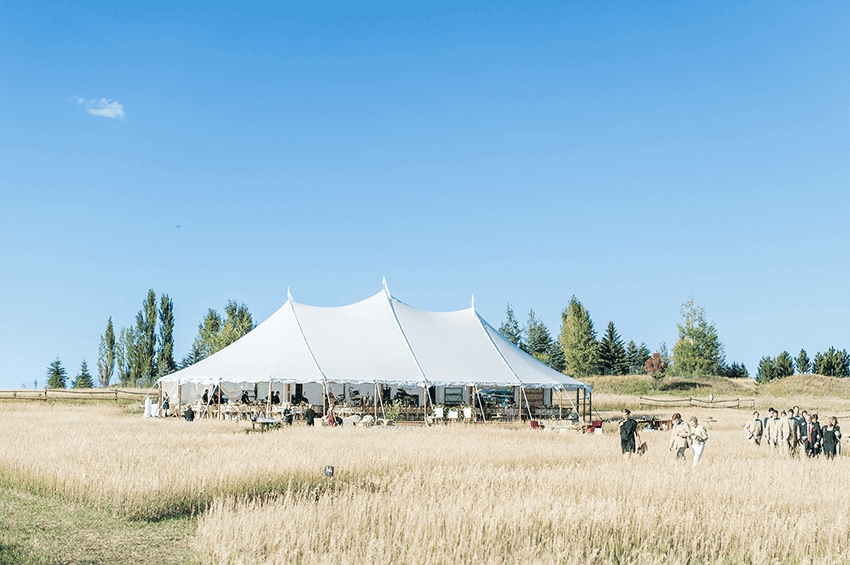 The Venue Tour:
Keep DĂ©cor in Mind
"Look for a venue with great potential—even if you don't see it right in front of you. If the bones are there, anything is possible (relatively). Work with what you have and let the experts (your planner and designers) guide you to solutions that are creatively feasible. That being said, it's also important to not to overlook how you'll need to enhance the venue to get your desired results. Many venues are exquisite, but require a large amount of rentals to bring them to life. Keep that in mind when making your selection, as it could have a large impact on budget.  — Virginia
"Consider the aesthetics of the venue: is it a totally blank canvas where you can paint your style onto the footprint rather easily, or does the venue have unsightly decor that needs to be masked to get it to your liking? Finding a venue with the most natural of looks can help you to dress it up to your style." — Nick & Aleah
"Décor can turn a blank canvas into an unrecognizable space, but it's still important to have your ceremony and reception in places that are representative of YOU!" — Colin
Consider Transportation
"Think about proximity to lodging and transportation for your guests. If the location is far from amenities, is it possible to shuttle your guests? Ease for guests is important when mapping out the venue location." — Nick & Aleah
"If you are doing a destination wedding, take the time to look into all the accommodations and travel options for you and your guests. Factor the flight times as they relate to the number of days guests will be spending at the destination, and take into account how your guests will get around." — Colin
Bigger Doesn't Mean Better
"Always take your guests into account. A venue can be too small, but what can be worse is that it ends up being too big. Having the right sized venue for your guests is essential when it comes to factors like being able to hear the vows, see the ceremony, and share the moment in an intimate setting." — Colin
Before Signing:
Find out What's Included
"Make sure to have a candid discussion with the venue about what specifically they do and DO NOT provide. Many times we find clients believe the venue provides significantly more than they do." — Virginia
Know the Real Costs
"Make sure that you talk through the minimum at the venue and exactly what that includes (typically food and beverage). A rental fee, taxes, and gratuities are generally on top of that, so it's best to obtain a detailed estimate from a venue before you sign on the dotted line. Also, have a clear understanding of what's all included, like tables, chairs, and staffing. — Nick & Aleah
Consider Your Timeline
Many venues have a short rental window, so ask about extending that to get the ideal length day that you'd like (with set up and tear down time padded)." — Nick & Aleah
Ask the Right Questions
"Is there a noise ordinance? How late does the venue allow live music? How much time do we have for load-in? When do you and your guests need to be out? Is there a loading dock? What about trash removal? Can you bring your own caterer and alcoholic beverages? It's better to be over prepared than under. Make sure to cover all your bases so you have minimal surprises during your special day. Knowing the ins and outs of the venue beforehand allows you to have peace of mind before and during the wedding." — Colin
We want to extend a huge thank you to Colin, Virginia, Nick, and Aleah for joining us today. Keep reading for some background on these four talented professionals!
Colin Cowie:
With a long list of satisfied clients—including Oprah Winfrey and Jennifer Lopez—renowned experience creator, Colin Cowie, has made his name planning everything from intimate celebrations to iconic, large-scale weddings. He's even brought his style to Greenvelope's digital invitations with four stunning collections including wedding, entertaining, baby, and holiday!
Virginia Edelson of Bluebird Productions:
Virginia is the owner and founder of Bluebird Productions, a full-service wedding and event planning firm based in Aspen, Colorado. Her memorable events are exquisitely styled and carefully detailed (and it shows!) Virginia's work has been featured in Vogue, Martha Stewart Weddings, and BRIDES.
Nick and Aleah of Valley & Company Events:
Nick and Aleah Valley are the husband-and-wife founders behind Valley & Company Events, based in Seattle, Washington. Together, they plan, design, and create floral designs for their clients' beautiful celebrations. Their work has been featured in Better Homes & Gardens, Sunset Magazine, and Martha Stewart Weddings. They'll also be releasing their first coffee table book, Storied Weddings, in November 2018!