March 5, 2020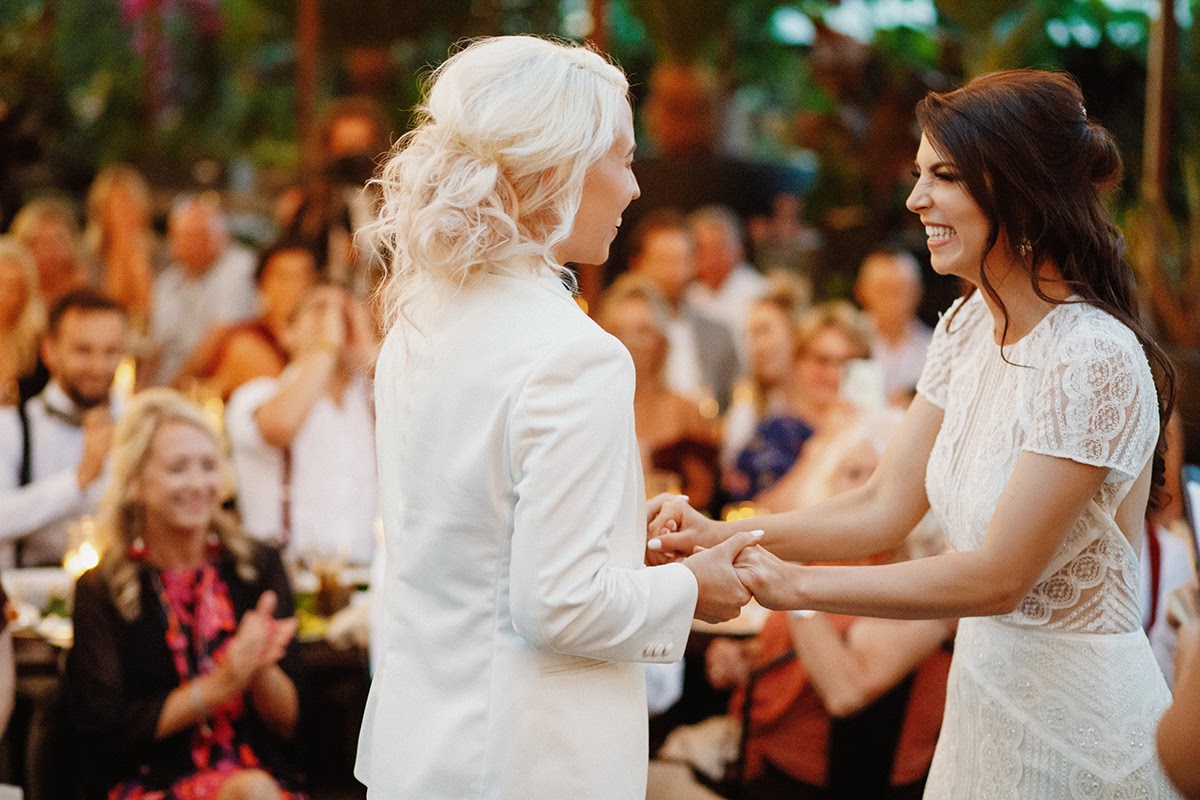 Your special day is fast approaching, and you're mentally running through your pre-wedding checklist. Send save the dates? Check. Block off accommodations? Check. Decide on colors, wedding invitations, and menus? Check, check, and check.
You're flying through your list like a trained pilot, yet something seems amiss. And that's when you palm-to-forehead realize, oh right, what about the actual ceremony? What will you do? Where do people stand? And most important — what will people say?
And that's when you decide, you need to draft a wedding ceremony script to coordinate all the moving parts (and players).
You were so transfixed on every detail leading up to your special day, you forgot about the main event. Sure, you scheduled a rehearsal dinner under the assumption you'd do a ceremony scrimmage. But here you are, just weeks before the big day, and you forgot to construct your playbook.
Below, we're offering three sample wedding ceremony script templates to use on your wedding day. While you'll certainly want to modify these drafts to fit your unique style, we hope you'll find the words to write the next chapter of your love story.

Religious Wedding Ceremony Script
If you're planning on conducting a traditional, religious ceremony, many denominations will have a wedding ceremony script already written out. Be sure to speak with your priest, rabbi, or minister about the options available to you, and how you can customize it to suit your personality.
Processional 
Traditionally, guests are seated by the ushers in pews, with the brides' guest on the left of the church and the grooms' on the right. The groom escorts family members to their seats, then waits at the front of the church. Each groomsman escorts a bridesmaid down the aisle. When the entire bridal party is positioned at the front of the church, the bride walks down the aisle.
Invocation
Dearly beloved, we are gathered here today to celebrate the holy matrimony between [name] and [name]. Today, we celebrate the eternal love these two share for one another and their families. Now, let us join in prayer.
Prayer
Heavenly father, thank you for joining us together to celebrate the marriage of [name] and [name]. Give us the strength to provide lifelong support to this new couple, as they face both the joys and trials each new couple faces. Help them secure their honor, trust, and respect for one another and their faith, as they begin their journey together. Amen.
You may be seated.
Bible Reading
(Choose a favorite bible verse to be read by a family member or shared friend.)
From 1 Corinthians 13:4-7:
Love is patient, love is kind. It does not envy, it does not boast, it is not proud. It does not dishonor others, it is not self-seeking, it is not easily angered, it keeps no record of wrongs. Love does not delight in evil but rejoices with the truth. It always protects, always trusts, always hopes, always perseveres.
Exchange of Vows
Now, face one another and join hands as you prepare to take this solemn vow. [Name], do you take [name] to be your lawfully wedded [wife/husband], to have and to hold, to love and to cherish, for better or for worse, for richer for poorer, in sickness and in health, from this day forward til death do you part? If you agree, say "I do."
Exchange of Rings
(The officiant asks the best man to supply the rings. The groom prepares to place a ring on the bride's left hand).
Repeat after me: [Name], take this ring as a symbol of my love. I promise to love and be faithful to you. I promise to honor you and remember the commitment we made to one another. And I promise to love you, no matter where our lives go from here.
Pronouncement
Lord, bless this couple as they navigate their lives together. Help them to make decisions, remembering the pledge made to one another. And now, by the power vested in me, I declare you man and wife. You may kiss the bride.
Modern Wedding Script
Throwing a modern wedding gives you the free reign to incorporate different elements of your heritage, religion, beliefs, and background into your love story.
For example, you could choose to host your ceremony at a beautiful church, opera house, historic hotel, or location that's sentimental to you as a couple. You could also enjoy readings from a favorite poem, have a close friend serve as the officiant, or ask a man-of-honor or best woman to serve in your bridal party.
Processional
For a modern processional, you're not limited by the order in which your bridal party walks down the aisle, or how your guests are seated. Encourage guests to choose a "seat, not a side," and have your bridal party walk down the aisle in pairs or single-file.
Invocation
Welcome, ladies and gentlemen. We are gathered here as [name] and [name] pledge to spend the rest of their lives together. This beautiful couple invited you here today to witness one of their most magical moments together.
It's no secret that relationships require effort. This couple knows what they're facing, and they're asking for your help in the years to come. As they begin their family, take vacations, face tough decisions in work and life, hopefully they can consult you for advice. It's your duty, as friends of the couple, to remind them of their original promise and intent toward one another.
Declaration of Intent 
[Name] and [name], until today, you were driven by different factors. Whether it was your career goals or the hope to one day start a family, you were motivated by your own aspirations. But married life isn't like that. As a married couple, you'll make each decision together as one, new person.
Today is the start of that journey. Today, you promise to think of the other person before you think of yourself, to put their wishes above your own. You promise to be guided by the power of your love for one another, moving through life in a way that's best for your relationship.
Wedding Vows and Ring Exchange 
To make any relationship work, you need to keep the promises made to one another. Today, to proclaim their love and commitment to one another, [name] and [name] have written their own vows. [Name], please state your vows, and place the ring on your loved one's finger.
(The couple reads the vows they wrote to one another and exchange rings.)
Benediction
Now, you proclaim yourselves man and husband. By the power invested in me by the state of Iowa, I present you to your families. You may now kiss your groom.
Secular Ceremony Script
Whether you're an interfaith couple or do not practice any religion, you can remove all religious references from your wedding ceremony script.
For music, feel free to choose a favorite song, sung by a close friend or local music group. You can host your ceremony outside or at the beach, or inside in a historic or beloved venue. For the vows and exchange of rings, you can remove religious references, focusing on the faith you have in your relationship instead.
Processional 
Guests are seated in the venue. You can conduct the processional in any way you wish: The groomsmen can wait at the front while the bridesmaids walk single-file down the aisle, you could have both parties walk in pairs, or you could eliminate the processional entirely.
You can also choose how the couple enters the venue — they could hold hands and walk down the aisle together, or one can wait at the front for the other.
Invocation
Welcome, friends and loved ones. We are gathered here today to celebrate the union between [name] and [name]. Today, they proclaim their love and commitment to one another, promising to spend the rest of their days together.
Some of you have known these two since birth, others are old friends from college, and some of you may be new friends of the couple. But today, gathered here together, you promise to support this marriage as they begin a new life together.
Declaration of Intent 
[Name] and [name], to make this relationship last, you will need to be honest, trusting, and direct. Bring your best selves to this relationship, thinking about your partner in every life decision you make. You are now family, partners, and each other's best friend in the world — remember to always be considerate of one another, no matter how many tough times you face.
If you're ready to commit the rest of your lives to each other, please take each other by the hand and repeat after me.
Vows Exchange
[Name], you are my best friend, and I can't wait to spend the rest of my life with you. I promise to be faithful to you and love you, in good times and in bad. With this ring, I promise to respect you, respect our relationship, and respect the plans we set for our family.
Pronouncement
[Name] and [name], before this moment, you were on two different paths, and today your paths merge. You came here, of your own free will, to declare your love and commitment to each other in front of your friends and family. And now, by the power vested in me, by the state of Massachusetts — and the internet — I now pronounce you husband and wife. You may share your first kiss as newlyweds.
Remember to Make Your Wedding Day Your Own
We provided the above wedding ceremony script samples to give you a starting point. However, as you put together the final touches for your ceremony, remember this: This is your day, and therefore you, and only you, make the rules.
Whether you're planning a traditional marriage ceremony or want to construct a more modern wedding program, each component should be of your choosing. From the first words spoken, to the songs or wedding readings, to your final vows as a couple, feel free to make it your own. The above templates are just that — templates — and you can tweak each word to suit your personality.
From all of us at Greenvelope, have a wonderful wedding day. And if you're struggling on selecting the wording for your save the date cards or online wedding invitations, we can help with that too.