March 30, 2023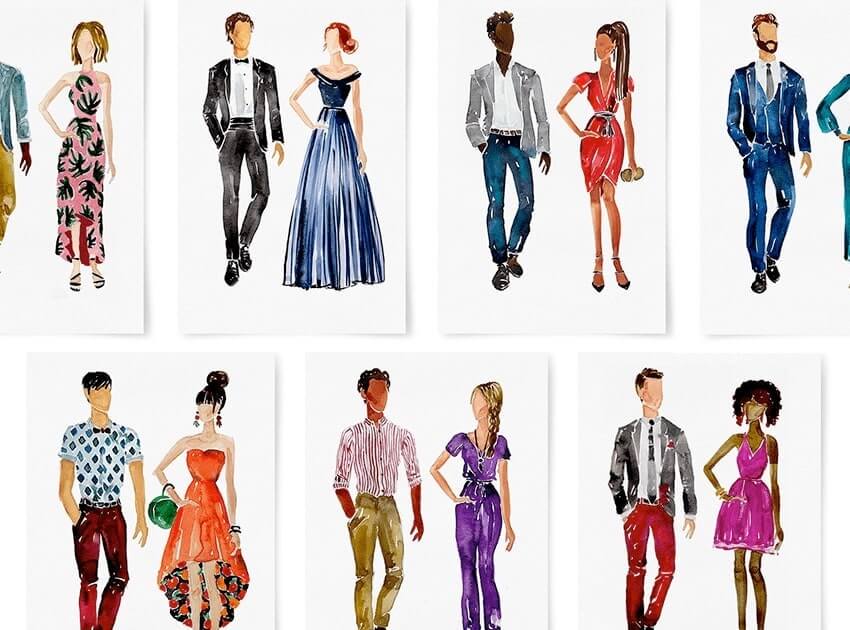 Are you a guest who was recently invited to a wedding and wondering what "festive attire" means? Or perhaps you're a couple wondering what invitation verbiage will best indicate that your venue is more of a "suit jacket" affair? Well, you came to the right place.
A common question we get from couples putting together their wedding invitations is about attire, so we've outlined a list of the most common (and some less common) wedding dress codes. That said, as with every detail of your wedding, do what feels right to you as a couple and don't get too hung up on tradition.

Your Guide to the Most Common Wedding Dress Codes
Heard of a dress code but not sure what it means? Not sure which wedding dress code to use for your big day? We're here to help with this guide on what each dress code covers — plus some of our favorite styling ideas for each one.
White Tie Attire
There's nothing more formal than a white tie event dress code. It's the ultimate in luxury, sophistication, and formality. When we think white tie, we think of luxe celebrity gatherings or a presidential meeting — which makes it perfect for the most formal weddings.
For a white tie wedding, a tuxedo is a must-have for those who prefer a trouser suit. The tux should fit perfectly and feature tails or a tailcoat. Paired with the suit is a white shirt, white vest, and a white bow tie. For those who prefer dresses, a floor-length gown is required — often an elegant cocktail dress or a ball gown. When it comes to shoes, these should be dressy and be polished — leather oxfords and high heels are favorites.
Black Tie Attire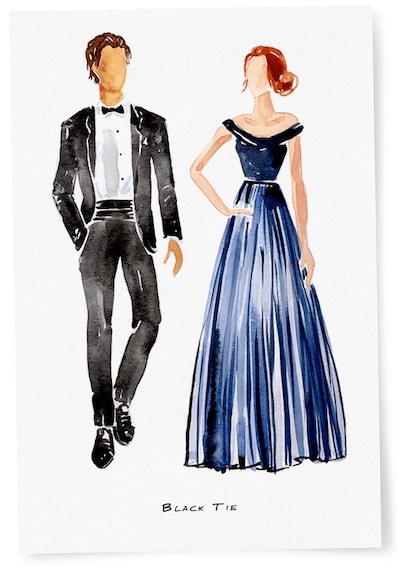 Black tie is just one step down from white tie and is still considered very formal. Many formal weddings feature a black tie dress code as it's dressy and classy, and ideal for an evening wedding. When it comes to a black tie dress code, it's usually safe to assume that the wedding will take place during the evening and be a grand affair.
At a black tie wedding, the suit of choice is a tuxedo. Unlike a white tie wedding, the go-to color for a long-sleeved dress shirt is black — along with a black bow tie, cummerbund, and vest. You could also elevate the look with cufflinks. 
If you're a wedding guest who's planning to wear a dress, it should be a floor-length dress or evening gown. However, unlike white tie wedding dress codes, black tie attire allows for other options, such as a sophisticated jumpsuit, pant suit, or chic cocktail dress with a knee-length hemline. For footwear, you can't go wrong with formal dress shoes similar to white tie.
Formal Wedding Attire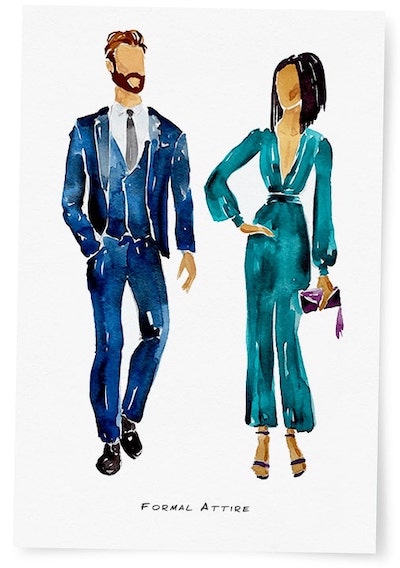 The main difference between black tie and formal event attire is that with a formal dress code, the tuxedo becomes optional. This is great news if you want a slightly less prescriptive dress code, but still want your wedding guests to show up to your formal wedding in something fabulous. Formal is also known as "black tie optional," which is a helpful way to describe the look to guests.
Tuxedos or dark suits are the preferred option here, with a white shirt and tie. Full-length evening dresses are options in black tie formal, as are dressy jumpsuits, pant suits, and more relaxed yet still elegant cocktail dresses.
Beach Wedding Formal, Garden Attire, or Summer Formal Attire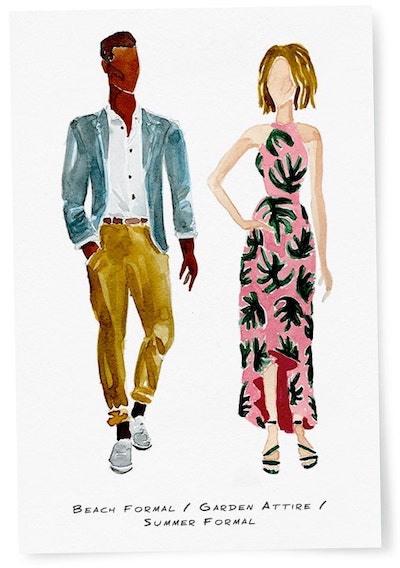 You have to be a little careful when it comes to beach formal attire. The goal is to achieve a formal look while also keeping any outdoor wedding weather conditions in mind. It can be tricky, but also totally doable.
Setting your wedding dress code as one of these options can be confusing for guests. If you go down this route, provide some examples of what your guests could wear on your digital wedding invitations — or include a link to this guide on your wedding website! If it's a destination wedding, let your guests know what the expected weather will be so they can plan ahead.
When it comes to suits, wedding guests can opt for a light suit or pair a sport coat with a linen button-down shirt, pants, and loafers or boat shoes. For dresses, a formal knee-length (midi dress) or summer sundress is one of our favorite choices. Jumpsuits that are light and floaty also work well. Avoid high heels and choose something comfortable yet luxurious — like your favorite sandals or flats. If you must wear heels, try a wedge shape instead.
We have also seen people offer this attire as a more casual wedding option (like dress pants with floral shirts). If you're a couple requesting this attire, consider putting an FAQ on your details page or wedding website that outlines any specifics.
Cocktail Chic or Cocktail Attire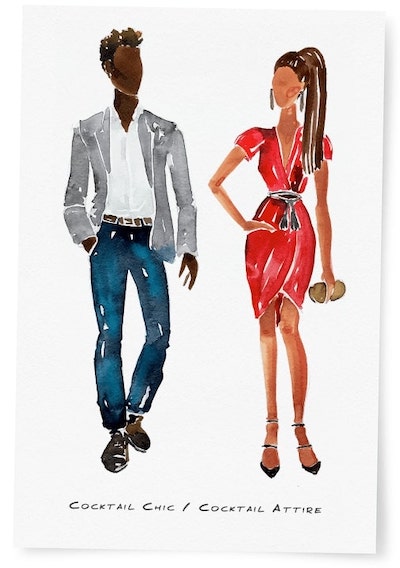 Generally, the expectation with cocktail chic is to be well dressed, but not overly formal. Think of it as a cozy place between formal and semiformal. Many formal and cocktail weddings opt for a cocktail dress code as it gives guests a lot of flexibility.
For suits-wearers, a dark suit is preferred. Ties are optional, so don't feel like you need to wear one. A more relaxed take on cocktail chic could be a pair of slacks with a sports jacket or blazer. If you'd love to wear a dress, this is the perfect opportunity to bring out your classic "little black dress." Other options can include dress pants or a skirt with a silk blouse.
Semi-Formal Attire or Dressy Casual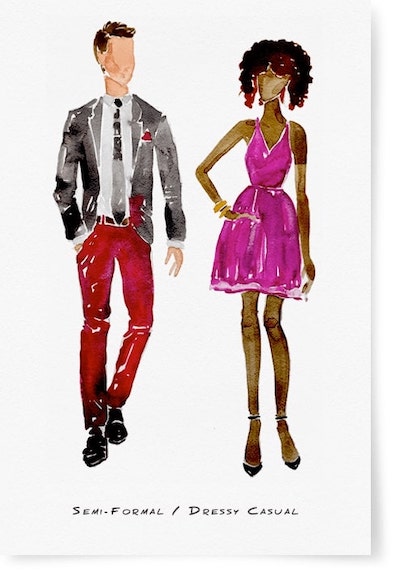 Semi-formal wedding dress codes are usually a balance between casual and formal. It's a great option if you want to give your guests the chance to dress up at a daytime wedding or semi-formal wedding, but don't want them to feel too much pressure to get it "just right" or buy a new outfit. Most people will have something that works for a semi-formal wedding already in their closet.
If your go-to is a suit, choose a light or dark suit or go more informal with dress slacks and a light shirt. Add a blazer and a tie, but know that one isn't required. When it comes to dresses, a beautiful afternoon dress, cocktail dress, dressy jumpsuit, or a pantsuit all work perfectly.
Festive Attire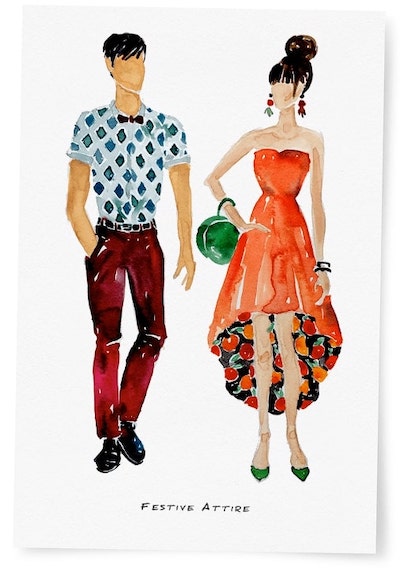 With thematic weddings growing in popularity, the "festive attire" dress code is becoming a bit more common. We recommend aiming for formal or cocktail chic with an added element that matches the overall wedding theme (at an appropriate level). For instance, you might want to encourage wedding guests to wear vibrant colors as opposed to clothing that features the actual rainbow spectrum for a rainbow wedding.
If there's no notable theme, festive attire can also refer to adding more flair to a typical formal outfit. For example, wearing a bold floral tie or playfully patterned socks, or rocking those bright blue Betsey Johnson heels.
Informal or Casual Attire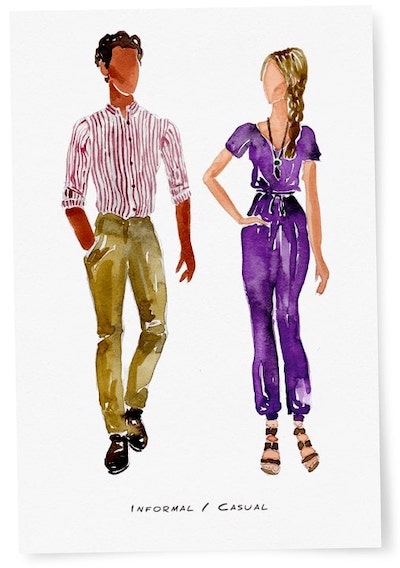 Casual doesn't always mean casual — at least, that's when it comes to wedding dress codes. While this informal wedding dress code gives guests more flexibility, it can be interpreted as "anything goes." When it comes to a casual dress code, be on the safe side and offer some attire examples for guests to avoid — for instance, flip flops, cargo shorts, mini skirts, and muscle tees. 
Casual weddings can take place any time of day, but they're often in the afternoon. As such, guests might opt for a pair of slacks or khakis, a light or colorful shirt, and a sports jacket or blazer (with or without a tie). Afternoon dresses, sundresses, dressy skirt and blouse combos, and seasonally-appropriate dress pants are all great options too.
Empower Your Guests With an Easy-to-Understand Wedding Dress Code
Regardless of the wedding guest dress code you assign, help your guests arrive appropriately (and stylishly) to your celebration by providing plenty of details. Although not all your guests will follow each guideline, having more information is better than having none. Your wedding website and the details page of your wedding invitation is the perfect place to include a note about your preferences. And if you're a wedding guest who wasn't sure about what to wear, now you know!