July 19, 2017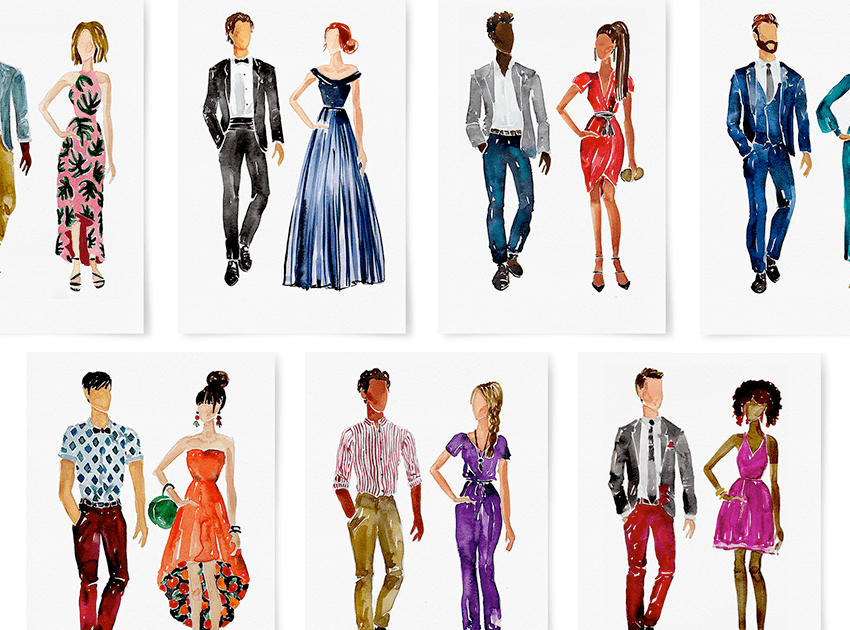 Are you a guest who was recently invited to a wedding and wondering what "festive attire" means? Or perhaps you're a couple wondering what invitation verbiage will best indicate that your venue is more of a "suit jacket" affair? Well, you came to the right place.
A common question we get from couples putting together their invites is about attire, so we've outlined a list of the most common (and some less common) guest attire descriptors. That said, as with every detail of your wedding, do what feels right to you as a couple and don't get too hung up on tradition.
Black Tie
When it comes to a black-tie dress code, it's usually safe to assume the wedding will take place during the evening. Black tie is just one step down from white tie and is still considered very formal.
Women
A long evening dress, chic cocktail dress, dressy jumpsuit, or pant suit
Men
A tuxedo with a cummerbund, bow tie, and black leather shoes

Formal
The main difference between black tie and formal is that with a formal dress code, the tuxedo becomes optional.
Women
Cocktail dress, long evening dress, dressy jumpsuit, or pant suit
Men
A tuxedo or dark suit with a shirt and tie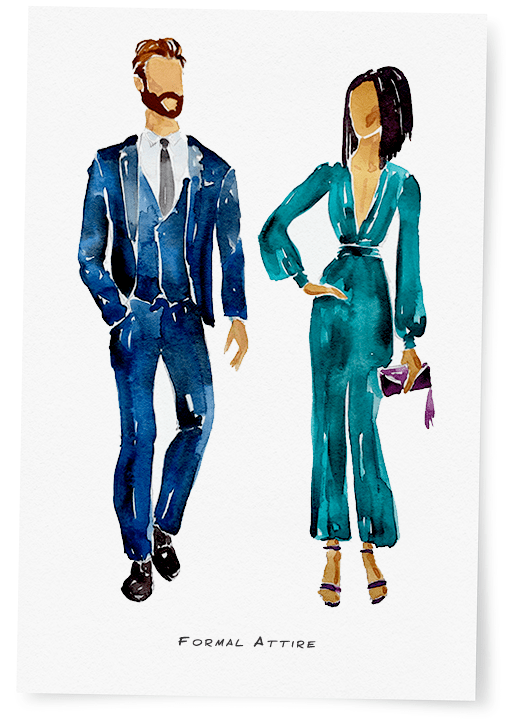 Beach Formal or Garden Attire or Summer Formal
You have to be a little careful when it comes to beach formal attire. The goal is to achieve a formal look while also keeping any outdoor weather conditions in mind. It can be tricky, but also totally doable!
We have also seen people offer this attire as a more casual option (like dress pants with Hawaiian shirts). If you're a couple requesting this attire, consider putting an FAQ on your details page or wedding website that outlines any specifics.
Women
A formal summer sundress with sandals or a jumpsuit that's light and dressy. A good rule for a beach wedding is to avoid heels and opt for dressy sandals or flats. If you prefer to go with heels, wedges might be your best bet.
Men
A light suit with a linen shirt, pants, sandals, or boat shoes. Ties are not a requirement.

Cocktail Chic or Cocktail Attire
Generally, the expectation with cocktail chic is to be well dressed, but not overly formal.
Women
This is the perfect opportunity for that classic "little black dress." Other options can include dress pants or a skirt with a blouse.
Men
A dark suit with an optional tie,

sports jacket or blazer, and slacks

Semiformal or Dressy Casual
A semiformal dress code is usually a balance between casual and formal.
Women
Dressy afternoon dress, cocktail dress, dressy jumpsuit, or a pantsuit
Men
Dark suit or blazer with a tie

Festive Attire
With thematic weddings growing in popularity, this dress code is becoming a bit more common. We recommend aiming for formal or cocktail chic with an added element that matches the overall wedding theme (at an appropriate level). If there is no notable theme, "festive attire" can also refer to adding more flair to a typical formal outfit. For example, wearing a vibrant, floral tie or rocking those bright blue Betsey Johnson heels.

 Informal or Casual
When it comes to a casual dress code, be on the safe side and avoid going too casual. Unless you know for a fact that the couple who is inviting you is dressing ultra informal, cargo shorts are never okay at a wedding. Put them away.
Women
Afternoon dress, sundress, dressy skirt and blouse, seasonally-appropriate dress pants
Men
Sports jacket or blazer, slacks, and an optional tie
A word of caution: "casual" runs the risk of being interpreted as "anything goes." If you put this on your invite, don't be surprised to see people in jeans, shorts, or flip flops.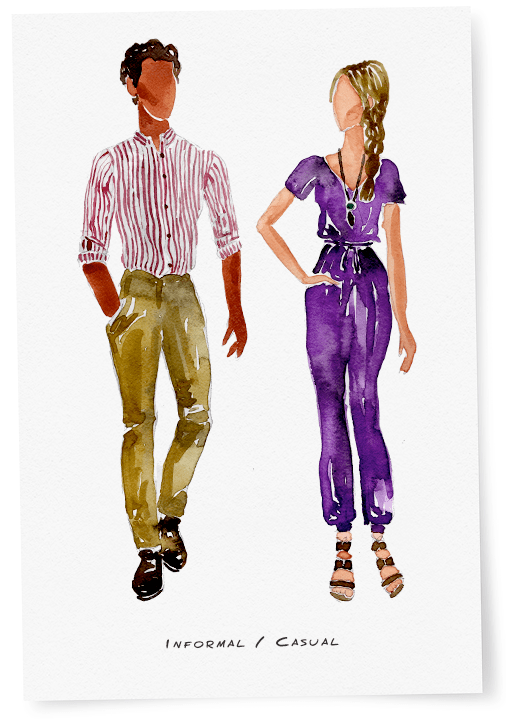 Here's one last tip for our couples. Regardless of the dress code you assign, help your guests arrive appropriately (and stylishly!) to your celebration by providing lots of details. Though not all your guests will follow each guideline, having more information is better than having none. Your wedding website or the details page of your invitation is the perfect place to list attire!
And here's a final note to any wedding guests. In theory, wedding attire should be pretty straightforward. Once you've been made aware of any dress codes, do your best to find an appropriate outfit while also taking your comfort and personal style into consideration.