August 1, 2021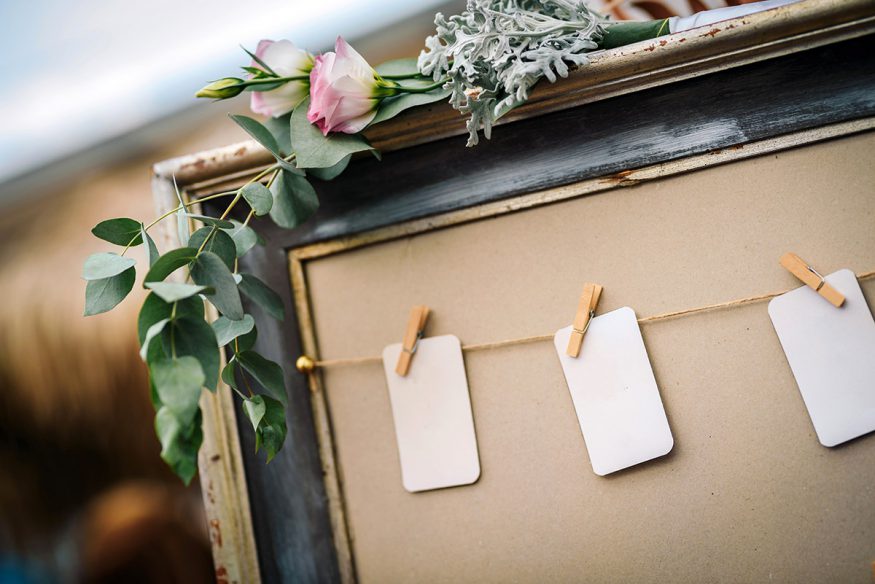 Wedding planning can be a fun experience, but nailing down the guest list is often one of the most stressful parts. There's pressure to avoid offending parents, friends, and family. Plus, you're trying to invite people you love while also staying within your budget. 
While it can be easy to put off the task to another day, you can't avoid it forever. Having a solid guest list means you can move forward with catering, choose a wedding venue, and design a seating chart. If you avoid making a guest list, you'll just be delaying your wedding planning process — and you may create problems for yourself down the road.
If the idea of making a wedding guest list has you stressed out, worry no more. We've put together this guide to help you create a wedding guest list without the pressure. You'll learn how to create your list of invitees and discover tips on how to trim the list when necessary. Plus, you'll see some wedding invitation designs to inspire your next step in the planning process. Here we go!
What to Consider Before Making the List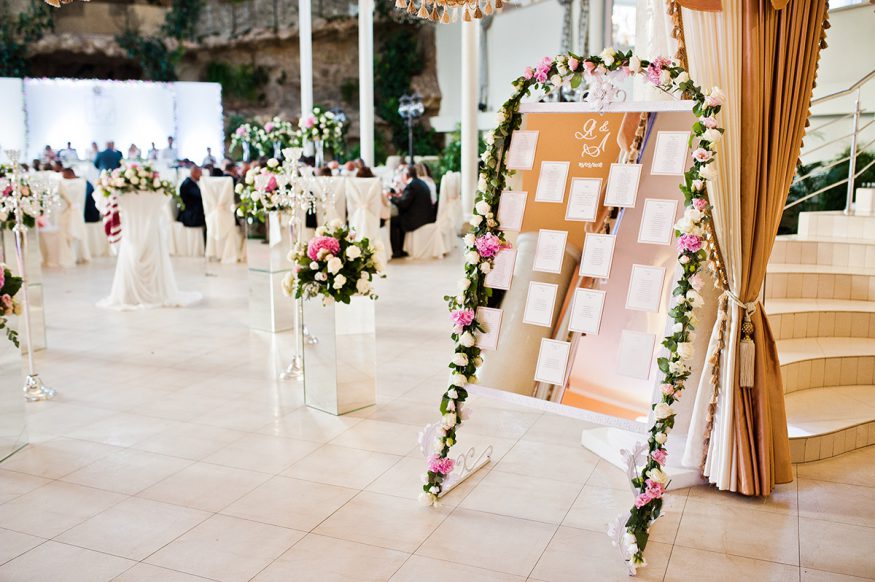 Creating a wedding guest list isn't just about putting names on paper. It involves some thought and consideration both for the people you're inviting and for yourselves. If your parents or in-laws are paying for the wedding, consider involving them in the process. They don't need to have the final say — it's your special day, after all — but it's courteous to consult them on the final wedding guest list. 
A common challenge to drafting your dream guest list is your real-life budget. Before you even think about who you're inviting, it's a good idea to come up with a wedding budget. This will dictate how many people you can invite and where you can host the wedding. Once you set your budget, you can figure out the number of people you can invite to the big day.
Deduct any non-guest-related costs from your budget. This includes things like your wedding dress, photographer, and officiant. Talk to the wedding venue and get a rough per-person cost. Based on that number, you can get a general idea of how many guests you can afford at your wedding.
But it's not just about how many people you can invite — it's about how many people you want to invite. Even if you can invite 700 people, you may not want that many people to attend. The larger the guest list, the less time you'll be able to spend with each guest, so keep this in mind when planning too.
You'll also want to consider if you want to allow guests to bring a plus one. Plus ones are a great way to make single guests feel more comfortable at a wedding where they may not know many people. But plus ones can also get out of control easily. If you're going to allow plus ones, leave a buffer in the number of guests you're inviting to ensure you don't go over.
How to Create a Wedding Guest List
To get a general idea of how many people you'd like to invite, it's time to put pen to paper. (Or fingers to computer.) Follow these steps to create a wedding guest list without stress.
1. Choose a Tool to Create a Wedding Guest List
The first step is to draft a preliminary wedding guest list. You can create a list in a tool like Google Sheets or Excel, or you can use a wedding guest list template or wedding guest list manager tool from your wedding website or wedding planner. 
You can also write down the list by hand if that's more your thing. Just keep in mind that electronic guest lists are easier to share with parents and anyone else who will have input about the list. They can make suggestions rather than changes so you always know if someone was cut or added to the list.
2. Make an A-list
Many couples choose to create an A-list and a B-list (more on the B-list in a moment). The A-list consists of non-negotiable or essential guests — think both sets of parents, immediate family members, close friends, and the wedding party. Make a list of all your BFFs, immediate family, and close friends who you absolutely want to invite. You can also expand to extended family and friends if you're hosting an event larger than a minimony.
If someone is paying for your wedding or sharing in hosting duties, make sure to ask if they have any priority guests. Include these guests on the A-list and make sure to include their significant others if you're inviting them as well.
3. Create a B-List
The B-list is a secondary list of guests you'd like to attend, but who didn't make the first cut. Typically, couples will send the first round of invitations to the A-list guests about 10 to 12 weeks before the special day with an early RSVP date. For a destination wedding, you'll want to send the first round out at least 6 months before the wedding day to give guests ample time to plan.
If guests from the first list cannot attend or decline the RSVP, you can send out invitations to people on the B-list. You don't want guests to know that they didn't make the first list, so you don't want to send these out too late. Send them out a month or two after the A-list. You can start sending them as soon as you receive declined RSVPs from the A-list group, working one by one to avoid exceeding your headcount.
The B-list can consist of extended family members as well as coworkers. Remember, you still want to stay within your original guest count so you may not be able to send invites to everyone on your B-list. Try to prioritize the list by putting the most important guests at the top of the list. As you receive declined RSVPs from the A-list, you can work your way down the B-list, sending invites to other potential guests.
4. Address Plus-Ones
Once you have a general idea of your essential guest list, you can decide if you want to allow plus ones. It doesn't have to be an either-or proposition. You can choose to let everyone have a plus one or you can allow plus ones only for couples in relationships. This is also a good time to decide if your wedding will be kid-friendly. If you want to limit the number of guests attending, you can make it an adults-only wedding or make exceptions for newborns.
5. Manage Expectations
If someone's helping you pay for the wedding, they may have an opinion on the guest list. This can often make the process tricky since you're trying to plan your special day while appeasing others who are supporting you financially. 
Don't be afraid to set boundaries and manage expectations. If you find that you disagree on the guest list, there are a few ways you can solve the dispute. For starters, present a united front. That means getting on the same page with your future spouse and talking to the other decision-makers together. Be firm yet kind if there's a disagreement and make sure to express your appreciation for their input and contributions.
6. Do a Final Number Check
Compare the final lists (if you and other decision-makers are making separate lists) and make the final draft of your wedding guest list. Go over the list to make sure no one was left out accidentally. Conduct a final count to ensure you're within your maximum number of desired guests.
7. Stick to Your Maximum Number of Guests
It can be tempting to simply invite everyone on the first version of your list — particularly if other decision-makers are having a hard time trimming it down. But it's crucial to stay below your maximum number of guests. Doing so will help you stay in control of your budget and the flow of your wedding day. If you find that you're about to go over your maximum number of guests, go back to the drawing board and see where you can cut the list.
Tips for Trimming Your Wedding Guest List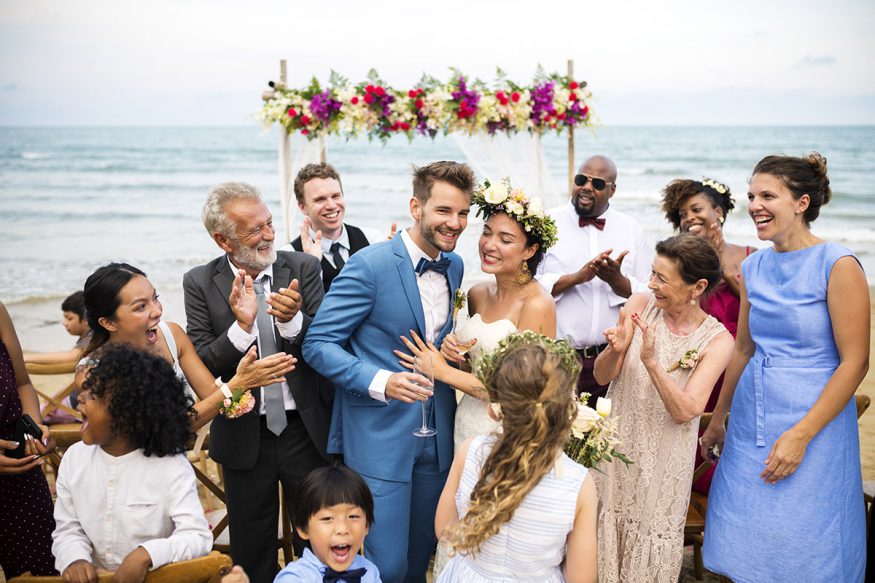 The fact is, most couples will need to trim their guest list. Budgetary constraints and a desire to have fewer people at the wedding will dictate how many people you will invite. Don't freak out if you've exceeded your number when drafting the lists above.
Here are some ways you can trim your guest list:
Keep family limited

: Invite only siblings and first cousins and remove any other extended family members.

Consider coworkers

: If you need to trim your list, look at your coworkers. Only invite coworkers with whom you have a personal relationship outside of the office.

Pare down plus ones

: Plus ones can quickly drive up guest counts. Instead of giving everyone a plus one, limit them to committed couples only. Exclude any "dates" or short-term relationships to bring the guest count down.

Consider the length of the friendship

: Ask yourself if you've seen or spoken to the person in the last five years. Do you expect them to be in your life five years from now? If you answer no to both questions, then you can remove the guest from the list. You can shorten the time period — to one year, for example — if you really need to make significant cuts to your wedding guest list.
Dream Up a Magical Wedding With Greenvelope
Creating the ultimate wedding guest list can feel like a daunting task, but consider it your chance to create the experience you want with the people who matter most in your life. 
Whether you're sending invites out for the wedding day or requesting guests' presence at the rehearsal dinner, Greenvelope has you covered. We offer a beautiful selection of wedding suites including wedding save the dates, bridal shower invites for the bridal party, and engagement party invitations. 
Find more helpful tips with our wedding guides — ranging from wedding party themes to invitation inspiration — so you can continue planning the wedding of your dreams.