April 28, 2022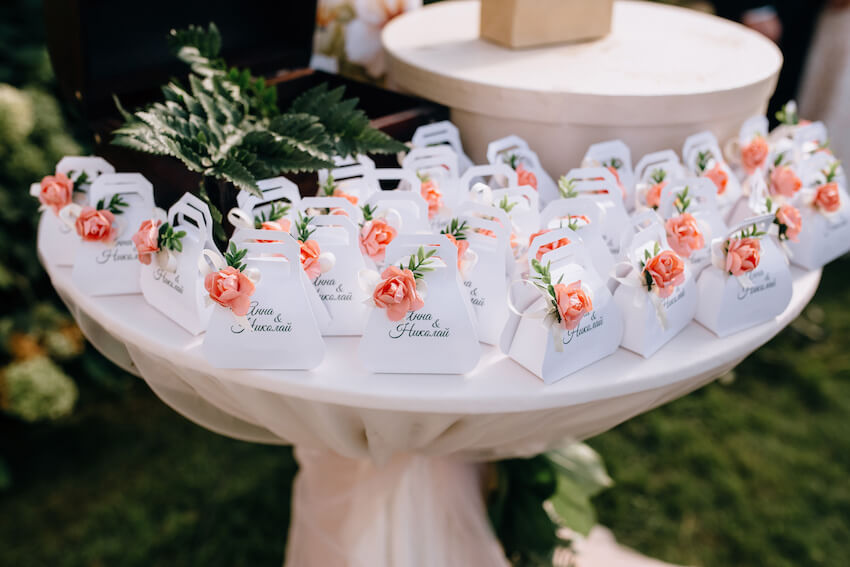 There are many reasons for giving your wedding guests a party favor. These little gifts show your guests how much you appreciate their presence on one of the most important days of your life. 
Party favors also enable you to show off your personality and add some extra fun to the big day. Plus, they're a great way for guests to remember the special moment. From trending edible wedding favors to classic options guests are sure to love, here are some of our favorite wedding favor ideas.

18 Wedding Favor Ideas Guests Will Love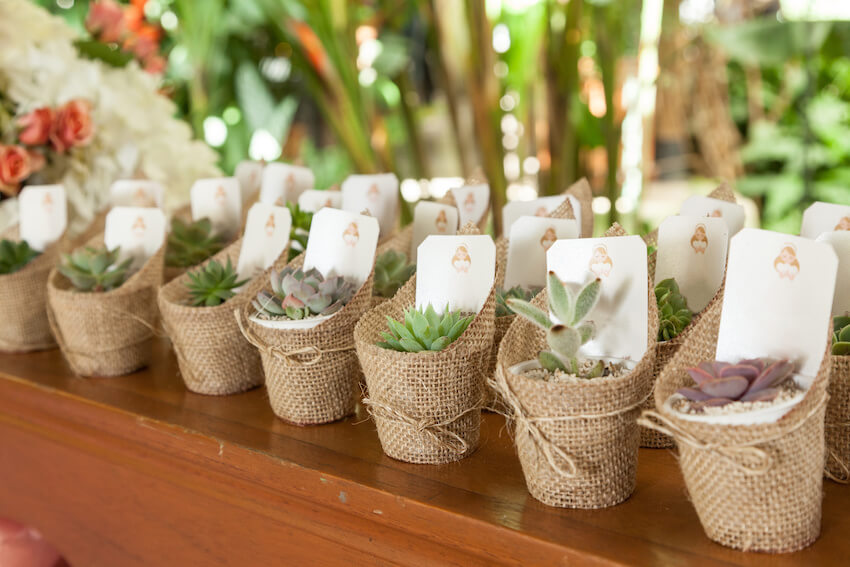 The first step in choosing a wedding favor is to decide on your budget. According to Business Insider, party favors cost on average between $250 and almost $500. Discuss how much you want to spend on party favors with your partner and include these costs as part of your wedding budget breakdown. 
You can make your own DIY wedding favors if you want to cut costs or you can choose to splurge if guest gifts are among your priorities. You can also choose to buy extra-special gifts as wedding party favors for your wedding party and a more affordable option for other guests.
When thinking about wedding favor ideas with your future spouse, the options can seem endless. To help you narrow down your list, take a look at these wedding favor ideas for every budget and style.
1. Bottle Openers
Get the party started and give guests a practical wedding favor with a bottle opener. You can choose from beer bottle openers or whimsical wine bottle openers. For a more formal or expensive gift, think about making favor boxes. You can include a mini bottle of wine, a fancy wine bottle opener, and a custom bottle stopper in a gift box. For a more affordable take on this gift box idea, you can look for mini cocktail kits that feature ingredients for favorites like Moscow Mules and Tequila Sunrises.
2. Coasters
Order coasters featuring your wedding date and names so guests can take these home to remember the special day. For a boho-chic or rustic wedding, consider coasters made of wood or slices of agate. For a formal event, etched glass coasters add an elegant touch. There are also clay coasters where you can create thousands of designs — from imprinted starfish and seashell designs to vibrantly colored geometric shapes.
3. Olive Oil
If you're honoring your Greek heritage, getting married on a Greek island, or simply want to share your love of cooking, a mini bottle of olive oil is a fantastic gift. You can add a custom label with the wedding date and your monogram to make it more memorable.
4. Flowers
Don't let those wedding flowers go to waste! Let guests take home floral centerpieces or specially made bouquets as a token of your appreciation. You can also incorporate these party favors as part of the wedding decor. Small succulent arrangements or elements like pine cones and mini bouquets all double as place cards and can be taken home by guests as a keepsake.
5. Chocolate Bars
Chocolate bars make great edible gifts and a sweet treat for guests to remember your wedding. You can order chocolate bars with custom labels from companies like Wolf's Chocolate and The Candy Bar Wrapper that feature your monogram or even cute wedding photos.
6. Luggage Tags
Luggage tags are the perfect wedding favor for a destination wedding and they can also double as decorative place cards. Choose from affordable plastic designs or go big with hand-etched leather luggage tags.
7. Shot Glasses
Raise a glass to commemorate your special day — a shot glass, that is. Shot glasses are among the most affordable wedding favor ideas, although you can opt for specially etched glasses if you have the budget.
8. Succulents
Mini succulents make incredibly cute wedding guest gifts. You can DIY these little decor elements or order them from a floral wholesaler. Start by choosing a small container for the succulents, then add in one or two plants. For an affordable option, look for mini burlap sacks. For something more upscale, try mini porcelain vases. You can also use the succulents as place cards.
9. Drink Cozies
Drink cozies (also called by the brand-name Koozie) are another great way to say cheers to your nuptials. Give guests their own custom drink cozies or choose one main theme for the design. You can select a favorite wedding quote, a fun saying to match your wedding theme, or add your monogram.
10. Soaps
Soap is another top wedding favor idea. Choose from handmade soaps that feature the colors of your wedding theme or opt for an array of fragrances to meet all your guests' preferences. On the label, you can include the wedding date and your names as a special memento. Alternatives to soap include little bundles of potpourri or eco-friendly shampoo bars.
11. Stickers and Temporary Tattoos
For a light-hearted affair, give guests stickers or temporary tattoos. These little mementos are a bit nostalgic and always fun. You can print your image on the stickers and tattoos or create designs that guests can wear in the photo booth.
12. Edible Wedding Favors
Give guests something sweet they can enjoy at home with edible wedding favors. Tie it into your wedding theme by giving out miniature pumpkins for a fall wedding or opt for hot chocolate favor bags for a winter wedding. The options here are truly endless. If your wedding theme is yellow, give guests mini burlap bags filled with lemons. For a rustic wedding theme or a forest wedding, jars of honey or other edible treats are a great option.
13. Candle Favors
Like flowers, candles are a common wedding decor item. They also work well for wedding favor ideas. You can give each guest their own votive candle featuring their name and use the candle as a place card. Alternatively, you can offer a selection of handmade candles of various scents that guests can choose from.
14. Tea Bags
Tea makes a great party favor and you can easily customize the gift to make it ultra-affordable or extra-fancy. For a simple version, choose burlap or fabric sacks and fill them with loose leaf tea. You can add a mini-card with your wedding monogram. For a fancier option, fill glass tubes with loose leaf tea or opt for elegant tea tins wrapped in a customized label.
15. Mini Booze Bottles
Mini booze bottles make for fantastic creative wedding favors. You can create custom labels on sites like Etsy or just pick up a bunch of mini alcohol bottles from your local store. Select mini champagne bottles for a formal event or opt for something more casual like customized mini wine cooler cans. If you're not sure what type of alcohol to get, let guests choose from mini red or white bottles of wine. You could also offer non-alcoholic options.
16. Hand Fans or Parasols
For a summer wedding or beach wedding, your party favors can double as memorable keepsakes and practical tools. Set out parasols near the wedding ceremony or wedding reception area. These parasols can be used for both shade and showers and guests can take them home after the big day. Hand fans are another great option if your wedding venue takes place in a warm environment. 
17. Hand Sanitizer
During the pandemic, hand sanitizer became a popular wedding favor idea. It shows guests you care about their safety and it also makes a cute gift that they can use in their day-to-day life. Choose a customized label for your hand sanitizer or make the gift more glamorous by selecting glass bottles and sustainable, skin-friendly ingredients.
18. Matchbooks and Notepads
Show your guests that you're the "perfect match" with a matchbox that features your wedding monogram. Alternatively, you can show off your storybook love by giving guests mini notepads featuring your favorite quotes or some photos from the special day. These are practical wedding favors that guests can use in their everyday life while also remembering your wedding day.
Plan Your Dream Wedding
The best wedding favor is one that you love. After all, these gifts should reflect your love as a couple and serve as a thoughtful token for guests. With these wedding favor ideas, you're sure to find one that fits your style and budget.
Need more help with your wedding planning? Continue browsing our Stationers blog where you'll find everything from wedding theme ideas to etiquette tips, practical advice, and everything in between. Plus, at Greenvelope, you'll find incredible invitations for all your wedding needs. From digital wedding invitations to bridal shower invites and marriage announcements, you'll find gorgeous styles and stationery for your big day.