February 8, 2022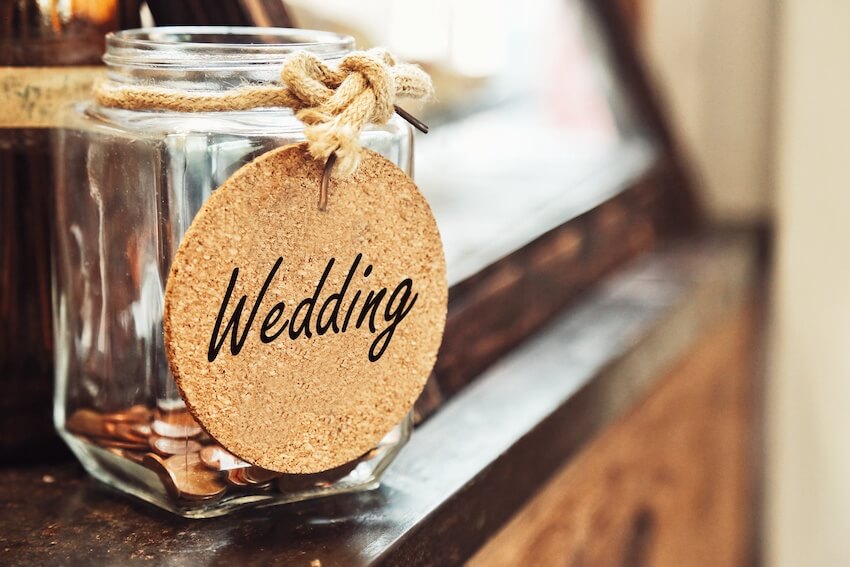 You're happily engaged and thrilled to start planning your nuptials. While fun tasks like ring shopping, cake tasting, and venue visits are easy to get excited about, most couples first need to settle on a wedding budget. It's the first step in the planning process and it lays out a smooth path for making decisions down the road.
Wedding costs can easily get out of hand if you don't set a budget, so it's important to tackle this task early on. To help you out, we'll show you how to set a budget for your wedding and share tips for crafting a wedding budget breakdown that meets your priorities. With a well-crafted budget, you can avoid unnecessary stress and set yourselves up for a beautiful wedding day and financially stable journey as newlyweds.

How to Set a Budget for Your Wedding
Setting a budget for your wedding can feel daunting at first, but a little planning goes a long way. By breaking down larger tasks into smaller jobs, you can create a wedding budget breakdown that's much easier to manage. 
Your wedding budget will largely be dictated by fixed costs and fluid costs. The fixed costs include things like a wedding photographer and videographer, officiant fees, and marriage license fees. Fluid costs are prices for things that will change depending on the size of your guest list.
That's why it's vital to start by creating a wedding guest list. Costs for food, the venue, and rentals can increase dramatically as you add new guests. By making a guest list and sticking to it, you can avoid any surprise increases in costs. Plus, it helps inform how you'll spend your total budget. 
In general, 30–50% of a wedding budget goes for the wedding ceremony and wedding reception venue, catering, and wedding cake. This includes rentals such as tables, chairs, and linens. By limiting your guest list you can save money on these costs and use it on other items like attire, beauty, and special gifts for your wedding party.
The big question is: how much should you spend on the wedding? That depends on your finances and how much you're willing to spend. For reference, the average cost of a wedding in 2021 was $22,500. However, that doesn't mean you need to spend that much.
Before choosing a budget number, you and your partner should review your personal financial situation. Start by asking the following questions:
How much money have we saved and how much are we willing to use for the wedding?

How much money are family members going to contribute?

Are we going to borrow money or put some expenses on credit cards?

Are we comfortable having debt to create our dream wedding or do we only want to use funds we already have?

How many guests do we want to invite and what are our priorities?
Once you determine the number, you can start planning how you want to divvy up the funds for your big day.
How to Create a Wedding Budget Breakdown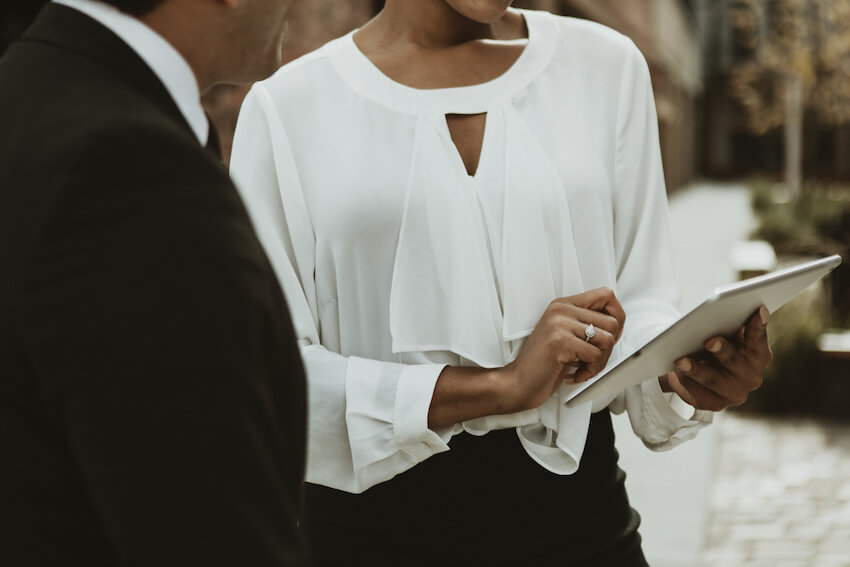 Your wedding budget breakdown should reflect the wedding you want to have. If you have your heart set on tying the knot in a castle or in an exotic destination wedding, a large chunk of your budget will go towards the wedding venue. If you prefer getting married in a park or on a beach for free, you can splurge on other things like catering and photography. 
Maybe you're willing to spend more on a stunning, custom-designed wedding dress or maybe working with a florist to create one-of-a-kind centerpieces and wedding flower bouquets is a priority. Perhaps you want to go the DIY route to save some money or maybe you want to work with a professional wedding planning agency that has in-depth know-how to create your dream wedding.
It really comes down to your priorities. That's why it's crucial to take time at the beginning of the planning process to decide not only how much you want to spend, but also what your must-haves are.
Once you have an idea of your priorities and what you want to spend, sketch out your wedding budget breakdown. This will help you visualize where your money will be going and also ensures you're spending the most on the things that are important to you.
Wedding Budget Breakdown Example
Every wedding is as unique as the couple, but there are some commonalities to consider. Below is a sample breakdown with the most common expenses for weddings, including stationery and decor, as well as things like entertainment and transportation.
Venue

: 20–30% of your wedding budget

Catering

: 15–20% of your wedding budget

Cake

: 3–5% of your wedding budget

Photography and videography

: 12–15% of your wedding budget

Officiant:

1–2% of your wedding budget

Wedding attire and beauty services (dress, tux, makeup, etc.)

: 5–10% of your wedding budget

Flowers and decor

: 10–15% of your wedding budget

Entertainment

: 8–10% of your wedding budget

Wedding invitations and stationery (place cards, RSVPs, ceremony programs, etc.)

: 2–3% of your wedding budget

Favors and keepsakes

: 2–3% of your wedding budget

Transportation

: 2–3% of your wedding budget

Wedding planner

: 2–3% of your wedding budget

Wedding bands, wedding rings, and engagement rings

: 2–3% of your wedding budget

Surprise costs

: 5% of your wedding budget
It's a good idea to set aside a buffer for surprise costs in your budget. This can cover expenses you may have forgotten to factor in, such as gratuities for the live band. For example, you may have set money aside for floral arrangements, but it's easy to forget the cost of boutonnieres for the groomsmen and hairpieces for the bridesmaids. There may also be increases in costs for certain items from vendors before the wedding day. This buffer prevents stress and lets you stay within budget, even when surprises happen.
Once you've broken down your expenses, track them throughout the process. The best way to do this is to make a spreadsheet. You can start by listing each category and an estimated expense for that line item. Every time you make a purchase for that category, add the payment. This lets you keep track of your budget and makes it easy to see if you're spending more in one category than expected. Find more tips on how to plan your dream wedding on a budget.
Plan Your Happily Ever After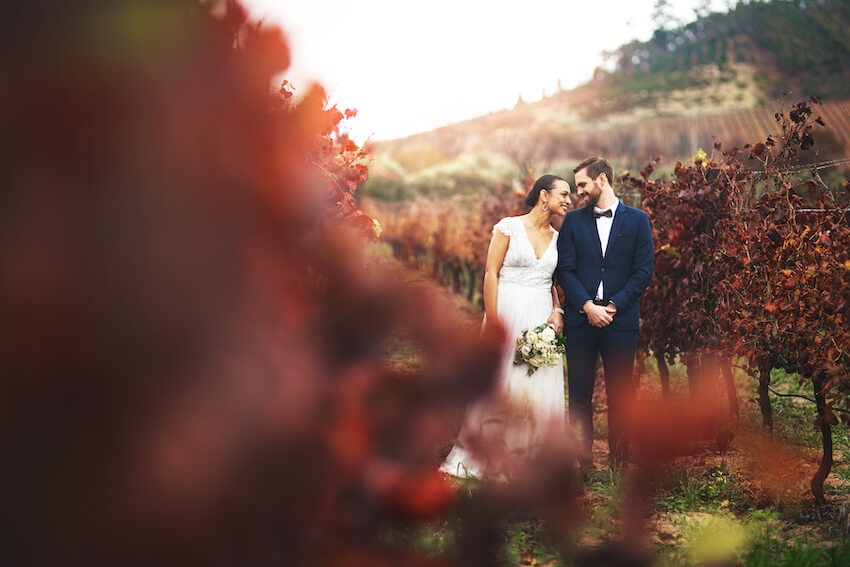 When it comes to wedding planning, the thought of doing it is often more intimidating than the actual process. In fact, planning a wedding with your fiance is a great way to bond, manage finances together, and celebrate your love.
Of course, you'll want to allocate part of your budget for stunning wedding stationery. Fortunately, digital invitations from Greenvelope won't break the bank. There's no need for physical paper or buying stamps, plus tracking everything online means less stress and no mess. Browse through our selection of fully customizable wedding invitation designs that range from formal and glamorous to casual and outdoorsy.
No matter what type of wedding you're planning, starting on a solid financial path will ensure you have a great start to your happily ever after.