May 29, 2022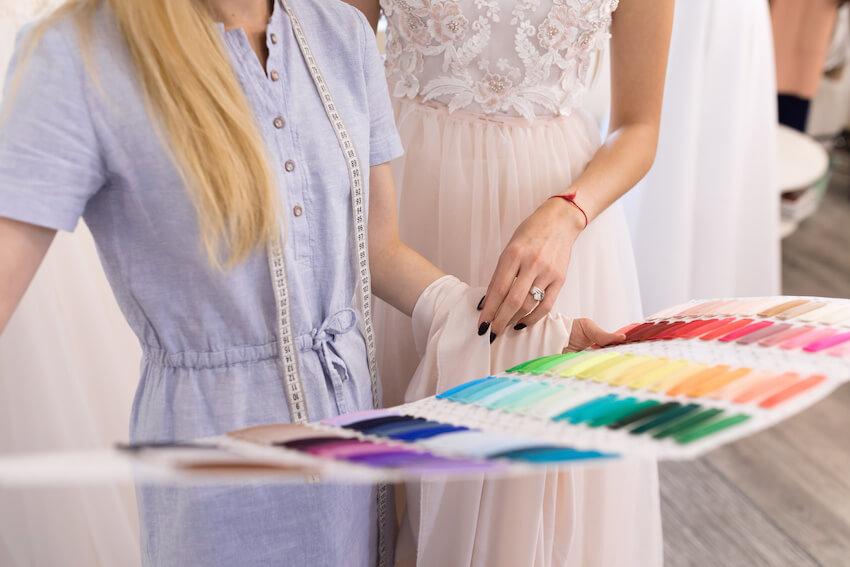 One of the biggest decisions in wedding planning is choosing a color scheme. Typically, these colors are used in everything from the decor and floral arrangements to the bridesmaids' dresses and groom's boutonniere. But the "best wedding colors" are different for everyone. Some couples may want several contrasting colors for a cheerful look, while others may prefer monochromatic hues for understated elegance. 
Whatever your preferences, there's a perfect wedding color for your love story. Here, you'll find some of the best wedding colors for all seasons, venues, and styles. Plus, you'll discover matching wedding invitations to complete your wedding color palette.

What to Consider When Choosing Your Wedding Colors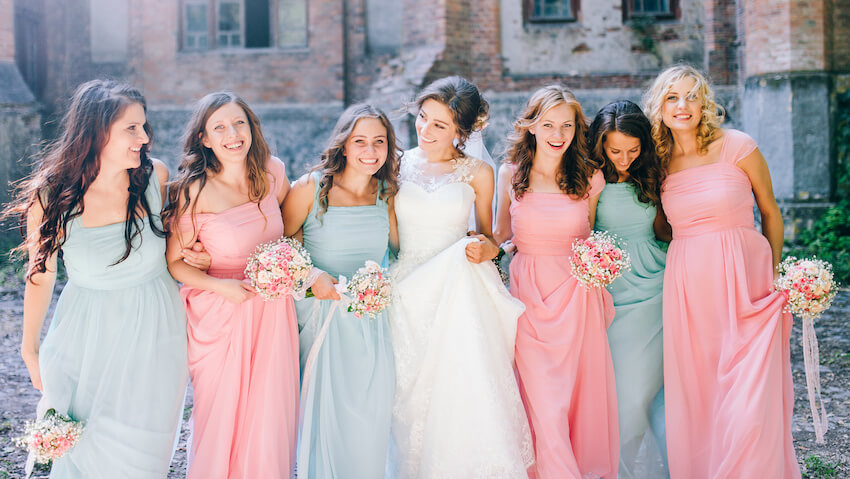 When choosing wedding colors, consider the wedding venue, the season, and the theme. Keep these factors in mind so you select the best wedding colors for your celebration.
What Season Are You Getting Married In?
If you're having a seasonal-inspired event, certain colors will work better than others. For example, fall weddings benefit from jewel tones and autumn hues like red, green, orange, and yellow. Meanwhile, winter weddings are the perfect opportunity to throw an all-white wedding or one that incorporates neutral tones, such as cream and beige (and soft blues). Pastel hues pair perfectly with spring weddings, and tropical or vibrant hues are ideal for summer weddings.
What's Your Wedding Theme?
In addition to seasonal considerations, your wedding theme can also inform the colors you choose for the big day. Hues like turquoise and white are ideal for beach weddings. Earthy, neutral colors are great for rustic weddings. If you're wedding theme is fiesta-inspired, you can choose several different bright colors to match the festive theme. Shades of green, beige, and greige (gray and beige) are ideal for boho weddings. Meanwhile, pinks are perfect for fairytale themes. 
Your wedding theme can also center around your desired color scheme. Perhaps you want a black and white wedding or a purple-themed wedding. Dusty rose and champagne wedding colors offer an elegant aesthetic, while more natural hues like sage green and terracotta are an ideal fit for creating a boho, nature-inspired theme. 
What and Where Is Your Venue?
When choosing the best wedding colors, it's also helpful to consider where you're hosting the wedding. Perhaps the venue already has a distinctive color palette. In this case, it's best to stick close to those hues or in the same color family to create a cohesive look. If you're planning an outdoor wedding, consider hues that naturally occur in the landscape to create a stunning look. Alternatively, you can select a vibrant hue that contrasts with the local flora to create an eye-catching wedding color palette.
13 of the Best Wedding Colors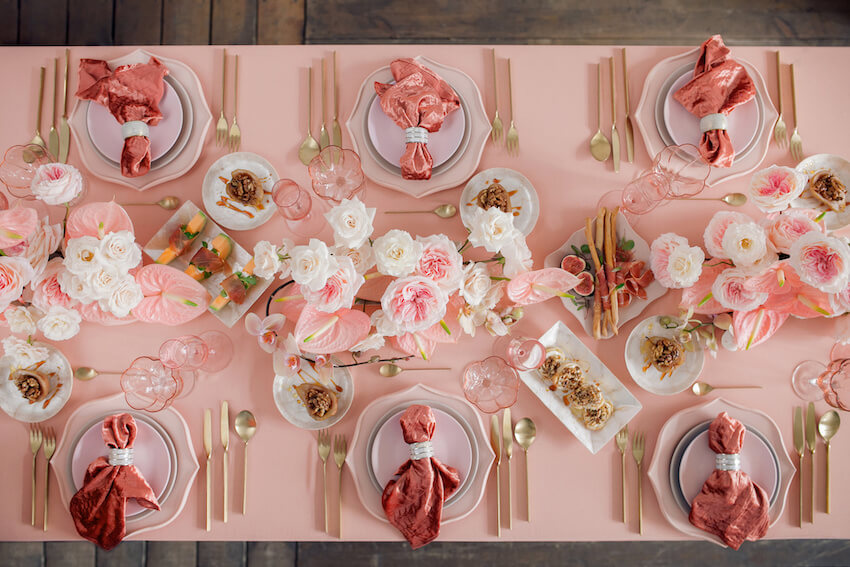 While "the best" is subjective, there are certain wedding color combos that just seem to work. Feel free to select just one of these wedding color ideas or mix and match a few to create the color combination of your dreams. For even more wedding day inspo, we've paired each color option with matching wedding invitations from Greenvelope. This way, you can set the tone for your wedding day and color palette right from the start.
1. Dusty Blue and White
Invitation Inspiration: Mod Trendy Tones Invitation
For a whimsical affair, look at creating a wedding palette featuring various shades of blue and white. This color scheme is ideal for beach weddings as well as outdoor unions held by the waters of an alpine lake. The soft colors are understated and romantic while keeping the focus on the couple tying the knot.
2. Mauve and Blush Pink
Invitation Inspiration: Lily Magnolia Wreath Invitation
Mauve is a rich purple-pink hue that pairs perfectly with blush pink. You can use light pink as an accent color to play up the pinkish hues in the mauve. It creates an elegant garden party vibe and is also ideal for spring weddings. If you want to add in another hue, think about using a dusty blue or another light blue shade. Hydrangeas are the ideal floral for this color scheme.
3. All White
Invitation Inspiration: The Marrying Type Invitation
All-white weddings are increasingly popular. These weddings feature just one color: white. That means everyone — from the bride(s) and groom(s) to the wedding party and guests — wears white. This color idea is ideal for beach weddings and destination weddings where the scenery is often center stage.
4. Navy Blue, Marigold Yellow, and Soft Gray
Invitation Inspiration: Vintage Flower Invitation
This color combination is perfect for outdoor weddings, particularly those held in the summertime. The hues create a bright yet understated contrast. This design would go well with a celebration featuring navy blue tablecloths, marigold wedding flowers, and gray bridesmaids' dresses. To play up the theme, you can also use these hues in your wedding table decorations by using daffodils and yellow roses in blue vases.
5. Emerald Green, White, and Gold
Invitation Inspiration: Peacock Frame Invitation
For a regal wedding palette, consider an emerald green, white, and gold color combo. The emerald shade lends a royal feel that can be elevated with the use of velvet tablecloths and gold metallic accents.
This color palette also works great for rustic weddings. The hues will pop in wedding venues like barns and farmhouses. The white adds an airy feel while the greenery anchors the day in natural surroundings. Gold vases or lanterns would add sophistication to complete the look.
6. Black and White
Invitation Inspiration: To Have and To Hold Invitation
For contemporary couples, a black and white wedding color palette is a timeless way to show a love of classic simplicity. For winter weddings, holiday matrimonies, and fancy unions, you can also add a touch of gold into the mix. A gold tablecloth surrounded by black chairs and beautiful white floral arrangements is sure to catch your guests' eyes.
7. Mint Green and Peach
Invitation Inspiration: Trendy Terrazzo Invitation
The color combo of mint green and peach is perfect for summertime nuptials. Add in watermelon pink and you have the perfect color scheme for a beach wedding. The color duo is also ideal for backyard weddings and springtime affairs. Have the bridesmaids wear mint green dresses and hold peach floral bouquets with baby's breath for a soft, sophisticated look.
8. Lilac and Lavender
Invitation Inspiration: Delicate Stem Invitation
Lilac and lavender are among the best spring wedding colors. The soft purple hues work well with other pastel colors, including blush pink and sunshine yellows. For wedding flowers, look for ranunculus, camellias, and roses in matching hues. Lilac linens add a nice pop of color to the wedding table decor, and it's a beautiful color option for wedding party gowns and accents.
9. Silver and Ice Blue
Invitation Inspiration: Shimmering Confetti Invitation
Silver and ice blue hues are the best match for a winter wedding. These cool tones reflect the chilly air of the season and create a sophisticated backdrop for saying "I do." The colors are icy, but you're sure to melt hearts with your fairytale celebration.
10. Teal
Invitation Inspiration: Enthralled Invitation
Who says you need more than one color for a wedding? Teal is among the most popular summer wedding colors, and for good reason. The enthralling hue is rich and elegant yet airy and bright at the same time. It's ideal for beach weddings and right at home at vineyard unions.
11. Burnt Orange and Eucalyptus
Invitation Inspiration: Red Lilies Invitation
For stunning fall wedding colors, look no further than burnt orange and eucalyptus. This color combo blends the rich, acidic orange hue with a mellow, soft green for stunning contrast. The colors are easy to incorporate into fall decor and centerpieces like pumpkins and gourds. If you want to add a third accent color, think about ruby red, which plays up the elegance of the burnt orange.
12. Plum and Copper
Invitation Inspiration: Tropical Gradient Invitation
Looking to add drama to your wedding day? Go for the contemporary feel of plum and the vintage air of copper. Plum offers a rich hue that creates depth, while copper creates a hint of old-world elegance. This color scheme would work well for weddings held at private estates as well as rooftop terraces.
13. Pantone Color of the Year
Invitation Inspiration: Luxurious Watercolor Invitation
Pantone is a company famed for creating colors for a variety of industries. Brides on the cutting-edge of wedding color trends will love designing their wedding after the Pantone Color of the Year — a hue selected by the company each year to signify the mood and atmosphere of that specific year. Colors range from vibrant hues to understated shades, and they're a great way to honor the year of your marriage.
Host a Picture-Perfect Wedding
The best wedding colors are the ones you love. After all, it's your big day, so you should choose a wedding color scheme that makes you happy. From pretty in pink to whimsical in white and everything in between, these are some of the best wedding colors to choose from.
Once you have a color scheme in mind, you can choose a beautiful matching wedding invitation from Greenvelope. With thousands of designs, you'll find a color that suits your needs, whether you want a vibrant, multi-colored invite or a monochromatic, neutral style.