March 28, 2022
While modern style can be exciting, traditional style is tried and true. That's particularly important for weddings, which center around timeless elegance and eternal love. If you love tradition, having a classic wedding can be the perfect way to celebrate your everlasting love story. 
Here, you'll find classic wedding invitations for your dream day. From traditional elements like calligraphy to elegant accents like gold foil, you're sure to find a design that fits the look and feel of your big day.

16 Classic Wedding Invitations You'll Love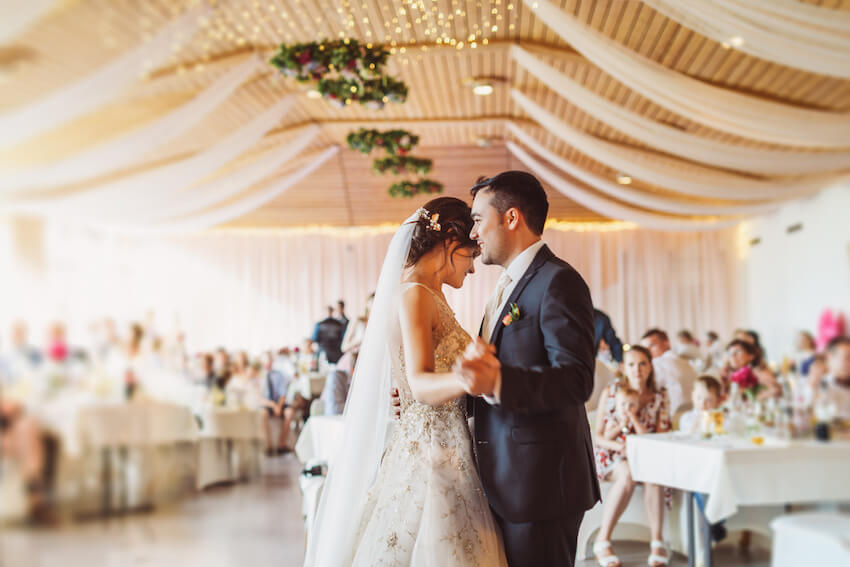 When it comes to classic wedding invitations, there are many ways to include time-honored details. Traditional invite elements such as monograms, wax seals, and calligraphy fonts all lend a historic feel to your special day. Letterpress printing methods and parchment-inspired paper designs are another way to add classic notes to your wedding stationery.
At Greenvelope, you'll find hundreds of classic wedding invitations. From understated and elegant designs in neutral color palettes to romantic photo cards and floral designs, there's something for every traditionalist. Here are some of our favorite classic wedding invitations to inspire you.
1. Bold Rhododendrons Invitation
This French-inspired invite pairs perfectly with a luxe wedding style. It features hand-drawn vintage florals and classic fonts for a traditional look. It's ideal for backyard weddings as well as black-tie affairs. 
2. Rose Gold Flourish Invitation
This traditional wedding invitation features rose gold accents for a touch of shimmer. It's elegant and timeless thanks to a background that mimics the look of velvet and the regal couple's monogram up top. 
3. Sequins and Pearls Invitation
This sophisticated and traditional invitation is adorned with jewels and sequins for a glamorous look. The traditional font adds romance and whimsy to the design. Customize the template by changing the background colors to suit your wedding theme.
4. Golden Plaque Invitation
This elegant wedding invitation features a prominent gold foil square with the couple's initials. The simple color scheme adds a traditional feel that's perfect for formal weddings and other luxe events.
5. Southern Magnolia Invitation
This floral wedding invitation features stunning greenery and a gorgeous magnolia in full bloom. The simple script and muted hues lend a traditional air to this invite. Customize the template by adding embellishments like a wax seal for added elegance.
6. Tonal Overlay Invitation
This wedding photo card features gorgeous lettering and a photo background that puts the happy couple front and center. Classic yet bold, it's ideal for couples who love tradition.
7. Roses in Bloom Invitation
This watercolor invitation features hand-painted flowers, minimalist typography, and a simple background for a classic look. The wedding invitation suite comes with matching response cards, RSVP cards, and save the date cards for a fully polished look. 
8. Watercolor Wildflowers Invitation
This wedding invitation design features vibrant wildflowers framing stunning typography. It's classic with a hint of bohemian style. 
9. Dreamy Letterpress Invitation
This letterpress wedding invitation combines the look of traditional printing methods with a timeless layout. You can almost feel the texture of this gorgeous design. The botanical frame adds a hint of nature, making it perfect for indoor and outdoor weddings.
10. Timeless Elegance Invitation
This foil wedding invitation features a romantic monogram and deckled edge paper for a traditional look. Customize the classic design by changing up the typography and color scheme.
11. Timeless Marble Invitation
This formal wedding invitation features a marbled background that's both traditional and contemporary. It's a perfect blend of vintage and modern design, making it ideal for couples who love classic elements and contemporary influences. 
12. Speckled Impression Invitation
This stunning classic invite draws inspiration from gemstones including emeralds, rubies, and amethysts. The gold foil speckles add a touch of glamor and the classic font lends a traditional air to the design.
13. Baroque Corners Invitation
Pulling inspiration from old-world European architecture, this baroque invite features gold foil corners and elegant typography. It's ideal for classic weddings as well as romantic and formal events.
14. Dried Florals Invitation
This vintage invite features a stunning display of dried flowers that instantly catches the eye while the clean and minimal typography keeps things classic. Customize the invite by changing the background to a pastel cream or mint green hue.
15. Double Happiness Medallion Invitation
This Asian-inspired invite features traditional elements including an opulent medallion and lettering on the inside of the envelope. It's regal and sophisticated while alluding to cultural traditions.  
16. Cherry Blossom Wreath Invitation
This floral invite depicts cherry blossoms in vibrant colors. The elegant script and pastel details make it ideal for formal spring weddings.
Classic Wedding Invitation Wording Ideas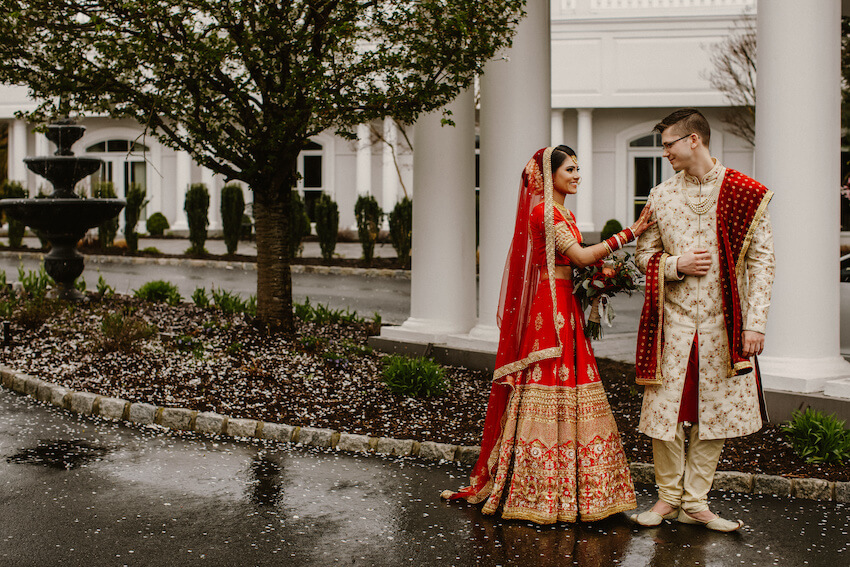 Once you've chosen the perfect wedding invitation for your wedding day, it's time to think about what you'll say. You'll want to be sure to include the basic details of the wedding program including the date, time, and location of the event. You may also want to include a link to your wedding website and guest attire requirements, if necessary. Your invite should also include RSVP information including the deadline for guests to respond. 
Traditional wedding invites are usually written in the third person for a sophisticated flair. All numbers 'Äď including dates and times 'ÄĒ are written out as complete words. The same goes for names, which should be written out in full including any titles.
In your classic wedding invitation, the first line should indicate who's hosting the wedding. Oftentimes, this is the parents of the bride(s), groom(s), or both. The next line is known as a request line and asks guests to join you in celebration on your wedding day. Following that, you'll list the full name of the couple.
After that comes the basic wedding day information. This includes the date and time of the ceremony as well as the wedding venue details. Finally, RSVP details round out the invite information.
Here's an example of classic wedding invitation wording:
Doctor Anastasiya Andrich and Mr. Finley Andrich 
together with 
Ms. Linda Thompson
request the pleasure of your company 
at the marriage of their children
Daniela Sofiya Andrich
and 
Owen Thompson
on Saturday the twenty-eighth of May two thousand and twenty-three
at four o'clock in the afternoon
at Bourne and Hollingsworth, Clerkenwell
At the end, you can add RSVP information as well as dress code and other necessary details for guests. For formal weddings, keep most of the event details on your wedding website and include a link to keep your invite uncluttered.
Plan a Timeless, Elegant Day
When it comes to planning a traditional wedding, the fun starts with choosing an invitation. At Greenvelope, you'll find exquisite wedding stationery including wedding invitations along with save the dates and matching RSVPs. From letterpress designs to hand-painted watercolor templates, you're sure to find a classic wedding invitation that suits your eternal love. Plus, our Stationer's blog offers wedding planning tips so you can plan your big day with ease.