July 12, 2021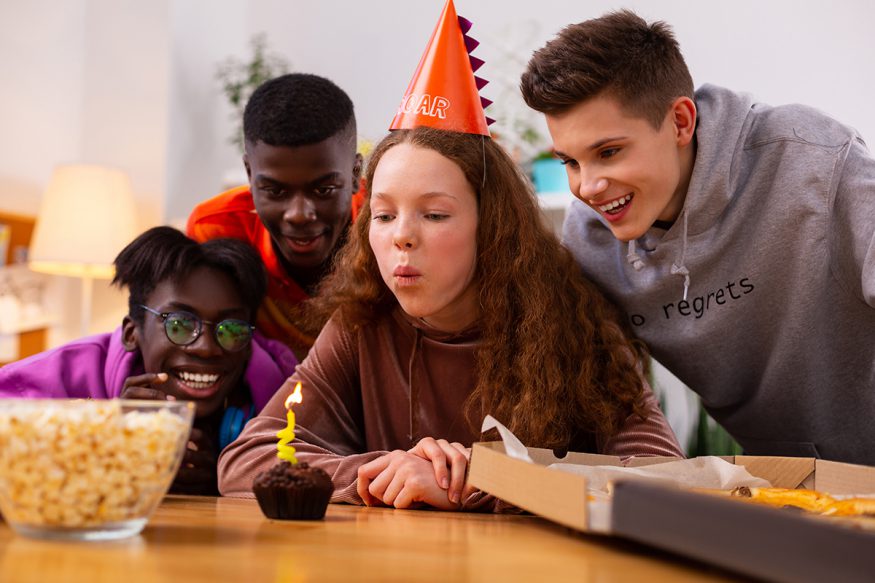 Planning your own birthday party or looking for ideas to celebrate your tween or teen's latest trip around the sun? The options are endless. From pool parties and sporting events to sleepovers and dance-offs, this list of teen birthday party ideas offers something for everyone. 
Party planning isn't just about the decor. You also want to consider party food, activities, and invitations to let people know about the big day. Learn how to create a theme for your celebration and what kinds of games and food to fit into your themed party.

Top 11 Teen Birthday Party Ideas
Check out these fun ideas for birthday party themes, party games, decor, and activities. Plus, we've paired each teenage birthday party theme with one of our favorite invites to get guests excited about the big event.
1. Sleepover
One of the best parts about being a teenager: having slumber parties! Invite friends over and have a campout, roast marshmallows for s'mores, and celebrate a special birthday. You can watch movies late into the night or play karaoke and have pillow fights at your birthday sleepover party. 
For something a tad more relaxing, you can plan a slumber spa party for the teens. The guests can do manicures and pedicures and you can get matching T-shirts, slippers, or pajamas to commemorate the event. You can also set up a photo booth and add a few props like sleep masks and dream clouds. Don't forget to select a slumber party invitation to match your theme. 
2. Luau
Host a Hawaiian get-together to celebrate a teen's birthday with a tropical luau party. You can go all out and work with a party planning company to deliver party supplies or you can go the DIY route and make your own ahi tuna poke. Decorate the space with palm trees and surfboards and ask guests to wear their best Hawaiian shirts or grass skirts. 
Serve up appetizers in hollowed-out pineapples and decorate the tables with loose flower petals. You can even give leis as party favors to all of the guests. Don't forget to add fun activities like the limbo or have guests learn how to play a ukulele.
3. Movie Night
Get the gang together for a movie party to celebrate another trip around the sun. You can plan to binge-watch the birthday boy's or birthday girl's favorite flicks at home or head out for a night at the cinema. You can also have an outdoor movie party in your backyard. Splurge for a full outdoor projector set or simply hang a sheet on the fence or a clothesline to create a movie screen. Set out cozy chairs like bean bags for the teens to lounge on and don't forget the popcorn and classic candies. 
4. Mystery Night
Keep teens guessing with a whodunit mystery party. You can download everything you need to host a murder mystery party for teens from sites like My Mystery Party. You can also work with a local company that can bring actors to your home to play out a mystery dinner. Stock up on prizes — like candy, technology accessories, books, or video games — to give the winner.
5. Glow-in-the-Dark Party
Want to throw a party the teens will never forget? Host a blacklight party for the birthday boy or girl. Give each guest a few glow sticks and have a dance party. You can also use glow-in-the-dark paints to create arts and crafts (like T-shirts or scarves) that the attendees can take home as a party favor.
6. Pool Party or Beach Party
Have some fun in the sun and celebrate a teen's birthday with a pool or beach party. Grab some floaties — flamingos and unicorns are always popular options — and soak up the sun in style. Make sure to have some games like volleyball, ladder toss, and cornhole to keep guests entertained.
7. Scavenger Hunt or Escape Room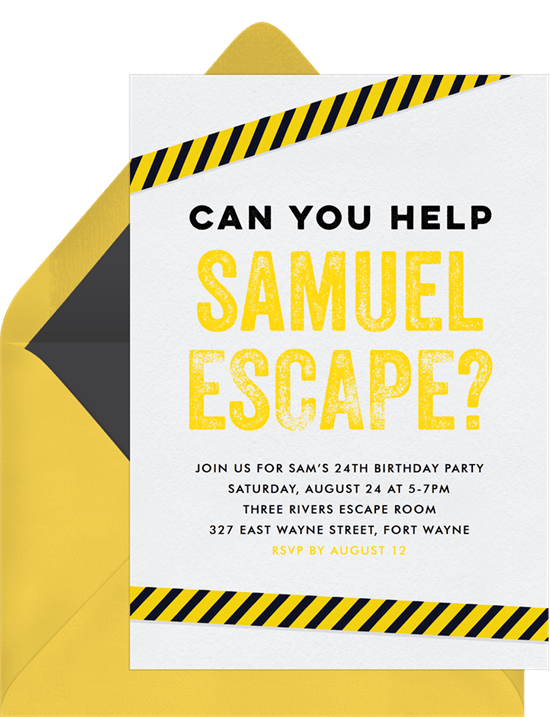 Host a friendly competition with a birthday scavenger hunt. Whether the party is for a 16th birthday or a 13-year-old, you can tailor the hunt to suit the guest of honor. Have the teens hunt for local items like a popular coffee shop or a plush toy in the park. Or you can host the scavenger hunt in your home. Here are some scavenger hunt ideas and riddles you can use for your teen birthday party.
You can also host an escape room party. Most escape rooms have birthday deals and they can even hide the birthday honoree at the end of the escape room. That way, the friends have to work through the puzzles to save the birthday honoree! 
8. Sports Party
Have a teen who loves sports? Get everyone in on the action with a sports-themed party. You can decorate your home with the guest of honor's favorite sport or sports team. For a truly interactive experience, organize a game for all the guests to participate in. These can include tag football, baseball, or a volleyball match. Of course, you'll want to serve up classic treats like hot dogs and pizza.
9. Dessert Night
Serve up delicious party food like ice cream and cupcakes at a dessert night party for a special birthday honoree. You can create a dessert table with all kinds of treats from chocolate croissants to cupcakes and pie. Or you can create a DIY dessert bar with ice cream and toppings that the teens can use to create their own delights. 
10. Board Game Party
Get ready to LOL with a board game party. Choose fun games like Pictionary, Apples to Apples, or Exploding Kittens. You can choose one or two games for a small get-together or select dozens of different games so everyone can play, even if you're inviting your entire class. You can give out prizes to winners or make the "losers" do something silly like sing their favorite childhood song while hopping on one foot.
11. Dance Party
Get your groove on with a dance party for a teen's birthday celebration. Queue up a playlist of the most popular songs or select a specific genre if you're having a special theme. You can ask guests to dress up as a particular era — think 70s disco attire or 1990s pop outfits — and pair the music to your chosen time period. Check out these guides to 80s theme parties and 90s party ideas for more inspiration. 
Have a Blast With These Teen Birthday Party Ideas
With these theme ideas, you're sure to pull off an incredible birthday party for your favorite tween or teen. Once you decide what type of party you're having, it's time to think about decorating and sending out invites.
At Greenvelope, we have hundreds of birthday party invitations for every type of event. Check out our teen birthday party invitations to match the invite to your party theme and get ready to have an unforgettably fun time.