January 21, 2021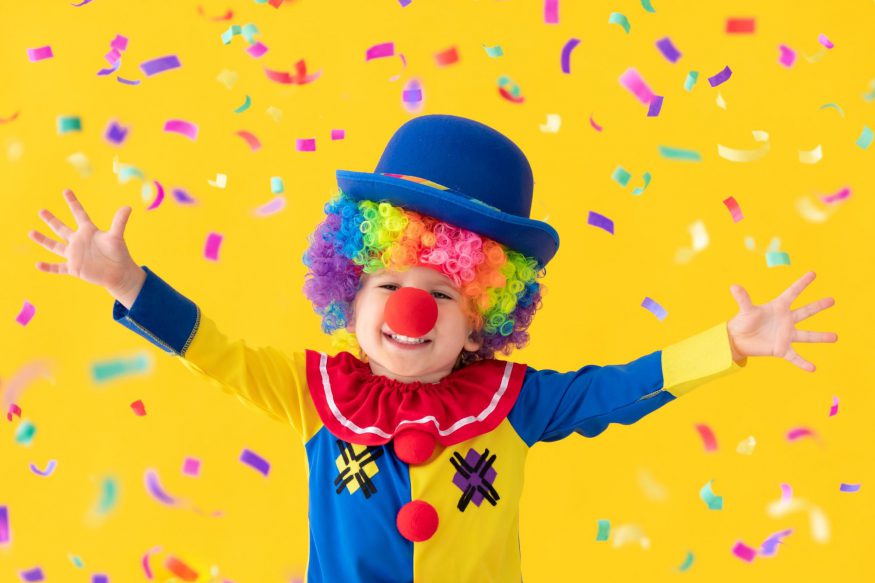 Hosting an event is all about having fun. What's more fun than throwing the most magical and spectacular circus affair in town? It'll be a day under the big tent filled to the brim with fair food, carnival games, and stuffed animal prizes. If you're thinking of hosting a circus or carnival theme party, we're here to help.
Come one, come all for a day filled with magic, wonder, and laughter at a carnival theme party. Whether you're hosting a kid's first birthday party or going all out for a bridal shower bash, you'll find tips on everything from circus party decor to carnival-themed games and tasty treats. With these ideas, your circus party is sure to be a roaring success.
How to Host a Carnival Theme Party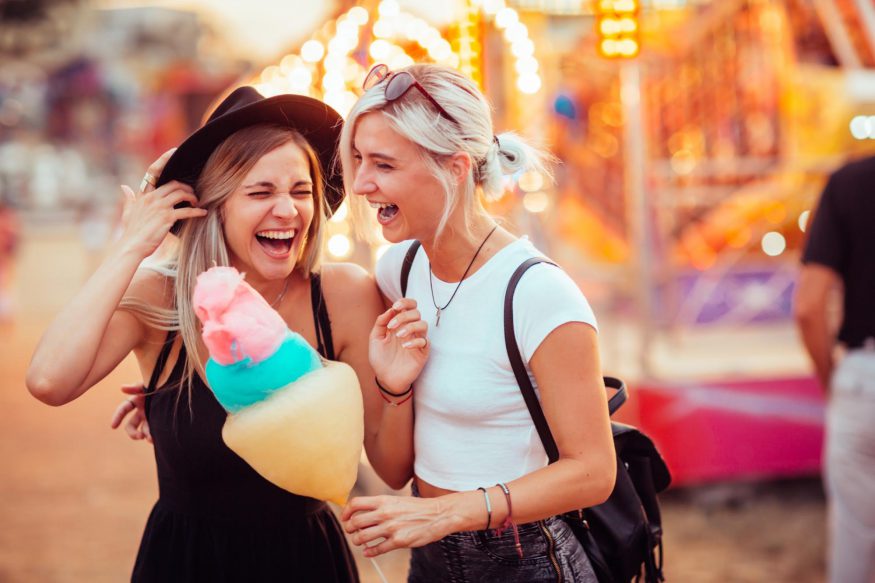 When hosting any party, the first step is thinking about where you want to host the event. You can have a lively carnival circus party right in your backyard or go for an actual visit to the fair. You can also hire a party planning company to create a circus-themed party at a venue nearby.
The best venue depends entirely on your budget and your needs. Think about how much time you have to plan the party before making any decisions. Remember that more elaborate affairs will require more legwork and thus more planning and time.
Once you've decided where you want to have your event, you can start thinking about all the fun details — from carnival food to games and activities. Need a little inspiration? Here's how to host a carnival theme party complete with circus-inspired food and decor.
Play the Part
Get into the spirit by dressing up for the event. As the host, you can serve as the ringmaster, complete with a red and gold jacket and a top hat. You can also dress up as various carnival characters like clowns, jugglers, lion tamers, acrobats, and magicians. That's what makes carnival parties such a blast: There's a character for everyone, so all of your guests can get into character for a fun-filled day.
Costumes can be as simple or elaborate as you want. For an easy approach, you can buy carnival costumes from party supply stores. Alternatively, you can make the lead-up to the big day a joy by getting together with friends or your kids to create DIY costumes. You can use clothing you already have — like a black button-up jacket for your ringmaster suit — or use simple materials like felt and cardboard to create a top hat.
Set the Stage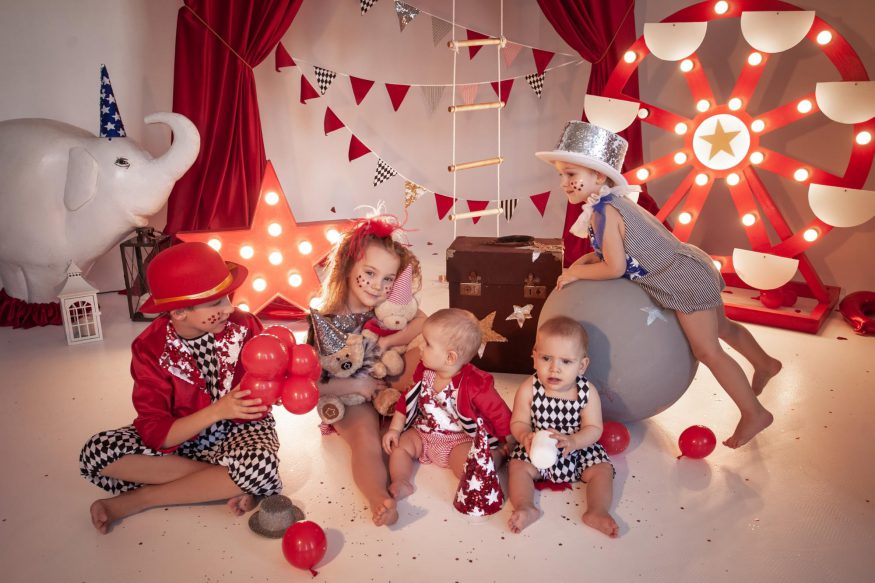 The circus theme lets you go big when it comes to setting the stage and decorating the space. If you're hosting a carnival theme party in your backyard, you can rent a tent or a carousel to create a county fair atmosphere. For an over-the-top affair, you can work with a local animal agency to have horse and donkey rides, and in some areas, you can even rent camels and more exotic creatures.
Fortunately, you don't have to shell out the big bucks to have a spectacular circus theme party. You can create decorations at home and use your creativity to make guests feel like they're really at the fair. Look for circus-themed printables online that you can use to make your own decor.
If you don't want to pay to rent a tent, you can make your own by using a pole or a large post and draping white fabric or a white tarp over it. You can also create a streamer canopy to bring the big top indoors. For another easy option, make a circus party backdrop instead.
Every circus has to have a ticket booth. Greet party-goers at the front and present them with tickets for the big fair. If the event is a carnival birthday party, you can have a birthday banner featuring the child's name or age hanging over the ticket booth. Once you've greeted your guests, send them on their way to fun activities or tasty foods.
When it comes to carnival party supplies and circus decor, magic and color are the names of the game. Most circus tents feature red and white stripes, which you can carry over to your tableware or tablecloths. Carnival decor also features vibrant hues, so you can use boldly colored balloons, streamers, and confetti to set the tone for the space. You can also place animal balloons and magic show props — such as wands, magician hats, and decks of cards — throughout the room.
Serve Fair Food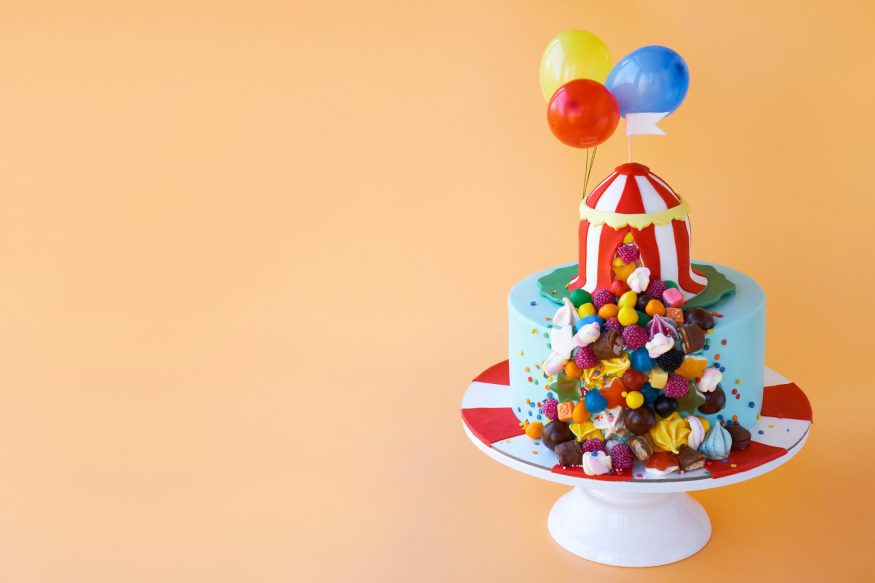 No carnival-themed party is complete without a hearty display of magical fair foods. Sweet treats like cotton candy, brightly colored lollipops the size of your head, funfetti ice cream, and snow cones are sure to be a big hit. Salty foods like corn dogs and hot dogs are also staple items.
Another popular fair food item is popcorn. You can purchase or rent a popcorn machine for freshly popped kernels (maybe dye the popcorn in colors like red and blue?), then hand it out in fun popcorn boxes. The popcorn boxes can also double as centerpieces if you're serving a larger meal. Just fill them with goodies, stickers, party hats, or party favors that guests can grab throughout the day.
If your carnival theme party is for a young child's special day, such as a second birthday party, don't forget the birthday cake. You can purchase a custom-made multi-tiered cake complete with a circus tent on top or make a simpler version at home. Betty Crocker has an easy-to-follow video on making a big top circus cake just using icing and a boxed cake mix.
You can also opt for cutesy circus cupcakes. If you're hosting a circus-themed event for an older child, you can use edible glitter to make them look fancier. For younger children, animal cookies make great cupcake toppers.
Set Up Fair Games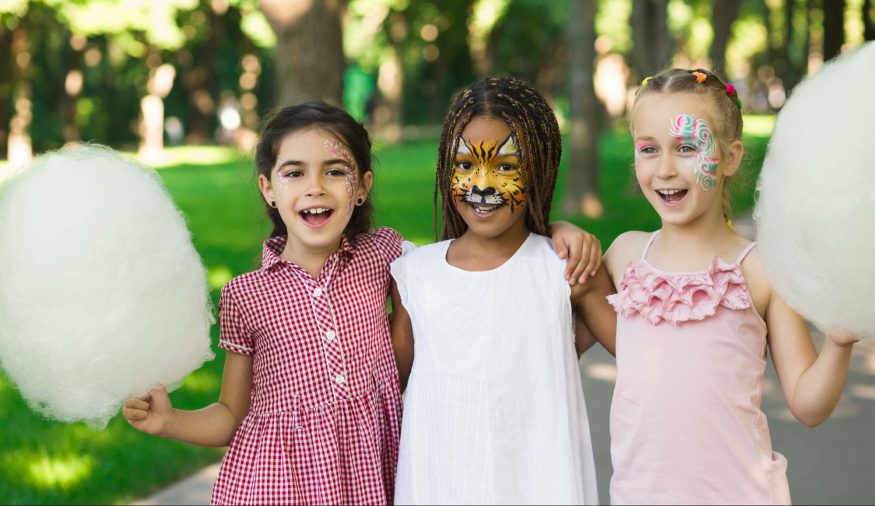 Try your luck at fun fair games and reward guests with prizes. You can work with a party supply store or party planner to rent fair games complete with costumed staff, or you can create some of the best circus games right in your own backyard. You can also offer activities, such as face painting, for younger kids.
Here are some carnival game ideas to get you started:
Ring toss:Â Choose a level area, and drive a stake into the ground. Measure 10 paces away, and put a cone or another marker where participants should stand. Guests can toss rings onto the stake, and whoever gets the most wins a prize, like a stuffed animal. You can also do a bean bag toss instead.
Strongman: Show everyone you're the strongest man or woman around with a strongman contest. You can set up a barbell and have guests lift as much weight as possible, being careful not to get hurt.
Photo booth: Let guests snap memories of the lively "a-fair" in a photo booth. Add party decorations and character cutouts for guests to have fun with.
Balloon shoot:Â One of the most famous carnival games, this activity involves balloons and darts. Simply blow up balloons, and hang them on a wall or your fence. Give guests darts, and reward them with a prize if they can pop the balloons.
Go fishing:Â Another popular circus game is the one where you try to land a ping pong ball in a fishbowl. The winner usually walks away with a goldfish, but you can also choose betta fish if you prefer.
Guess the jelly beans:Â Fill a jar with jelly beans and have guests write down how many they think are in the jar. The person who gets the closest without going over wins the jar of candy. You can also fill the jar with other items, such as small toys, different candies, or pacifiers if your circus event is for a baby shower.
Axe throwing:Â If your circus party is an adults-only event, you can set up an axe-throwing activity. An old, soft stump makes for a great target, or you can order a target and hang it on a hay bale.
Circus and Carnival Theme Party Invitations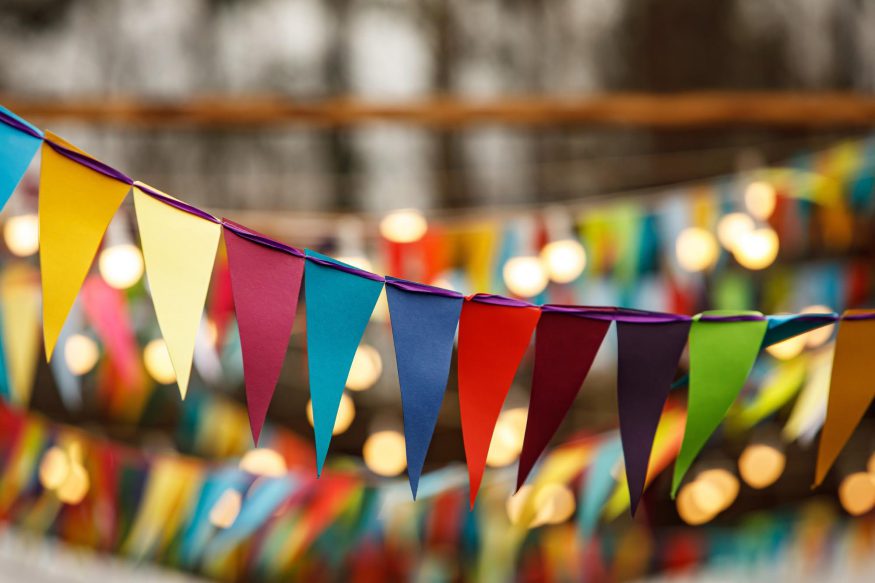 Now that you have an idea of what it takes to host a carnival theme party, it's time to start thinking about who you want to invite. Armed with your list of attendees, you can pick out and send the perfect invitations in a matter of minutes. Digital invitations, like those from Greenvelope, are a quick and stunning way to invite guests to your event. You don't have to hassle with trips to the post office or buying stamps.
With our online invitations, you pick the perfect design and customize it to suit your personality and event. You can even upload your own designs for a truly unique invitation. Sending the invites is as easy as a few clicks, and our dashboard makes it easier than ever to see who has RSVP'd and who you may need to follow up with.
Want some inspiration when it comes to carnival theme party invites? Here are six of our favorite carnival theme party invitations that will leave your guests spellbound.
1. Classic Carnival Invitation
This classic circus invite features sweetly illustrated seals, lions, and elephants — making it the ideal choice for a kid's circus-themed birthday party. The different elements can be moved around to create the perfect layout, and you can customize the font and background colors to suit your event.
2. Carnival Party Invitation
Nothing announces a carnival theme quite like hand-spun cotton candy. This fun invite also features popped kernels and circus tickets to get guests excited about the upcoming event. It's sweet enough for a first birthday and fancy enough for an adult event.
3. Christmas Carnival Card
Carnival themes aren't just for birthday parties. You can also host a circus event for Christmas or New Year's. This vintage circus invite features a hand-illustrated scene of Christmas carousels, popcorn stands, and fun rides that fit right into the circus theme.
4. Friendly Ringmaster Invitation
One of our most joyful designs, this circus invitation features a cheerful ringmaster welcoming guests to a day or evening filled with fun and magic. The star and diamond illustrations add a touch of whimsy, and the curly, festive font is sure to set the tone for a stupendous event.
5. Come One, Come All Invitation
This carnival invitation features illustrations and elements that make it perfectly suited for more elegant adult events yet fun enough for kids' parties and movie nights. The vintage carnival banner and artwork play perfectly with retro circus parties and baby showers.
6. Step Right Up Invitation
This die-cut invitation features bubblegum pink, vibrant turquoise, and classic red background options to suit any carnival theme party. The studded border adds a touch of star power, and the cursive font adds a dash of whimsical fun. Customize it by changing up the font and color to suit your event.
Bring the Circus to Town With These Carnival Ideas
Whether you're hosting a baby shower, kid's birthday, or an adult get-together, a carnival theme party is a fun way to celebrate the special moment. Filled with bright colors, candies, and fun games, this party theme is a sure-fire way to have everyone enjoy a magical event. You'll spend the day laughing and enjoying your loved ones, and you'll make memories that will last a lifetime.