July 13, 2021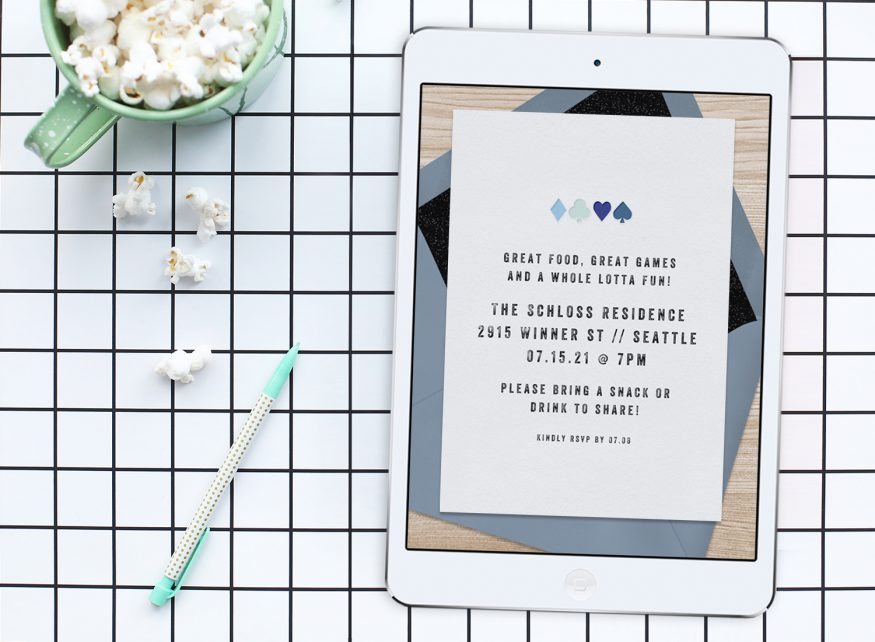 Game nights are the perfect way to bring people together — whether you opt for a classic family board game night, or a mini video game tournament with friends. Of course, you'll want to craft the perfect game night invitation to let your guests know where and when they can join you. 
In this guide, we'll help you score some winning ideas on how to create your invitations along with some event planning tips. You'll also find some of our favorite game night invite designs to help you spread the word about your fun celebration. 

How to Send the Perfect Game Night Invitation
Before you get started on your invites, there are a few things you'll want to make sure you don't forget to include. Here's a quick hit list of how to ace your game night invitation wording. 
Date and Time
Sharing when the fun happens is a must. It's something every party invite needs if you want your guests to save the date. In fact, if you're hosting a major event or fundraiser with a game night theme, you might want to send an initial save the date to your guests a few months in advance. (After all, save the dates aren't just for weddings.)
Make sure the date and time are clear on your game night invitation. Feature the full date and time if there's likely to be any confusion — for example, if you're hosting a late-night get-together that could be mistaken for a game-themed brunch. 
Venue
Most game nights happen at home where it's cozy and there's the perfect atmosphere to relax and have fun. But you may want to do something different — like hit up a retro arcade or convene at a board game cafe. 
Wherever you host your event, make sure your guests know where to find you. Include the venue name, street address, and zip code — that way there's no mistaking where you'll be when it's game time. 
The beauty of game nights is that they work great both in person and from a distance. This means you can gather your loved ones for a virtual gaming session if they can't be with you in person. If that's the case, make it clear on the invite that it's a virtual game night — and let them know that further details for joining will follow. 
Theme or Games
Whether you opt for a themed game night or not, it's a good idea to let your guests know your plans in advance. Share that you're throwing an epic board game night, a card game event, a video game tournament, or a mix of everything.
Food and Drink
Sometimes a game night is all about getting together, ordering pizza, and relaxing with some board games. Other times, it's for a more sophisticated, catered occasion — like a bachelorette party or a charity event.
On your invite, be sure to let your party guests know if there'll be drinks and snacks provided, or if they should bring a dish for a potluck-style buffet. If you're ordering pizza, you could ask for people's favorite toppings in advance via your online invitations. That way, you can order in advance so it's ready to go when your guests arrive. 
Gifting
If your game night is a casual get-together, you probably won't need to mention gifts on your invite. If you're sending a birthday party invitation or baby shower invitation though, your guests might wonder whether they should bring a gift. 
To help reassure your party guests, include a line about how only their presence is required — or share a link to a registry on your game night invitations. If you're hosting a fundraiser or similar event, you can also send a link to your donation page along with your digital invite. 
How to RSVP
One of the hardest parts of organizing any event is dealing with RSVPs. Simplify this by making it clear how your guests can confirm they're coming — whether that's by email, phone, or a social media message. 
Better still, make it super easy for your guests to RSVP by sending a digital game night invitation. With Greenvelope, they can respond directly within seconds — plus, you can use our handy details panel to share any extra info that won't fit on your invite. 
Tips for Hosting a Crowd-Pleasing Game Night
Ready to plan the best game night ever? Here are some of our favorite tips on how to plan and organize the kind of game night your friends and family members will be raving about long after the party is over. 
Decide on a Theme
While your game night doesn't need a theme to be fun, it can definitely help set the tone and give people an extra something to get excited about. Hosting a themed game night is fantastic for celebrating a big moment — like a bridal shower, birthday, or promotion — especially if the guest of honor is an avid gamer.
Think about what your guests would enjoy most and plan around that. If they love playing card games, a traditional poker night or casino-style party could be a great idea. If the birthday girl or boy loves sci-fi, consider a space-themed party for the night and play sci-fi video games together. You can get really creative here, so spend some time thinking about how you can make the event feel extra special.
Make It Collaborative
Game nights are all about getting together to have fun, joke, laugh, and challenge each other. They're also all about collaboration, so it makes sense that planning your event could be a group activity. 
Get your party guests involved in your party idea planning for a great way to relieve some of the pressure and make it more fun for everyone. Ask them to bring their favorite game to your board game night, or request ideas for video games you can play together on the couch. Ask for their input in other areas too — like the event theme, food and drink, and even prizes if you want to introduce some friendly competition. 
Add Some Competitive Elements
It doesn't hurt to bring some competition into your game night mix. Whether you go all out with a grand tournament or add some fun mini-challenges, it's a great way to liven up the evening and turn it into an immersive event. 
Make your own DIY scoreboard where you can keep track of people's scores as you run through retro video games, or award the top player in your poker tournament with a small prize. If you feel like adding some feel-good spirit to the mix, have everyone pool together a prize fund and donate it to the winner's charity of choice. 
Our Favorite Game Night Invite Designs
We love the idea of sending a themed game night party invitation to let your guests know that something fun is about to go down. With our digital invitation templates, you can customize the wording and colors to create a truly unique design. Here are a handful of our favorite game night invitations to inspire you. 
Retro Arcade Game Invitation
This retro arcade game invitation is perfect for any birthday party or celebration of all things retro. Stick with this fun vintage blue, swap to purple, or have our designers recreate this quirky arcade game invite in any color combination of your choice. 
Casino Night Invitation
Hosting a casino night for your loved ones, or as a charity fundraiser? This casino night invitation is the ideal way to get people excited about your game night. There's plenty of space for all the details, and there's no mistaking what kind of evening your guests will enjoy. 
Classic Game Night Invitation
Want to keep things traditional with a modern twist? This virtual game night invitation is a great way to ask your guests to save the date for your upcoming classic game night — where they can join you from the comfort of their home. 
Game Night Invitation
We love the simplicity and modern design of this game night invitation. The bright colors pop and the iconic card game shapes would work well for a casino theme celebration. And because you can add all the party details on the back of the invite, there's a sense of suspense and surprise!
Casting Spell Invitation
If you're hosting a Dungeons and Dragons-style gaming gathering, this scroll-like invitation is perfect. This design features plenty of character and charm, which is exactly what your guests will need to bring along with them to your otherworldly event. 
Impress Your Guests With a Winning Game Night Invitation 
Forget boring, generic party invites — surprise your guests with something personalized that they can receive right in their inbox. Look over our tips on what to write in your game night invite, then browse our game night invitations to find something that matches your theme and chosen games perfectly. Then, personalize it with your own wording and details before you hit send. It's a fun way to get your guests excited about your big night.