June 11, 2021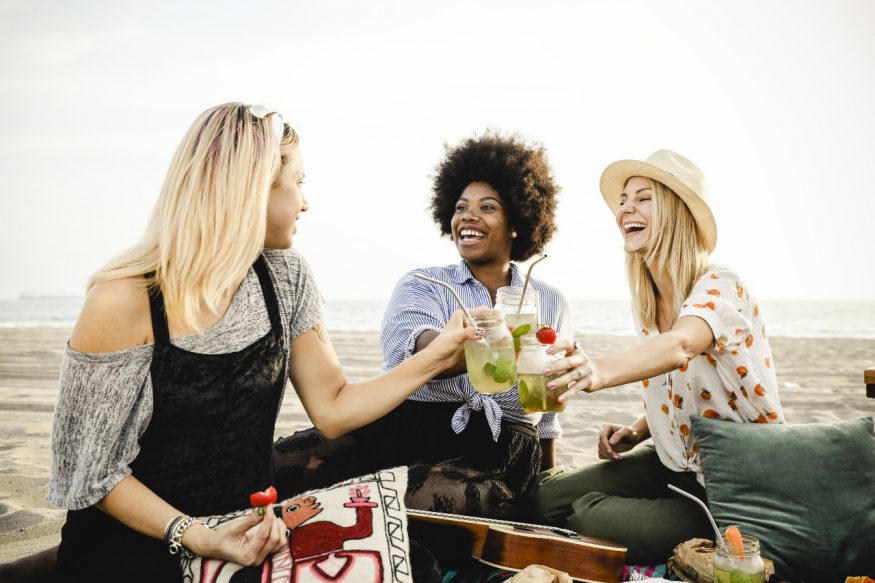 There's almost nothing better than those summertime beach parties relaxing by the waves and soaking up the sun with your favorite people. In this guide, we're sharing our top tips on how to plan your celebration, plus can't-miss beach party ideas for a fun, themed get-together. 

How to Throw an Amazing Beach Party
Beach parties are a fun choice for a variety of occasions, be it a kids' party, summer party, bachelorette party, themed birthday party, or even a baby shower. Here are some useful party planning tips to take your dream beach-themed celebration from idea to reality.
Find the Perfect Venue
For an authentic beach party experience, you're going to need a beach — or at least a fun lakeside or riverside location. If you don't have a favorite spot in mind, look for one that gives you enough space to create your beach-themed bash. Verify that you can use the area to host a gathering and follow any local guidance or restrictions when it comes to catering, music, and parking. 
If you don't have easy access to a real beach, you can easily transform an indoor or landlocked space into a beach-inspired celebration using themed party decor. Bring in some play sand, giant inflatables, beach balls, and create a themed menu that transports people to the seashore even if you're in the middle of the city. 
Choose a Beach Party Theme
Beach parties are fun all by themselves, but you can further transform the event with a specific theme. Think about why you're throwing the party, your interests, and what would make for a great experience for your guests. 
A Hawaiian luau party is always a popular choice when it comes to beach party ideas, as it gives you plenty of ways to add interest with tiki torches and fantastic live music. You could also go for a retro surfer vibe and use surfboards as part of your decor and party favors. For a kids' party, an under-the-sea or mermaid party are both sweet options. 
Invite Your Guests In Style
When it comes to inviting friends and family members to your celebration, there's no better way to kick off the excitement than with fabulous invitations. Choose an online invitation that matches your theme, party decor, and the reason for getting together.
Greenvelope offers plenty of fun beach party invitation designs — each of which you can customize to perfectly suit your event. Find a design you love, add your event details, and let your guests know exactly where and when they can join you for a spectacular beach bash. 
Beach Party Ideas for Food, Drinks, Decor, and Activities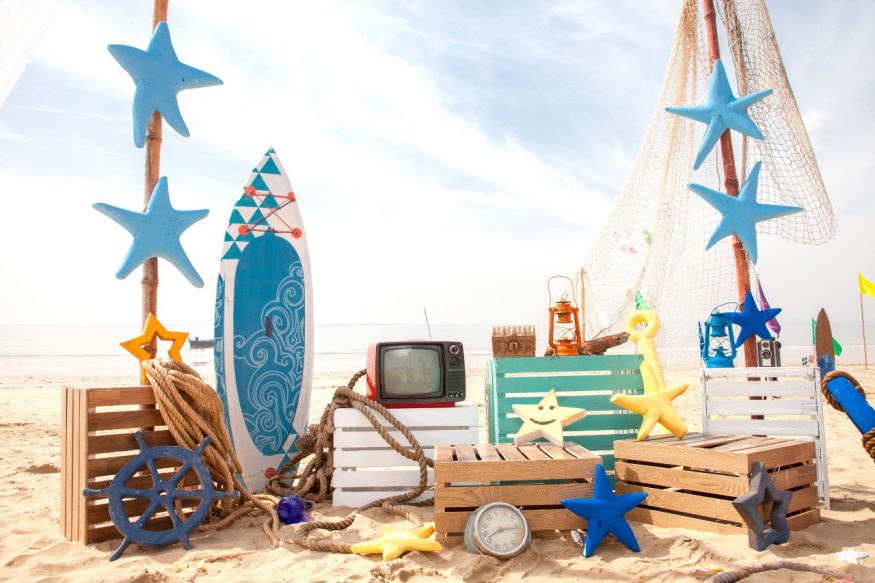 Ready to start planning an epic beach party? Here are some of our favorite beach party ideas ranging from party games to party decorations, with plenty of summer beach party food inspiration too. 
Tropical Drinks Bar
There's something exciting (and relaxing!) about sipping on a refreshing drink at the beach. Treat your party guests to a fun DIY bar with a mix of ingredients for cocktails and mocktails, plus chilled bottles of water and fresh fruit juices. You could also hire a bartender if you have the budget. Opt for drinks with bold colors and style your drink area with sand dollars, starfish, and palm trees for an island-themed experience. 
Flip-Flop Garland
Add a touch of whimsy to your event with this fun beach party idea. String up some real flip-flops or create your own DIY garland using printable images, and string it up around your party. You could also find this playful decor at your local party supply store. This motif works great to add a touch of color and a little humor too. 
Aloha Welcome Banner
Hosting a Hawaiian-themed get-together? Make your guests smile on arrival by creating your own aloha welcome banner for the entrance. It's a fun way to get creative with some paint and craft materials, especially if you get the kids involved. 
Hula Hoop Contest
Do your friends think they're hula hoop champions? Put all that bragging to the test with a fun hula hoop competition. Bring along a selection of brightly colored hula hoops and challenge your party guests to see who can hoop for the longest. This also works great as a way to entertain young ones. 
Flamingo Cupcakes 
Cupcakes are always a hit at parties, and these flamingo cupcakes are no exception. While these might take a little longer than regular cupcakes to prepare, they're an adorable way to feature these quirky animals at your beach event. 
Watermelon Slice Jell-O Shots 
If you're hosting a birthday party for adults or something fun like a bachelorette party, these watermelon slice Jell-O shots are one of our favorite beach party ideas. They're easy to make, delicious to eat, and a great way to do something unusual with this summer party staple. 
DIY Photo Booth
Give your guests the perfect space to snap those all-important party photos with a DIY photo booth. You can use the gorgeous beach as your backdrop, and add in colorful party props like flamingos, starfish, and oversized sunglasses. Not at the beach? Try one of these DIY photo booth backdrops — we love the tropical plant and beach ball options! 
Ice Cream Truck
Whether you're a kid or an adult, there's nothing better on a hot summer day than an ice cream cone. Taking your own ice cream supplies to the beach can be a little tricky, but booking an ice cream truck to serve at your event is a super idea. Ask them to stock up on fan favorite flavors with plenty of toppings for guests to choose from.
Water Balloon Battle
If your party guests don't mind making a literal splash, set up a water balloon battle. You can fill  up small balloons ahead of time and keep them secure in a portable tub with handles. When it's time for action, split your guests into teams or have them battle it out one-on-one to see who earns top water balloon bragging rights. 
Rainbow Balloon Arch
We love using balloons as party decor, and balloon arches are a great way to create a fun accent for your event. String together your balloons into an arch using this tutorial, or have your local party supply store create one for you. Place the arch somewhere special — like above your cake table, or as the background for your party photos. If you're at a windy beachside location, make sure it's securely anchored and supported. An arch could also play a colorful role inside a gazebo or covered outdoor area. 
Sand Castle Competition
What's better than a classic sand castle competition? It can make for an immersive and engaging way to bring people together. Make sure you have buckets, shovels, and accessories, and let people get creative. You can also mention this activity on your party invites so your guests arrive ready to build! 
Themed Party Favors
When it's time to go home, you want your guests to walk away with something that's a perfect reminder of the memories they've made with you. That's where beach-themed party favors come in. Decorate some cake pops to look like mermaids, or invest in some beach towels that your guests will use all season long. 
Fun Beach-Themed Party Invitations
When it's time to spread the word about your epic beach bash, you can't go wrong with an email invitation. You can customize it with all your party details and still save money and time. (No need for postage and no waiting for RSVPs in the mail!) Here are some of our favorite designs to help you get started.
Beach Babe Invitation
This beach babe invitation is a cute and quirky way to invite close friends and family members to celebrate with you by the sea. It's ideal for birthday parties, bridal showers, and casual get-togethers. 
Mermaid Beauties Invitation
We love this gorgeous mermaid beauties invitation. It's perfect for a kids' birthday party, or for anyone who's a fan of these undersea creatures. The sweet illustrative style is the ideal backdrop for your party details — plus there's plenty of space on the back for extra text. 
Beachy Tones Invitation
The hand-painted watercolor background in this beachy tones invitation is simply stunning. It's the kind of invite that works just as well for a sophisticated beach soiree as a casual meet-up with friends and loved ones. 
Throw an Impressive Event With These Beach Party Ideas
Beach parties are always a good time, even if you end up with sand everywhere. (Hey, consider it a souvenir of the fantastic time you had.) When planning your seaside celebration, be sure to scout a location where you can easily access the water and set up your decor. If you can't have an oceanside soiree, you can still use decorations to create your own beachy atmosphere. Sprinkle in some of these beach party ideas and your event will be one that certainly makes a splash.