June 22, 2021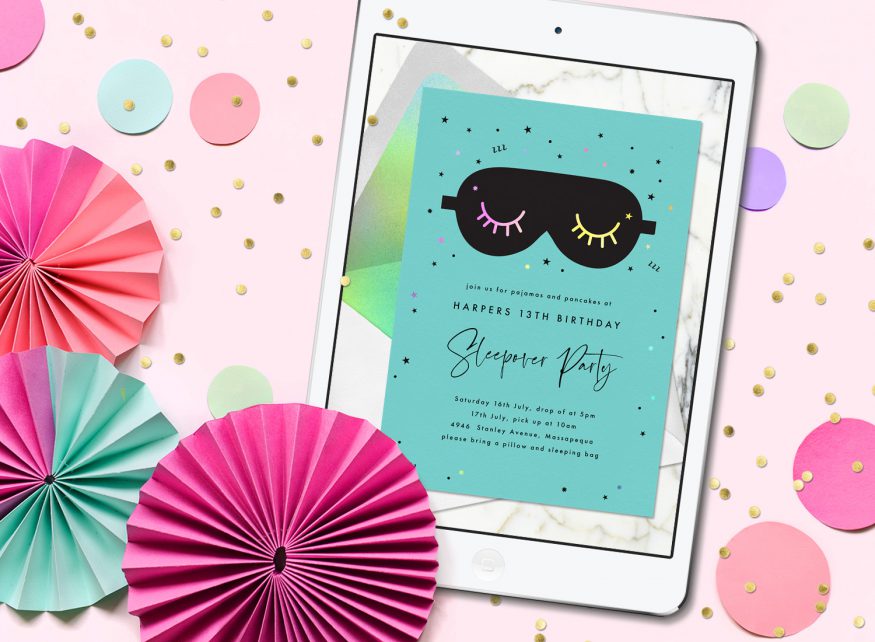 When you think of sleepovers, you probably envision giggling late into the night, cozying up on the couch with friends, and chowing down on snacks. Slumber parties are nostalgic, bringing us back to our younger years and times spent laughing with friends. But they don't have to be a thing of the past. You can host fun sleepovers for kids or adults with fun variations like camping out or other themes.
With these sleepover tips, your party is sure to be anything but a snooze fest. Plus, you'll discover stunning sleepover invitations whether you're hosting a movie night, spa slumber party, or campout.

How to Host the Ultimate Sleepover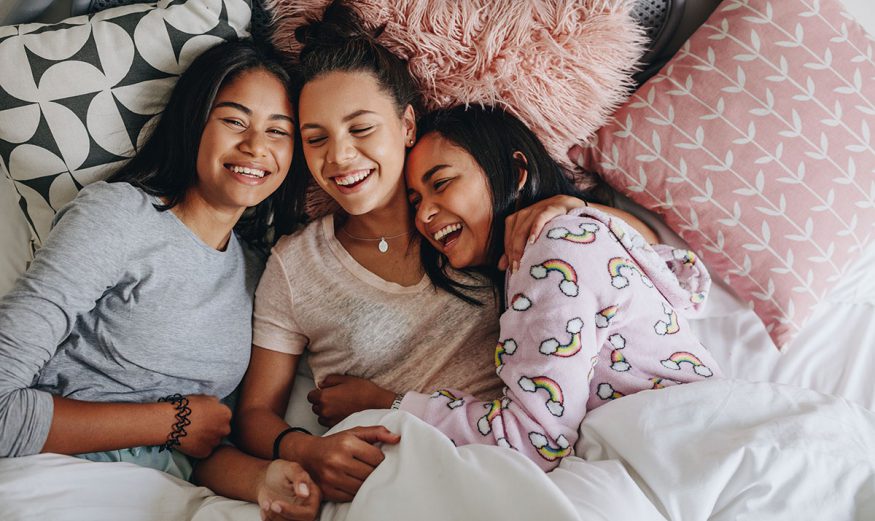 Slumber parties aren't just for tweens. Whether you're 40 planning a sleepover for your adult friends or arranging a celebration for your favorite five-year-old, a sleepover is a great way to bond with peers. Plus, this event can be as elaborate or laid-back as you want. Get ready to have the ultimate sleepover with these fun activities, themes, and decor ideas.
Slumber Party Themes
Adding a theme can instantly turn a simple pajama party into a more put-together event. If you're hosting a sleepover, think about inviting guests to dress up as part of a theme. Some theme ideas for sleepovers include campouts, movie nights, spa retreats, and glow-in-the-dark nights. For a campout, you can have everyone bring their sleeping bag and camp inside on the living room floor or out in the backyard in tents. Roast marshmallows and tell ghost stories, just like a real summer camp adventure.
Movie night themes are also perfect for sleepovers. Choose a movie franchise — like Lord of the Rings, Harry Potter, Star Wars, or Fast and Furious — and plan on binge-watching every single flick. You can even have attendees dress up as their favorite characters for added fun. 
For something a little more relaxing and rejuvenating, plan a spa sleepover. You can set up a mini at-home spa area where you can do manicures, pedicures, and facials. Have guests dress up in their comfiest robes and queue up the spa music to greet them on arrival.
For kids, glow-in-the-dark parties keep the laughs going late into the night. You can use glow sticks to turn each child into a stick figure. For older kids, glow-in-the-dark paint can be used to create costumes or art activities that will keep them entertained. For younger kids, glow-in-the-dark stickers are a great alternative to paints.
Slumber Party Activities and Food
What's a party with food? (Not much of a party at all!) The fantastic thing about sleepovers is that the food is easy. You don't have to spend countless nights crafting a tiered fondant cake or working with a caterer. Instead, these events are all about the snacks. Stock up on candies and salty snacks like nuts and crackers. For adult events, have fun preparing a gorgeous charcuterie board or plant-based board with hummus, crudite, and fruit selections. Other sleepover staples include popcorn and pizza if you're feeding the masses.
Besides food, sleepovers are all about activities. Whether it's enjoying a backyard cookout or watching movies, activities are the heart of sleepovers. 
Here are some ideas to liven up your next slumber party:
Set up a dessert bar

: Include items like cakes, cupcakes, ice cream, sprinkles, gummy worms, and other fun toppings.

Make DIY friendship bracelets

: Use different colors of yarn for young children or get more intricate with beads, jewelry wire, or macrame for older kids and adults.

Have a dance party

: Rock out and get your groove on with a dance party — perhaps with a retro theme such as an

80s party

or

90s celebration

. Curate a playlist with all your favorite tunes or go all out with a

karaoke app

and belt it out.

Play with makeup

: Give your friends a makeover using your favorite products so you can discover new techniques and tools. Make it silly and do blindfolded makeup if you want a few extra laughs. 

Watch a movie marathon

: Movies and slumber parties go hand in hand. Put on your favorite flick or binge-watch the latest series on Netflix. Don't forget the movie theater popcorn and

classic candies

like Milk Duds, Whoppers, and Nerds.

Do an experiment

: One way to keep kids entertained is to conduct an experiment. Play with slime to create new creatures or make geode necklaces. Try these great

sleepover science activities

if you need more ideas.

Have a pillow fight:

Don't forget this classic sleepover activity. Grab some soft pillows and duke it out with friends until you collapse in laughing fits.
9 Dreamy Sleepover Invitations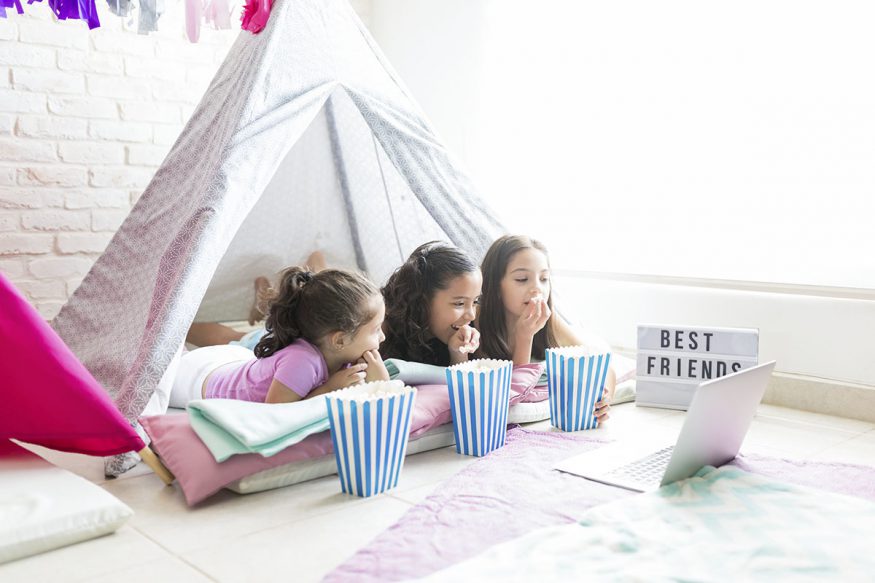 Whether you're hosting a themed party or a casual get-together, sending out invites is essential. With fun slumber party invitations, you can tell guests where and when you're hosting the event. Plus, you can use the invite to announce your theme and outline any other important party details — like gifts if it's a birthday party or if they need to bring anything special. 
At Greenvelope, we offer a huge range of invitations from 1st birthday invitations to sleepover invitations. Our digital invites are customizable and you can even upload your own design. Best of all, you don't have to run to the post office to send them out. Simply choose a design you love, add the event details, and hit send to let your friends know about the party in minutes. Our digital dashboard makes it easy to track RSVPs and send updates. 
Here are some of our favorite sleepover party invitations that are sure to excite your guests.
1. To Infinity And Beyond Invitation
This movie theme party invite is out of this world and perfect for slumber party events. Use it to announce a child's birthday party with a Star Wars or astronomy theme. 
2. Sleep Mask Invitation
This spa party invitation features a dusting of stars and hints of gold foil that add glamour. It's well-suited for a boy and girl birthday that has spa activities. Customize the background colors and swap the white envelope to match your theme. 
3. Pizza Party Invitation
This sleepover birthday party invitation is sure to get your guests' mouths watering and their feet running to your event. Quirky and fun, it perfectly represents slumber parties and can also be used for other casual gatherings.
4. Fireside Camp Invitation
This outdoorsy invite features clean lines and modern drawings of tents, campfires, and the great outdoors. It's perfect as a slumber party invitation as well as for wildlife-theme baby showers and birthday party invitations. The invitation design is entirely editable, so you can put your own spin on it by changing up the font, colors, and message.
5. Pajama Jam Invitation
This pajama party invitation is ideal for a girls' slumber party or for a boys' birthday gathering. The hand-drawn illustration features a touch of whimsy and humor, two essentials for any successful sleepover. Your guests will be hopping into their jammies and heading your way after receiving this festive invite.
6. Sleepover Party Invitation
Featuring a hand-painted teepee, this joyous invite announces an upcoming sleepover in style. Customize the invitation template by choosing from various color schemes and adjust the font to fit your personality or party theme.
7. Party Flamingo Invitation
This colorful invite features a watercolor flamingo wearing a party hat. The polka dots in the background mimic the look of confetti, making it perfect for celebratory events like birthdays, baby showers, or bridal showers.
8. Slumber Party Invitation
This sweet slumber party birthday invitation is a win for younger children. It features a cheery cloud and moon adorned by delicate star bursts, perfectly setting the scene for a fun and relaxing birthday slumber party or overnight baby shower.
9. Classic Movie Night Invitation
This movie-night invitation card is glamorous and classic, making it suitable for events with older kids and adults. The card features bold text and a classic film camera that can be customized to suit your tastes. Use it for a slumber party featuring classics from Alfred Hitchcock and Steven Spielberg or modern favorites from Kathryn Bigelow and James Cameron.
Send the Perfect Invites Every Time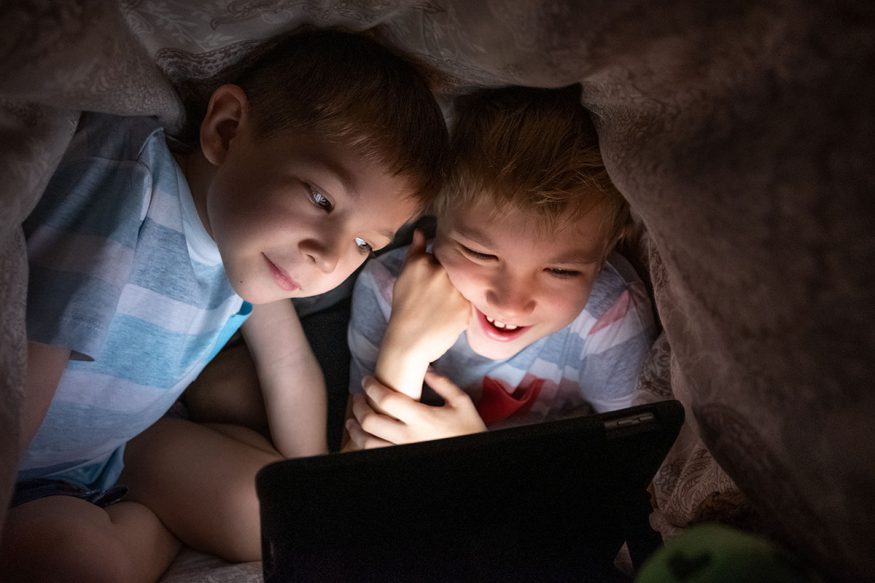 With Greenvelope, you can send stunning invites no matter what kind of party you're hosting. Whether it's a casual event like a sleepover or backyard cookout, we've got you covered. You'll find invites from glamorous and chic to laid-back and humorous to suit your event. For additional party and birthday ideas, continue perusing our Stationers blog. You'll find hundreds of party themes, decor, and design ideas to help you pull off the perfect event.