July 28, 2022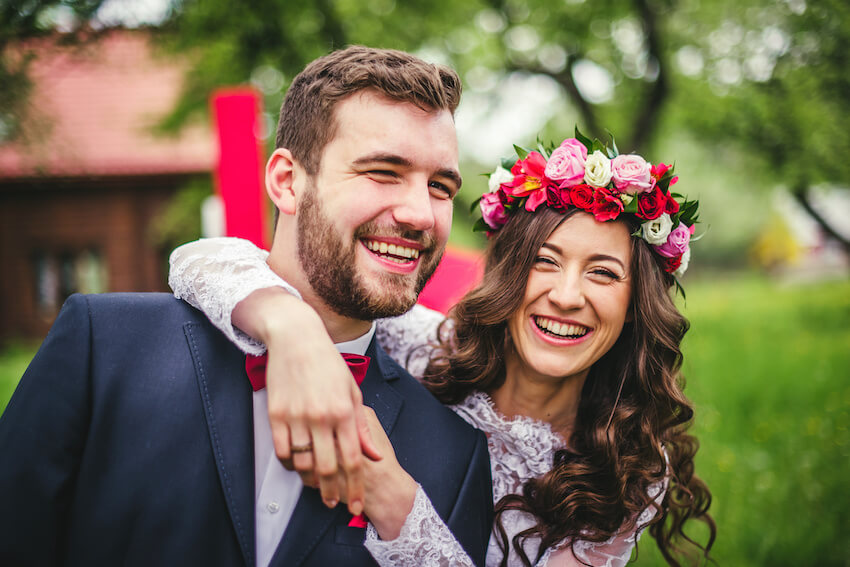 Planning a second wedding can get a bit confusing as there are lots of questions related to traditions, rules, and etiquette. At the same time, there's a certain beauty and freedom of not feeling tied to first wedding expectations. 
Let's explore second wedding etiquette and what the "rules"are. Plus, we'll share all of our favorite second wedding ideas, so you can plan a beautiful day that you'll always remember. 

Second Weddings and Etiquette
When it comes to planning a second wedding (also called a remarriage), many people worry about what's considered right and wrong. We say, leave those worries behind. You get to decide what works for you and your fiance. Still, there are some general guidelines you might want to consider. Here's your quick and easy guide to second wedding etiquette. 
Giving the Bride Away
Once upon a time, a bride's father would give her away. But you might be wondering what happens for a second-time bride. 
If you're following tradition, it might feel odd to be "given away" after you already had the experience with your first marriage. There's no reason to follow this through unless it's dear to you. Feel free to have your father(s) or anyone you wish walk you down the aisle. And if you'd rather bypass this old tradition, that's perfectly fine too.
The Wedding Party
At a traditional first wedding, the happy couple is usually joined by a wedding party with groomsmen, bridesmaids, a ring bearer, and a flower girl.
There's no rule that says you can't have a wedding party at a remarriage, but many couples opt not to include them — often because the wedding is smaller or less traditional.
Dresses and Veils
People often say that a bride can't wear white to a second wedding, but we say why not? If you or your partner plan to wear a dress, there's no good reason why it can't be any shade of white or any color you wish. Don't feel limited to ivory or off-white if you want a traditional look. 
For couples who love tradition, one thing to consider is a veil. It's meant to symbolize modesty (among many other things), so if you're opting for a more traditional or religious ceremony, you might choose not to have one for a second wedding. For something just as beautiful, try a tiara, bejeweled hair clip, or floral crown to match your wedding flowers. 
Your Guest List
Another area that couples might stress about is the wedding guest list. You might be wondering whether to invite your partner(s) from a previous marriage, or how to approach inviting friends that you and your former spouse shared together. 
The great news is that like all things related to weddings, it's completely your choice. Invite whoever you wish to your second marriage — including former partners, former in-laws, and people who attended your first wedding. Talk things over with your partner and figure out what suits you best. 
When you're ready to send out your invites, it doesn't get easier than online invitations. With Greenvelope, you're sure to find a design that works for you — whether you're planning a destination wedding or a backyard wedding at home. 
Pre-Wedding Events
Many couples feel like they have to forgo traditional pre-wedding events in a second marriage. This is often because many second weddings are more low-key with smaller guest lists.
Second weddings shouldn't feel any less special than your first. There's no reason why you can't have a bridal shower, bachelor party, or bachelorette party all over again if you want. 
Asking for Gifts
Couples planning a second wedding often meet later in life, so they have all the things you'd expect to see on a traditional wedding registry. That doesn't mean you can't create a registry or that guests won't want to bring a gift. 
Expect your guests to treat this wedding like any other, and be ready to receive gifts from your loved ones. Create a wedding registry if you wish, or put together a honeymoon fund instead if you'd prefer cash gifts toward your post-wedding vacation. You could also encourage your guests to make a donation to a chosen charity instead. 
Remember, it's your wedding day. You don't have to follow tradition or be led by others' expectations. Embrace your individuality, discuss your preferences with your fiance, and plan a wedding day that's uniquely yours. 
9 Second Wedding Ideas for an Incredible Party
With a second wedding, there's often a lot less pressure. This means you're free to embrace what you really want without adhering to tradition. With that in mind, enjoy these fun ideas for your second wedding. 
1. Choose a Theme You Love
With your remarriage on the horizon, have fun experimenting with a theme you really love. This is perfect if your first wedding didn't feel very "you" or if you want to create a magical experience with your partner. Host an underwater themed wedding, transport everyone to the Mad Hatter's tea party, or go ultra-luxe with a red carpet-themed event — the choice is yours. 
2. Consider an Elopement or Minimony
Some couples love the idea of a big wedding, but others prefer a cozy ceremony for their second wedding ceremony. Escape the busy-ness and plan an elopement with just the two of you, or host a micro wedding for your closest loved ones. 
3. Wear What Your Heart Desires
There's no rule that says you have to wear a tuxedo or white dress for your special day. Use this as an opportunity to wear whatever you like — whether that's a bright pink tea-length wedding dress or a pair of chinos and a patterned shirt. Have fun with your footwear and accessories too, and encourage your loved ones to do the same. 
4. Embrace Color
Traditional first weddings often feature subtle color palettes with lots of earthy, natural tones or pastel pinks and blues. For a fun second wedding idea, why not introduce more color to your celebration? Feature bold, bright colors across your wedding decor, table decorations, centerpieces, and even your wedding cake for a wonderful way to make your event stand out. You could also do a rainbow wedding theme.
5. Look for an Amazing Venue
Say goodbye to a traditional wedding venue and hello to a place that feels perfect for the two of you. A nontraditional wedding venue is perfect for your upcoming nuptials. Ask if you can book your favorite restaurant for the ceremony and reception, or take your guests on an adventure to your most-loved theme park, museum, or gallery instead. 
6. Make the Food and Drink Fun
One of our top second wedding ideas is to have more fun with your food and drink options. Book a selection of food trucks to serve your guests tacos, pizza, and burgers, or ask everyone to bring a dish for a potluck-style family dinner. Create your own cocktail and mocktail menu, or set out bottles of your favorite wine for guests to enjoy. 
7. Get Your Loved Ones Involved
With the pressure of your first time hosting a wedding gone, your second big day is a wonderful opportunity to get your close friends and family members involved. Ask someone close to you to be your officiant, or ask your best friend to help with wedding planning. Make it a team effort and enjoy the company and support of your loved ones. 
8. Try a Surprise Wedding
One of the best second wedding ideas is to surprise your loved ones with your nuptials. Make getting married for the second time even more exciting with a surprise wedding. Plan your big day in secret and invite your guests over for a house party, then have them gather around to watch you say your wedding vows. 
9. Host a Unique Wedding Reception
It's your big day, so plan a wedding reception that's as unique as you are. You don't have to stick with the traditional wedding speeches, sit-down dinner, and dancing to a DJ's playlist. Whether that's a relaxed gathering with fairy lights in the woods, or an evening of bowling and karaoke, create a moment that celebrates the two of you as a couple. 
Plan Your Dream Day with These Second Wedding Ideas
Like any wedding, a second wedding is something special for the two of you to treasure. While there are some second wedding etiquette guidelines, ultimately you get to decide what you want your big day to look like. 
With your event all planned, look for wedding invites that are just as memorable as you are. Our collection of wedding invitations come in a variety of themes and designs, with the option to customize colors, layout, and wording, making them the perfect partner for your beautiful celebration of love.