June 11, 2020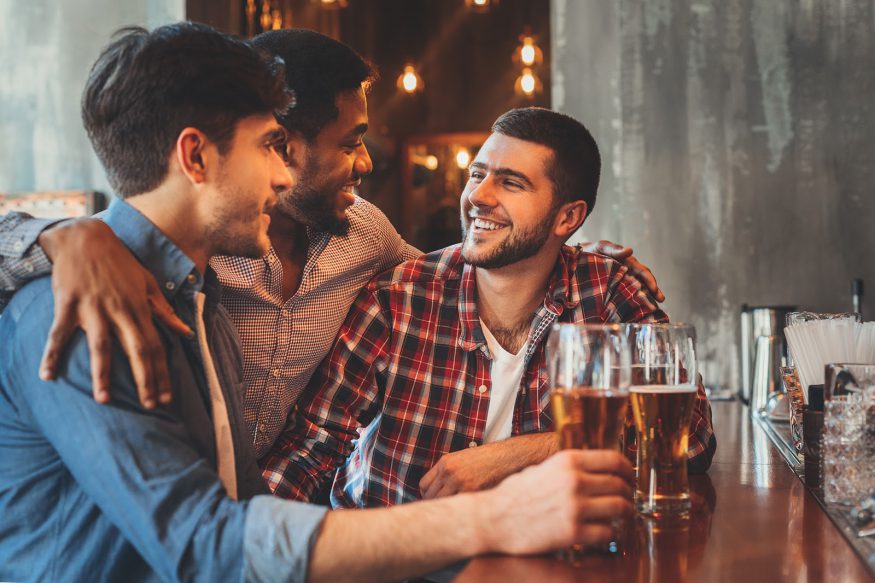 Bachelor parties are the perfect way to bring the groom's closest friends and family together ahead of the wedding. And with the right bachelor party ideas, you can create new memories and treasure old ones before the groom-to-be embarks on his next journey with his partner. It's an ideal excuse for a party, a once-in-a-lifetime trip, or a thrilling new experience.
If you're planning a bachelor party for a very special guest of honor, it can be tough to know where to start — especially if you want to plan something out of the ordinary. You can plan a wild night out to celebrate, but you don't have to if that's not the groom's style. We've got plenty of bachelor party ideas for every preference.

Our Top Bachelor Party Ideas
There's a world of opportunity out there, and a bachelor party is the perfect time to create a memorable day, night, or weekend for the groom and his closest friends. Here are some of our best bachelor party ideas, including traditional favorites like Las Vegas and bar crawls, and modern takes like brewery tours and gaming nights.
1. Road Trip
Take a trip that you'll all remember with a cross-country road trip. Plan your itinerary around your guest of honor's favorite cities, or take a themed road trip across the United States. Don't forget to include a stop at a National Park or two to take in the scenery. If not everyone can join you for the full road trip, arrange events in different cities along the way.
2. Skydiving
Tick an activity off the groom-to-be's bucket list and arrange a trip to go skydiving. Experience the thrills and views of an afternoon of skydiving, guided by experts. This is one for the thrill-seekers among you.
3. Paintball
For an exhilarating bachelor party idea look no further than paintball. It's a great way to release energy, have fun, and work together as a team to win the game. Take the stakes higher with a prize for the winning team and a friendly dare for the losers — if you can handle it.
4. Las Vegas
Treat the groom-to-be to a traditionally decadent trip to Las Vegas for a memorable bachelor party. Visit the casinos and take in the sights at this famous bachelor party haunt. Whether you celebrate in the style of The Hangover or opt for a more laid back affair, it's a city full of entertainment and wonder.
5. White Water Rafting
If you'd like a challenge but aren't a fan of heights, white water rafting is another great bachelor party idea. For both experienced rafters and those new to the sport, it combines a sense of danger and excitement with a whole lot of fun.
6. Bar Crawl
Not everyone wants to spend their stag night trying a new extreme sport, and that's okay. A bar crawl or pub crawl is a fun way to get everyone together for a few drinks and a night of laughter. Take a trip around your favorite bars in your hometown or book a weekend away in a city the groom has always wanted to visit.
7. New York City
Alongside Las Vegas, New York is another popular bachelor party destination. The Big Apple has something for everyone, so whether you're planning to experience the nightlife or take in a Broadway show, New York is a great location for a memorable weekend with the groomsmen.
8. Bungee Jumping
Try your hand at another extreme sport with bungee jumping. This is perfect for adventure seekers, and it's a thrilling way to start off the day before relaxing for the afternoon and heading to the city for a late night.
9. Brewery Tour
Bachelor parties are famous for their debauchery, but if a bar crawl isn't your groom's idea of fun, why not try a brewery tour instead. Research local breweries or book a trip to visit the home of his favorite beer for a sophisticated take on a bachelor party classic. If your guest of honor isn't a fan of beer, try a distillery tour instead.
10. Laid Back BBQ
Sometimes the best way to celebrate the groom's upcoming wedding is to keep it low-key. Gather his family and best friends for a relaxed backyard BBQ, with good company, good food, and good drink.
Can't find a yard suitable for your BBQ bash? Take it up a notch by renting a beach house for the weekend and host in luxury. If the groom's partner isn't having a separate bachelor or bachelorette party, this can be a fun and simple way to bring everyone together for a co-ed celebration ahead of the wedding.
11. Scavenger Hunt
For a fun twist on a bachelor party, why not take your guest of honor on a tour around the city with a scavenger hunt. Have him and his friends scout around, seeking clues themed around his life, journey, and future. Make this a team game and see who can reach the end of the hunt the fastest to win a prize or just bragging rights. Start the fun by including the first clue on your digital invitations.
12. Rock Climbing
If the groom-to-be loves the outdoors and spending his weekends hiking or climbing, see if you can find a rock climbing adventure for his bachelor party. Climbing is a great way to experience the beautiful landscape and enjoy some laughs with friends. If an outdoor climb feels too challenging, look for an indoor climbing centre where you can combine this with another activity like laser tag or bowling.
13. Sporting Events
Even if you're a sports lover, you might not always want to get involved yourself. For fans of the game, tickets to a top sporting event can make a great pre-wedding gift and are an excellent way to spend a bachelor party. See if you can upgrade the party's tickets or combine the event with a bar crawl for a memorable evening.
14. Winter Sports Getaway
A bachelor party can be the perfect excuse for you to get everyone together for one of those memorable trips you never got around to taking. Rally the groom's closest friends for a winter sports getaway. Ski, snowboard, and try other alpine sports in a mountain location.
15. Video Game Night
A night out isn't everyone's idea of the perfect bachelor party. If your groom prefers a night in with video games, stage the ultimate game night. Bring everyone together for a retro game night, or host an all-nighter where you battle it out against each other on the latest release. Make it the perfect evening with plenty of pizza, snacks, and a fully-stocked bar.
Need To Host a Virtual Bachelor Party?
Sometimes life throws you a curveball and that perfect bachelor party you had planned starts to feel impossible. If you have to make the switch to a virtual bachelor party, there are plenty of ways you can still create a memorable night for everyone.
Instead of hosting a game night in person, hop on a video call and take the tournament online. While you can't make it to a casino, there are still ways you can enjoy the fun and games from a distance. And even though a team scavenger hunt is tricky, you might be able to pull off a fun scavenger challenge for the groom to complete or swap it for a team trivia night.
If the wedding has been postponed and you want to move the bachelor party to a later date, you can still mark the original day or weekend with one of the fun, online ideas above. To let everyone know about your plans, it's easy to make a few changes to one of our bachelor party invitations and turn it into a virtual event invite.
Plan a Memorable Bachelor Party with Ease
Whether you're planning an epic adventure in Las Vegas, a chilled BBQ with friends, or an adventurous, extreme sport outing, what matters most is that you're celebrating the groom and his future happiness. Keep your guest of honor's personality, wishes, and hobbies in mind, and you're sure to create a bachelor party everyone will remember.