July 26, 2022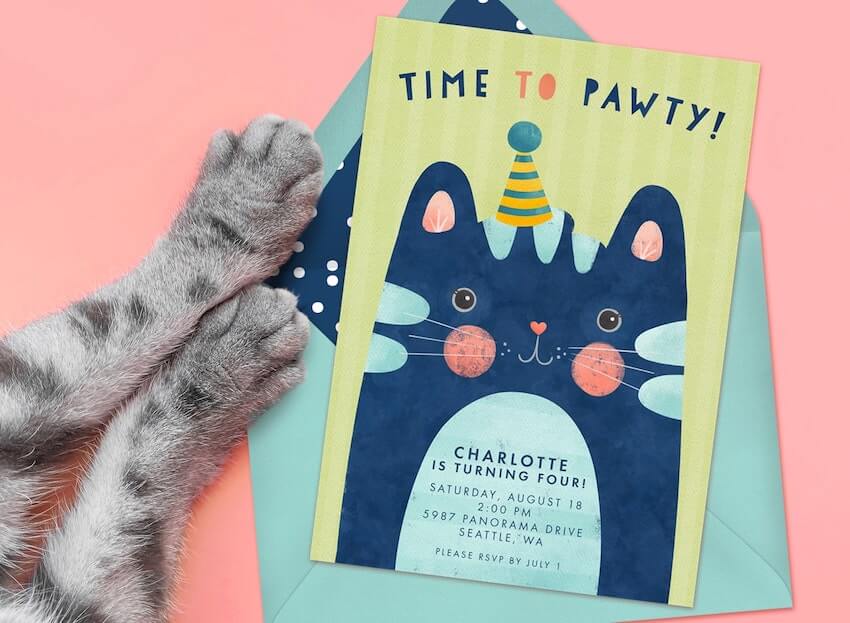 Hey, cool cats! If you want to go all out on your birthday — or your cat's birthday — then a theme party would be the cat's pajamas. (And now that we think of it, a "cat's pajamas" theme would be purrfect for a slumber party.)
Cats should be every birthday girl and boy's inspiration. After all, cats do what they want all day, every day. If that's not birthday energy, then we don't know what is. So for your special day, embrace your inner feline with a fierce party theme.
A cat birthday party theme has so much paw-tential. You can fill your space with kitty cat party decorations, serve up some sushi (what else would a cat eat?!), and wear cat ears instead of party hats. But before you get your claws into all the party details, the best place to start is with your birthday party invitations.
Your invitation cards are your guests' first introduction to your birthday party. Make a big Maine Coon-sized impression by sending out invitations that are the cat's meow. We'll help you choose the purrfect cat birthday invitations for your party, plus we'll share some of our favorite messages to get the party started.

8 Cat Birthday Invitations to Announce Your Pawty
Felines are notoriously fussy, so we haven't rounded up just any old cat birthday party invitations. We couldn't handle the sass if all the cats and kittens out there thought they were getting anything but the best. So we're only showing you cards that are digital invitations, which you can customize to your cat's content.
You can adjust the colors, change the wording, and even add music that plays with an instant download when your guests open their invites. We're picturing "Stray Cat Strut" or "Everybody Wants to Be a Cat" blasting alongside your birthday cards.
Here are eight completely customizable cat birthday invitations.
1. Time to Pawty Invitations
This pretty kitty invitation is the purrfect pawty invite for kids birthday parties, cats birthday parties, or whimsical adult birthday parties. It's available in three different color schemes so you can style this cute cat to match your party decor.
2. Pawty Paw Prints Invitations
Sure, the paw prints on this invite could've come from a dog (hiss!), but we all know cats are the ones who walk all over your stuff. Customizable to any color scheme you can dream up during your cat nap, this card is ideal for cat lovers of all ages. And you can customize the text with a funny feline phrase.
3. Otomi Inspired Invitations
We love the crafty cat hidden among the birds on this colorful kitty invite. While this invitation may originally be from the Cinco de Mayo cat-egory, you can change the text to read "kitty cat birthday party" or "feline fiesta," then send it out as a cute kitten birthday invitation.
4. Get Wild Invitations
This bengal-inspired invitation was originally designed for a baby shower. But with a quick update to the text, you can transform it into the ideal invite for your cat birthday celebration. For a kid's birthday, change the text to say "Let's Celebrate Our Wild Child." For an adult's birthday, try "Let's Celebrate One Cool Cat." And if you're going to play games at your cat birthday party, this invite is begging for a claws that reads "No Cheetahs Allowed."
5. Our New Addition Announcements
While this greeting card is meant to be a new kitten announcement, it also makes a charming adult birthday invitation. The photo window can be updated with any image worthy of announcing your feline fĂŞte. Simply add a photo of your favorite feline or funny cat meme into this invitation template to make it your own.
6. Glamorous Witch Invitations
Halloween isn't the only time we want to hang with our witches! For a girl's birthday party or a grown-up girl's night, invite your entire coven and their cats with these Glamorous Witch invitations. (Every witch needs their feline familiar!) Although the invite has strong Halloween vibes, it's also purrfect for a full-moon party or any party with a little mystical entertainment, like tarot card readings, crystal balls, and witch's brew.
7. Get Wild Tiger Invitations
We love cats big and small, and if you want an extra ferocious invite for your feline-themed party, then this tiger invitation is ready to go roaring into your guests' inboxes (perhaps with a little "Eye of the Tiger" playing as background music). You can customize it to any color, and the "Get Wild" text lets guests know they're in for a lot of feline fun.
8. Photo Birthday Invitations
If you have your own precious pet, then they would look paw-sitively adorable on your birthday party invitations. If your cat birthday party is literally in celebration of your cat's birthday, then it will be trés apropos to feature the feline with a photo. By choosing any photo birthday invitation, you can customize it with your own cat pic, or you can add a funny cat meme. To double down on the cat theme, try this Wild Cheetah Invitation with cheetah print text and room for your favorite feline photo.
Funny Feline-Themed Messages to Add to Your Invites
Since the text on digital invitations is completely customizable, you'll have plenty of room to add clever cat phrases and purrfect puns. These messages will have your guests grinning like Cheshire cats.
Check me-owt! It's my birthday!

Get your paws on this party invite!

It's the cat's pajama party!

You're invited, Furriend!

Join us for a warm and fuzzy celebration.

Time for wishes on candles and whiskers on kittens — it's a birthday party!

This birthday will be filled with giggles and butt wiggles!

This party is gonna go down in hiss-tory!

This party has the whole kitten caboodle!

It'll be a paw-sitively good time!

Time to get my claws into some cake!

Paws for a moment to read these party details.

Read these party deets! (They're not just fluff.)

RSVP

: Count me in or count meowt
Cat's Got Your Invite
Once you get your cat birthday invitations picked and sent out, you can go back to focusing on other things, like making the cutest cat birthday cake or choosing the purrfect party supplies. By far the fastest way to send out your birthday invites is with online invitations.
Online invitations allow you to personalize your cat birthday cards with your own photo, message, or color scheme. You can add all your party details, upload your guests' email addresses, and send invites to their inboxes in a matter of minutes.
You can also track your RSVPs online and send out reminders to any guests who haven't responded. That way, you won't have to play an elaborate game of cat and mouse just to find out who's coming to your party.
Plus, unlike paper and printable invitations, digital invitations won't end up littering our landfills — because the only litter we like are litters of kittens. And we're not kitten around when we say that we hope you have a very happy birthday!