June 10, 2020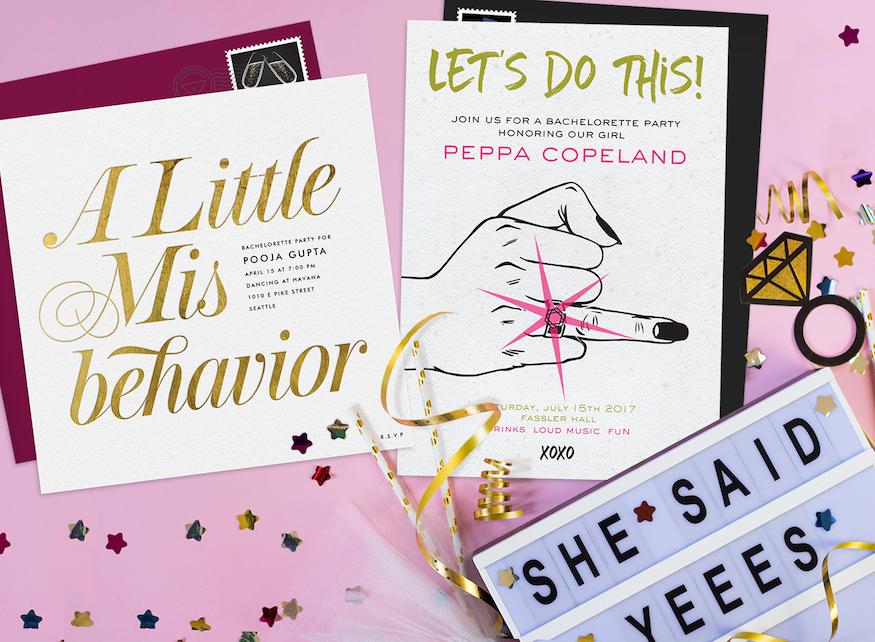 From a fancy fĂŞte to a low key bash, there are so many different ways to celebrate a bride's last days of being single. If you're planning your best friend's bachelorette party and looking for options, we've got a few ideas.
Whether the bride-to-be prefers to sing her heart out at karaoke bars or spend time in nature, you'll find a celebration she'll love. At the end of the day, a bachelorette party is all about celebrating the bride-to-be. Choose one of her favorite activities, and she'll have a great time.
Without further ado, here are some of the best bachelorette party ideas for the final fling before the ring. Plus, we've added a few stunning bachelorette party invitations to get the bride's crew excited about the event.

The 18 Best Bachelorette Party Ideas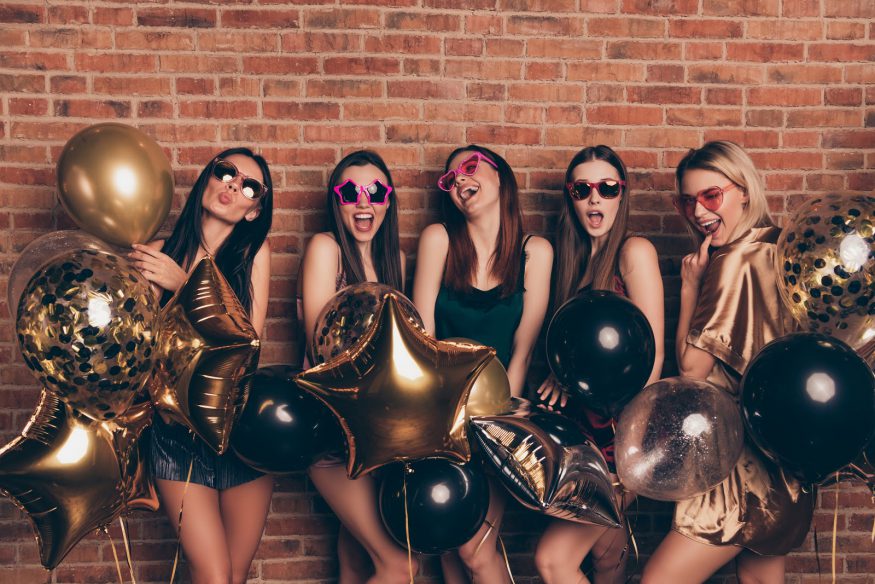 Show the bride how much you adore her and how excited you are for her wedding with a fun bachelorette party. You can make things as lively or mellow as the bride wants, and this list has options for every personality. Here are a few ways you can celebrate the last night (or weekend!) before Mr. or Ms. Right.
1. Take a Cooking Class
For the bride who just wants to enjoy something low-key before the big day, a cooking class is a great way to celebrate. It also works if the list of bachelorette party guests includes people under the age of 21. Bring everyone together for a night of love and food, and learn how to make the bride's favorite dishes from Greek delicacies to Italian staples to fresh Japanese fair.
2. Host a Brunch
Host a brunch with the babes and celebrate the upcoming nuptials with a touch of style. Choose a small boutique bistro or head out for a bottomless brunch with a yard-long mimosa stand and fishbowl bloody marys. Whether you're looking for something low-key or more upbeat, brunch is a great way to fill the day with laughter and joy.
3. Getaway Before the Big Day
Invite the bridesmaids and besties on a once-in-a-lifetime trip to celebrate the lucky lady. Rent an Airbnb or book a swanky hotel room for a fun vacation before the big day. You can plan a tropical trip or European escape, or stay closer to home with cool locales nearby.
Head to Las Vegas for a few nights out on the strip, or jet to NYC to enjoy an upscale stay in the Big Apple. Miami is the perfect spot for a beach party, or you can cruise down to Nashville to indulge in Tennessee Whiskey and live music at all hours of the day and night.
4. Indulge in a Spa Day
Unwind and relax before the big event with a spa day or wellness retreat. Get massages and facials, and lounge in stunning settings to melt away the stress after months of wedding planning.
5. Get Silly with a Scavenger Hunt
A scavenger hunt is a great way to bond with besties and add a burst of fun to a bachelorette party. You can plan an extravagant scavenger hunt as the main event or add this activity to a weekend getaway schedule. Make it kid-friendly or completely inappropriate depending on the vibe you're going for and who is participating.
6. Raise Your Pinkies at a Tea Party
Be prim and proper with a traditional afternoon tea party event. Decorate an outdoor table with fresh floral bouquets, glittering vases, and a few candles. Serve up loose leaf tea in dainty porcelain cups and snack on finger sandwiches and Parisian-inspired desserts like macarons, madeleines, and tartelettes.
7. Get on a Boat
Get out on the water for a sail before the veil. Take in a gorgeous sunset, go out on a fishing charter, or soak up the sun's rays on a catamaran. For a wild party, go anchor's down and bottom's up on a booze cruise.
8. Bachelorette Party Games
Half the fun at bachelorette parties is the party games. Order a few fake rings, hide them around the house or hotel room you're staying at, and reward guests who find them. Ask the bride silly questions about her future spouse or try to guess things like who said "I love you" first.
9. Sleepover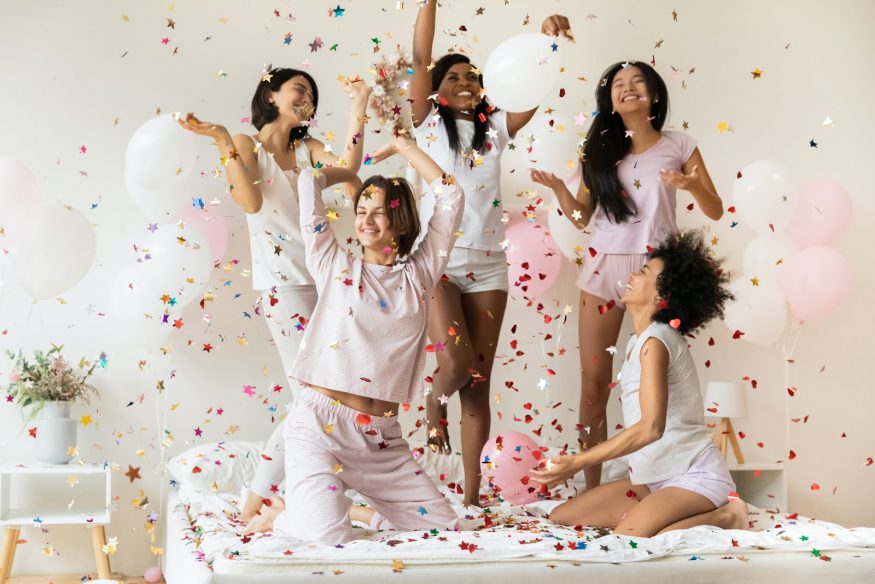 Maybe all the bride wants after all that planning is a fun night at home with her besties. A slumber party is a great way to get everyone together for a night of laughter without spending a ton of money. Order matching PJs or adorable lingerie for the attendees, or ask everyone to dress up as part of a theme. Bring some board games and the bride's favorite drinks and snack foods.
10. Yoga Retreat
For a wellness-focused bride, a yoga retreat is a great way to celebrate the transition from one stage of life to the next. Relax with a yoga class or center your mind with an afternoon of meditation.
11. Glamping
For bride's who love nature, glamping is a great way to enjoy the great outdoors, especially if other bridal party members aren't into hiking and pitching their own tents. Glamping is a fancy form of camping where guests stay in upscale yurts, cabins, or large tents. All the hard work is done for you, so you can enjoy the joys of camping from telling stories around a campfire to roasting marshmallows.
12. Wine Tasting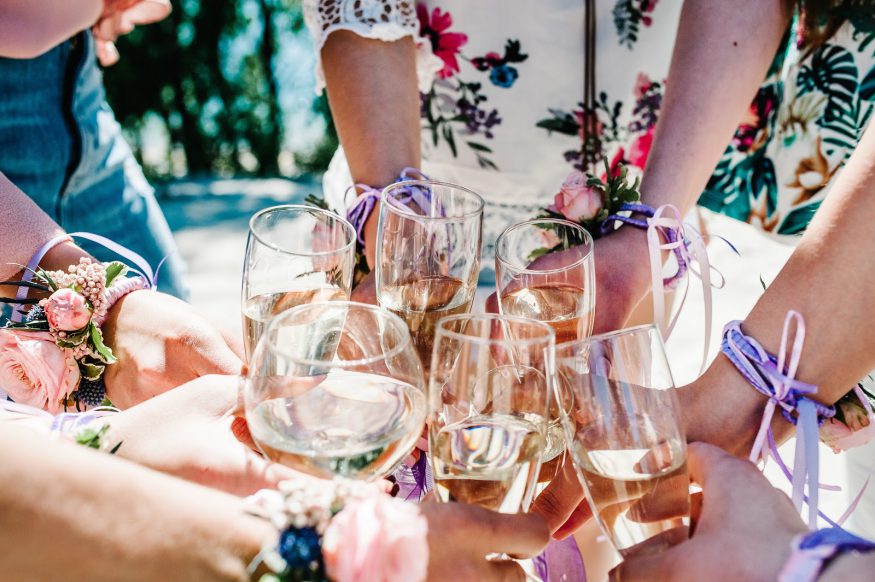 A bachelorette party favorite, booze tours and tastings are a great way to celebrate the bride-to-be. Wine tasting allows you to enjoy the beauty of sprawling vineyards while sipping on incredible creations. If wine tasting isn't your thing, try a distillery tour or brewery bash instead.
13. Comedy Club
Fill the night with fits of laughter at a comedy club. Contact the club or comedian beforehand and see if he or she can work in some material about the bride-to-be for an extra special touch.
14. Paint Party
Bond with the wedding party at a paint party where you can create your own inventions or follow along with an instructor to learn the basics. Paint and sip parties combine a few glasses of your favorite beverage with a canvas to draw your heart out on. For something more entertaining, head to a nude art class where you can paint a live model and giggle with your girlfriends.
15. Road Trip
Put the pedal to the metal and enjoy the freedom of the open road with a bachelorette party road trip. Make a playlist of the bride's favorite songs and don't forget to pack a few munchies. You can go for a short jaunt a few hours away or turn it into a tour of National Parks or other landmarks.
16. Karaoke
Sing your heart out with a night of karaoke. Hit the bride's favorite karaoke bar or download an app like Smule to sing at home. Alternatively, you can play Garage Band or Dance Dance Revolution to really get the party started.
17. Try a Party Theme
Bachelorette parties have the best themes. From a Beyonce bash with "Feyonce and Flawless" shirts to Harry Potter themes for those that never got their Hogwarts letter, there are so many ideas to choose from. If you're going on a beach vacation, go for a sand-and-sun theme with giant engagement ring floaties and "vitamin sea" decor. Throw a boho bachelorette with flower crowns and yoga or go fancy with a j'adore party with Parisian decor.
18. Have Fun with Favors
Party favors are an essential part of any bachelorette party. From inappropriate straws to sweet gifts like personalized compact mirrors, there are party favor options for every event. Grab a few fanny packs with the words bride and beauty on the front or stock up on hangover kits. Other party decor and favor ideas include bachelorette party cups, mini champagne bottles, themed shirts and sunglasses, and confetti poppers. You can DIY some of these favors or buy them from your favorite party supply store.
Get the Word out with Stunning Invitation Ideas
Once you know how you want to celebrate, you need to invite the bridal party. Do it in style with digital invitations that reflect your event's theme or destination. Here are 5 bachelorette party invitation ideas to give you some inspiration.
1. Put a Ring on It Invitation
This engagement ring invitation is a sure-fire way to get the bridal party excited about a swanky soiree. You're sure to hit the mark with this bachelorette invitation. It's a great choice for fancier fĂŞtes and elaborate getaways. After all, diamonds are a girl's best friend.
2. Chromatic Palms Invitations
This splashy invitation features vibrant colors and retro vibes for a fun and exotic feel. Use it to invite guests to a beach gateway or tropical bachelorette celebration. It's also perfect for announcing a bachelorette tea party or mimosa brunch.
3. Ride or Die Bride Invitation
This spunky invitation is a fun way to celebrate the bride before she gets hitched. Whether you're inviting guests to a dance hall party or a raucous last night out, this one is all about fun.
4. Swanky Shades Invitation
It's party time! When your guests receive this rad invitation, they'll be counting down the days until it's time to let loose and celebrate with the bride. It's a great invitation for nautical boat bachelorettes or getaways.
5. Paint & Pour Invitation
Invite the bridal party and besties to a paint and sip with this art invitation. The painter's palette and wine-colored hues are just what you need to celebrate the bride-to-be at a paint party.
Enjoy the Final Fling Before the Ring
Whether the focus of the bachelorette party is pampering the bride-to-be or having one last wild night on the town, this list is sure to give you ideas for the perfect celebration. From low-key get-togethers to elaborate vacations, there's something for everyone on this list of bachelorette party ideas.
If you're looking for help planning all the other wedding details, we've got you covered. From online invitations to bridal shower and engagement party ideas, you'll find everything you need to help the happy couple celebrate their marriage.